Have you ever considered skiing in Finland? No? I hadn't either, until we got invited to spend 3 amazing days in Tahko, one of Finland's most famous ski resorts. Follow us for a magical journey in the frozen North, between amazing scenery, incredible colours and plenty of adrenaline – and if you don't like skiing, we offer some alternatives!
I heard all kind of stories about the Finnish winter light. The sun doesn't quite rise, and stays low on the horizon for the whole day. There's no need to wake up early to catch the sunrise – it happens around 9 am.
Golden hour lasts for the whole day, and then blue hour sets in, and the world looks like it's fallen under a magical enchantment. Everything is still and silent. Sounds are muted, movements seem slower.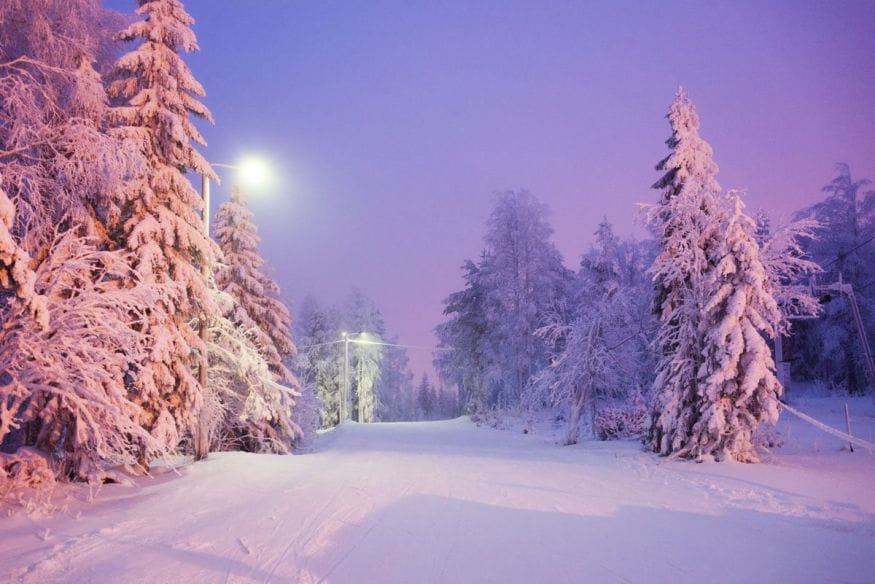 And if you're lucky, the Northern Lights dance in the sky at night.
I didn't know that in the Finnish winter, blue hour isn't always blue. Shades change – from vermillion to fuchsia to mauve, then lilac, then a deep violet, almost indigo.
This was our first view of Tahko. We had arrived from Helsinki in the early afternoon – but at these latitudes, early afternoon means sunset. It was an overcast day, heavy with moisture and low clouds. The plan was for us to check out the famous aprés-ski scene at Pehku, a slope restaurant famous for its wild parties every Friday and Saturday afternoon.
Yet, the scenery was the real star. The Finnish mountains are not the Alps, and the clouds meant there weren't any vistas stretching for miles. Instead, we had magic. We felt as if we were on top of the clouds, in a supernatural world where the snow on the pine trees looked like melted wax, and the sky was the colour of lavender.
We stood, looking at the slope where a few skiers were getting in the last runs of the day. They sped past us, then disappeared downhill, into the cloud-covered valley. Right behind us, the party at Pehku was in full swing – young men in pig and tiger suits danced on the tables to cheesy Eurotrash tunes. But the real marvel was outside. We stood until our feet froze, until darkness finally fell.
Skiing in Finland: Tahko!
The following day, it was time for us to hit the slopes. If you know us, you'll know we are terrible at downhill skiing. We only started learning two years ago, so we're anything but confident skiers.
Last year we skied in Iran, Switzerland and Tuscany, and the main issue we had all three times were the crowds. For me, skiing is scary to begin with – and when you're surrounded by people careening down the slopes at 100 km an hour, it becomes downright terrifying.
So, how did skiing in Finland go?
Well, that wasn't a problem in Tahko – skiers were few and far between, so we had plenty of room to practice turning and going down without breaking our necks. The high season for skiing in Finland is roughly from mid-February to end of April – apparently, going skiing is common during Easter holidays! We visited in late January and despite it being Sunday, the slopes were really quiet.
We also had our first ever skiing lesson in Tahko. Our teacher was a young local man called Tuomo, and after a couple of hours following his instructions (lean forward! go up and down when you turn! remember, it's easier to fall uphill than downhill!) I finally felt kind of alright on the skis. I mean, I'm far from being proficient – but still, I have to admit that the day we spent skiing in Tahko was the first time I actually enjoyed skiing.
Snow conditions were great. It had been snowing the past few days, and the wind wasn't strong, so there was a lot more powder than icy patches. I'm not a fan of speed, so I was more than happy to go up and down the same (easyish) slope over and over again, trying to perfect my moves and trying to go a bit faster run after run.
That's where Tahko surprised us again. On the Alps, a day on the skis usually starts early, and finishes just after lunch – the last lifts are usually around 3 pm, and by 4 or so the après scene kicks in – or if you're not staying, it's time to hit the road back home. Well, in Tahko it's dark by 3.30 or thereabouts, so all the slopes are lit and open until 7 pm every day. That's a lot of skiing, believe me.
That day, we skied until is was well and truly dark. Again, it was overcast – and again, the sky put on its stunning show, made even more amazing by the lights of the slopes, turning purples into pinks and making us wonder if maybe the Northern Lights were indeed coming, despite the clouds.
Skiing at Tahko was great fun – and the part I enjoyed best was skiing during the long, multicoloured northern twilight and at night. It was peaceful. The world was at rest all around us – with every run, there were fewer people, and no sound other than our the blades of our skis slicing through the snow.
Since then, I've been wondering why one should choose skiing in Tahko over the Alps. For beginners, conditions in Tahko are ideal – there are plenty of blue and red runs, and if you avoid high season you'll have the slopes (more or less) to yourself. Sure, I can't vouch for black runs or daredevil stuff – but for what I've seen, Tahko is a great place to enjoy the atmosphere of the Northern winter, and if you're lucky, you may get to ski under the Northern lights.
And what if you don't like skiing? Fear not – I have two more great activities to recommend.
I have never had the slightest interest for snowmobiles. I hate driving, and nature to me is synonym of silence and peace – not petrol fumes and the roar of engines. This is why I was really surprised of how much I enjoyed the 'snowmobile safari' we had in Tahko.
I guess, we all need some adrenaline every now and then, and riding a snowmobile feels like a great way to combine speed, safety and beautiful sceneries. Now, I'm not saying that snowmobiles aren't dangerous, but if you follow instructions it takes about 5 minutes to learn how to drive one.
We suited up with warm overalls, boots and uber-thick gloves, and took off bound for the forest. After speeding along snowy pine trees, up and down trails, we got to the 'real' destination of our snowmobile outing: a frozen lake.
If you have visited Finland during the summer you'll know that lakes are literally EVERYWHERE. There are 187,000 of them around the country, and Tahko lies in the middle of Finnish Lakeland. What happens to lakes in a cold country? Obviously, they freeze, becoming the perfect place to glide around on cross-country skis, kick sleds or ice skates.
Ah, and if you want to know more about fun on a frozen lake, check Nick's post about 8 things to do in Mikkeli in winter – all of which involve frozen lakes!
And why not, on snowmobiles too. As soon as our vehicles hit the flat surface of the frozen lake, we all hit the gas, and started speeding across the frozen expanse. The scenery was out of a dream. Tiny red houses peeked from the snowy forest on the lake shore. Every Finn I know has one of those cabins – they feel the need to retreat to nature, and spend most of their summer weekends at their summer houses, rowing on the lake, swimming and relaxing in the sauna.
Most cabins were closed for the winter, but not all. We spied a wisp of smoke waft towards the overcast sky, and saw a man cross the lake on cross-country skis. I wanted to stop the snowmobile, lie on the ice and just breathe – I was stuck between the thrill of speed, and the urge to make the moment last as long as possible.
Riding Icelandic Horses at Sunset
Later on the same afternoon, it was time to try a different kind of transport – slower than snowmobiles and much cuter than skis, simply perfect to enjoy the atmosphere of the forest at sunset.
We hopped on the back of fluffy Icelandic horses, and started riding. The last time we were on horseback was three years ago in Mongolia, and it was a real disaster. The horses did whatever they wanted, taking off when it was time to slow down and not moving when it was time to hurry up. We ended up walking or running alongside them, trying to keep up while the horses raced across the steppe.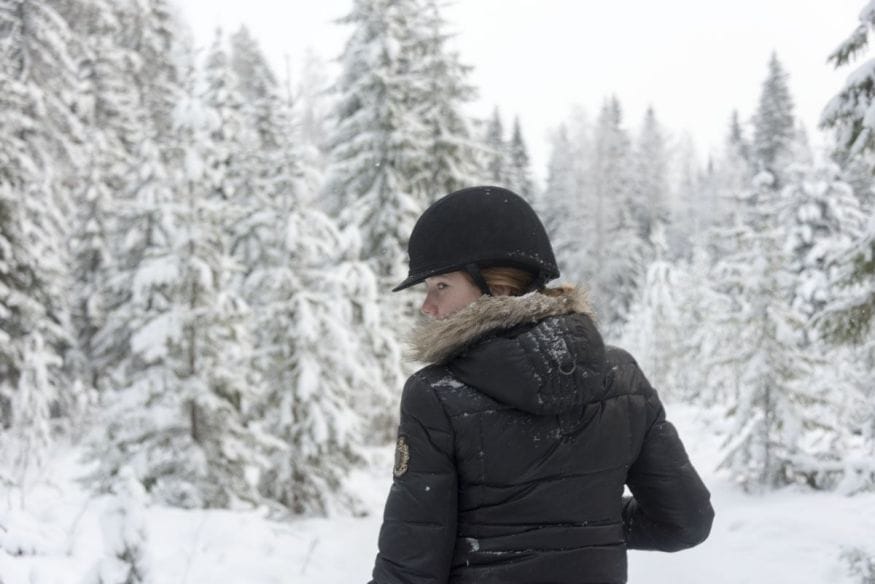 The experience in Finland couldn't have been more different. The horses were calm and easy to ride – and they just followed one another the whole time. We rode through the forest, and across snowy fields – the horses never went faster than a slow trot, perfect to enjoy the beauty of the scenery around us.
While on horseback, the sky cleared, for the first time since we had got to Tahko. Slowly, the clouds got thinner, revealing the blue sky underneath. Then, they started to part, filling the sky with tiny clumps and rolls that reflected the colour of the setting sun.
And then, as quick as it came, the sun was gone. Clouds filled the sky again, and it started snowing.
Practical Tahko Information
Where to stay
We spent four nights at the Tahko Spa Hotel. The hotel offers a series of spacious apartments, complete with fully accessorised kitchen and a heated terrace with views over the Tahko slopes. The apartment was big enough for four people – we had a spacious double bedroom with en suite bathroom, a large living room and another bedroom (that we used for storage), plus a smaller bathroom right next to it.
We especially appreciated two special touches: one was the private sauna, very easy to heat up – you just need to press a button and wait until it's hot enough! There's nothing better than jumping into your own sauna after a day on the slopes to regenerate those tired limbs.
The second one was the heated closet, where you can place your soggy gloves and sodden boots after frolicking in the snow. You know the feeling, when you get your socks wet and the following morning they're not quite dry? No need to worry if you've got a heated closet. Just put anything wet in it and twist the dial, and after an hour or so everything will be dry and warm. Heaven!
The Tahko Spa Hotel also has an indoor swimming pool complete with hot tub and slippery slides, plus a poolside bar and a children's pool.
Where to eat
If you fancy eating in, all apartments at Tahko Spa Hotel have a kitchen and there's a small supermarket nearby where you can pick up essentials. The Tahko Spa Hotel doesn't offer a breakfast buffet, but they can arrange to have breakfast delivered to your room every morning (for an extra charge). Alternatively, you can have breakfast at the Sokos Hotel, just 5 minutes walk away.
During our stay, we got the chance to try a variety of restaurants in the Tahko area. They were all excellent, and all different from one another. Here they are!
Mosquito Restaurant: offers an American/Mexican inspired menu, with a Finnish twist. For instance, you could have smoky fish soup for starter and tacos for main. Right next to it there's Piazza nightclub if you want to throw some moves on the dancefloor!
Panorama Bar and Cafe: a great restaurant on the slopes, great to stop and get some warm food or drinks before hitting the runs again! We had creamy salmon soup (a Finnish favourite) and another interesting dish on offer was laskettelian lautanen, the 'skier's platter', with lots of meat, chips, eggs and other vegetables.
Ravintola Rehti: this very elegant restaurant is strangely located right next to a petrol station. The menu is truly excellent, featuring Finnish classics like blini and smoked vendace soup and creative dishes like chicken breast ravioli and scallop risotto, plus a great steak wrapped in bacon! Perfect for a romantic dinner.
Indie Hotel and Restaurant Ukko: for our last dinner in Tahko we went to Ukko, a self dubbed 'indie hotel' and restaurant. We had dinner with one of the owners, who then also took us on a tour of the property. The hotel was originally opened in 1972 but it was recently restored in a indie/hipster style – think lots of wallpapers, art on the walls and dark wood furniture. All the rooms are different, and looked cosy and inviting. The menu didn't feature many options – and that's a very good thing, because it meant that everything was freshly made and delicious. We had blinis followed by pork ribs and French toast for dessert.
Koti Pizza: this is a Finnish pizza chain, surprisingly delicious! We had lunch there one day because I just had to try PIZZA BERLUSCONI, the result of one many Berlusconi faux-pas. Basically, the former Italian premier once publicly stated that Finland had no food culture. As a result, Koti decided to create a new kind of pizza, made with Finnish ingredients like rye flour, smoked reindeer and chanterelle mushrooms, and name it 'Berlusconi'. Take that Silvio!
How to reach Tahko
The nearest airport to Tahko is Kuopio, about 50 km away across the frozen lakeland. You can then ask your hotel to arrange transfers.
If you're arriving by train the closest station is Siilinjarvi, about 40 km away. You can then catch a bus to Nilsia, the closest village to Tahko, and from there take the Taho-Nilsia skibus.
Visit the official Tahko page to know more!
We were guests of Kuopio/Tahko as part of a post-NBE Finland blog trip. As always, all opinions are our own.
Pin it for later?