Planning a visit to Italy? A Northern Italy road trip is an incredible way to experience a wide range of beautiful and world-famous cities in a very short space of time. Among the Northern cities are Turin, Milan, Verona, Venice and Como, all within a 400 km straight line.
Are you planning to travel to Italy? I'm sure you'll be aware that high-speed Italian trains are an excellent way to move around the country – for example, you can travel from Milan to Venice in just 2 hours, and all the way from Milan to Rome in 3!
However, by travelling fast you're bound to miss those unusual sights and offbeat places that make travelling to a country like Italy so special. But guess what – we have the solution. How does a Northern Italy road trip sound?
Driving around Italy is a great way to discover individual regions and escape the crowds, visiting Tuscany in spring or Sardinia in winter for example, but it's also a fun, hassle-free way to move between major cities, while discovering smaller villages and scenic locations along the way.
That's why we put together a road trip from the West to the East of Northern Italy – starting in Turin, the home of Fiat and the first capital of Italy, and ending in Venice via Milan, Lake Como and more.
Our Northern Italy road trip itinerary is a week long, but you can easily extend it to 10 days, two weeks or more, depending on how much time off you have.
We've included some practical tips and frequent questions for a Northern Italy road trip, plus a full itinerary including what to see, and how to travel between cities – the quick and the scenic option!
Northern Italy Road Trip Practical Tips
What do I need to rent a car in Italy?
If you have a valid car driving licence issued in a EU country, you can simply rent a car in Italy with that. If your driving licence was issued in the US, Australia or elsewhere, you'll also need an International Driving Permit (IDP).
Not all car rentals might require an IDP, but we highly recommend having yours on you at all times – if you're pulled over for a check, or you're involved in an accident, you'll DEFINITELY need it.
You'll also need a credit card, since all car rentals will want one as a guarantee. Prepaid or debit cards are not usually accepted.
What is the best way to rent a car in Italy?
We highly recommend renting for your Northern Italy road trip only from international brands like Hertz, Avis, Europcar and the like.
You'll find them at all major airports, including Turin, where this itinerary begins, and Venice, where the trip ends. Alternatively, all major cities also have car rental offices in town, usually near the station or in the centre.
You may find local car rentals advertising cut-price fares – from experience, we can tell you that very often scams are a possibility. Save yourself a headache and only rent from reputable brands like the ones mentioned above.
When you collect your car, make sure you also check and double-check the body of the car for dents and scratches, no matter how tiny, and take photos. Italian car rentals have the reputation of being very pedantic for body damage and charge hundreds of euros even for tiny dents – if you can, get extra insurance!
Do I need visas to travel to Italy?
That depends on your passport. Italy is part of the Schengen area, alongside 25 more EU countries, so Schengen visa requirements apply to Italy.
Currently, many nationalities (including the US, Canada, Australia, New Zealand, and more) can access the Schengen area without a visa for up to 90 days.
Make sure you double-check Schengen visa requirements well before your road trip to Italy, so that you have enough time to gather all documents you need!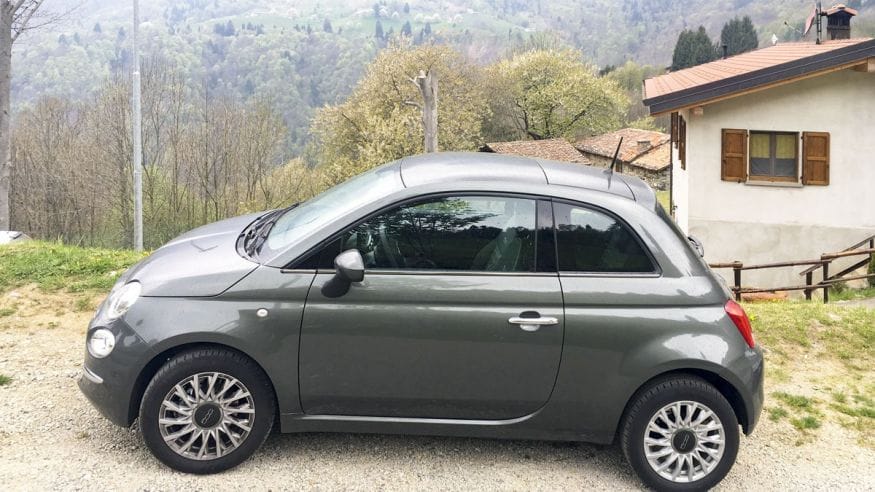 Is driving around Italy dangerous?
Italian drivers have a reputation for being reckless and hot tempered, but to be honest, having driven in dozens of countries, I can safely state that driving around Italy is no more dangerous than driving around any other EU country.
Just make sure you use common sense – never drink and drive, try to drive during the day rather than at night if you're not familiar with the roads, and avoid driving in and out of cities at peak hour.
Also, make sure never to leave valuables in your car, especially if it's parked in the street or somewhere unattended. Car break ins are very common!
What is the best time for a Northern Italy road trip?
Personally I would say any time is good to road trip around Italy, except for summer. June-August is peak season in all of Italy, and it's usually very hot. Holiday destinations are booked out months in advance, and places like Venice and Lake Como will be very, very crowded.
Autumn is a great time for an Italian road trip, especially from October onwards, when you'll find lots of food-related events in smaller towns. Winter is also a good time if you don't mind the cold, and it's the best time to visit Venice with no crowds.
If you want warm weather, just visit in Spring, but try to visit before Easter – that's when high season starts again!
1 Week Northern Italy Road Trip Itinerary
Turin (1 Day)
Where better to start a Northern Italy road trip than Turin? The capital of the Piedmont region is packed full of attractions, the roads are not too busy, and it's a great starting point for a day trip to the Alps – perfect if you're visiting in Winter!
Turin is also worth a visit for two main reasons – first and foremost, it was Italy's first capital, and it still houses many points of interest from the time. The easiest to visit is Piazza Castello, surrounded by stunning buildings including, Palazzo Reale, the former home of Italy's royals, UNESCO-listed Palazzo Madama, and Teatro Regio, Italy's first theatre.
Another unmissable point of interest in Turin is the Duomo, housing the Sindone (also known as the Turin Shroud), which is exhibited once every 10 years, drawing crowds of worshippers.
The second reason to start your Northern Italy road trip in Turin is that the city is home to Fiat, the car manufacturer behind the Cinquecento and so many other cool cars. The historic headquarters of Fiat are in Lingotto – the building has now been turned into a shopping centre, but you can still check out the test track on the roof, from where you get great views over Turin.
Finally, for more amazing views, don't miss climbing to the top of the Mole Antonelliana, the most iconic building in Turin, housing a great cinema museum.
The centre of Turin is a little busy to drive and park, so you can venture to the Northern outskirts where you can tour the iconic Allianz stadium, Juventus' 41,000 capacity football stadium.
Looking for some unusual Turin tours? Have a look below!
Here are some of the best Turin hotels!
Lake Como (1 Day)
Road tripping to Lake Como is fun! True story, the lake is easy to visit by train from Milan, but you'll be stuck in Como and Bellagio with all the other tourists.
If you have your own car, you can visit smaller villages like Lenno, to visit the amazing Villa Balbianello, or places like Dervio and Varenna, that only see a handful of visitors.
Lake Como is worth including in your Italy road trip because of the stunning scenery – the lake is surrounded by mountains, and on a sunny day, with the sun sparkling over the calm waters, it's a place of rare beauty.
Hiking lovers will also be pleased to know that the Lake Como and surrounds are full of trails, allowing you to explore on foot at your own pace. A nice easy trek is the one from Brunate to Faro Voltiano – or if you want to extend your trip, you can hike the 4-day Sentiero del Viandante (Wanderer's Trail) along the eastern branch of Lake Como.
Turin to Como – Direct Way: A4 to the outskirts of Milan, then A8/A9 to Como. Distance 167 km – travel time 2 hours
Turin to Como – Scenic Way: follow provincial and minor state roads to Vercelli, Novara, Busto Arsizio and finally Como. Distance 165 km – travel time 4 hours, or more depending on stops!
Looking for some fun Lake Como tours? Have a look below!
Here are some of the best Lake Como hotels!
Milan (2 Days)
After chilling on Lake Como, it's time to visit Milan, my hometown and favourite city in Italy! There's so much to see and do in Milan – the city boasts an incredible blend of contemporary city skyscrapers, historical sights, industrial architecture and more!
We recommend spending at least two days in Milan, especially if it's your first time. The main unmissable sight is the Milan Duomo, arguably the most iconic gothic cathedral in the world.
Make sure to book your tickets in advance and allow at least half a day, to have time to visit the interiors and to climb to the top for great views of Milan from above.
The second big-ticket Milan attraction is Leonardo's Last Supper, located in the refectory of Santa Maria delle Grazie. For the Last Supper, it's crucial to book tickets in advance as only 25 people are allowed in at any time – but it's really worth doing!
Another great thing to do is walking along the Navigli, Milan's two surviving canals, and a lively nightlife area. Just one piece of local advice – skip the touristy happy hour buffets! Food is really poor quality. Opt for one of Milan's best cheap restaurants instead!
Como to Milan – Direct Way: take the A9 and A8. Distance 51 km, travel time 1 hour.
Como to Milan – Scenic Way: follow the SP31 to Saronno, and then keep following the blue 'Milano' signs through the Brianza area and Milan's northern suburbs. Distance 53 km, travel time 1 hour 40.
Looking for some fun Milan tours? Have a look below!
Here are some of the best Milan hotels – or else, check out our full Where to Stay in Milan post!
Verona (1 Day)
160 km East of Milan you will find Verona, with its picturesque historic centre which includes the Verona Arena, a Roman amphitheatre completed in 30 AD.
The Arena is almost 2000 years old and it is still used today for opera and ballet performances, seating 30,000 spectators!
There are also several castles to visit in Verona and magnificent religious buildings, like the Romanesque Duomo, Sant'Anastasia with its Gothic architecture, and the Basilica of San Zeno, dedicated to the city's patron saint.
Verona also has their own version of Rome's Arch of Constantine, known as Arco dei Gavi, which was built in the first century AD as a defensive gate into the city.
You'll noticed that I failed to mention the best known tourist trap in town, Juliet's Home – please, instead of wasting time rubbing boobs or sticking chewing gum on a wall, head for a walk along the Adige river or for an aperitivo in Piazza delle Erbe, or follow this Verona tips from a local!
Milan to Verona – Direct Way: just take the A4 motorway, or the A35 to Brescia and then the A4. Distance 160 km, travel time 2 hours.
Milan to Verona – Scenic Way: you could even take a full day to drive from Milan to Verona, even though distance is only 160 km. Some of the points of interest you can check along the way are Bergamo and Soncino castle, but definitely make sure you also stop on the southern shore of Lake Garda, in Sirmione for example.
Distance 160 km, travel time from 4 hours to the whole day!
Looking for some fun Verona tours? Have a look below!
Here are some of the best Verona hotels!
Venice (2 Days)
Venice is the perfect place to end your Northern Italian road trip. First of all, cars are not allowed in the historic centre – so we highly recommend selecting Mestre or Venice Airport as your rental car drop off point, and making your way into Venice by water bus for a truly scenic arrival.
With 118 small islands, floating around Venice will be a nice break from all that driving – definitely spend one day checking out the main sights in town, like San Marco Basilica, the Doge's Palace and Grand Canal, but also allow some time for some smaller island in the Lagoon – Murano and Burano are a popular and fun option for a day trip.
Venice is a busy place, especially in summer or times like Carnival – however, don't let this deter you. You can always get away from the busiest tourist hotspot and wander around places like Dorsoduro or the Jewish Ghetto, or head to the island of Giudecca, where locals still outnumber tourists.
Verona to Venice – Direct Way: take the A4 and A57 motorway. Distance 120 km, travel time 1 hour 20.
Verona to Venice – Scenic Way: you have two options – drive north along regional roads, through Vicenza, Castelfranco and Scorzè, or south via Este then following the edge of the Venetian lagoon. Either way, it's amazing!
Distance 150 km – driving time 4 hours
Looking for some fun Venice tours? Have a look below!
Here are some of the best Venice hotels!
When is the Best Time for a Northern Italy Road Trip?
The best times for a road trip around Northern Italy are definitely Spring or Autumn. In Northern Italy, the climate is continental, with warm summers and chilly winters – add to that that most of the itinerary above follows the Po Valley, getting boiling hot and humid in summer, cold and foggy in winter.
So, Spring and Autumn are the ideal times to visit Northern Italy. Spring starts in late March, and April is usually a busy time with Easter and some public holidays – read our post about Italy in April to get the exact dates. March may be a little chilly, but May is also a great month for a Northern Italy road trip. Temperatures should be around 20/25°C during the day, dropping to 15/18°C at night. Early June is also a good time – by the middle of the month, the school year ends and the tourist high season begins.
When talking about Autumn, the best period is between late September and early/mid-October. Temperatures are similar to those found in Spring, and crowds are usually smaller, but as October progresses the weather cools down considerably and the time changes, leading to early sunsets (around 5 pm).
If you don't mind the cold, winter can also be a good time for a road trip around Northern Italy. It's normally quite dry, but it can be foggy and cold – in January, the coldest month, daytime temperatures are around 5°C dropping below zero at night. The good thing is that it's also the quietest time to visit, and you'll be able to snag good deals on accommodation and car hire!
Is there anything else you'd like to know about planning the ideal Northern Italy road trip? Let us know in the comments!