We spent 48 hours in Johannesburg and Soweto on the way to Kruger, during our month-long road trip across South Africa. A last minute decision that allowed us to see two cities – or two faces of the same city. Find out what to do in Johannesburg and Soweto, 1 day in each place!
In the Zulu language it is known as eGoli, the place of gold. Others know it as Johannesburg, Jozi, or Joburg. It is a city with many names, and even more faces. Wealth, oppression, crime, creativity, urban renaissance – Johannesburg has it all.
It may very well be South Africa's most complex city – it has a gritty, urban charm, hidden beneath a rough surface, but it not as easy to love as Cape Town. There's no ocean, no Table Mountain, and not quite as many spectacular sunsets.
On top of that, Johannesburg has the reputation of being dangerous. Most people we met around South Africa preferred to either stay in Pretoria, South Africa's administrative capital and Johannesburg's manicured alter-ego, or just skip going on the way to Kruger or beyond.
We also considered skipping Johannesburg, but something kept calling us. I guess I have a strange kind of fascination for cities that are considered ugly by most. My hometown Milan is one of them – other examples of 'ugly pretty' places we've visited (and loved) over the years are Athens, Bratislava and Cairo. So, we opted to spend 48 hours in Johannesburg, and divide them between Joburg itself and Soweto, the city's most famous neighbour and a must visit for anyone interested in history and civil rights.
From Johannesburg, it's easy to jump on a quick flight and visit Victoria Falls, spend a week touring Botswana or travel onwards to other destinations in Africa or beyond.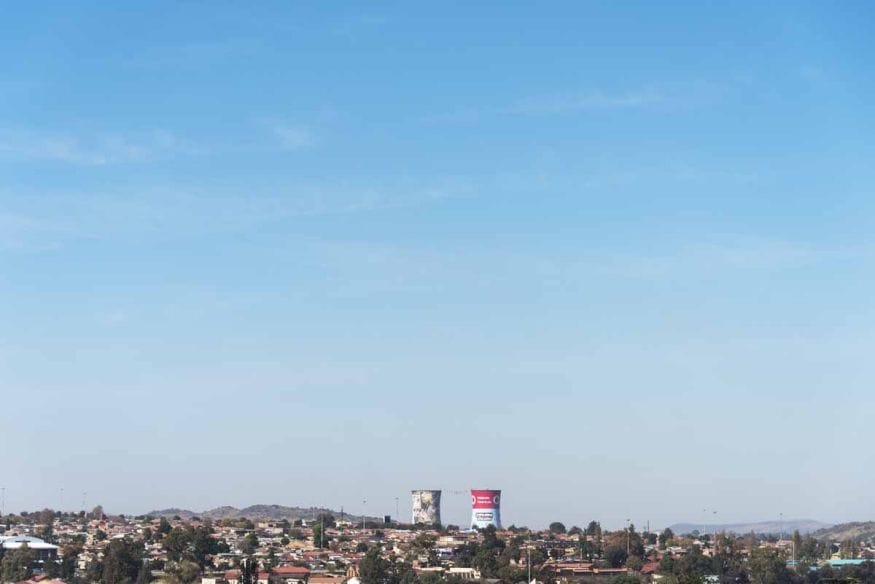 What to do in Johannesburg in 1 Day
First things first – don't drive in Johannesburg, especially during peak hour. If you have to return your hire car (like we did) drop it off at the airport, and take an Uber into town. Driving around Johannesburg was one of the scariest, most stressful experiences I've ever had, and very nearly made me want to spend the next two days indoors. In hindsight, it's lucky we didn't!
Morning: Walking Tour
48 hours are really not enough to explore a place as large and as complex as Johannesburg – and if you consider that we decided to spend an entire day in Soweto, that left us with only 1 day in Johannesburg. On top of that, the city isn't easy to navigate – so, we decided to opt for a walking tour to get an intro of the CBD, Johannesburg's city centre.
Donation-based walking tours of the city centre take place daily – starting times are 10.30 am and 1 pm, and the meeting point is Park Station, Joburg's main station halfway between Braamfontein (where we stayed, but more on this later) and the CBD. There's no need to book – just look guides holding a green umbrella. Don't forget to tip your guide at the end of the tour, about 100 or 200 rand per person.
CBD stands for 'Central Business District' – similarly to the CBD in Sydney, Johannesburg's district was the heart of the city's business life for over a century, from the mining boom of the late 19th century to the 80s and 90s, when a series of violent episodes led to the mass exodus of offices and companies to affluent suburbs like Sandton.
The CBD slowly turned into boarded-up ghost town. Drug and slum lords moved in, and squatters started occupying the empty office buildings. And when I say 'squatters', don't expect a Berlin-like artsy scenario – at the turn of the 21st century, according to our guide, the Joburg CBD was a no-go zone.
Nowadays, the CBD is slowly being regenerated. There are street markets everywhere – from fruit and veg to street food and cut-price clothes, surrounded by skyscrapers and exquisite late 19th century buildings like the Rissik Street Post Office.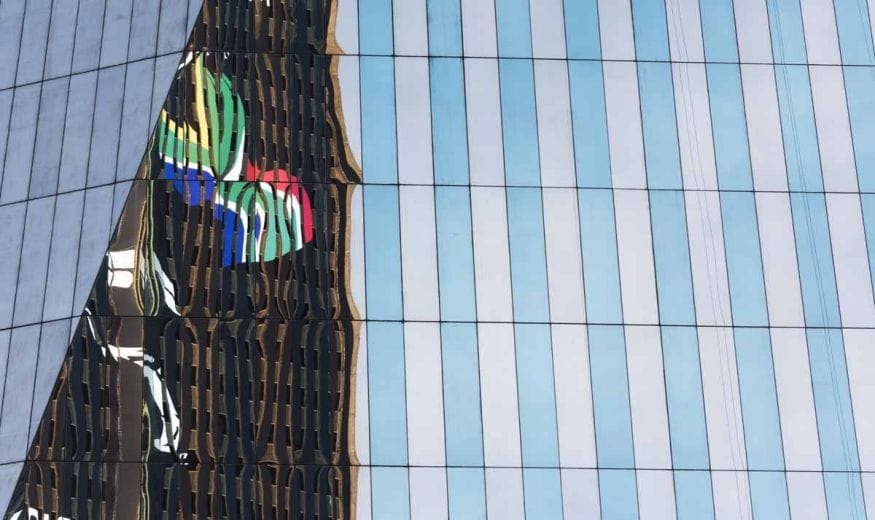 Our walking tour also included a stop in Diagonal Street, where we visited a 'herbal shop' selling a variety of roots and barks to make muti, health remedies traditionally administered by sangoma, traditional healers. Above the shop entrance there was a sign – nie-blanke winkel, non-white shop. A remnant from a time that ended not too long ago, a time that should be remembered.
Afternoon: Explore Braamfontein or Maboneng
After touring the CBT we felt like enjoying a leisurely afternoon with coffee, craft beers and street art. For this, your best bet would be heading to Braamfontein or Maboneng, two of the coolest 'precincts' in Johannesburg. The word precinct describes a district that underwent a process of urban regeneration – empty warehouses were turned into shops and restaurants, and there are now art walks, craft and farmer markets on weekends and generally speaking a buzzing, creative vibe.
If you're visiting during the weekend, don't miss Market on Main, an uber-hipster hangout with crafts, street food and live music. Alternatively, you can join street art walks both in Maboneng and Braamfontein – check out Main Street Walks for the former, and the Free Walking Tours for the latter.
Evening: The Orbit
There are wonderful restaurants all over Johannesburg, but for our only night in the city we opted for something a little different – a dinner with live jazz concert at The Orbit in Braamfontein.
The night we visited there was a performance from The Afrikan Freedom Principle, a concert series that aims to encourage new collaborations between jazz veterans and young, emerging musicians. To be honest, I don't know the first thing about jazz – I can tell you we loved the music, and the experience.
What we liked best was that the venue seemed to attract a really diverse crowd, united by the love of good music and good food. That night had the jazz club I had the feeling that Johannesburg was ready to start fresh – leaving a divided past behind, and turning over a new leaf onto the future.
Where to Stay in Johannesburg
Our base in Johannesburg was Once in Joburg, a luxury hostel located in Braamfontein, right opposite The Orbitz and a short walk to Park Station, where you can hop on the Gautrain to the airport.
Once in Joburg was definitely one of the best hostels we stayed at during our time in South Africa. All throughout the property there's the same artsy, creative vibe we encountered in Maboneng and Braamfontein The decor is bright and colourful, and rooms have been decorated by different artists that were invited to spend time at the hostel and produce a piece of art that portrays the spirit of the place.
At check-in, you're handed an envelope saying 'Sawubona' – the traditional Zulu greeting, that literally means 'I see you'. The envelope contains breakfast vouchers, city maps and info on what to see and do in Johannesburg – it was the friendly staff from Once in Joburg that recommended joining the walking tour and going to The Orbit for dinner, both wonderful tips!
The hostel's bar/restaurant is The Immigrant, and it serves excellent coffee, craft beer and a variety of light dishes. Breakfast is also served at The Immigrant – the voucher gets you a home-made bagel with a choice of spreads, juice and coffee – a great change from the usual full cooked breakfast we had elsewhere in the country!
What to do in Soweto in 1 Day
If you want to follow our footsteps, jump on an Uber and head to Soweto after having spent a day in Johannesburg. Soweto is South Africa's most famous township, the home of Nelson Mandela and the civil rights movement. As one of our Uber drivers in Cape Town said – Soweto is where it all started.
I was surprised to learn that Soweto is not a Zulu word – it's actually an acronym meaning SOuth WEstern TOwnships. In fact, Soweto isn't one township, but many, home to over a million people. Now it's a sprawling, multifaceted suburb, and because of its sheer extension, it's hard to cover all the sights on food. For this reason, we opted for a bike tour.
Morning/Afternoon: Soweto Bike Tour
Lebo's Backpackers, where we stayed, offers a variety of tours around Soweto – tuk-tuk, walking and bicycle tours, ranging in length from two hours to full day. We opted for the full day bike tour, for two reasons – first of all, because Soweto is indeed H-U-G-E, and second because Lebo's bike tours are very popular, but most people opt for the half-day tour.
Our guide was a local guy called Linda, born and bred in Soweto. We started the tour with a quick Soweto history lesson – the origins of Soweto are tied to the gold rush that kick-started the development of what is now Johannesburg in the 19th century. Those 'golden' origins survive in the etymology of many place names – eGoli, the Zulu name for Johannesburg, means 'Place of Gold' in Zulu, and Gauteng, the province name, also means 'Place of Gold', but in Sesotho, the second most common language.
The first inhabitants of Soweto were mine workers. Racial division started shortly after the inception of the township, but it was during apartheid that the area essentially became a dumping ground for poor black South Africans, who were confined there, away from fancy Johannesburg and its predominantly-white population.
During the tour, Linda brought the past and present of Soweto to life. We started with a stop at Mzimhlophe, one of the poorest parts of Soweto, where 'hostels' still survive – bare-bones accommodation, with outdoor latrines, where people live just after moving to Soweto. This came in stark contrast with Vilakazi Street, the richest street in Soweto, where the homes of Archbishop Desmond Tutu and Nelson Mandela can be found, and that we visited shortly afterwards.
We also visited Hector Pieterson's Memorial, a memorial and museum dedicated to the most famous victim of the 1976 Soweto Uprising, when 20,000 schoolchildren protested against the introduction of Afrikaans as a language of instruction, and the police responded by shooting at them. The exact number of casualties is still unknown – but the image of Hector Pieterson's dead body became the symbol of the struggle on that fateful day.
The tour wasn't just about history, it was also about life in Soweto. We stopped at a small market where we tried a variety of snacks, then at a local restaurant where we tried bunny chow, a hollowed-out bread loaf filled with cheese, egg, chips and a variety of processed meats. We also paid a visit to the famous Orlando Towers, a former coal-burning plant that was turned into a centre for urban adventures. The last stop of the tour was Walter Sisulu Square, where an open-air market stands side by side to a monument dedicated to the Freedom Charter, a document drawn up in 1955 to provide an alternative to the apartheid state, and now forming the backbone of post-apartheid South African constitution.
Where to stay in Soweto
Most people visit Soweto as a day trip from Johannesburg, checking out the main sights on the half-day bicycle tour – but we found that such a short stay doesn't really do justice to such a large and complex place. For this reason, we are very glad we chose to join the full day tour and spend the night in Soweto.
We stayed at Lebo's Backpackers, a colourful hostel located in Orlando, one of the most tourist-friendly parts of Soweto, with some cool street art nearby. The hostel is run by Lebo, a local guy, and his wife Maria, who are pretty much single-handedly responsible for putting Soweto onto the backpackers' radar thanks to the establishment of their hostels and tours.
Lebo's is a great example for the positive effects of responsible tourism on a community. The hostel and tour business gives work to dozens of residents, and the 'outdoor restaurant' located just opposite has become a meeting point for locals and travellers. Meals are served in the outdoor restaurant and after dark, everyone gathers around the bonfire – sometimes tastings of 'traditional beer' are offered, other times there's live music.
The hostel is also really quiet and comfortable. There are only a few rooms, and Lebo's family lives onsite, giving the place a homestay kind of feel. Make sure you book early, as the hostel is very popular and fills up quickly. Our only regret is that we didn't stay longer – Lebo's was the perfect place to end our 48 hours in Johannesburg and Soweto!
If we were to visit again, we would definitely spend longer in both destinations – we would like to have a few days to wander around Soweto, and also a few extra days to check out more sights in Joburg like the Apartheid Museum and SAB World of Beer, and to spend longer in Maboneng.
Many thanks to Once in Joburg and Lebo's Soweto Backpackers for sponsoring our stay and bicycle tour.
Pin it for later?