Are you looking for a meaningful South African safari? Something to combine the fun of a safari in the Kruger region and volunteering experiences in animal conservation? Here's our experience volunteering and safari-ing in South Africa with Discover Corps!
The early sun shone its first, timid rays over the bushveld, the first touch of warmth after a freezing African winter night. We were wrapped up in blankets on the back of our truck, about to start our South African safari, searching for wildlife as we drove through the Wild Rivers nature reserve.
To our untrained eyes, the bushveld looked mysterious and indecipherable, like a book written in a language that predates the arrival of men. Only living it day by day you need to read its pages – marking spoor on the sandy trails, calculating the passage of animals by looking at dung and fallen branches, listening carefully for sounds in the thick of the bush.
That's elephant dung – our guide Conraad said. It's fresh, but maybe not fresh enough. They may have crossed the river already, be on their way to Kruger.
Our first South African Safari
We were at the start of our first South African safari of our Discover Corps trip in the Greater Kruger Region of South Africa. Our base was Rukiya Safari Camp in Wild Rivers Nature Reserve, but the destination of our game drive was nearby Excellence, a former buffalo farm turned into a Big 5 game reserve. The farm boundaries are marked by the Oliphants river – beyond which lies another game reserve, connected to Kruger National Park.
Around the next bend, we saw four bull elephants – four young males, probably starting their new herd. Half-hidden by the bush, they ate their way through it, tearing branch after branch with their trunks. Elephants eat up to half a tonne of food every day – Conraad explained – but they have a very poor digestive system, so they only digest 40 per cent of it.
Shortly afterwards, we heard a low, squeaking noise. Then we heard it again, and again. Look on the far side of the river, into the bush, Conraad said. Four figures ran out, one after the other. It was a pack of African wild dogs, running along the the riverbank in search of food. Wild dogs roam vast distances, needing approximately 600 square km per pack to hunt. Habitat loss is the main threat to their survival – they're the second most endangered carnivore in Africa, and a sighting that occurs approximately once a year during safari in this part of the Kruger region, according to Conraad.
We spent the next hour following the wild dogs unsuccessfully trying to hunt impala and warthogs, before disappearing again into the thick of the bush. Excellence measures 8000 hectares and houses all of the Big 5 – however, animals are not collared nor implanted, and there are no rangers communicating animal sightings via radio, meaning that, as Conraad said, every day in the bush is different.
During our time at Rukiya, we had breakfast on the riverbank while a pod of hippos swam in the water, only a few meters away from us. Thanks to Conraad's we spotted a nesting Pel's fishing owl, very rarely found during safari in the Greater Kruger region, golden feathers clearly visible against the green foliage of a yellowwood tree.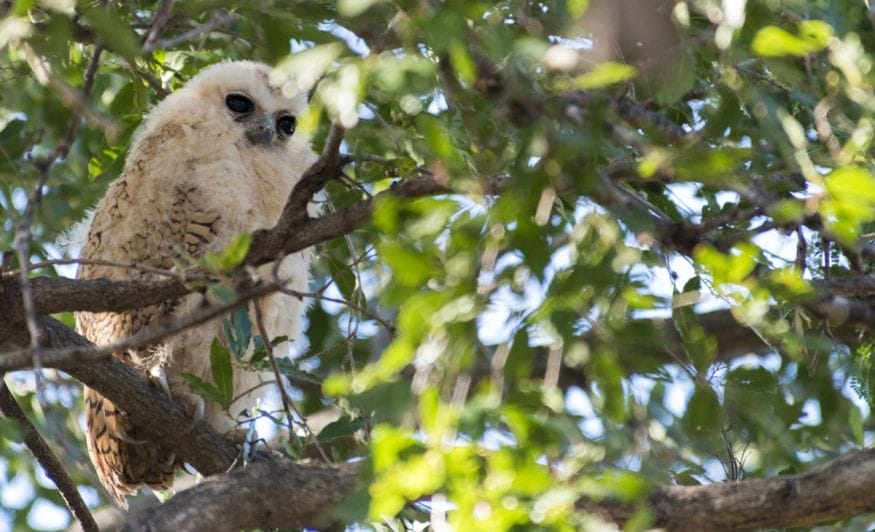 We saw giraffes seemingly having a conversation, looking at each other intently with their large eyes with long eyelashes. We tracked a pride of lions for hours, hoping to catch the glimpse of a mane through the bush, or hear the roar of a lioness, but then the tracks spread in different directions, and the pride was nowhere to be seen.
For more info and to book your ideal South African safari, check out SafariBookings!
Eco-Friendly Rukiya Camp – The Ideal Base for a Kruger Safari
Travelling with Discover Corps is ideal for those who want meaningful adventures, combining the pleasure of a safari in Kruger and time spent supporting valuable conservation projects, while staying in comfortable surroundings. Volunteer vacations around the Greater Kruger Region include a week-long stay at Rukiya Safari Camp, the eco-friendly lodge owned by Conraad and his partner Lily, where we awoke every morning listening to the call of hippos and baboons.
Sustainability was what Conraad and Lily had in mind when they built Rukiya. The main lodge building, as well as Lily and Conraad's house, is built with sand bags, a more eco-friendly and less energy-intensive technique compared to manufactured bricks. The soil dug from the foundations is used to fill the sandbags, minimising waste as a result. This construction technique also allows participation of unskilled workers – as long as there are some trained supervisors, unemployed locals can help fill the bags and participate in the construction – it's a good concept to boost local economy, considering the high number of unskilled workers living in the area.
Besides the main lodge and Lily and Conraad's house, the rest of the camp is built with deck and canvas, meaning that if the camp were to be abandoned, the bush would regenerate within only a few years. All furniture is made with reclaimed wood, and toiletries and cleaning products are biodegradable. The Blyde River, located right next to Rukiya, is one of the cleanest in Africa – the eco-friendly attitude of lodge owners like Lily and Conraad allows this sensitive environment to be preserved.
Rukiya means 'progression' in Swahili, and it was the name of one of the leopards living in the nature reserve where Lily and Conraad met, and a leopard was chosen for Rukiya's logo. Wanting to focus on ecotourism, Lily and Conraad decided to support two projects – INGWE, working with leopard conservation, and Seeds of Light, a local community project running a day care center for orphaned and vulnerable children.
Supporting INGWE Leopard Conservation
Discover Corps visitors are invited to join activities that contribute to both projects. INGWE's first and foremost aim is to gather info about leopard population in South Africa's outside of formally protected areas. It's very hard to estimate leopard population, as leopards are elusive by nature and they are the only still free roaming Big 5 animal – there's no fence that can keep a leopard in, Conraad said.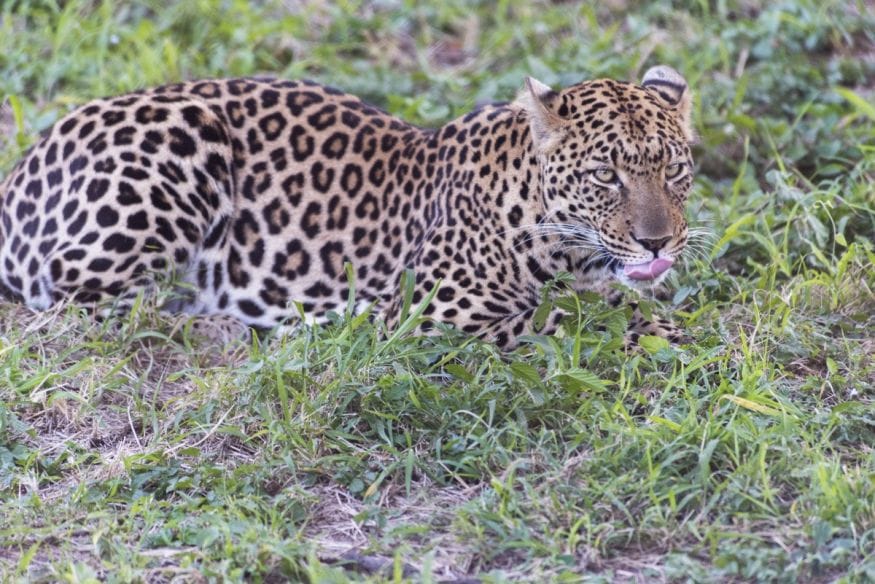 INGWE is active in 5 nature reserves, and uses camera traps to collect a 'census' of resident leopards, including info on their behaviours and habitat. Camera traps are a much less invasive manner to monitor leopard conservation compared to collaring or using implants – the cameras are sensor-activated, and mounted on trees all around the nature reserves, on strategic spots known for high leopard activity. Besides the 'click' of the camera traps, there's nothing to make the animals aware of their presence, allowing researchers to capture natural behaviour.
We spent one afternoon laying out camera traps, and another helping Carys, INGWE's resident researcher, servicing the 12 camera traps scattered around Wild Rivers Reserve. Carys explained that the area is home to approximately a dozen individuals, including seven males who seem to cohabit in peace in an area of approximately 2500 square meters – which is remarkable, considering that leopards are highly territorial.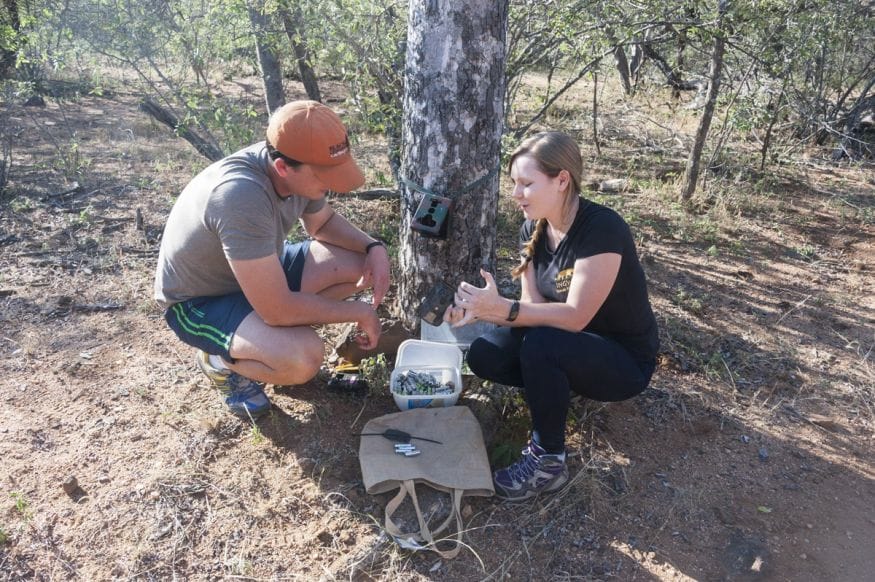 Another morning was spent at volunteering at Seeds of Light's daycare center, where a couple of hundred children aged between 5 and 18 spend their time outside of school hours. We created a 'bush quiz', sharing what we had learnt during our time game-driving around Rukiya.
A Day with Baboons at C.A.R.E.
Besides game driving and assisting with these two projects, Discover Corps also includes visits to other local conservation projects, giving tourists the chance to contribute for the day. One of them is C.A.R.E., a sanctuary set up by Rita Miljo in 1989, dedicated to the rescue and rehabilitation of chacma baboons.
Baboons are one of Africa's most misunderstood species – they move in large groups and can be destructive, raiding crops and even breaking into homes to steal food. C.A.R.E. volunteers hand-raise injured and orphaned baboons and integrate them into troops of up to 50 individuals, that are then released into the wild – a process that can take up to 6 months, with one of C.A.R.E. volunteers living in the bush alongside baboons, and slowly teaching them to fend for themselves.
Raising awareness is another important part of the work of C.A.R.E. volunteers, visiting local communities to convey the message that cruelty is not necessary when dealing with baboons – for example, even something as simple as getting a guard dog would deter baboons from entering farms. In Rita Miljo's words, 'we have to ask people to change on behalf of the wild animal, because he can't change on behalf of himself'.
We helped C.A.R.E. volunteers prepare bottles for baby baboons and 'enrichment' food boxes, hollow balls and small wire cages filled with seeds, berries and other baboon goodies. The idea is that baboons must work for their treats, figuring out how to use their fingers to dig out of narrow holes and practicing fine-movement dexterity, mimicking behaviours needed to find food in the wild. Our day-long visit provided us with an insight into the complex social structure of baboons, and a new understanding about this primate species, about which up until that point we had only heard negative things.
Visiting Moholoholo & Stoffel the Honey Badger
We also had the chance to visit Moholoholo, a long-running conservation project rescuing and rehabilitating injured animals and working closely with the community to raise awareness about the plight of wildlife affected by snaring and poaching. Animals that can't be rehabilitated are housed at Moholoholo sanctuary, becoming 'species ambassadors' – guided tours are held twice daily, allowing visitors to get close to resident animals while learning about them.
Stoffel the honey badger is Moholoholo's most famous resident. He was raised by a farmer, who surrounded him to the sanctuary because he starting wrecking havoc around the farm. Stoffel's antics didn't end with his arrival at Moholoholo – he broke into the nearby lodge and chased staff out of the kitchens to steal food, and even went as far as breaking into the lions enclosure to start a fight. Honey badgers are the toughest animals in the bush – they're not afraid of snakes and often take up even much larger animals, like buffaloes or lions. This led to the origin of the popular Afrikaans saying so taai soos 'n ratel, meaning 'as tough as a honey badger'.
Our experience in the Greater Kruger Region was a time of endless discoveries. By the end of our week-long stay, we started to decipher the mysteries of the bush – we learnt to distinguish between about half a dozen tracks and different kinds of dung, and even a quick glance was enough for us to tell a waterbuck apart from a kudu or impala. Slowly, we were learning to read the ancient language that baffled us at the start of our stay.
Yet, the bush always manages to surprise you when you least expect it. Late one night, on our way back to Rukiya, we saw something a few hundred meters away from us, silhouetted against the setting sun.
A slender, yet mighty frame, moving silently across the road. It was a leopard, one of those elusive dwellers of the bush, making its way across a fence. Within a few seconds it ran under a fence and disappeared from sight, its spotted coat hidden by the tall grasses and shrubs on the other side. Too quick for any of us to take a picture, but long enough to make us feel privileged of this encounter with the mystery of the bush.
We would like to thank Discover Corps and Rukiya Camp for making our South African safari and volunteering experience possible.
Pin it for later?