If I say 'Fiji', what comes to mind? Probably images of dreamy beaches and honeymoon resorts, right? But what if I said Fiji is quite easy to visit, and can be surprisingly affordable? Find out how with this 5 days Fiji itinerary guest post, by Umang from Travelmax!
Once a beach bum, always a beach bum!
If you love the sound of waves crashing on the shores, or like rolling on the sand as the sea gently caresses your feet, then you are probably always on the lookout for your next beach vacation.
Put to rest all your musings and head straight to the fantastic Fiji Islands to relish a unique and relaxing time off your hectic city schedules. Fiji is not only a beautiful island country, but an epitome of cultural indulgence with a hint of luxury.
A good Fiji itinerary will give you a taste of the best in Fiji. Be it azure beaches, surreal forests, beautiful hikes, enchanting resorts or warm hospitality, you will be able to enjoy all of it in this recommended 5 day Fiji itinerary.
We were planning a trip to New Zealand for 20 days. Out of these 20 days, we were going to spend 6 days in North Island and rest in South. But, we cut our North Island trip short and visited Fiji. We revamped our New Zealand itinerary to include Fiji as well.
Where is Fiji?
For those unaware of this place, the Republic of Fiji is an is an island country in the South Pacific Ocean, about 2,000 km northeast of New Zealand.
Fiji is an archipelago of more than 300 islands. The two major islands are Viti Levu and Vanua Levu. The country is quite popular with international travellers and there are many reasons for that! We will try to cover these reasons in this 5 day Fiji itinerary.
Fiji has an interesting connection with India. When British was ruling both the countries, many Indians were brought to Fiji in order to help the British rule this island country.
India got its independence in 1947. However, the British vacated Fiji in 1970. Due to this, many Indian families were settled in Fiji, working with the British government till 1970. Hence, a slight influence of Indian culture is evident in Fiji.
In fact, Fiji has its own version of Hindi, India's official language. This dialect is known as 'Fijian Hindi', and recognized as one of the official languages of Fiji. Imagine our surprise when we landed in Fiji and were greeted by our own language!
Would you like to know more about spectacular beaches? Check out our 2 weeks in Bali itinerary!
What's The Best Way to Get to Fiji?
Well connected by flights from major airports across the world, Fiji draws in many tourists who rave about its glorious sunsets and golden shores. The island country of Fiji has two international airports – Nadi and Suva. Both are located on the largest Fiji island, Viti Levu.
There are many smaller airports as well, but they do not facilitate international routes. Mostly, they are used for domestic routes. Internal flights are a good way to reach various islands quickly.
Out of Nadi and Suva, Nadi is the bigger airport with better connectivity to neighbouring countries. However, you can check both the airports in order to get best airline fare.
You can consider exchanging currency or buying sim-cards from the airport itself, they aren't very expensive. This is contrary to the popular belief that airports are expensive for exchanging currency or buying sim-card.
In order to reach your resort, you can take the yellow cabs waiting outside the airport. These are metered cabs and generally, the cabs ply on meter. But if not, then anywhere close to 1 USD per KM should be a fair rate.
Here's a 5-day Fiji itinerary to save you the trouble of time-consuming planning. Simply follow our lead and prepare yourself for a soul-refreshing week ahead.
Looking for paradise beaches? Read our 1 month in the Philippines itinerary!
Fiji Itinerary Day 1 – Check-in and Relaxation
The island of Viti Levu has two main cities – Suva and Nadi, the former being the administrative capital and latter being the airport with the most international connections.
If there's no direct flight from your country, you can fly to New Zealand or Australia and take a flight from any of their major airports. Once you land at the Nadi airport, you will be pleasantly surprised by the warm hospitality of the Fijians.
We recommend spending your first day in Fiji in your chosen resort, relaxing in luxurious surroundings and recuperating from your journey. Below, I have mentioned some recommendations on places to stay in Fiji.
Do note the location of these resorts. Depending on the location, you can either reach them directly via cab, or you may have to book a boat of sea plane to reach the resort.
5 Day Fiji Itinerary – Where to Stay
The coasts of Fiji are replete with resorts of international standards and you will be spoilt for choice no matter what your budget is. Here are a few of our recommendations:
Fiji Marriott Resort Momi Bay – Located 36 kms from the Nadi airport on Momi Bay, this hotel is opulence redefined. A private beach, multiple dining facilities, sea facing villas, exclusive children's play areas and swimming pools – it is a five-star accommodation for your much-deserved break.
The Radisson Blu Resort at Denarau – This hotel is about 15 kms away from the airport and offers private pick-up facility. It is located amidst 10 acres of tropical gardens, beautiful waterfalls, and a beach to yourself. The hotel is home to many luxuries and facilities that will pamper you. There is a wide range of cuisines available across the hotel, in addition to the local Fijian cuisine.
The Treasure Island Resort at Mamanuca Islands – As the name suggests, this is an adventurous getaway! From water activities like kayaking, stand up paddle boarding, snorkelling and scuba diving, to nightly entertainment and children's activities, they have it all. The Senikai Spa is highly rated and the sushi bar is quite popular. They can organise island picnics or private waterside dinners- anything you demand. Worth every penny!
Spend the rest of the day relaxing at your hotel and watching the sunset from the viewing deck. Most resorts are sea-facing and have lovely seating arrangements to enjoy the outdoors.
Fiji Itinerary Day 2 – Scuba Diving at Coral Coast
Fiji is one of the most faraway lands you will ever visit, and the unique locale of this place has blessed it with pristine waters and excellent underwater life.
Scuba diving and snorkelling are extremely popular here and the long coastline at Coral Coast in Viti Levu is the perfect place for it.
Whether you're a professional diver or a complete novice, you have experts to depend upon who will take you on an unimaginably eye-opening experience as you see the dark depths of the underwater open up before you.
If you have some energy left after Scuba diving, you can consider a local sightseeing trip on the Island of Viti Levu. This will give you a peek into the local culture and lifestyle.
You can explore some of the island and the sprawling markets for the rest of the day. Then, head over to the WW2 Momi Battery National Park. This was home to guns and bunkers during war, as the government expected Japanese attacks and wanted to be prepared. One of the bunkers is now a museum, hosting photographs portraying the history.
You can enjoy a good view of Momi Bay and the Mamanuca Islands from here.
Once you have indulged in the Scuba dive and some local attractions, head back to the resort. The next day will have a beautiful hike in store for you.
Fiji Itinerary Day 3 – Mount Batilamu Hike
When you think of beaches, you obviously envision long stretches of sand and sea. But this Fiji Itinerary also boast of dense rain forests and volcanic mountains. These vantage points provide spectacular bird's eye views of the island and surrounding ocean.
While Mount Tomanivi, originally known as Mount Victoria, is Fiji's highest mountain, standing tall at 1,232 meters, the hike on it can get tricky for beginners and you will definitely require a guide to take you along.
A better alternative for a more scenic yet easier hike would be to climb Mount Batilamu. Known as as the Sleeping Giant, this mountain peak is located in Korayanitu National heritage park, close to Lautoka in Viti Levu.
The entire hike should take you around five hours but the effort is worth it. The mountain is 1,110 meters tall and offers magnificent views of the Mamanuca and Yasawa Island groups.
On your way, you will come across cascading waterfalls, hidden swimming holes and dense greenery. This walk amidst nature's purest form will give you memories that can be cherished for lifetime! Ask your guide if there are opportunities to indulge in the local culture. Maybe it would be a good idea to grab a local meal.
Once back to the resort, consider indulging in a beautiful SPA experience which will help you overcome the tiring hike.
Fiji Itinerary Day 4- Cloud9 Bar or Malamala Beach Club
Known as Fiji's floating paradise, Cloud 9 is a two-level floating platform with an internationally stocked bar and Italian wood-fired pizzeria. This unique pizzeria & bar is surrounded by turquoise blue water and picturesque views. With sun decks, day beds, and surround sound system throughout, this a traveller's dream turned into reality.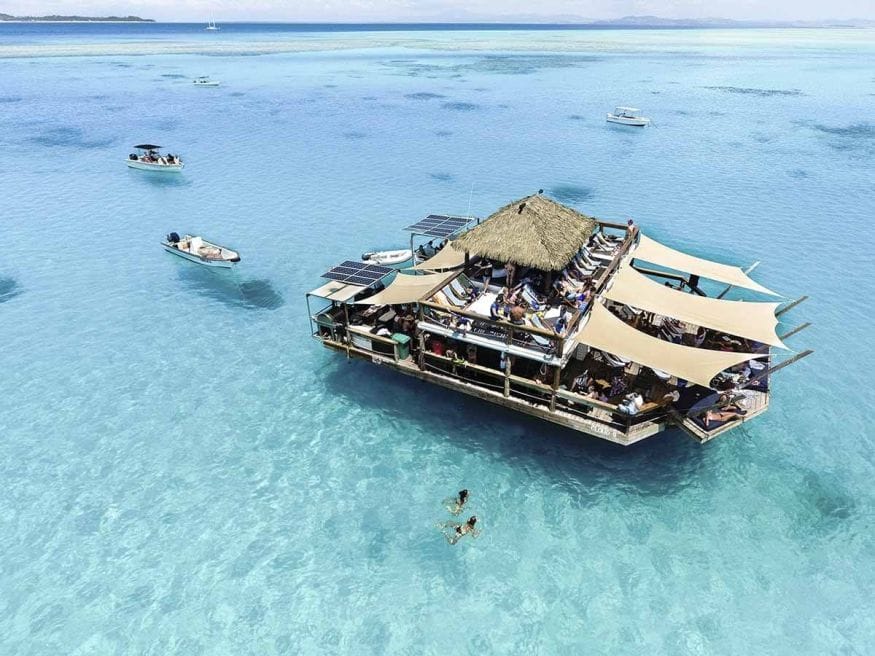 Another alternative to Cloud9 Bar is Malamala beach club. It's a part of popular Captain Cook Cruises and offers a peaceful vibe to guests. Both these destinations are bang in the middle of the ocean and would be definitely worthy of a visit.
Imagine lounging on a recliner with a cool cocktail in hand, a piping hot pizza to bite into, relaxing live music being belted out, and all of this right in the middle of an ocean! You can take a break and go snorkelling into the waters and come back for another round of cocktails. If this doesn't define a relaxing break, what does?
Fiji Itinerary Day 5 – Check out and fly back
On your last day, you can choose between just heading to the airport after spending a relaxed morning in the resort, or opt for some local sightseeing.
For a lighter yet meaningful time, visit the museum at Suva where you can see a collection of historical objects unearthed from the sand dunes in Fiji.
Once you are done exploring this beautiful tropical paradise, you would perhaps want to hunt for some souvenirs to keep those memories alive. Head to the Municipal Handicraft Centre at the Municipal Car Park in Suva and collect some Kava Bowls, Grass Skirts, Tapa (Fijian Cloth) and Lali (Fijian Drum).
The Lawai Pottery Village in Sigatoka, Viti Levu, would be another unique experience as you will be guided by the local women through pottery kilns and you can purchase the items you like.
For those who are interested in buying traditional precious jewellery, head to La Galerie near the airport.
1 Week in Fiji Itinerary Ideas
Overall, this Fiji itinerary will take you through several diverse experiences across the country. However, this country can definitely keep you engaged for a time period longer than 5 days!
If you have more days, you can consider visiting the other islands of Fiji. The 5-day itinerary that we have presented here will keep you only in Viti Levu island.
But if you have more days, you can consider visiting Vanua Levu, the 2nd biggest island of Fiji. Next to Vanua Levu, you can visit Taveuni Island, 3rd biggest island.
Between these two islands, an oceanic strait is home to beautiful marine life. Known as Rainbow Reef, this Scuba diving stretch will leave you absolutely enthralled! On Taveuni Island, you have Bouma National Park, which is an epitome of how pure nature could be!
However, reaching Taveuni Island might take an entire day of yours – making this option feasible only if you have 1 week in Fiji (minimum).
With 1 week in Fiji, you can pick between spending relaxed time on the island of Viti Levu or shuttle between islands and cover more of this beautiful country!
Hope you liked this Fiji itinerary. While returning, wrap up the lovely aromas and scenes of this remote island country before you travel back home. You will be carrying with you an unforgettable journal of panoramic photographs and smiling happy faces.