Are you wondering where to go in the Philippines? Last year we spent a month in the country, between November and December. It was a month of awesome adventures and encounters with incredible wildlife (thresher sharks, anyone!) and with the best people we've met during our travels.
If you're planning to go to the Philippines, this is the post for you. We'll share with you our Philippines travel itinerary for 1 month, covering five different islands, and some practical tips to help you plan your first trip to the Philippines.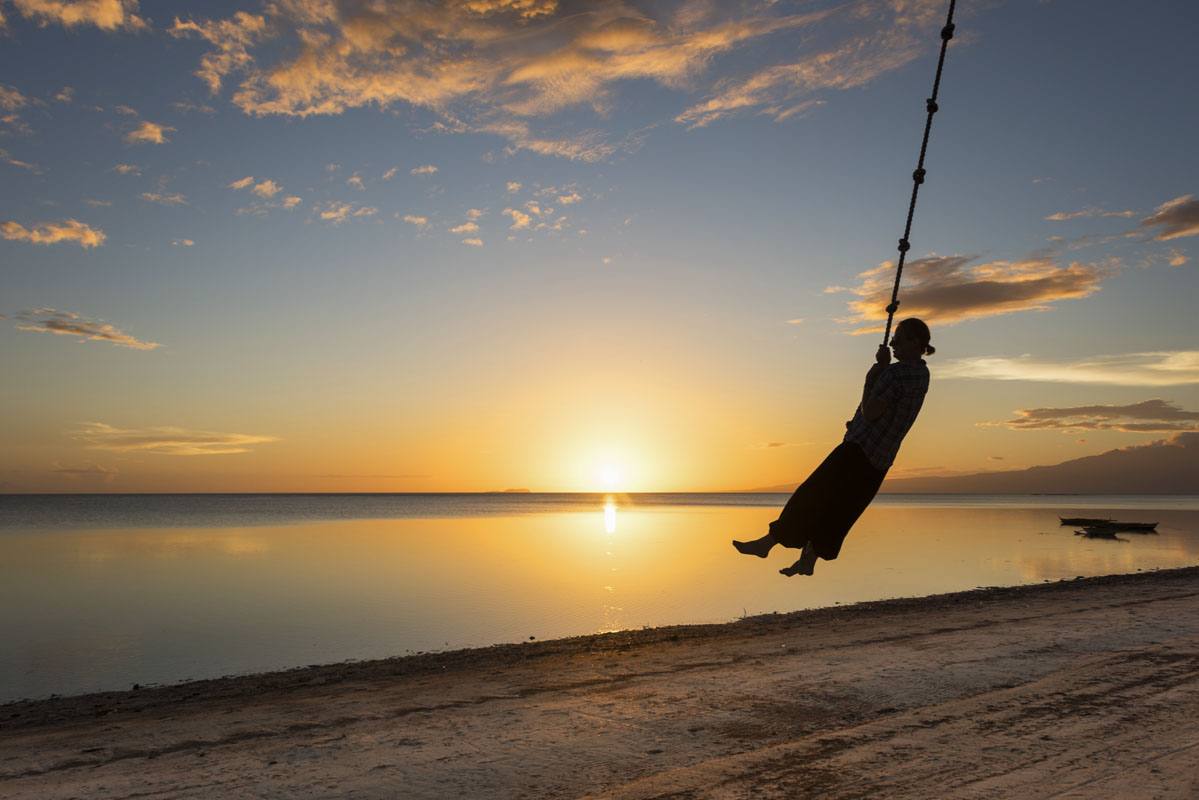 Did you know how many islands are there in the Philippines? 7107. There are around 100 provinces in Italy, and in 32 years I haven't managed to see them all. Can you imagine visiting 7107 islands? A lifetime wouldn't be enough.
Several countries lend themselves to planning itineraries easily – Vietnam and the popular north-south (or south-north) route is a good example. The Philippines are a whole different story – just take a good look at a map of the country and I'll promise you'll be as bewildered as me. Where to begin? There are so many islands! How will I get around? Plane, ferry, bus – what else?
Just breathe. Stay with me. Let's start from the beginning.
Getting to the Philippines – Manila or Cebu?
Your first port of call in the Philippines is likely to be either Manila or Cebu City. Many airlines only fly to Manila, but if you can choose between Manila and Cebu and you're planning to visit the Visayas region (that includes Bohol, Malapascua, Siquijor, Negros and Cebu islands), Cebu City is a much better option. Several travellers we met had opted to fly in and out of Manila, and found themselves hopping on a flight to Cebu straight away.
We usually love exploring cities, especially around Asia – Bangkok, Singapore, Kuala Lumpur and Penang are among our favourite destinations and we're always happy to visit over and over again. My first idea for our Philippines trip was to spend a week in Manila and about 5 days in Cebu, but I was advised against doing so.
Remember, the Philippines are not about the cities. Manila and Cebu certainly have some interesting sights, but they're far from being pleasant places to wander around. They're busy and polluted cities, with terrible traffic, lots of petty crime and scams. They're not places to stroll around and explore – traffic noises and fumes, uneven pavements and crowds everywhere make walking around these two cities a challenge. Definitely not fun.
Most people travelling around the Philippines seemed to regard going to the cities as a kind of 'necessary evil' – to get visa extensions, to get flights, sort out business and enjoy good food and fast internet.
Fact is, you WILL have to go through Cebu and/or Manila at some stage, so you may as well make the most of it. Staying somewhere nice will definitely help – and that's where we have two awesome tips for you.
We flew into Cebu City from Kuala Lumpur, and the landing was one of the most spectacular we've ever had. Cebu airport is on Mactan Island, a small island opposite the sprawling city. One of the first things we saw looking out of our plane window was the huge red sign of the Waterfront Hotel – unlike many 'airport hotels' that are in fact miles away from the airport itself and require annoying transfers with shuttle buses, the Waterfront Hotel in Mactan Island was literally right opposite the terminal.
We went through Cebu City a few times during our stay in the Philippines, and once we had a very early flight out of Cebu airport, so we thought it would be the ideal chance for us to stay at the airport hotel – and boy, what a stay it was.
The huge lobby was decorated with a big Christmas tree with lots of fairy lights and presents, a Nutcracker man – the Christmas atmosphere made us feel merry and welcome, just what we needed after a hard day of travel. The Waterfront Hotel is a luxury property, but it didn't have the 'stuffy' feel often found at luxury places – the lobby was full of people coming in and out, hanging out or having their photo taken in front of the Christmas tree.
In no time, we checked in and given our keys to our room. When we walked in, our jaws dropped. We had been upgraded to the Executive Suite! We had a massive living room overlooking the airport – we love plane spotting, so that was a big deal for us. On the table there was a plate of nibbles, including slices of the world-famous Cebu mango, definitely the sweetest and juiciest dried mango I have ever sampled. We barely had time to sit down that our bags arrived, along with two chilled drinks.
We also had two bathrooms – another big plus when you're rushing around trying to get ready in the morning – and a massive, super comfortable bed, that made waking up for that early flight very, very difficult.
Sadly, we were delayed on our transfer from Malapascua and only managed to reach the hotel in the afternoon, so we had to miss out on the sightseeing tour of Mactan Island we had planned. Not a problem though, because Internet connection was great throughout the hotel – another massive plus after weeks around remote islands with patchy connection, so we took up the chance to do some work.
We had dinner at UNO, offering an amazing buffet of international specialties. Normally, when I think 'buffet', I imagine a sad affair of mayonnaise-y salads, cold pasta and sweaty cheeses – but let me tell you, the buffet at UNO was nothing of the sort. There were food stations from all over the globe, decorated with chocolate sculptures of iconic sights – the Taj Mahal next to Indian specialties, the Statue of Liberty in the American corner, and so on.
Everything we tasted was delicious, and trust me, we did eat a lot! My favourite was a Filipino soup with meat, veggies and 2 kinds of noodles – but for the life of me, I can' remember what it was called.
Having enjoyed the Waterfront Hotel in Mactan, we decided to stay at their Manila property for our last night in the Philippines. The Pavillion Hotel is located in the heart of the Filipino capital, a ten minute walk to the Intramuros district and five minutes from the closest MRT stop.
We got to the hotel late at night, after a half-hour taxi ride from the airport. I highly recommend booking airport transfers with the hotel, as queues for taxis at arrivals are horrendous, and hailing a taxi to the airport on the street at night can take hours.
Our room was on the 20th floor, with a great view over the skyscrapers of Manila. Again, Internet connection was great and we could even make a video call on Skype – if you've been to the Philippines, you'll understand my joy!
This time we didn't have early flights so we could enjoy a sleep in and the massive breakfast buffet – almost as big as varied as the dinner buffet in Mactan. The Waterfront buffets are a food lover's dream – at breakfast, there were waffle, eggs and pancake stations, and a variety of hot and cold dishes, both Filipino and Western, and lots of delicious pastries. After that breakfast, we had enough food for the rest of the day.
The amenities at the Pavilion Hotel are similar to the ones at the Mactan property – there's a gym, spa, swimming pool, casino and business center. If you're staying on the Ambassador Floor, you can get lots of extras on offer like complimentary cocktails, access to the Ambassador Lounge, butler service and express check in/check-out.
Affordable luxury is one of the great advantages of visiting the Philippines. How much do you think a stay in a hotel similar to the Waterfront would cost in Europe? Hundreds and hundreds of euros, right?
Well, rooms at Manila Pavilion start at around €60 with advance booking – and for an extra €10 you can include breakfast for two. At the Waterfront Hotel in Mactan Island, rooms start at €55 and a suite can be had for as cheap as €85. Great deal, right?
Where to go in the Philippines – Our 1 Month Travel Itinerary
Siquijor – 4 Days
The mystical island of Siquijor was our first 'real' destination in the Philippines, after having visited Cebu City and Dumaguete. As soon as we got to Siquijor, we sat on the deck of our bungalow with a cold San Miguel beer, watching a sunset while the breeze ruffled the palms around the beach. We looked at each other and thought 'these are the Philippines we were looking for'.
We spent four days in this magical island, visiting stunning white beaches, going on walks along the coast and visiting Siquijor tourist attractions. Siquijor is known for being the island of healers, a place where magic is still practiced – we asked around to visit a healer, but we were told that they only show their craft to outsiders during Holy Week. I wonder if it's true?
How to get there
Take a bus or fly from Cebu to Dumaguete, then take a ferry from Dumaguete to Siquijor. There are several daily ferries and Oceanjet is one of the best and most reliable companies. Tickets cost PHP 210 (open air) and PHP 360 (business class) and you'll be charged an extra PHP 50 for each large piece of luggage.
Where to stay
We stayed at lovely Coral Cay Resort, a stunning yet unpretentious beachfront property, in a bamboo bungalow with all mod-cons, right on the beach. Just bear with us for a few weeks as we've got a photo essay coming out with a lot more info about Coral Cay and Siquijor!
Are you a beach lover? Make sure to save our 5 days in Fiji itinerary for your daily dose of paradise!
Dauin & Apo Island – 5 Days
After Siquijor it was time to head to Dauin, a village on Negros Island famous for being close to some great diving sites. The Philippines have some of the world's best dive sites, and diving was going to be a big part of our journey. We spent 5 days in Dauin, diving twice a day. We did our first muck dive, great for spotting seahorses, nudie branch and other tiny critters, and our first night dive, a stunning – yet terrifying – experience.
The highlight of our stay was a day trip to Apo Island, a short boat ride off Dauin. Apo Island is famous for its turtles, beautiful reefs and 'castaway' feel. Sadly, we didn't have time to stay overnight in Apo but we did have three amazing dives around the island, and spotted a huge school of trevally, dozens of turtles and some impressive corals.
The trip to Dauin and Apo will remain in my heart forever as that's where I got over my fear of diving that started after a diving accident in Madagascar in August 2014. Slowly slowly, one dive after another, I learnt not to be afraid of the great deep blue anymore, and now I can't wait to dive again.
How to get there
Dumaguete and Dauin are only 20 km apart. There are several jeepneys and buses departing from Robinson Mall for about PHP 20 per person – for the opposite direction, just hail any passing jeepney or bus or wait for one in front of Dauin market.
Where to stay
We stayed at Bongo Bongo Divers, a dive school with accommodation right next to Dauin's beach. There are several awesome dive sites that can be reached from the beach, and many others that are just a quick jeepney ride away. Bongo Bongo is a backpacker-inspired place, with bamboo bungalows for couples and cute 'alcoves' for solo travellers instead of dorms, but all sorts of people stayed there, drawn to the chilled-out feel and the great Filipino hospitality.
The atmosphere made it a great place to stay at – the kind of vibe you get when everyone is there for the same reason. We all gathered and swapped diving stories at night, cooked and ate all together.
Bohol – 1 Week
Ahhhh, Bohol, we loved you so much. Despite being one of the Philippines' most heavily touristed islands, we thought Bohol was a really special place. Bohol – and its tiny sister island Panglao – pack in so many iconic Philippines sights, from the cute tarsiers and the Chocolate Hills to stunning beaches with great diving. Check our post for eco things to do in Bohol, to enjoy this awesome island paying respect to the environment!
How to get there
There are daily ferries from both Cebu and Dumaguete to Tagbilaran, the main city in Bohol. Dumaguete – Tagbilaran ferries cost between PHP 700 and 900, and Cebu – Tagbilaran ferries cost between PHP 800 and 1000. Don't forget you'll be charged extra for large pieces of luggage.
Where to stay
If you truly want to be spoilt, to enjoy Filipino hospitality at its best and swim in the most beautiful beach in the whole of Panglao, stay at Bohol Beach Club. It may be pricey (around €90 per night) but it's truly one of the best places we stayed at – I still dream of their breakfast buffet! YUM!
Bohol is a very popular destination, and ferries do book out, especially in high season. Luckily, it's possible to book tickets in advance!
For ferries from Dumaguete to Bohol (or viceversa), book here
For ferries from Cebu to Bohol (or viceversa), book here
Malapascua – 1 Week
Malapascua is another slice of paradise, one of those places where you just can't help extend your stay. This tiny island, about 3 km long and 1 km wide, lies off the northern tip of Cebu island. Several people I spoke with in the country didn't even know of Malapascua, but the island is anything but secret in diver circles all over the world. The reason? Thresher sharks. Here they are. Awesome, right?
Malapascua is the only place in the world where you can be *almost* certain to sight thresher sharks on a dive. They can be seen every morning at dawn, in the depths of Monad Shoal, a sunken island off the coast of Malapascua. Another top thing to do in Malapascua is diving in Gato Island, a small island with an underwater cave that goes from one end to the other, where you can regularly spot white tip reef sharks.
And if you're not a diver? Is it still worth to visit Malapascua? Absolutely. It's one of the most relaxing places we've ever been to – kind of like Jericoacoara in Brazil, where days go by slowly, lazying on the hammock and popping down to the local street food place for some lunch, then lazying some more or heading to the beach for a swim in the crystal-clear sea.
Stay tuned for a dedicated Malapascua post coming sooooon!
How to get there
From Cebu City, you need head to the Northern bus terminal to catch a bus to Maya, on the northernmost tip of Cebu Island. Tickets are around PHP 200, depending on whether the bus is air conditioned or not. The bus will drop you off at Maya port where locals organise crossings to Malapascua in their outrigger boats. They may try to overcharge you – remember the price is PHP 100 maximum.
If you get to Malapascua at high tide you'll also have to pay boatmen to ferry you all the way to the shore, this will cost you PHP 20 per person and per piece of luggage.
Where to stay
A fellow blogger recommended staying at Villa Sandra Guesthouse, a reggae-themed place not far from Malapascua harbour. Villa Sandra is run by charismatic Jun Jun, a local guy who turned his family home into a haven for travellers. It's a chilled out place, with lots of hammocks, cute cat Blendy ambling around exchanging purrs for scratches, and reggae music playing all day long – and stopping at the right time.
Another reason to stay at Villa Sandra is that Jun Jun invests part of his earnings into community projects and sometimes invites his guests to join him for the afternoon to work and play with local children.
Danjugan – 3 Days
Are you looking for paradise in the Philippines? Well, stop reading it, because you found it. Absolutely no one we met knew about Danjugan Island, a tiny island off the coast of Negros Occidental, now a nature reserve. We spent three days in Danjugan, completely at one with nature, hiking in the morning and snorkeling in the afternoon, looking for the 'elusive' island resident, the black tip reef shark! Are you curious to know if we managed to spot it? Check our Danjugan post to find out!
How to get there
Your jump-off point for Danjugan is Bacolod, the capital of Negros Occidental, that can be easily reached by plane or bus from Cebu. Once in Bacolod, head to the Southern bus terminal and hop on a bus bound for Hinoba-an. Ask the conductor to let you off at Crossing Remollos – Quadro de Dios, where Danjugan boatmen will meet you and take you to their outrigger boats for the crossing to Danjugan.
Remember to book in advance if you want to visit Danjugan – only a limited number of tourists is allowed to stay overnight.
Where to stay
On Danjugan, you can stay at one of two camps – Moray Eel camp offers accommodation in shared open cabins, while Typhoon Beach you can stay in huts made with mud from the island. Check the Danjugan site for extra info!
I hope this article gave you some ideas of where to go in the Philippines. One month is barely enough to scratch the surface of this fascinating country of 7107 islands – it will leave you longing for more. I promise. For instance, check out this awesome story about getting a tribal tattoo with Whang Od, a 99 year-old living legend!
We would like to thank Waterfront for having hosted us in Manila and Mactan. All opinions are our own.
This post contains affiliate links, which means that if you book your accommodation through these links I'll receive a small commission at no extra cost to you, which will help me maintain the site!
Pin it for later?