First time visiting Sicily? This 7 days Sicily itinerary covers all the essentials to have a wonderful time discovering Sicily – including cities, villages, history, nature and practical tips!
There are thousands of reasons to visit Sicily, whether it's your first or tenth time in Italy. Sicily is Italy's largest region and the largest island in the Mediterranean, and there's literally something for everyone.
Are you a beach lover? You'll find all sorts of amazing beaches in Sicily, from long sandy ones to crystal-clear rocky coves. Are you into mountains? You can climb Mount Etna, hike Stromboli, or explore the Nebrodi and Peloritani mountains. Do you prefer small villages? The interior of Sicily is rarely explored and full of offbeat 'borghi' – here are the 9 best villages in Sicily.
Sicily also offers delicious cuisine, a millenary history, and nice year-round weather. If you're visiting Italy in January or February, you'll find sunshine and daytime temperatures around 20°C even when the rest of Italy is freezing.
There's only one problem – Sicily is huge, and with so many sights and attractions you'll need months to see everything. After visiting Sicily over a dozen times, we've come up with this 7-day Sicily itinerary, perfect for first-timers. The itinerary focuses on Eastern Sicily, starting and ending in Catania, the second-largest town and home to a busy international airport.
Before examining the 7 days Sicily itinerary closely, let me share some practical tips with you!
Do you have more time? Here's our ideal 2 weeks Sicily itinerary!
Sicily Practical Tips
How to Get to Sicily
Sicily is an island and there's no bridge across the Straits of Messina connecting it to the mainland, so there are essentially two ways of getting there: by plane or by train/ferry.
The three main airports are Catania, Palermo, and Trapani – this 7-day Sicily itinerary starts and ends in Catania, the most convenient airport for Eastern Sicily. All these airports have flights to destinations in Italy and Europe.
You can also get to Sicily by train from mainland Italy. Rail connections within Sicily are still very slow, but you can take advantage of Italy's excellent high-speed rail network up until Villa San Giovanni, the town on the Calabrian coast where ferries to Sicily depart.
There are direct trains from Milan and Rome to Sicily, often travelling overnight – in this case, train cars actually enter the ferry, then the train gets back together and continues travelling on the Sicilian side. It's time-consuming but convenient as you don't need to move your luggage during the ferry journey!
How to Get Around Sicily
There are trains and buses travelling around Sicily so in theory you can get around Sicily with no car, but travel time between places will be longer and you'll need to plan your journeys carefully, as intercity buses often only run once or twice a day.
The best way to get around Sicily is by car. Roads are not always in tip-top conditions, especially between small villages in the interior of the island, so please be careful. We also recommend renting small cars like a Cinquecento or Fiat Panda, as roads are often narrow (especially in villages) and large cars may get stuck.
Best Time to Visit Sicily
Sicily is truly a year-round destination, with something to offer every month of the year. However, each season comes with pros and cons. For instance, winter is low season: that means great deals on accommodation and no tourist crowds, but restaurants, businesses and tourist attractions might be closed, especially on the coast.
Conversely, summer is busy and lively, but prices skyrocket and crowds can be a real problem. Shoulder season (September/October and April/May) are probably the best times to visit Sicily, just consider that during public holidays (especially Easter and Christmas) prices for hotels and flights are generally more expensive with Sicilians living elsewhere in Italy returning home to visit their families.
Is Sicily Safe?
In short, yes! Sicily is as safe as any other place in Italy. If you are worried about run-ins with the Mafia, fear not – the Mafia is not likely to worry about tourists!
Now, this is not to say that Sicily is completely crime-free. Exercise the same level of caution you would in Rome or Milan for example, watch your belongings in crowded places and don't leave your car unlocked or your luggage unattended.
As I mentioned above, roads can sometimes be in poor conditions and Sicilians are often reckless behind the wheel, so take that into account when getting around Sicily. Road traffic accidents are a much bigger concern than the Mafia when it comes to safety in Sicily!
The Best 7 Days Sicily itinerary
Day 1 – Catania
Start your day in Catania with a good breakfast before heading to Porta Uzeda. The remarkable gate was built into the 15th-century city walls after the 1693 earthquake to show gratitude to the duke of Uzeda, Juan Francisco Pacheco Téllez-Girón, for rebuilding the city after the earthquake.
From there, head to the UNESCO World Heritage site, Piazza del Duomo, Catania's main square where you can step into Catania Cathedral. Beautifully decorated with marble arches and dazzling frescoes on the walls and ceiling, it is dedicated to Catania's patron saint, Sant'Agata. Below the cathedral, you can visit the Roman Baths as part of the Diocesan Museum.
Next, climb the 170 steps to the top of the 18th-century Badia di Sant'Agata church for sweeping 360 views of the city and Mount Etna.
As Sicily's largest former Roman city, Catania has a well-preserved Roman Theater worth visiting. Dating back to around the 2nd century AD, it had a capacity of 7000 spectators and is one of Catania's top attractions together with the Benedictine Monastery of San Nicolo l'Arena which you will be visiting next.
You can see a large part of the cloisters, gardens, and courtyards free of charge, though it is worth taking a guided tour to learn more about the complex and get access to other parts of it.
Other sites worth seeing during a day in Catania are the dazzling Opera House, Roman Amphitheater, and Piazza Stesicoro.
Book your Catania walking tour here!
Day 2 – Etna
Mount Etna is the most iconic sight of Sicily and the smoking volcano is a picturesque backdrop to Catania. The 3326-meter high volcano has frequent outbursts, though they usually do not do much damage. Thus it is a popular volcano to hike and it has a fair lot of interesting sites to explore. You can do it individually or with a guide.
You can do different hikes up to the craters and viewpoints from the parking lot. However, if you do not want to walk the whole way, there is a cable car that can take you up to 2500 meters.
From there, you have two choices.
You can walk the rest of the way to 2800 meters (which is the highest you can go without a guide) or get a 4WD to take you higher. The 4WD option includes a guide that will take you up to the top.
Top tip! Bring layers of warm clothes even in the summer. Mount Etna is at a high altitude which means that there is a considerable temperature difference from Catania. It can also be fairly windy on the top.
Book your guided tour to the top of Etna here – also includes wine tasting!
Day 3 – Taormina/Gole Alcantara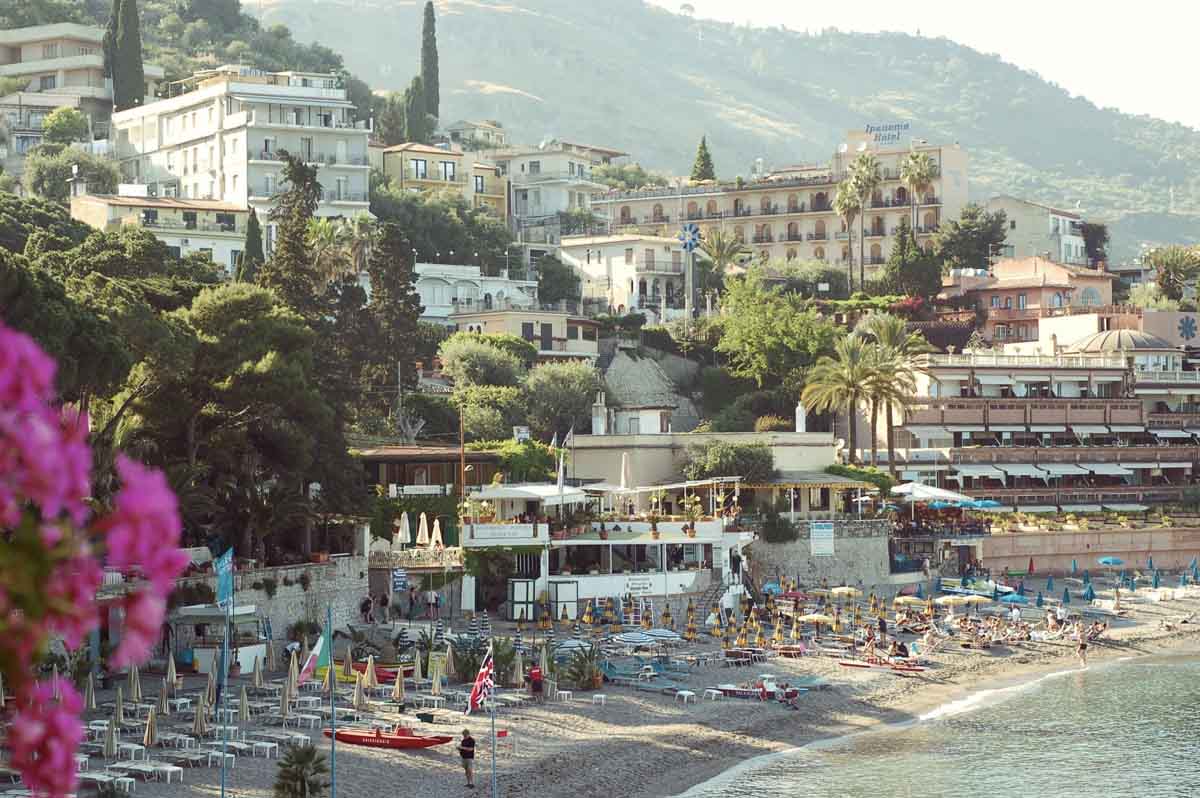 On day 3 of your Sicily itinerary, head to the quaint town of Taormina. The most prominent tourist attraction is the 3rd-century BC Teatro Greco (Greek Theater). It is still used for concerts and theater plays and accommodates about 5000 spectators. The ruins are extremely well-preserved and the views of the coastline beyond the ancient theater are mesmerizing, with Etna towering in the background.
It is also worth going for a stroll through the spectacular Villa Comunale Public Gardens. With lush green vegetation wrapped around paths and structures created to accommodate the abundant bird life in the gardens, it is one of the most picturesque gardens in Sicily. Besides, the views of the coastline from there are splendid. For more exquisite views, head to Piazza IX Aprile. If you have time before lunch, it is worth stepping into the Taormina Cathedral too.
After lunch, pack your swimsuit and water hiking shoes as it is time to explore the impressive natural wonder, Alcantara Gorges/Gole dell'Alcantara. The water in the basalt gorge reaches your ankles and knees most of the time so you do not have to get completely wet, though on a hot summer day, it could be exactly what you want. You should know that the water is cold all year round. Only a couple of hundred meters after you start hiking upstream, steep basalt walls start closing up on you and it is absolutely otherworldly.
There are also fun organized activities in the Gole dell'Alcantara in the summer months that you can book, like canyoning, river trekking, or body rafting. You can also discover the smaller ravines of Piccole Gole and the small lakes at Gurne dell'Alcantara.
Book your Taormina Food & Wine walking tour here!
Day 4 – Siracusa (Syracuse)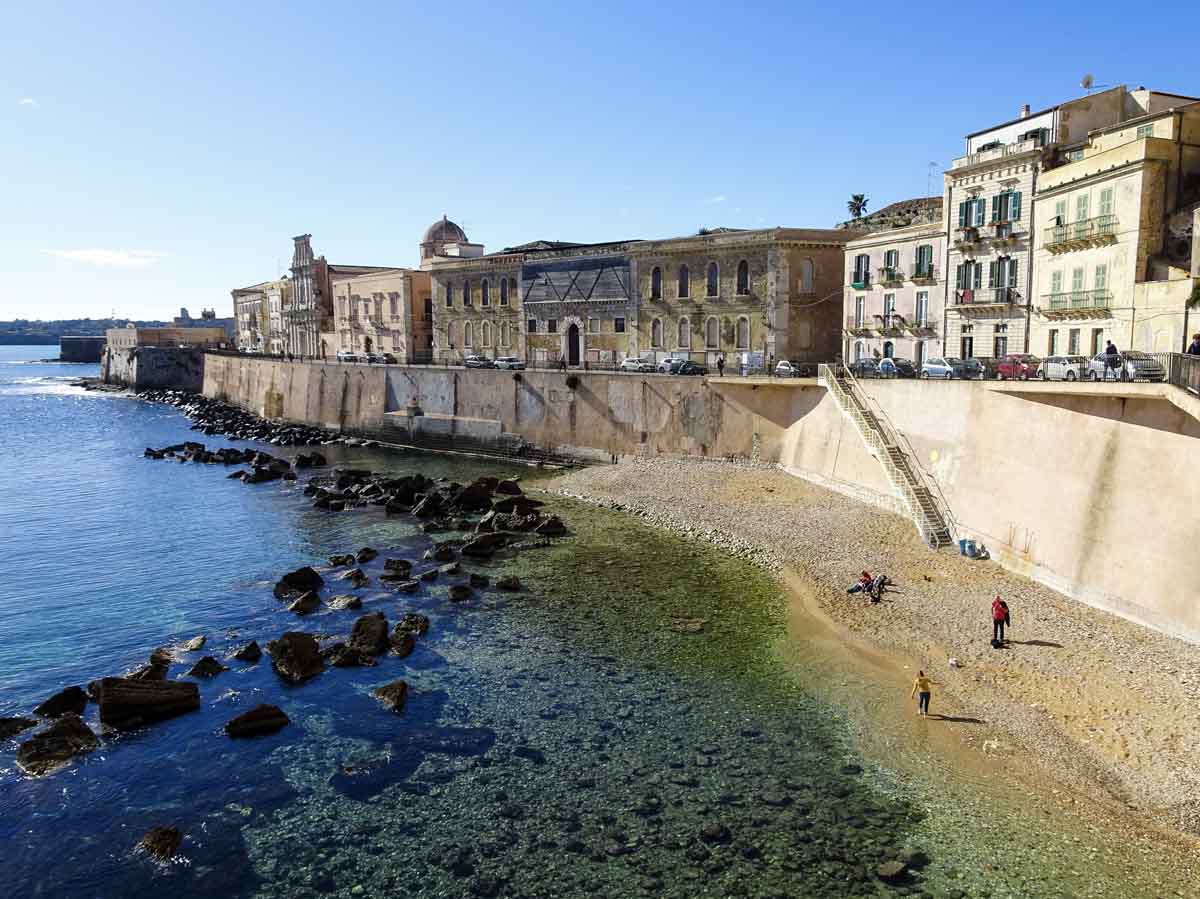 Today, you will explore a wealth of archaeological sites in the Neapolis Archeological Park in the west of Siracusa (Syracuse). Start with the biggest attraction of them all, the Teatro Greco (Greek Theater), which is also one of the best preserved in Sicily and dates back to the year 470 BC.
There is also a Roman Amphitheater from the 3rd century in great condition in the park which is partly overgrown by green vegetation and gives you a feel of how old it actually is. Other sites worth seeing in the park are the Ear of Dionysius, the gardens of Latomia dei Cappuccini, and Ninfeo's Cave.
Besides the Archaeological Park, you can enjoy impressive attractions like the Cathedral of Santa Maria delle Colonne, Basilica of Saint Lucia al Sepolcro, the Archaeological Museum, the Temple of Apollo, and the ancient Crypt and Catacombs of San Giovanni. Most sights are in Ortigia, an island connected to the mainland, and the most charming part of Siracusa, with cute narrow streets and cobbled piazzas.
Enjoy an evening stroll before or after dinner through the charming streets of Siracusa and along the seaside.
Book your walking tour of Siracusa and Ortigia here!
Day 5 – Noto/Marzamemi
Start your day in the UNESCO-listed town of Noto where you will witness a wealth of impressive architecture. The most note-worthy attraction is Noto Cathedral with distinctive wide stairs cascading down from the Baroque façade. Built after the 1693 earthquake like large parts of the city, the dome dramatically collapsed in 1996 and had to be rebuilt.
Besides the basilica, the opulent Palazzo Nicolaci is a must-see when in Noto. Dating back to the first half of the 1700s, you can now tour 90 lavish rooms with extravagant decorations and frescoes, and admire the imposing balconies elegantly held by winged horses, angels, and mermaids.
After lunch, head to the enchanting medieval fishing village of Marzamemi centered around the picturesque Piazza Regina Margherita. Decorated with potplants and plants hanging on the sandstone walls, an ocean of tables and colorful wooden chairs outside the restaurants, and home to a rustic church, the village's main square has everything you would want from such a charming little settlement.
After wandering through the ancient streets soaking in the village life, take a stroll under the Mediterranean sun on Spinazza beach or discover the rugged bays of San Lorenzo.
Day 6 – Modica/Ragusa
With rustic houses spilling down a steep hill, Modica is one of the most picturesque towns in Sicily. Famed for its chocolate and being the birthplace of the poet Salvatore Quasimodo, Modica is also a UNESCO World Heritage Site.
Not surprisingly, one of the must-do's is to visit the Modica Chocolate Museum and go on a chocolate-tasting tour (it is also a good occasion to stock up on chocolate for the rest of your 7 days Sicily itinerary). You can also take a tour of the house where Salvatore Quasimodo was born, now turned into a museum.
Looming above the village, the remains of Castello dei Conti balance on a rocky spur dominated by the 18th-century Clock Tower. The views from the castle are spectacular and well worth the steep winding roads that take you there. Before moving on, make sure you visit the Duomo di San Giorgio.
After Modica, head to Ragusa, yet another Baroque beauty with a wealth of churches. Most sights are located in Ragusa Ibla, the oldest part of town. Start with the Duomo di San Giorgio, just as majestic on the inside as the outside. Another one you should not miss out on is the 17th-century Chiesa di San Giuseppe.
Book a guided tour of Palazzo Arezzo Di Trifiletti with the owner himself, Domenico Arezzo, through opulent ballrooms and majestic halls decorated with magnificent frescoes. Finally, try to time sunset with a visit to the spectacular Santa Maria delle Scale, this will make for an unforgettable end of the day.
Day 7 – Aci Castello/Acireale
Today you'll be driving back to Catania – Acireale and Aci Castello are two small villages just outside Catania, less than an hour from the airport. Depending on what time your flight is, you may be able to visit one or both.
Start with Acireale where a good place to begin your sightseeing in Piazza del Duomo. There you will find Acireale Cathedral with an interior adorned with majestic arches and opulent frescoes in the ceilings. There is also the 16th-century Basilica of Saints Peter and Paul and two of the city's most impressive palazzos, Palazzo Municipal and Palazzo Modò. These too were damaged during the 1693 earthquake and rebuilt in a Baroque style.
Near Piazza del Duomo, you can visit the Puppet Museum which you find in the Teatro Don Emanuele Macrì. There, you can treasure the incredible Puppet Opera, Opera dei Pupi, which was declared a UNESCO Masterpiece of Oral and Intangible Heritage in 2001.
Bookworms will love to step into the Zelantea Library and Art Gallery where there is a collection of a whopping 200.000 books, some of them dating back to the 16th century and earlier.
Then, before heading back to Catania or the airport, visit the castle in Aci Castello. Perched on a rocky outcrop on the idyllic seaside, the 11th-century castle is beautifully placed. Inside, you can visit the museum and the little church featuring imposing frescoes. You can also venture down the stairs to the waterfront where you can breathe in the salty Mediterranean.