Looking for the best villages in Sicily? Here we'll tell you about 9 hidden villages and small towns in Sicily's interior, each of them offering something unique!
Would you like to explore more Italian villages? Download the FREE Viaggio Italiano eBook with stories from all Italian regions!
Winding roads through the forest, where goats and cows outnumber passing cars. Life in the shade of a huge mountain. Maze-like villages, with staircases climbing the hillsides. A castle built into a rock, with subterranean passages and a watchtower. And there's more – Baroque churches, a Bronze Age necropolis, Medieval pilgrimage routes, and countless cannoli.
Yes, I think that with this last sentence, you know what I'm talking about. This is Sicily – but probably not the Sicily you know or imagine, all about pretty coastal towns, sparkling islands, stunning volcanoes, and millenary history.
Small villages (known in Italian as 'borghi') in Sicily are places where time flows slower (perhaps a little too slow at times for this city girl). Tourists are still a rarity – that means services may sometimes be lacking, but rest assured your experience will be authentic.
These are places where you have no alternative to experiencing local life, quite simply because there are no tourist restaurants with menus in 5 languages, no souvenir shops, no umbrella-toting tourist guides.
It may sometimes feel like a struggle – roads are a nightmare, Google Maps is totally useless, and bars and restaurants are often closed in the off-season. You'll be rewarded with warm local welcomes, more delicious food than you'll possibly be able to eat, and the feeling of being one of the few 'outsiders' there – and in a country like Italy, this is very rare experience to have.
The 9 small Sicilian villages featured in this article can be divided into three groups of three, with one village to be used as a 'base' and two others that can be visited as day trips.
We visited them all over a 10-day itinerary of Sicily's interior – a week would probably be enough if you are pressed for time. Otherwise, you can choose one group of villages, and visit that over the course of a long weekend. If it's your first time in Sicily and you'd rather stay on the beaten track, check out our 7-day Sicily itinerary for first-timers!
So, let's start discovering the best small villages in Sicily!
Do you have more time? Here's our ideal 2 weeks Sicily itinerary!
Best Villages in North East Sicily
1) Montalbano Elicona
Montalbano Elicona appeared to us like a mirage, after driving for hours on potholed roads in the shade of Mount Etna, and then across misty forests in the Nebrodi mountain range. At first, you'll see the stocky silhouette of the 12th-century castle, overlooking the village as it has done for centuries – and then, the houses and streets of Montalbano itself, stretching all around.
The star attraction in Montalbano Elicona is definitely the castle, with a horseshoe-shaped building surrounding a square tower on a rocky outcrop, built during the Norman domination of Sicily as a lookout over the surrounding mountains. There is also a water cistern and a chapel, housing the grave of Arnau de Vilanova, a theologian and alchemist at the Kingdom of Aragon, who ruled Sicily between the 13th and 15th centuries.
You can visit the horseshoe-shaped building, offering historical information and an exhibition of Medieval armour, weapons, and clothing, but the Norman tower was closed to the public at the time of our visit.
If viewpoints are what you're looking for, the best ones in Montalbano Elicona are at the top of Via Etna (for views over the castle and village) and the end of Via Mastropaolo (for views over the northern coast of Sicily and the Aeolian Islands). The latter is one of the most beautiful spots in Sicily in my opinion!
Just outside Montalbano Elicona there are two other pretty cool things to see. Just outside the village you'll find several 'tholos', mysterious tiny dome-shaped buildings, kind of a dry-stone version of the igloo, dating back to early Greek times. There's an itinerary connecting the various tholos, but some of the paths were very overgrown. The easiest one to visit is 2 km outside Montalbano on the way to Catania.
7 km outside of town you'll find the Altipiano dell'Argimusco, a plateau with a collection of megalithic rocks of mysterious origin. Nobody really knows whether they were brought there by the legendary giants inhabiting Sicily in ancient times, or if they are simply the result of erosion. An hour-long itinerary connects the various rock formations – it's fun to discover all the hidden shapes!
With three days in Montalbano Elicona, you'll have time to visit two other interesting borghi (villages) located within day-trip distance – Novara and Castiglione di Sicilia.
-Getting There: Fly into Catania and drive via Bronte, Randazzo, and Santa Domenica Vittoria. Travel time is approx 2 hours 30/3 hours.
-Where to Stay: Domus Aurea, a B&B in a renovated 19th-century building with a great rooftop terrace.
2) Novara di Sicilia
Novara di Sicilia lies at the border between the Peloritani and Nebrodi Mountains, in a scenic location overlooking the coast and Aeolian Islands. Not far from the village, you can go on a great hike to the Rocca Salvatesta, a rocky outcrop also known as 'Il Cervino di Sicilia' (Sicily's Matterhorn) because of its shape.
It takes 2/3 hours to hike there and back from Novara – you can either take a path starting right in the centre of town, or drive out to a spot marked on Google Maps as 'Parcheggio Rocca Salvatesta' and follow the path from there.
The village itself is a picturesque tangle of crooked streets, lined by palazzos with carved façades, churches, and houses. There's a ruined castle on the highest point of town, right next to a really nice restaurant where you can sample maiorchino, Novara's very own cheese, made with a blend of cow and goat's milk.
If you happen to be in Novara di Sicilia on Carnival Sunday, an ancient game called Maiorchina takes place – cheese wheels are rolled along a set itinerary, and it's important for them to arrive in one piece. The game was originally a way to 'test' the quality of the cheese – only the best and most compact wheels would survive the race without breaking.
Hidden in a courtyard in the lower part of this Sicilian village you'll find another unique marvel – the Giorginaro horizontal water mill, the only surviving one of a set of 14 watermills active for centuries across the valley.
This mill was lovingly restored by a local family who now leads tours, where they'll also show the mill in action. If there's no one when you get there, call the phone number on the gate and somebody will turn up soon. Don't forget to leave an offer and/or buy some flour!
-Getting There: If you're up for a challenge, you can hike along the Sentiero Italia from Montalbano Elicona to Novara di Sicilia, but it will take you the whole day. Otherwise, it will take about 1 hour to drive via Falcone and Mazzarrà – it's slightly longer than via Basicò but the road is in much better shape.
3) Castiglione di Sicilia
At first glance, Castiglione di Sicilia looks completely different compared to the Sicilian borghi visited so far. Instead of the usual honey-coloured sandstone, you'll see dark lava stone in many buildings – revealing the presence of a (usually) silent yet ever-present neighbour, mighty Etna.
Castiglione di Sicilia is one of the 20 comuni (municipalities) of the Etna protected area, and even part of the volcano's summit falls under its jurisdiction. From there, you can arrange hikes and tours all over the mountain, including the summit craters. Sadly it was cloudy on the day we visited, so we decided to focus on lower altitudes – and Castiglione di Sicilia didn't disappoint!
A truly unique sight in this village is the Lauria Castle, named after a naval officer at the service of the Kingdom of Aragon, located in the highest part of town. There are wonderful views on the walk up to the entrance, over Etna and the Alcantara river valley, but the real marvel lies inside – part of the castle houses the Enoteca Regionale, a wine bar collecting some of the best labels by producers in the Etna region.
The wine bar opens at 10.30 am, which may sound early for a glass of wine – but trust me, there's nothing better than a glass on the terrace with views over Etna to get your appetite going!
Castiglione di Sicilia also houses some impressive churches, including the Chiesa dei Santi Pietro e Paolo with part of the original external walls in its structure, and Chiesa di Sant'Antonio Abate with a beautiful Baroque façade. However, if you ask me the true marvel lies in the countryside just outside the village – Chiesa di Santa Domenica, also known as Cuba, a Byzantine church dating back to the 7th century, a simple square room topped by a dome built in lava stone.
This hidden village is also located close to one of the coolest natural attractions in this part of Sicily – the Alcantara Gorge (Gole dell'Alcantara), with towering basalt blocks surrounding a crystal-clear river, created by millennia of volcanic eruptions and erosion by the fast-flowing waters of the river. Check out this comprehensive guide to the Alcantara Gorge if you're planning to visit!
The entrance to the Alcantara Gorge is about 20 minutes from Castiglione di Sicilia. This place gets VERY busy in summer, but lucky there's an alternative: the Piccole Gole (small gorge), just a few minutes from Chiesa di Santa Domenica. Just follow the path heading towards the river, until you get to this place. And guess what – it's not even marked on Google Maps!
-Getting There: It takes approximately 1 hour 15 to drive from Montalbano Elicona via Randazzo and Mojo Alcantara.
You can visit Castiglione di Sicilia on this wine-tasting tour from Taormina, including visits to two Etna wineries!
Best Villages in Sicily near the Madonie
4) Gangi
If you can only pick one village to visit in the interior of Sicily, we recommend Gangi. This borgo seems to be hewn directly out of the mountain, a collection of little cube-shaped buildings crowding the sides of Mount Barone like the mythological Tower of Babel, made even more beautiful by mighty Mount Etna visible just behind (when it's clear).
Most of Gangi follows a crazy street plan developed to make use of as much space as possible right on the mountain. Don't try to find your way around using navigation apps – they simply won't work. However, Gangi is small enough that you'll always find what you're looking for (eventually).
Start your exploration in Piazza del Popolo, where you'll find the Cathedral dedicated to San Nicola di Bari. We recommend buying a ticket for a guided tour, as this church contains some really interesting things to see. First, you'll get to see a monumental Last Judgement painting, located in the apse, by local painter Giuseppe Salerno. It's interesting to notice the painting is in fact a Parusia – the moment immediately preceding the Last Judgement, just like Michelangelo's famous Sistine Chapel in the Vatican Museums.
The tour continues down into the crypt, housing the Fossa dei Parrini, dozens of mummified priests that died between the 17th and 19th century, all set in individual niches and in various degrees of preservation. If dead bodies bother you, skip this part – we found it really interesting and it reminded us of our visit to the Mummies of Guanajuato. The final stop of this cathedral tour is Torre dei Ventimiglia, a Gothic church used as a belltower, but originally constructed as a watchtower.
There's plenty to see and do in Gangi – there are three museums to visit, as well as stunning Palazzo Bongiorno with its painted ceilings, which is free to enter. However, the most fun thing to do is simply wander around, getting lost between winding staircases and narrow alleyways, cobbled lanes opening up to scenic viewpoints.
In 2014, Gangi won the award of 'Borgo dei Borghi' – meaning 'Village of Villages', an award given to villages that are especially beautiful and unique. It was the village in Sicily we enjoyed the most, not just because it's really pretty, but also for its chilled atmosphere and the beauty of its surroundings. You can't miss it!
-Getting There: Gangi is two hours away from both Catania and Palermo airports, so if you are driving, you can choose either airport. There are buses from Palermo Centrale station to Gangi with Sais Autolinee, from Catania you'll need to change buses in Nicosia.
-Where to Stay: A-MURI B&B, with sleek modern decor in a renovated 'tower house' with wonderful views over the Madonie mountains. countryside.
5) Petralia Soprana
The Madonie mountains were crossed by a branch of Sicily's Via Francigena, a pilgrimage route connecting Palermo with Messina, where pilgrims sailed to the Italian mainland and continued their walk to reach Rome. In recent years, four Sicilian pilgrimage routes have been mapped – collectively, they are known as Vie Francigene di Sicilia, covering approximately 1000 km of hiking routes across the island.
A fun way to get from Gangi to Petralia Soprana, another beautiful small village in Sicily, is hiking one of the stages of the Via Francigena Palermo-Messina. The 'proper' stage is actually the other way round, from Petralia Soprana to Gangi, but it's easy enough to follow in reverse.
It took us about 3 hours and a half to hike 13 km, with approx 700 meters in elevation. The itinerary leads you out of Gangi at first, down the sides of the mountain, and then along minor roads, until a steep climb will take you to the first viewpoint where you can see Petralia Soprana. The second part of the hike follows unpaved country roads, with not a soul in sight – first, you'll descend to a stream and then climb up again, until you hit the cobbled streets of Petralia Soprana.
One of the main draws of Petralia Soprana is the scenic views over the Madonie mountains, stretching all the way to Gangi and Etna. Alas, we visited on a gloomy day, and there was construction work on the road leading to the Loreto viewpoint, so we couldn't see the views.
In any case, it's worth paying a visit to the tardo Baroque Santa Maria di Loreto church, and to the cathedral dedicated to Saints Pietro and Paolo, with an impressive wooden crucifix by Frate Umile da Petralia. One more thing to do in Petralia Soprana before heading back – stop at Pasticceria Aspromonte for some truly delectable cannoli and sfogghiu, a traditional cake from the Madonie made with cheese and chocolate.
-Getting There: Hike along the Via Francigena then take a Sais Autolinee bus back to Gangi (20 minutes travel time). Otherwise, you can reach Petralia Soprana by car from Gangi in about 15 mins.
6) Sperlinga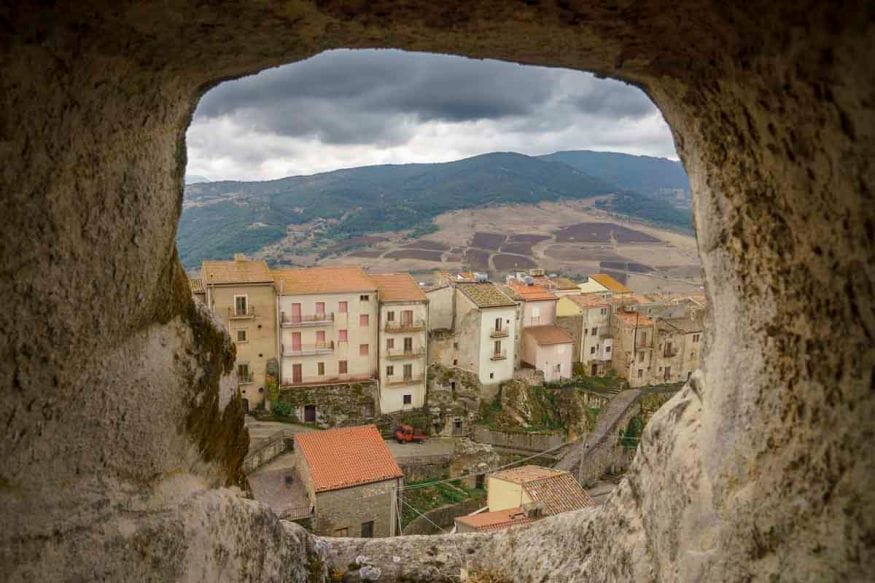 Another stage of the Via Francigena Palermo-Messina connects Gangi with Sperlinga, at the border between the Madonie and Nebrodi mountains. The stage is approximately 20 km long and with 1100 meters altitude difference – so it probably take you most of the day to get there.
The name 'Sperlinga' derives from the Latin spelunca, meaning cave – the territory is full of natural caves, and part of the village grew by expanding this existing system of caves.
We started our visit at Sperlinga Castle. In low season, you can buy your entrance ticket at Bar il Castello, and visit the castle independently. Part of the castle is dug into the sandstone, and part was built by the Normans in the 11th century. The 'above ground' section of the castle includes a small ethno-antropological museum with farming equipment and information about life in the past, and a photo exhibition with Sperlinga in the worlds and pictures of famous travellers, from Al-Idrissi to Escher and Robert Capa.
The underground section of the castle is even more spectacular and adventurous to visit – you climb down a rickety wooden staircase and move from one rock-hewn room into another, admiring carved niches and wells, and observing the village below framed by windows sculpted from the rock.
It's also possible to climb up to the top, along a steep staircase rock-carved, until a viewing platform surrounded by battlements.
A short distance from the castle, it's also possible to walk around freely around the 'Borgo Rupestre' (rock village). The caves of Sperlinga were inhabited by locals until about 50 years ago, and are now mainly used as storage space. It's a little version of the Sassi of Matera – few of the cave houses have been restored, and we heard that one is being inhabited by an elderly lady, but hopefully increased tourist attention will lead to a renovation of this unique part of the village.
One last curious fact – Sperlinga is one of the few remaining places in Sicily where people still speak Gallo-Italic, a dialect from Northern Italy, dating back almost 1000 years when the area was settled with people from Piedmont and Lombardy.
-Getting There: Hike along the Magna Via Francigena or drive approx 20 minutes from Gangi.
Best Baroque Villages in Sicily
7) Ferla
The beautiful UNESCO-listed Baroque towns of South East Sicily are very well known, and visited by thousands of visitors each year. However, did you know that besides towns in the 'official circuit' like Noto, Scicli and Ragusa, there are many more small villages in Sicily where you can appreciate marvellous Baroque architecture?
One of these places is Ferla in the Iblei mountains, in the province of Siracusa. At first glance, the village doesn't look like much, just a sleepy Sicilian borgo surrounded by olive trees and dry stone walls. You just need to take a walk down Via Vittorio Emanuele, and you'll change your mind.
Start from the top, and gradually walk down – this is Ferla's Via Sacra, housing 5 impressive Baroque churches. Right at the top, there's Santa Maria Church, slightly elevated from the road and housing a wooden crucifix just above the altar. Then, you'll encounter the real marvel, overlooking the main square in the village – Sant'Antonio, with a curved concave façade topped by two belltowers, until the one on the left collapsed after an earthquake in 1908.
Further down there's the Chiesa Madre, with the city's coat of arms on the façade and lavish Baroque decoration inside, and the San Sebastiano Church, the largest in town, with a statue of Saint Sebastian's martyrdom right above the entrance portal. Right across the square you'll notice the Chiesa del Carmine, presenting both Doric and Ionic architectural elements reinterpreted in Baroque style.
Ferla is also known for being one of the access points to the Pantalica Necropolis, a collection of Bronze Age rock-cut tombs built by Sicily's indigenous people. The tombs are spread all over the sides of a canyon created by the Anapo and Calcinara river, making the site really interesting from a nature point of view. The best-known tombs are in the Necropolis Nord, but we recommend planning a longer tour to include the Anaktoron, the only building in the site built with rocks, evidence of influence by the Mycenaean civilization.
-Getting There: Ferla is just over an hour's drive from Catania, and buses take 1 hour 45 minutes.
-Where to Stay: La Casa dell'Artista, a B&B in a renovated home right in the historic centre, decorated with handicrafts by local artisans.
Book a tour of Ferla and the Pantalica Necropolis here, including a swim stop in the Calcinara river!
8) Buccheri
The quiet, scenic roads of the Iblei mountains are perfect to explore by bicycle – a fun day trip is riding from Ferla to Buccheri, an easy 12 km ride each way, uphill all the way there and down on the way back.
At 820 meters above sea level, Buccheri is the highest town in the Iblei, and snow was once a common occurrence. This led to the development of a unique industry – snow was collected and turned into ice in the neviere, small dome-shaped buildings with a hole at the top, and a 'door' of sorts from where the ice blocks were taken out. Snow and ice from Buccheri were sold all over Sicily and even Malta to make gelato and granite, and this commerce continued until the 1950s.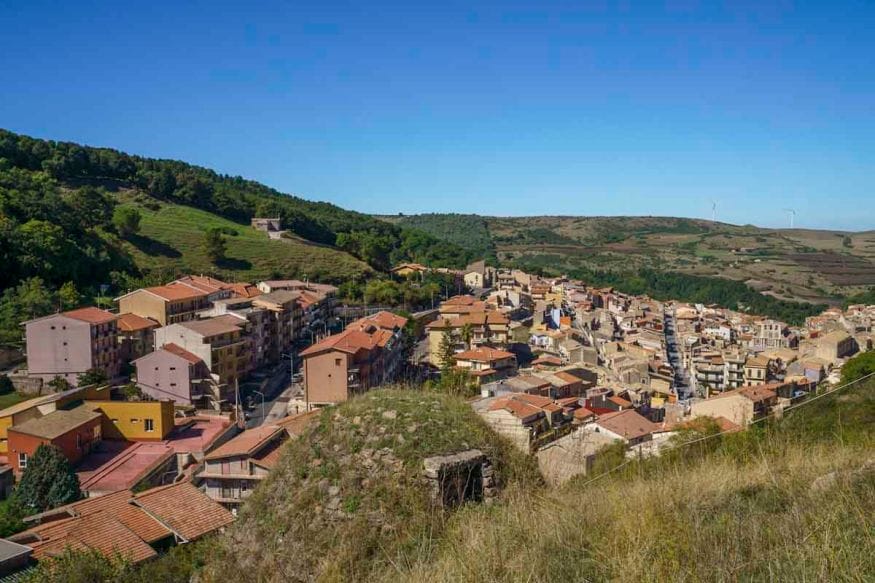 There are over 20 neviere all over the forest surrounding Buccheri, but it's hard to find their exact location and once again Google Maps doesn't help. The easiest neviera to see is located right at the entrance of town when coming from Ferla, on the edge of the Borgo looking down from Via Piave.
Buccheri also doesn't disappoint when it comes to Baroque marvels. You can't miss scenic Sant'Antonio Abate church, with a monumental staircase just in front of it and views all over the rooftops of the village. A short distance away there's Santa Maria Maddalena Church, with a honey-coloured façade with statues and Corinthian columns, and a Baroque statue of Mary Magdalene on the main altar.
If you get hungry while in Buccheri, don't miss U'Locale, an old-time osteria preparing local food grown or foraged around the village. The owner is a real character, and he even wrote a book researching old recipes, some of which can be found on the menu.
-Getting There: It takes about 15 minutes to drive from Ferla, and between half an hour and an hour by bike, depending on how good you are at going uphill (and what kind of bike you have).
-Where to Stay: Masseria Fortificata Lo Zafferaneto, a saffron farm with an upscale restaurant, also offering accommodation and organizing saffron-focused experiences and cooking classes.
9) Militello in Val di Catania
Militello is not a borgo! It's a small town!
When we told local people that Militello in Val di Catania was going to be one of our destinations, this was often the comment. True, Militello is definitely larger than most of the Sicilian small villages included in this list, and it lacks that 'quaint Borgo' look at times, but it definitely delivers when it comes to Baroque marvels.
Militello is also one of the few places where you can see a building predating the 1693 earthquake that levelled much of southeast Sicily, after which the famous Baroque churches and buildings came to light. The Santa Maria La Vetere (meaning 'old') church was first built in the 12th century, but some features were added later – like the striking Renaissance entrance portal, with original colouring on some reliefs.
Under the main nave, we could also see the remains of a necropolis, including some tombs topped by a grate where bodies were left to dry of their fluids and organs. It may not be for everyone, but I find all these details so interesting!
It's worth visiting Militello with a guide, as many churches are closed to the public, and guides either have the keys, or can make arrangements for someone to open. We recommend Sebastiano Lisi (phone +39 349 8845800) to arrange your guided tour.
Going with a guide is the only way to see two real gems – the Church of the Purgatory, with a gilded reproduction of the Purgatory mountain on the main altar, and the Church of Santa Maria della Catena, with lavish Baroque stuccos inside and a series of statues, only depicting female saints.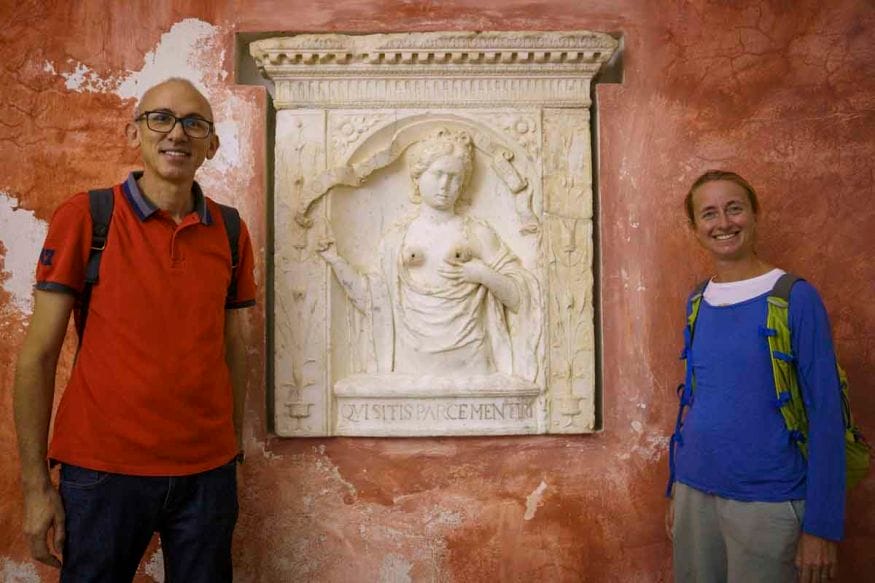 The two largest churches in Militello are perfect examples of the stunning Baroque architecture that warranted the town's inclusion in the UNESCO heritage list. The Chiesa Madre has an interesting museum housed in the crypt, including a collection of sacred art from before and after the earthquake, as well as unusual finds like a book about chess printed in 1609, believed to be the first to detail the famous technique that became known as the 'Sicilian defense'.
Santa Maria della Stella also has a spellbinding exterior, but you need to walk in to see the real marvel – a ceramic altarpiece by Andrea della Robbia, portraying the Nativity. This artwork used to be placed in Santa Maria La Vetere in the 16th century, and luckily survived the quake without major damage and was moved to the new church, where it stands to this day.
-Getting There: Militello in Val di Catania is about 1 hour drive from Ferla, and about 45 minutes from Catania. There are also two daily trains connecting Militello and Catania in about 50 minutes.
Best Villages in Sicily Practical Info
Best Time to Visit Sicily
Sicily is definitely a year-round destination, but every season comes with its pros and cons. Spring and Autumn are probably the best times to visit Sicily overall, especially the interior – temperatures are mild, prices are low and you won't find crowds. The weather may be unstable, but it's still a good time to visit. Winter is also good, but some roads between villages are in poor condition, and it may be challenging to drive.
Summer is peak tourist season, not just along the coast but also in the interior of Sicily, with many returning émigres coming back to visit family. It also gets very hot – the upside is that there are many cool events, both religious and non-religious.
How to Get to Sicily
Flying is the easiest way to reach Sicily from Italy and beyond. The Sicilian villages described in this article are closer to Catania airport – but if you are also planning to visit Western Sicily, you could fly into Palermo, visit Gangi and nearby villages first, then make your way to Montalbano Elicona and Ferla.
You can also reach Sicily by train from Calabria or by boat from Naples – a true adventure, and something definitely worth doing if you have time!
How to Get Around
All these villages can be reached by public transport, but it would take a loooong time. We recommend renting a SMALL car instead – if you're an SUV kind of person, forget it and book a Fiat Panda instead. Trust me, village streets are really narrow and you don't want to get stuck!
Our trip to these 9 villages in Sicily was in collaboration with iAmbassador as part of the Viaggio Italiano project.