Is it worth it to visit Amsterdam in winter? A lot of people wonder if the weather will be too cold or if there are things to do in the winter. To answer that, yes, there are many things you can do in the city, even during winter!
This guest post was brought to you by Ask the Dutch Guy, your go-to guide when it comes to The Netherlands. The goal of Ask The Dutch Guy is to showcase the beauty of The Netherlands and to inspire others to explore the country – follow him on Facebook and Instagram for more Netherlands info!
**Article updated on Nov 28th, 2022**
Are you wondering whether it's worth to visit Amsterdam in winter? The answer is YES! There are many unique events you can enjoy in the coldest months, along with winter activities that can last for a whole season.
Regardless of when you visit Amsterdam – whether it's in winter 2023 or not – you will definitely fall in love. The winter is when the city is transformed into a charming and fairytale-like city that you shouldn't miss.
Yet, before we look at all the fun things to do in Amsterdam in winter, let's just answer a very common question – how cold is Amsterdam in winter?
Weather in Amsterdam in Winter
First things first – don't come to Amsterdam in winter if you are looking for sunshine and palms! Amsterdam is located in north-central Europe, and the climate is typically continental – chilly in the winter, and warm in the summer.
However, despite what many people think, Amsterdam isn't the coldest European city – places like Helsinki and Berlin have much colder temperatures, especially at night.
Similarly to other places in Central Europe, when talking about winter in Amsterdam people refer to the period between November and March. The coldest months are December, January and February, with average highs around 6-7°C (42-48°F), dropping around 0°C (32°F) at night.
November and March are usually a few degrees warmer both during the day, and at night – to get an idea, here you'll find average temperatures for each winter month in Amsterdam.
November Amsterdam Temperature: high 10°C (50°F), low 4°C (39°F)
December Amsterdam Temperature: high 7°C (44°F), low 2°C (35°F)
January Amsterdam Temperature: high 6°C (42°F), low 1°C (33°F)
February Amsterdam Temperature: high 6°C (42°F), low 0°C (32°F)
March Amsterdam Temperature: high 10°C (50°F), low 2°C (35°F)
It rarely snows in Amsterdam in winter, but it's often rainy – November, December and January are the rainiest month of the year, with an average of 12/13 rainy days per month. You may also find strong wind, so make sure to layer up!
Last but not least, when visiting Amsterdam in winter, don't forget that the sun sets quite early, especially in December and January. By 4.30 PM it's usually already dark, but luckily there are plenty of fun winter acivities in Amsterdam to keep you entertained when the sun sets. Keep reading to know more!
20 Things to do in Amsterdam in Winter
1) Go Ice Skating
Yes, you can ice skate on the frozen canals… but only if the conditions are right. If you get to see it frozen, you'll see the world's most beautiful ice rink.
Don't worry, even if the canals don't freeze over this year, there are other places where you can go outdoor ice skating in the city—such as the ICE*Amsterdam, which sits outside the Rijksmuseum.
A stop in an ice-skating rink is included in this Amsterdam – Christmas Lights and Festive Delights tour!
2) Enjoy the Light Festival
During the winter months, the annual Amsterdam Light Festival takes place. At this time, you will see the magical light installation that adorns the streets, canals, and landmarks start from November to January.
The best way to enjoy this is to go on an Amsterdam Light Festival boat tour– this one includes an open bar!
3) Shop at the Winter Markets
If you are looking for a place to shop, you will love the winter markets in the city. Every weekend, leading to Christmas, markets are popping up in and around the city.
The best thing about these markets is they are all different—from traditional to trendy, meaning there's something for everyone!
Amsterdam is also located within day-tripping distance from Münster, home to some of the best Christmas Markets in Germany. You can visit them easily on this Christmas Markets of Münster day trip by bus from Amsterdam!
4) Grab Some Oliebollen
During the winter months, particularly in December and early January, you will find oliebollen stands all over the city.
Oliebollen are similar to donuts and they are a traditional New Year's Eve snack of the Dutch. Don't hesitate to ask for powdered sugar on top!
5) Be There on National Tulip Day
Every third Saturday of January is National Tulip Day where over 200,000 tulips are brought to Dam Square. The best part about this is that it's 100% free to enter. But of course, it's best you get in line early so you can have your pick of tulips to bring home with you.
6) Walk Along the Canals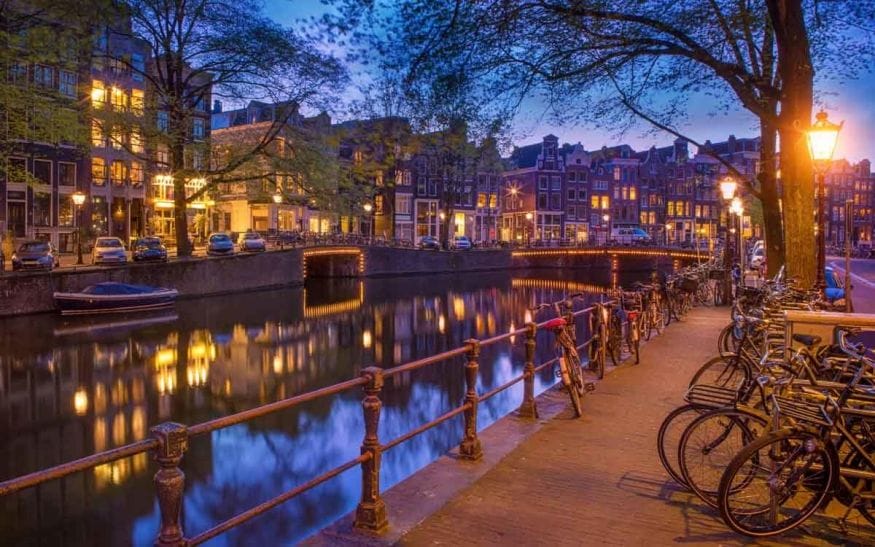 Yes, you can walk along the canals in the wintertime and you don't need to worry about it being too chilly! The city isn't that chilly, so you'll be comfortable walking even in the coldest months.
While you're at it, I suggest you head to the Herengracht where you can see the most beautiful canal houses.
The canals are truly spectacular at night, so don't be deterred by the winter darkness and head out on a Red Light District Tour at night, including a walk along the canals!
7) Go Cheese Tasting
There are a lot of places in the city where you can get "cheesy!" You can check out the Cheese Museum or check out specialist shops that deal with a lot of cheese, such as Abraham Kef Fromagerie that offers cheese and wine tasting sessions for individuals and groups.
Alternatively, you can do cheese and wine on a cruise in the city's most famous canals, or combine the wonderful worlds of cheese and beer on this tour!
8) Spend Time at a Brown Bar
The Dutch call their most traditional pubs 'brown bars', because they're traditionally made of wood.
You will find a lot of these brown bars in the city, where you can also enjoy local and international beers on tap. Amsterdam is also a great place for craft beer, and some of the best brews in town can actually be enjoyed in brown bars! Check out our Amsterdam craft beer guide to know more!
You can find the city's most popular brown bars in the Red Light District. Brown bars can sometimes be hard to find, so this Amsterdam Brewery Tour with tastings is a good option to check out some of them!
9) Visit the Usual Tourist Attractions
There's nothing wrong with enjoying the tourist attractions in the city despite the cold weather. What's good about this is that the city is less crowded during this time, which means you'll be able to visit the museums and monuments with less hassle.
You can easily visit tourist hotspots like Anne Frank House, the Van Gogh Museum, and the Rijksmuseum in the winter without having to worry about crowds and long queues!
If you don't have much time in Amsterdam, this Walking Tour and Canal Cruise is the perfect introduction to the city and its main sights!
10) See the Christmas Exhibition Museum
At this time of the year, a special exhibition pops up at the Willet-Holythuysens Museum, showcases how the upper-class family celebrated their Christmas in the 19th century.
The preserved furniture, architecture, and history create a fascinating window into the past that only few others will have experienced.
11) See a Fashion Show
Mercedes-Benz FashionWeek takes place in the city twice a year, during January and August. It is one of the most important fashion events in the whole Benelux region.
Normally you need to have an invite to be allowed in, but special events are sometimes open to everyone – or else, you can try your luck on the door!
12) Experience Museum Night
Museum Night is an annual event in the city, which happens every November. On this night, over 50 museums in the city stay open after hours and host various exhibitions.
You will see multiple offerings as well in every museum, such as live DJs, special events, food and drink parties, and many more.
13) Witness the Sinterklaas Parade
Sinterklaas is similar to Santa, and he comes around once a year. Every year, Amsterdam hosts the biggest Sinterklaas Parade globally, which starts on the canals and Sinterklaas sails through the city.
Keep in mind that this is a big parade, that attracts over 400,000 visitors.
14) Catch the International Documentary Film Festival
The International Documentary Film Festival happens once a year in the city, in November. So, if you love documentaries, this is going to be your paradise for almost two weeks.
The event has been around for years, particularly since 1988, and it is the biggest documentary film festival in the world. It tells stories about life from all corners of life. During this time, you will find a lot of the films taking place indoors and even outdoors.
15) See the Christmas Decorations at de Bijenkorf
If you are on a budget, yet you still want to enjoy and experience the festive season in the city, then you should head over to de Bijenkorf, a chain of luxury department stores. In Amsterdam, there's one right next to the Royal Palace!
Here you can find various Christmas displays and decorations—and you can view all them for free.
16) Shop on the 9 Streets
The 9 Streets is a popular area in the city for shopping. They are located in the Jordaan district, which are made up of little streets that connect Keizersgracht, Herengracht, and Prinsengracht.
All of the buildings on these streets are filled with unique shops, selling local clothing, jewelry, designer items and many more. You can visit 9 Streets and some other fun Amsterdam sights on this Guided Bike Tour of Central Amsterdam!
17) Enjoy Some Pepernoten
Pepernoten is a traditional Dutch sweet that is associated with the winter season. It is small, round, and cookie-like that comes in a variety of flavours.
The base is gingerbread-flavoured, but many people choose to mix and match it with various other ingredients. Make sure you don't miss this delicious treat while you're here in the winter.
18) See the Chocoa Festival
If you're here in February, you should catch the Chocoa Festival that happens every year and is all about chocolates. The festival will show you about the processes that go into making chocolate. Aside from that, you can discover new chocolate flavors and explore other food pairings.
19) Stay Warm & Cozy in a Cafe
Amsterdam has a lot of cafes, and if you want to experience the rich culture of the city, you should definitely spend some time in one of their local cafes.
During winter, spending time in a café is a great idea to escape the cold and darkness, while drinking delicious coffee and hanging out with the locals. CT Coffee & Coconuts is a cool place, with a stunning location in an old cinema, while Winkel 43 in Jordaan is believed by many to be the best place in Amsterdam for appeltaart (apple cake)!
20) Go Street Art Hunting
Last but not least, Amsterdam has a great street art scene! Check out our Amsterdam street guide for more info and don't forget to add places like the NDSM and Wijdesteeg/ Colourful Street to your list of things to do in Amsterdam in winter!
Here are the other events you need to watch out for if you're visiting Amsterdam in winter!
WinterParade: taking place in November, this event kicks off the winter season with celebrations, food and theatre around a 120-meter long table
International Queer & Migrant Film Festival: with feature films, short movies and documentaries about the queer and migrant world.
Valhalla Festival: a two-day dance music festival that takes place at the RAI convention centre the week before Christmas.
Tango Train: a celebration of tango music, which is perfect for locals and international visitors.
Meesterlijk: this is the Dutch word for masterfully, and this event is all about crafts, design, and many more.
L&B Whisky Weekend: the event is held over three evenings in the middle of January where you can try whisky and whisky products by well-known makers and new kids on the block.
IMPRO Amsterdam: a festival dedicated to improvisational theatre.
Amsterdam Hotel Night: Similar to Museum Night, this event is when several hotels in the city open up to host parties and events in one night.
Christmas Tree Bonfire: This is when all the Christmas trees used in December will be burned at the Museumplein one evening in January.
Are you ready to explore the city of Amsterdam in winter? You should, because it's definitely something you shouldn't miss! The city will feel like magic during this time!