Back to another of our greatest passions, street art! This post about the best Amsterdam street art was put together by Wanderlust Pulse, a community of travel photographers!
Would you like to read more about street art? Have a look at our Milan Street Art guide, and our post about the hidden stories behind Athens street art!
Book this walking tour of Amsterdam Noord to see lots of street art pieces!
Next to its beautiful landmarks and monuments, Amsterdam is well known for its street art and graffiti culture.
We've visited the city and listed our favourite places where you can admire the most breathtaking murals and street art compositions in Amsterdam. It's a fun way to explore the city, whether you are visiting Amsterdam in winter or any other season!
Don't forget to bring your camera when you're wandering through the streets of Amsterdam, because it's so beautiful it's easy to create a unique photograph.
Best Amsterdam Street Art
We've listed our favourite places in Amsterdam where you can admire wonderful street art.
Are you planning to visit other cities in the Netherlands? Here's our post about the best things to do in The Hague!
NDSM Werf
Address: NDSM-Plein, Amsterdam
NSDM is a famous graffiti neighbourhood situated next to the IJ in Amsterdam. It's a place where established street artists and upcoming talents meet, and where creative people feel at home.
You can reach it by taking the 'Pont'-boat, which is accessible by bikes and pedestrians. This boat is completely free and sails once an hour.
This NDSM neighbourhood is a shipyard with a lot of empty buildings. As time went on, this place became a cultural masterpiece for the city of Amsterdam, with a lot of amazing graffiti paintings which makes it a place you certainly should visit. Some artists still live in these buildings or in abandoned trams.
There are several famous artists that have realised different projects here. One of them is Edward Boer with his famous container street art. Another famous street art artist is Eduardo Kobra who painted the famous 24 meter high mural of Anne Frank.
Lastly there are other different artists that are well-known for their murals such as Logan Hicks, Shepard Fairy, David Walker and many more.
'If Walls Could Speak' Festival
Address: Platanenweg, Amsterdam
"If Walls Could Speak" was a street art festival organised by the Amsterdam Street Art foundation in 2019. The goal of the festival was to create 10 huge murals from famous international street art artists. We've listed some of the artists that took place in the festival.
– DANK (Dan Kitchener)
Dan Kitchener, also known as DANK, was the only British artist to participate in the festival. He is active all over the world, and also sells prints of his works.
His work for the festival is a large-scale image of a Japanese geisha, painted in sharp colours.
– Dopie
Dopie is a Dutch mural artist, and he has been in the graffiti scene for over 20 years. He mostly paints on trains and walls. He is especially known for his use of bold colours and his use of a wide variety of animals.
– Studio Giftig
Studio Giftig is an artist duo consisting of Niels Van Swaenen and Kaspar Van Leek. Both artists come from the Netherlands, and have been working together since 2007.
They are well known for their detailed, surrealistic murals – like the one they painted in occasion of the festival, representing a floating woman with pigeons.
– Julieta XLF
Julia Silla, also known as Julieta XLF, is a Spanish mural artist and she has already won different prices for her works – such as the XXXV Bancaja Prize for Painting, Sculpture and Digital Art in 2008.
She is known for her cartoon style. Her work often features a girl called Nina, and images of nature – like the wall she painted for the festival, titled 'From wherever you come, here you are welcome'.
– Case Maclaim
Andres von Chrzanowski, known as Case Maclaim is a German graffiti painter. He is mostly known for his photorealism, combined with a healthy dose of surrealism. He mostly uses spray paint because this ensures that he gets the most out of his works and thus achieves perfection.
The work he painted is called 'Carrying belongings', and portrays two hands, a common subject in his work.
– Leon Keer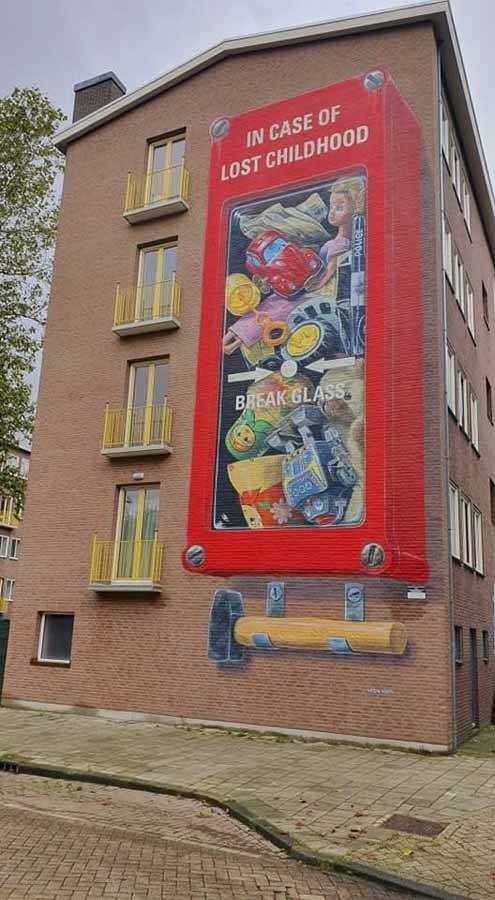 Leon Keer is one of the most well known artists when it comes to anamorphic street art. He is originally Dutch, and has worked all over the world – from Europe, to several Asian countries and many more. He is especially known for his 3D art street art and for his optical illusions.
The work he painted is called 'In case of lost childhood', showing a vending machine filled with children's toys.
– Sjem Bakkus & IVES.one
Sjem Bakkus, called Daan in his daily life, is a Dutch artist. His paintings are truly special – he tries to impress people by stimulating their minds and spirit.
IVES.one is an Amsterdam based street artist. He started painting in 1996 and is known for his freehand and stencil technique. Together with Sjem Bakkus, he painted a wall for the festival called 'The apple doesn't fall far from the tree' where the letters "COBRA" stand out.
– Smug One
Smug, also known as Smug One, is an Australian street artist. He only uses are spray cans for his work, and he is known for his photo realism graffiti work.
The work he painted is called 'Better a good neighbour than a distant friend' where he shows a man with a cap.
– HERA (Herakut)
Herakut is a German artist duo that consists of a painter called Hera and a graffiti artist, Akut. They are known for the use of mythological creatures in their works and have been working together since 2004.
The work they painted is called 'When it comes to settling disputes, patience and compassion are often more useful than magic' where a young boy is holding a mythological creature.
Wake Me Up When I'm Famous Bench
Address: Frans Halsstraat 64, Amsterdam
The street art piece with the 'Wake me up when I'm famous' quote is one of the most photographed pieces of Amsterdam street art. The text is just above a bench in De Pijp, a very Instagrammable Amsterdam neighbourhood. You have the possibility to take nice pictures of the small cozy streets, with its local small boutiques.
The text itself was created in 2013 by a local artist because he wanted to give this wall a new look, making it really famous!
Spuistraat
Address: Spuistraat, Amsterdam
The Spuistraat in Amsterdam is full of street art – making it one of the most popular stops on street art tours of Amsterdam, where you can see some of the best works.
One of its side lanes is the famous Wijdesteeg, known as Colourful Street, all covered with street art and definitely one of the most Instagrammable places in Amsterdam!
Make sure you join a walking tour while in Amsterdam – some of these tours also include stops in famous Amsterdam street art spots!
Schellingwouderbrug
Address: Zuiderzeeweg, Buiten-IJ
Under this bridge, you'll find there are a lot of graffiti works to admire. Existing works are quickly repainted by other artists, because all the walls are already full of graffiti – this mean that even if you've just been, you'll probably find completely different street art in just a few months!
Marnixstraat
Address: Marnixstraat, Amsterdam
The Marnixstraat is also a great place to see Amsterdam street art. The special thing about this street is that artists often complement each other, and the walls are rarely cleaned and repainted.
GO Gallery
Address: Marnixstraat 127, Amsterdam
The GO Gallery in Amsterdam is a gallery that mainly exhibits street art. You can admire all kinds of works of art from famous international street artists such as Eddie Colla, Unwell Benny, and many others. In 2016 and 2017 the gallery also won the Dutch Street Art Awards.
Moco Museum
Address: Honthorststraat 20, Amsterdam
Yes, Amsterdam is so street art crazy there's even a street art museum! To be exact, the Moco Museum is dedicated to contemporary and street art, with original Banksy pieces as well as artworks by prominent modern artists like Jeff Koons and Basquiat.
Make sure you book your ticket in advance as it's a very popular destination for Amsterdam street art lovers!
Space Invaders
Space Invaders art is not unique to Amsterdam street art – you can find them all over the world, including London, Berlin and many other cities.
The special thing about these creatures is that the artist wants to stay anonymous – and after so many years, no one is sure of their identity!
The Best Dutch Street Artists
Amsterdam is buzzing with street art, which also makes the city buzzing with a lot of street art artists. A lot of these artists come from Amsterdam and are real talents. We've listed some of them that turn the streets into wonderful pieces of street art.
Miel Krutzmann (from Telmo Miel)
Miel Krutzmann forms the duo TelmoMiel together with Telmo Pieper. Miel is from Amsterdam, and is mostly known for his romantic and picturesque style features.
Delta
Boris Tellegen, also known as Delta is a Dutch artist who is famous for his 3D street arts in Amsterdam and is also a sculpting artist. He has a famous artwork in Amsterdam named 'De Wachter', a sculpture made with pieces of metal, inspired by high-rise buildings and children's toys.
Niels Shoe Meulman
Niels Shoe Meulman is a Dutch artist that is well known as a visual artist and graffiti writer. His artworks are in the collections of the Stedelijk Museum in Amsterdam, and San Fransisco Museum of Modern Art.
He was born in Amsterdam and already was a graffiti legend when he was only 18 years old. His art of writing is called Calligrafiti, an art form that combines graffiti with calligraphy.
Dre Urhahn
Dre Urhahn is together with Jeroen Koolhaas the founder of Favela Painting and Philly Painting, 2 projects where murals are made in deprived areas such as the famous favelas in Brazil by local people.
The first Favela Painting took place in 2005, when the 2 artists painted a large mural with the members of the local community in Rio de Janeiro. Philly Painting is similar, but it takes place in Philadelphia.
Hugo Kaagman
Hugo Kaagman is a graffiti artist from Amsterdam, active since 1983. His biggest project in Amsterdam was painting the wall of the building on Gerard Doustraat 156.