One of the best things about my hometown Milan is that it's a great base to explore more of Northern Italy and even Switzerland! Find out how on these fun day trips from Milan!
If I had a euro for every time somebody said they didn't like Milan, I'd be a rich woman. True, the city doesn't fit into the stereotypical image of Italy that many first-time tourists have, but there are still plenty of things to do in Milan – the Duomo and Last Supper just come to mind!
Milan is also a busy transport hub, with three airports offering great low-cost flights. It's also well connected by train to the main Italian Lakes, and to several large and small towns. To give you an idea, Lake Como is less than an hour away, and Florence is only a two-hour journey by high speed train.
Here we've included 15 fun day trips from Milan by train – yes, that's right, no car is needed for these day trips. We've included directions on how to get to each destination by train at the end of each paragraph.
Let's have a look at these 15 day trips from Milan, to Lombardy and beyond!
No time to read through? Book these cool Milan day trips here!
Day Trips from Milan to the Lakes
1) Lake Como
Lake Como is among the best day trips from Milan by train. Elegantly situated in the foothills of the Alps, the lake is home to several upscale resort towns.
There are dozens of towns and villages around the lake, making hard to choose what to visit on a day trip. As locals, we recommend visiting Varenna, Bellagio and Cernobbio, and then ending the day in Como.
With wonderful lake views, Varenna boasts pastel-colored houses, cobblestoned streets, and old fisherman's houses. You can visit Villa Monastero and its botanical gardens, walk up the steep hill to Castello di Vezio, or stroll along the lakeside Passeggiata Degli Innamorati (Lover's Walk.)
Bellagio is among the most beautiful places to visit on a day trip, often referred to as the Pearl of Lake Como. While strolling through the warren of narrow alleys, make sure you walk the steep hill up to Via Giuseppe Garibaldi where you get the Insta-famous views of the town – colorful houses with a backdrop of mountains behind the tranquil lake.
In Bellagio, you will also find the opulent Villa Melzi where you can stroll the manicured gardens and enjoy the lake views. The Basilica of San Giacomo is worth a peek inside and for more lake views, then make sure you also head to Punta Spartivento where you can gaze across to Varenna.
Finally, you can head to Cernobbio with its charming old town which meets the lakeside promenade. The town is home to some of the most famous villas on Lake Como, like Villa d'Este and Villa Pizzo.
For more info, check our full guide to Lake Como, things to see in Bellagio and article on how to get to Lake Como from Milan by train!
Milan to Lake Como by Train: to follow the itinerary described in this paragraph, take the train from Milano Centrale to Varenna-Esino (about 50 minutes), then travel by ferry to Bellagio, Cernobbio and finally Como. Take the train back from Como Lago station to Milano Cadorna (1 hour) to save walking 20 minutes from the lake to the larger Como S. Giovanni station.
Book your day trip to Lake Como here – From Milan: Lake Como, Varenna, and Bellagio Day Trip
2) Lake Garda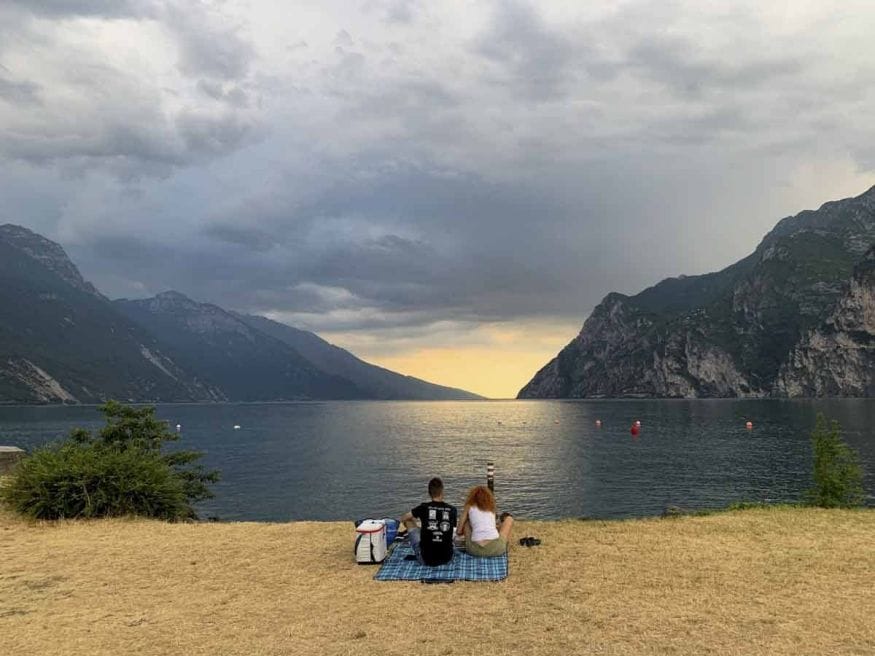 Lake Garda is Italy's largest lake and makes for a wonderful Milan day trip. Surrounded by quaint lakeside towns, there are a lot of things to do in Lake Garda.
Coming from Milan, we recommend sticking to locations around the southwestern part of the lake. Among the best places to visit on a day trip is the town of Sirmione, recognized by its medieval Scaligero Castle perching into the lake on the tip of the peninsula. For the best views of the skinny strip of land and surrounding lake, make sure you visit the castle and climb its towers.
Below the castle, you find Jamaica Beach, not at all a sandy beach as you might imagine, but made up of large, smooth rocks it is a unique place nonetheless. Close by, you can explore the ruins of a 1st-century Roman Villa.
Next, visit Peschiera del Garda, a quaint little town recognized by its canals, small bridges, and colorful boats. The UNESCO-listed Fortress of Peschiera del Garda surrounds the historic center sheltering it from the lake's waterfront. You can enter the old town through the pedestrian bridge leading you through one of the main gates, Porta Brescia. Inside, you will be met by winding streets, small shops, restaurants, and cafés in historical buildings.
Attractions worth seeing are the Church of San Martino Vescovo, the Sanctuary of the Madonna del Frassino, and the iconic Ponte dei Voltoni.
Milan to Lake Garda by Train: there are twice-hourly trains from Milano Centrale to Desenzano del Garda-Sirmione (50 min/1 hour 20) and Peschiera del Garda (1 hour-1 hour 30). To get to Sirmione from the station, there are buses every hour, and travel time is 20 minutes. The same buses continue to Peschiera.
Book your day trip to Lake Garda here – From Milan: Full Day Discovering Lake Garda
3) Lake Maggiore
Lake Maggiore sits on the foothills of the Alps, partly in Italy and partly in Switzerland. It is the second-largest lake in Italy. With picturesque lakeside towns and idyllic islands, it makes for a lovely day trip from Milan.
A great place to go on Lake Maggiore is Stresa. The town has been dominated by wealthy families for centuries, the Borromeo Family being the latest, which has been there since the 16th century. This has resulted in opulent palaces not only in Stresa but also on the surrounding islands, known as the Borromean Islands.
On a day trip, you can explore Stresa's lakefront promenade for the views and visit Villa Pallavicino with its perfectly manicured gardens and a petting zoo with rescued animals that can not be released into the wild.
Besides, you can go on a boat trip to explore the Borromean Islands where the wealthy family built even more palaces. Isola Bella is home to an 18th-century Baroque palace built by Charles III Borromeo for his wife – the colourful gardens are particularly spectacular, especially if you're lucky to see the white peacocks wandering around.
Isola Madre houses a family residence with an incredible collection of tropical plants in the garden. Finally, Isola dei Pescatori is an intimate fisherman's village with about 50 residents, winding cobbled streets, and a handful of cafés and restaurants.
To get more lake inspiration, here's our full guide to Lake Maggiore!
Milan to Lake Maggiore by Train: there are trains every hour between Milano Centrale/Garibaldi and Stresa, and travel time is about 1 hour. Then, there will be plenty of boats and ferries to take you to the Borromean Islands.
Book your tour of Lake Maggiore here – 3 Borromean Islands Hop-On Hop-Off Boat Tour
Day Trips from Milan to Lombardy
4) Bergamo
Bergamo sits right below the Alps and boasts a wealth of medieval charm. The city is divided into a lower and an upper part, where the upper part consists of the historic center. You can walk the 16th-century Venetian walls, stroll through the lush green parks, and wander ancient Roman roads. Stop for Gelato at Piazza Vecchia while admiring the Palazzo della Ragione which dates back to the 12th century.
Among the beautiful churches in Bergamo, make time for visiting Bergamo Cathedral, Cappella Colleoni, and Basilica of Santa Maria Maggiore. Art lovers should head to Accademia Carrara which is the oldest art gallery in Italy with around 1800 paintings by famous artists like Raphael and Botticelli from the period between the 15th and the 19th centuries.
Bergamo also has a unique cuisine, with specialties hard to find elsewhere in Italy like a type of ravioli called casoncelli – learn more about it on a Bergamo food tour!
Bergamo also has a splendid botanical garden, Orto Botanico, which mainly boasts Alpine and Lombardy flora. It is part of the Museum of Natural Sciences. Bergamo and nearby Brescia are Italian Capitals of Culture for 2023, and there are plenty of cultural events and exhibitions in both cities.
Milan to Bergamo by Train: there are 2/3 departures every hour from Milano Centrale/Garibaldi and Bergamo. Travel time is 1 hour.
5) Brescia
One of the best day trips from Milan is to the historical city of Brescia. There are ancient Roman ruins in the city center, like Piazza del Foro where you among other things can see the Capitolino Temple dating back to the year 73 AD. You can learn more about the city's history back to pre-historic times in the Brescia Museum of Art and History.
Duomo Nuovo is one of the top attractions – after 200 years of building, it was finally finalized in 1825. In typical late Baroque style, the white and marble facade holds several man-size sculptures inviting you inside.
Among the historical buildings you can add to your itinerary are the Broletto, built in the 12th century and was once the Town Hall, and the 13th-century Brescia Castle, which houses a museum with different historical artifacts and information about the castle. Don't miss having a pirlo (a local version of Spritz) in Piazza della Loggia, the heart of the historic centre.
Brescia is also located close to the Franciacorta wine region – you can explore both places on this day trip from Milan!
Milan to Brescia by Train: there are at least 4 trains every hour between Milan Centrale/Garibaldi/Lambrate/Greco Pirelli and Brescia stations. Travel time is just 35 minutes for high-speed trains (about €30 one way), and 1 hour 15 for regional trains (€7.70 one way).
6) Mantua
Mantua is not on most people's Italy itinerary, yet it has a UNESCO-listed old town, incredible architecture, and all over a medieval feel to it making it a great place to visit. The main attraction in Mantua is Palazzo Ducale where you can walk through hundreds of rooms, courtyards, churches, and even a castle, making it feel like an entire town itself. In Palazzo Ducale don't miss Mantegna's masterpiece, Camera degli Sposi.
Outside Palazzo Ducale, you can take in the medieval atmosphere at Piazza Sordello and visit Mantua Cathedral. This is also a good place for a coffee. Another square worth heading to is Piazza delle Erbe where the oldest church in the city stands, Rotonda di San Lorenzo, and the Torre dell'Orologio towers above the buildings. Other places worth seeing are Palazzo Te and Teatro Bibiena.
Check out our Mantua by bike itinerary to know more!
Milan to Mantua by Train: there are direct trains between Milano Centrale and Mantua (Mantova in Italian) every two hours, stopping at Milano Lambrate en route.
Day Trips from Milan to Switzerland
7) Lugano
Milan is only 50 km from the Swiss border, so a day trip from Milan to Switzerland is super easy to arrange! The easiest option is Lugano, a town across the border in Switzerland located on the shore of Lake Lugano, a glacial lake surrounded by mountains. There is no wonder a boat tour on the lake is among the best things to do in Lugano.
In the old town, you will walk between pastel-colored palaces and Renaissance and Baroque convents and churches, like Cattedrale San Lorenzo and Church of Santa Maria degli Angeli, to quaint squares, like Piazza Riforma and Piazza Cioccaro. The Town Hall houses the tourist office and is a tourist attraction itself with its pretty Neoclassical facade.
For shopping, head to Via Nassa where you can enjoy the shade of the arched walkways flanking the shop windows. You might also enjoy the lakeside Parco Civico park where benches look out on the lake and you can walk in the shade of the canopies of old oak trees. For the best views of the town and surroundings, you can take the funicular to the top of Mount San Salvatore.
Milan to Lugano by Train: trains to Lugano depart every hour from Milano Centrale station. There are Swiss trains (marked EC) and Italian regional trains – both take about 1 hour/1 hour 20, but Swiss trains are double the price.
8) Bernina Express
The iconic red Bernina Express train connecting Tirano to St. Moritz over the Bernina Pass is one of Italy's iconic rail journeys, and one that can easily be done as a day trip from Milan! The landscape is truly stunning, especially in winter, when you travel through snow-covered Engadina and past the spectacular Morteratsch glacier.
It's a long day, and requires an early wake-up call, but it can surely be arranged. Take a train from Milan Centrale to Tirano (about 2 hours), then exit the station and walk across the square to the Rhetian Railway station. It's highly recommended to book your ticket ahead of time on the official website and select your preferred seat. If you leave it too late, you may not be able to get window seats.
There are 3 daily trains, taking 2 hours 30 to reach St. Moritz from Tirano, and about 2 hours 15 for the way back. You have the option of returning with the same train, departing St. Moritz after 45 minutes, or taking the following train after 2 hours or so. After getting back to Tirano, you'll have to take another train to Milan, a further 2 hours – for a total of nearly 10 hours spent on trains.
If that sounds too long, book a Bernina Express day trip from Milan!
Day Trips from Milan to Other Cities
9) Genoa
Another easy day trip from Milan is to the port city of Genoa. There is a whole lot to see and do in the city, but you should start by walking around the vicoli, the narrow alleys of the old town where colorful houses tower above the cobbled streets.
Stroll along the UNESCO-listed street Via Giuseppe Garibaldi where grand Renaissance palaces dominate the scene. Three of these can be visited – Palazzo Rosso, Palazzo Bianco, and Palazzo Tursi.
One of the central squares in Genoa is Piazza De Ferrari which is surrounded by 19th-century palaces, among them Palazzo Ducale, and dominated by its central fountain. Make sure you step into San Lorenzo, the 12th-century cathedral of Genoa, walk through the 9th-century Porta Soprana, and visit the house museum, House of Christopher Colombus.
Finally, Porto Antico is one of the places not to miss in Genoa. This used to Genoa's old port, and it was redeveloped into an expo and nightlife area in the Nineties. You'll find numerous museums there, a wonderful aquarium, and you can enter the iconic glass ball to walk among tropical plants and butterflies. For city views, take the panoramic lift taking you 40 meters high.
Milan to Genoa by Train: there are trains every hour between Milano Centrale and Genoa, and travel time is between 1 hour 20 and two hours, depending on whether you opt for an Intercity or regional train. The most convenient stations in Genoa are Genova Piazza Principe and Brignole station, walking distance to the centre.
10) Turin
The city of Turin used to be Italy's first capital, and for this reason it boasts a number of palaces worth your attention like Palazzo Madama and Palazzo Reale which are both located on Piazza Castello. The latter served as a royal residence for over 200 years since it was built in 1646.
Another palace worth visiting is Palazzo Carignano where the first parliament of Italy met. Piazza San Carlo is a great place to stop for a coffee surrounded by beautiful architecture, including the twin churches of San Carlo Borromeo and Santa Cristina.
You might also want to visit the Borgo Medievale, a medieval village located in Valentino Park, near the river Po. Besides, there are various museums worth visiting like the Egyptian Museum, the Automobil Museum, and the Cinema Museum.
Milan to Turin by Train: high-speed and regional trains to Turin depart every hour from Milano Centrale station. Travel time varies between 1 hour for high-speed, and 2 hours for regional trains. Remember to book high-speed trains (Italo and Frecciarossa) ahead of time.
11) Verona
Verona must be among the most romantic day trips from Milan. The city is well known for being the hometown of Shakespeare's Romeo and Juliet – in fact, you can visit Juliet's balcony, though it is a bit of a tourist trap.
On the other hand, the medieval town center is full of attractions and things to do – starting with visiting the Verona Arena, one of Italy's best-preserved Roman Amphitheaters which still holds concerts today, to climbing the Torre dei Lamberti for epic city views.
However, the best views of Verona are found by crossing the Ponte Pietra and walking up the hill to Piazzale Castel San Pietro. From there, you will get the iconic view of the river, bridges, and medieval city.
Besides strolling through the vibrant old town, you might want to visit the Santa Anastasia Church, Basilica di San Zeno Maggiore, and the medieval bridge, Ponte Scaligero with the museum in Castelvecchio.
Milan to Verona by Train: there are trains every hour between Milano Centrale and Verona Porta Nuova, and travel time is between 1 hour 20 (high-speed trains) and two hours (regional trains). Remember to book high-speed trains (Italo and Frecciarossa) ahead of time.
You can easily combine a day trip from Milan to Verona with a visit to Lake Garda!
12) Venice
Let's move on to Italy's 'must sees' – Venice is only 2 hours by train from Milan. You need at least 2 or 3 days to fully appreciate the magic of the lagoon city, but a day trip to Venice is perfect to get lost in the narrow streets, crossing the canals on small footbridges, and taking in the pastel-colored houses.
You might even take a gondola ride through the canals, it's a very touristy experience but worth doing once in a lifetime. If you can't stretch the budget for a private tour, opt for a shared gondola ride.
Start you sightseeing in Venice by heading to Piazza San Marco, about 20 minutes walk from the station. There, you can take the elevator to the top of the bell tower for city views, and step inside the Basilica of San Marco to admire the mosaics and golden domes.
Other sights to look out for when strolling through the city of canals are the Ponte dei Sospiri (Bridge of Sighs, which you can see best from the Ponte della Paglia), the Palazzo dei Dogi, and the iconic Ponte di Rialto.
Milan to Venice by Train: there are hourly departures Milano Centrale and Venezia Santa Lucia, and travel time is 2 hours 20 on high-speed trains. Don't forget to book your Italo or Frecciarossa ticket ahead of time.
13) Florence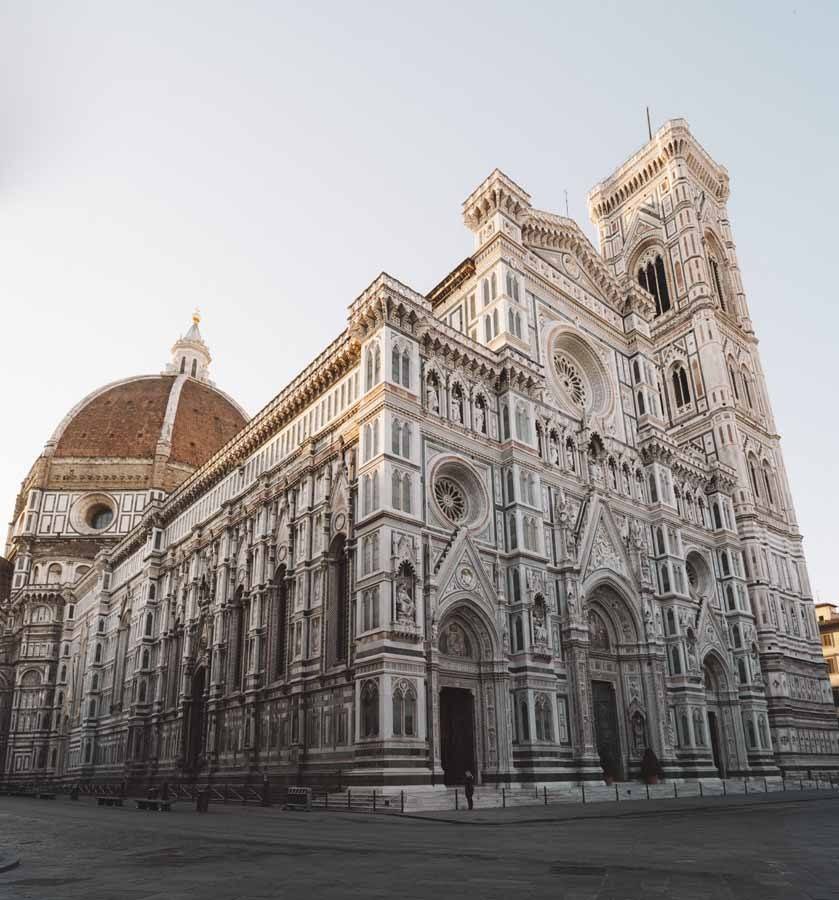 A day trip to Florence might not be enough to uncover everything this wondrous city has to offer, yet no time in Florence is too short. The capital of Tuscany has a wealth of art galleries, architecture, and churches to explore including a number of sweeping viewpoints.
One of the most important sites is the Duomo, Santa Maria del Fiore, which is among the largest in the world. Get mesmerized by the colorful frescoes inside and climb the 463 steps to the top of the dome for 360° views of the city.
Among the most famous art galleries to visit in Florence is the Uffizi, where artists like Raphael, Caravaggio, and Botticelli exhibit some of the world's most important art pieces. Make sure you also don't miss Galleria dell'Accademia, where you'll find the original David sculpture by Michelangelo, and other examples of his work.
For the best views of Florence, head to Piazzale Michelangelo. The square was originally built to commemorate Michelangelo and a replica of David is found there along with other copies of his work.
Milan to Florence by Train: Florence sits on the Milan-Rome high-speed line, so there are 3/4 trains every hour between the two cities, and travel time is 2 hours on high-speed trains. The most convenient station is Firenze Santa Maria Novella, don't forget to book your Italo or Frecciarossa ticket ahead of time.
14) Bologna
Bologna is a wonderful day trip destination from Milan, with plenty of things to fill your day with. The city is recognized by its two towers, the Garisenda Tower and the Asinelli Tower. You can climb to the top of the latter for 360 views of the terracotta rooftops and curvy streets. The main square in Bologna is Piazza Maggiore where you will find the unfinished Basilica di San Petronio and the former Town Hall, Palazzo d'Accursio.
Another square worth visiting is the Piazza Santo Stefano where the Basilica of Santo Stefano is built across seven structures. Finally, Bologna was once home to a vast canal system and today you can get a glimpse of the canals through the Finestrella di Via Piella. Check out our one day in Bologna itinerary for ideas of what to do!
Milan to Bologna by Train: same as Florence, Bologna is on the Rome high-speed train line, with 3/4 trains every hour between Milano Centrale and Bologna Centrale, and travel time is 1 hour. Book your Italo or Frecciarossa ticket ahead of time.
15) Modena
Home to Maserati, Ferrari, and Luciano Pavarotti, Modena is a wonderful day trip from Milan. Besides visiting the Ferrari Museum, the House of Luciano Pavarotti, and eating lots of delicious food, there are plenty of things to do in Modena. Start by visiting Modena Cathedral and climbing the 201 steps to the top of Torre Ghirlandina for sweeping city views.
Further, visit Palazzo Ducale to admire the golden halls and fresco-covered ceilings of the former palace, and explore the different art galleries and museums in Palazzo dei Musei. You might also like to go for a stroll through fountains statues and plants in the lush Giardini Pubblici.
Modena is also famous for its balsamic vinegar production which might lie behind the city being such a foodie destination. Going on a tour of a balsamic vinegar cellar is a fantastic way to learn more about it and enjoy some tastings.
Milan to Modena by Train: there are regional trains every hour between Milano Centrale and Modena, and travel time is two hours. Some high-speed trains bound to Bologna and Florence also stop in Modena – in this case, travel time is 1 hour 15.