We haven't published a photo story in a little while. Here's a brand new one for you. A sunset stroll on the Avenue of Baobabs in Western Madagascar, between secular trees and local life. 
Where is the Avenue of Baobabs?
Hands up if you've never seen an image like the one above. If Paris is the Eiffel Tower, and India is the Taj Mahal, then Madagascar is the Avenue of Baobabs. This famous stretch of dirt road, bordered by gigantic, secular baobabs on both sides, has been portrayed by countless photographers.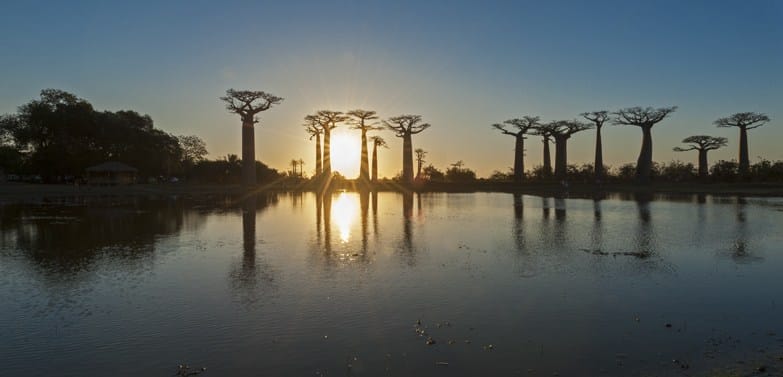 Funnily enough, the dirt road is actually a route nationale. It joins Belo-sur-Tsiribihina, a dusty one-road hamlet on the Tsiribihina River, and Morondava, the region's largest town. The distance between the two towns is about 100 km, taking 4 hours or longer on Madagascar's notoriously bad roads.
Baobabs in Madagascar – origin and legends
Baobabs are native of Madagascar. Six of eight known species can only be found on the island; only two have made their way across to the African continent. The baobabs on the Avenue are Adansonia grandidieri, the tallest baobab species. In Malagasy, these baobabs are known as renala, the 'mother of the forest'.
Baobabs are sometimes called 'upside-down' trees. The baobabs on the avenue have giant barrel trunks and stunted branches reminiscent of tree roots. Their unique appearance have made them subject of many folk tales and legends throughout Madagascar and the African continent. Some believe that when God created baobab trees, they kept running away, and so they were planted upside down.
Others say that baobab trees were once the most beautiful trees, with lush foliage and flowers. They boasted of their beauty so much with other trees that God decided to turn them upside down, to hide their canopy forever. Baobabs branches are bare for most of the year, with leaves and flowers visible only for a few weeks.
Famous trees and the Avenue of Baobabs
Baobab trees are beautiful individuals, all different from one another. Some trees are the object of local folklore, like the massive baobab sacré, the sacred baobab, believed to be the burial place of a king. Driving from Belo to Morondava, the sacred baobab was the first one we saw, about halfway between the two towns. The bottom of the tree is littered with flowers, prayers and rhum bottles, offering of devotees coming to worship their ancestor king. Its trunk is so wide that no less than 10 people joining hands would be able to go around it.
Another stunning example are the two baobab amoreux, two baobab trees twisted around one another, like two lovers in an eternal hug. They're a popular destination for local sweethearts and young women, that come to pray for a child. A few years ago, the 'baobab in love' faced a serious threat, as it was discovered that both trees are male. Local anti-gay campaigners demanded to have the trees felled, as they were seen to be 'unclean'. Luckily, though, it never happened.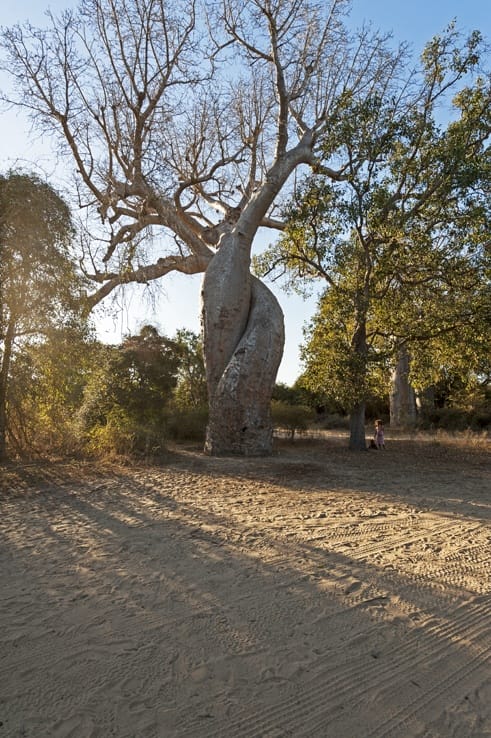 The Avenue of Baobab is a few kilometers down the dusty route nationale. As soon as we approached, we were left speechless by the beauty and majesty of these trees, which are thought to be more than 600 years old. Sunset was approaching, painting the trees with golden light.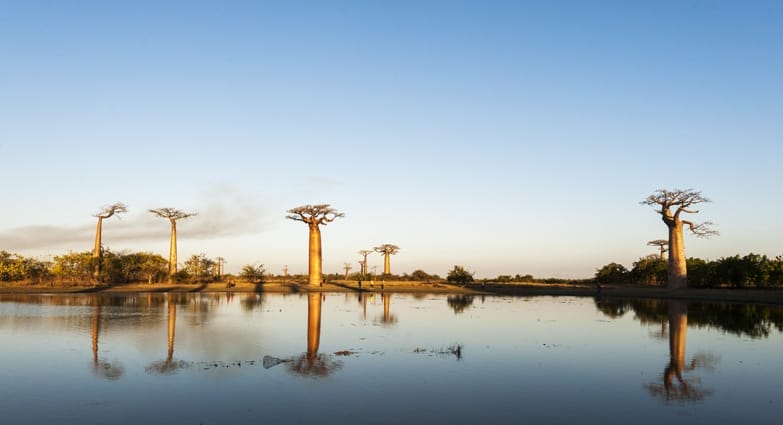 The trees framed beautiful scenes of everyday life, in this corner of Madagascar. People walking back and forth from work in the fields. A man with a shovel on his shoulders, a young woman with a baby on her back. Overloaded zebu carts proceeding at snail pace. Gangs of children besieging the passing vazah (foreigners) for a bonbon or a souvenir. Souvenir pour le petit! Souvenir pour le petit! they sang and danced, offering flowers and trying to strike a conversation with tourists.
Baobabs under threat
We walked around the trees for a while, then circled around a small lake on the roadside, to see the trees reflected in water. From there, we could see why the survival of these secular trees is threatened. There's a reason why the baobabs are so imposing; because they are the only trees about.
Madagascar lost about 50% of its forests in the second half of the 20th century alone. Every year, about 37,000 hectares of forest are lost. The two main causes are illegal logging and slash-and-burn agriculture. The Avenue of Baobabs lies in a treeless plain, surrounded by fields and rice paddies. This makes baobabs a lot more susceptible to the elements; every year, trees are hit by cyclones or lightning. Clearing forest for grazing and agriculture is an ongoing process, that prevents soil regeneration. Baobab roots do not cope well with the constantly waterlogged soil, and more trees are lost each year.
The Avenue of Baobabs is one of Madagascar's wonders, with the potential of bringing money and employment to this underprivileged part of the world. However, there is no entrance fee, a very small visitor centre and no opportunity for locals to profit from the tourist stream, besides setting up some handicraft stalls or harassing tourists for tips.
We sat by the lake for a good hour, watching the sun slowly dip behind the enormous trees, while the silhouettes of the majestic baobabs reflected in the lake water, pitch-black in the multicoloured sky. More and more tourists flocked to the Avenue. There were many Japanese tourists, some of them on pilgrimage to see the baobab, believing them to be the sacred Shintoist sakaki trees. However, even at full capacity, the place was still wonderfully quiet, with perhaps a hundred tourists in total.
After the sunset, the sky was coloured with a thousand shades of pink and purple for short while. A tropical sunset, as intense as it is brief. Then, it was pitch black. A darkness that I had never experienced before, Madagascar, where street lights are few and far between, and you can sometimes see the Milky Way even in cities.
When we left, the baobabs were nowhere to be seen.
We would like to thank Lanto of Madagascar Tropic Voyage, who generously offered a media discount in exchange for consideration for an article. We loved the experience and, as always, all opinions are our own.