To celebrate our China month, and our love for Chinese food, today we'd like to share a guest post written by one of the coolest travel bloggers out there, Agness from eTramping.
Beijing is definitely one of the most adventurous and interesting cities to try out local street food goodies in China. It is packed with snack night markets, food vendors and BBQ stands from where you can get one of the weirdest food you can imagine. What do I mean by saying "the weirdest"? I mean fried bugs, chicken feet, grilled scorpions or even spiders and baked bees.
Local snacks and quick street dishes are a special feature of Beijing. If bugs and flies disgust you, there are a lot of other yummy desserts you should definitely have when visiting the capital city of China. Here are top 5 street desserts I would recommend you to taste:
#1 Flavoured yogurts (Beijing suan nai).
One of the most delicious snacks to grab from the street is Beijing suan nai – flavoured yogurt. It is traditionally served it in a ceramic container which must be returned to the seller after you finish consuming it. It is extremely delicious and yet nutritious and healthy. Locals often have it as a breakfast or snack drink.
The main ingredients are heated milk, dash of sugar, nuts mixed with raisins and rice wine. If it's not sugary enough for you, you can add some honey or seasonal fruits. I loved to have it for my breakfast with some strawberries and berries when visiting Beijing last summer. One ceramic container costs between RMB 1 – 3, so it's definitely a very affordable food option on the go.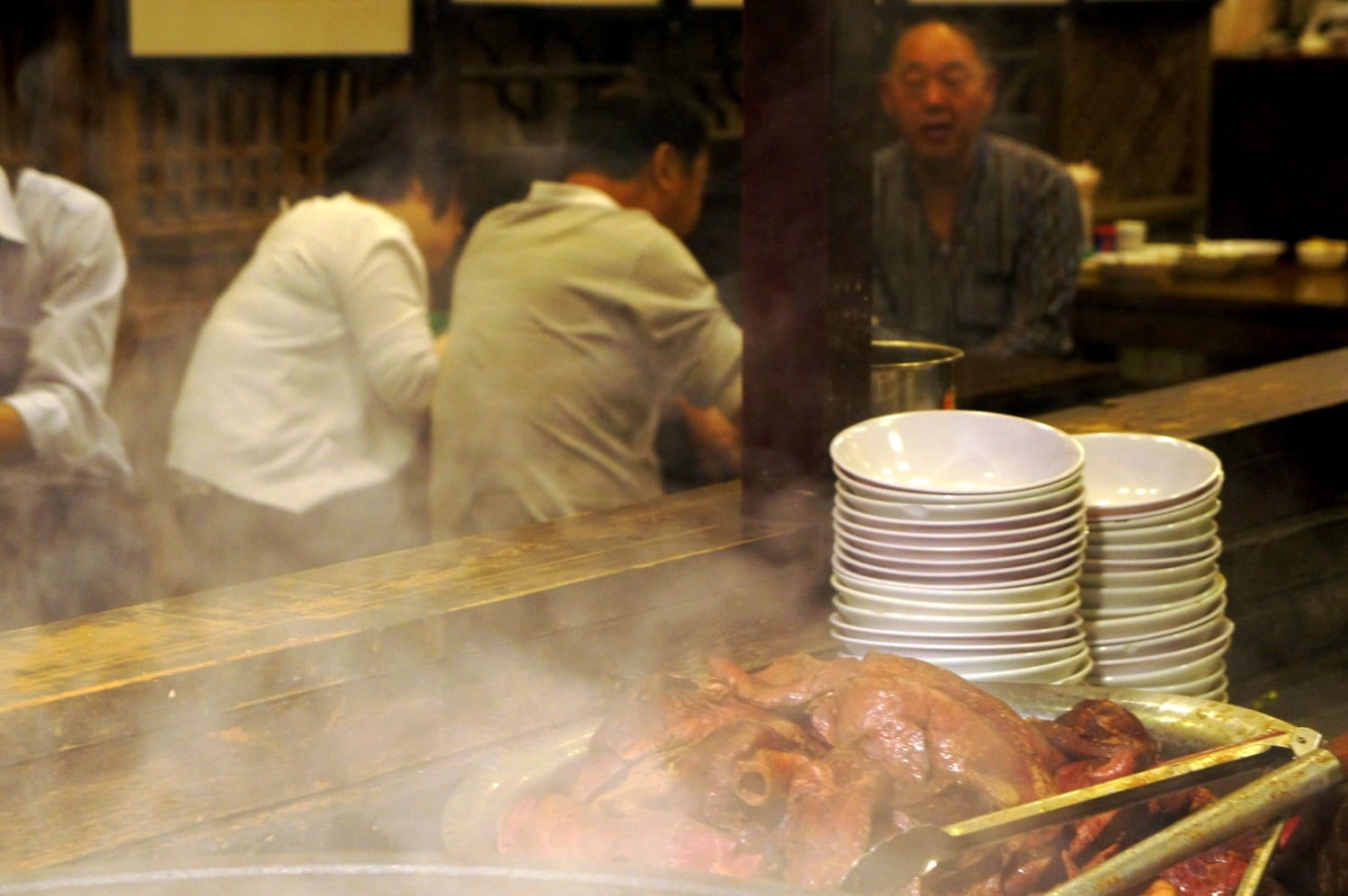 #2 Fruity dumplings (baozi).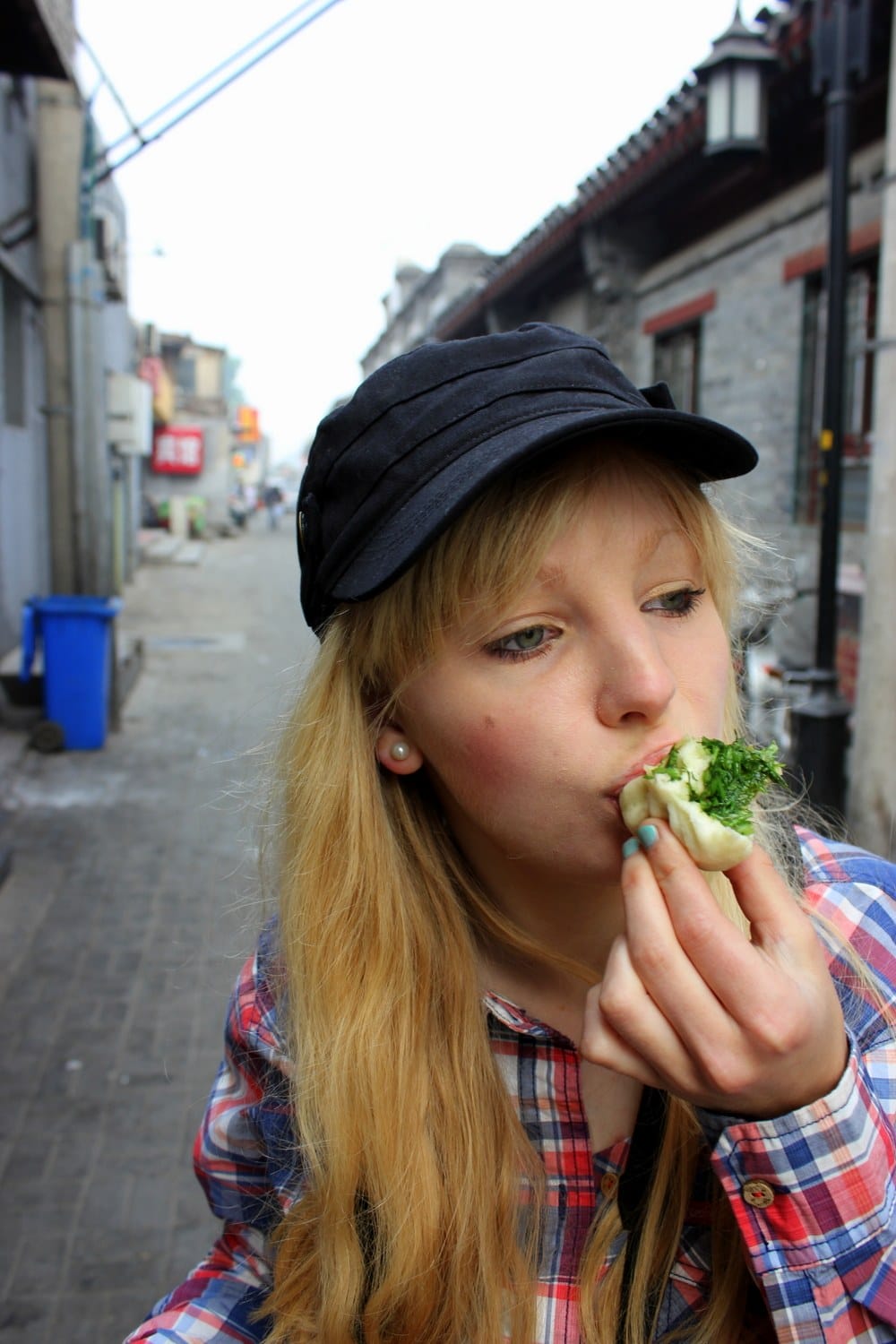 Baozi can be eaten for your breakfast, lunch and dinner (stuffed with mince and steamed veggies) as well as for your dessert (filled with sweet jam). The one I loved the most are baozi with strawberry jam and honey. Yummy, yummy! Warning: they might be a bit stodgy and calorific, but they taste just amazing.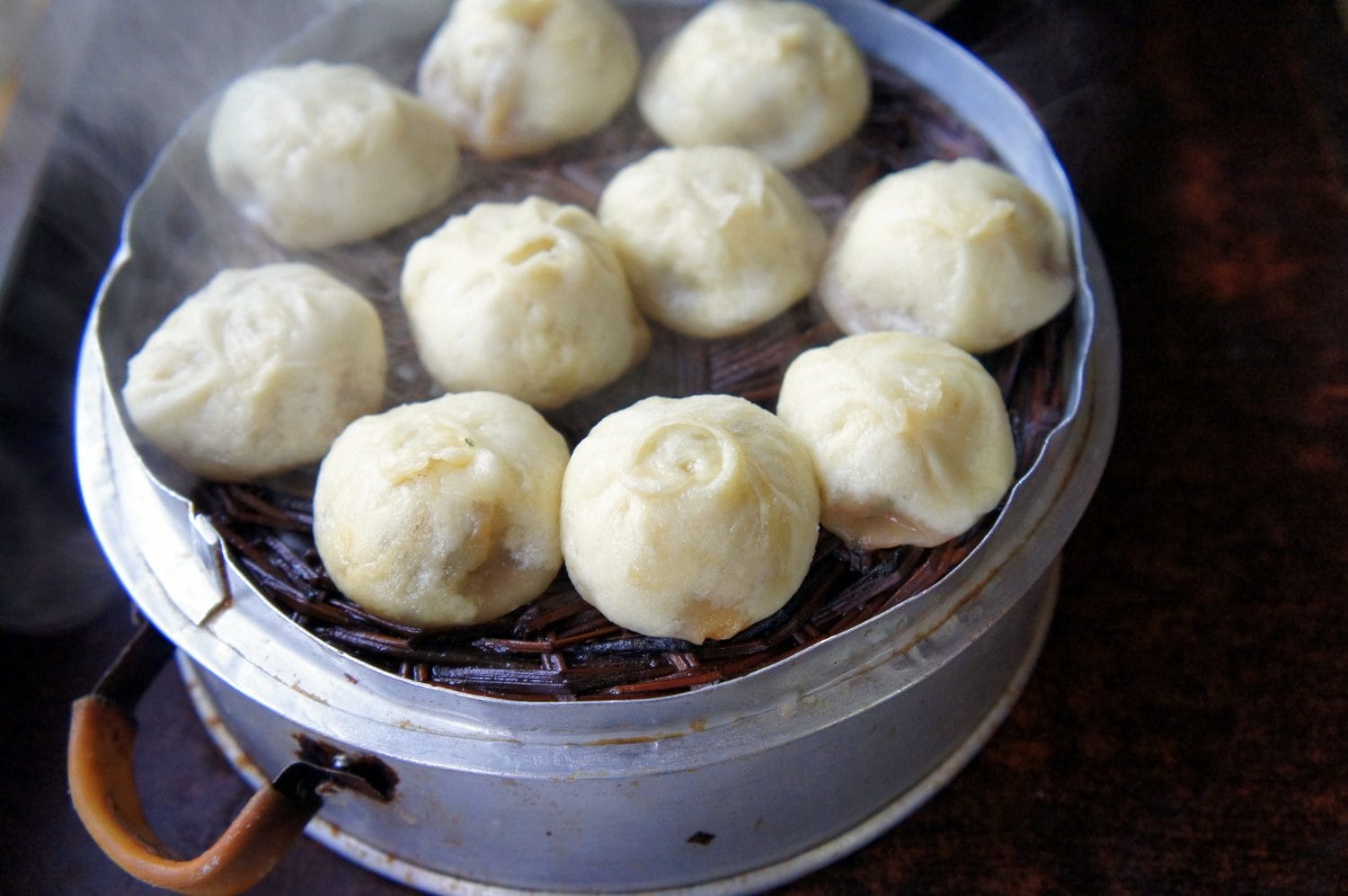 Traditional Baozi are usually consumed in the morning and you can buy them hot from a street vendor between 6 am and 11 am. They are definitely one of my favourite Chinese breakfast options on the cheap and they cost only RMB 1 each.
#3 Fried pancakes (da lian huo shao).
Fried pancakes are a great treat for everyone visiting Beijing. They are deep fried and extremely affordable as one huge pancake costs only RMB 3. You can choose your own filling – pork with fennel, fried or steamed veggies, cabbage with potatoes, green onion with mice or some chocolate and sugar. The pancakes are fried golden brown, they are soft and yummy!
#4 Sweet rice cubes.
Rice cubes are very famous Chinese treat that can be found not only in Beijing, but also in Shanghai, Guilin and Hong Kong. They are one of the healthiest Chinese goodies as they are steamed, not baked or deep fried. They contain glutinous rice rolls filled with red bean paste or sometimes brown sugar. They taste the best with some herbal Chinese tea, bubble tea or hot chocolate. Locals often treat themselves with sweet rice cubes during Mid-Autumn Festival. They also eat a lot of traditional baked Chinese delicacy called mooncake.
#5 Candy fruit (tanghulu).
Got a real sweet tooth? Try tanghulu! It is a traditional Chinese snack of candied fruit sold everywhere in Beijing. Tanghulu are candied fruits served on bamboo skewers and you can get them from any street vendors across the city. They are super sweet and massive so a half of one will be enough to satisfy your sugar cravings.
A typical tanghulu mainly consists of sugar syrup, chocolate coating, sesame and you can go for orange, strawberry, blueberry, pineapple, banana, grape or cherry tomato flavour.