Welcome to our guide to the best cenotes in and around Valladolid! This chilled Mexican town was our favourite stop in the Yucatan area, for many reasons – and cenotes are at the top of the list!
Imagine this – you've spent the whole day exploring colonial towns and Mayan ruins, enjoying tasty Mexican food and maybe a michelada or two. It's hot and humid, and you could really use a dip. Normally, heading to the coast or to your hotel's swimming pool would be the answer – but if you're in the Yucatan, you can just head to a cenote!
What are Cenotes?
Cenotes are a system of natural sinkholes, found all over the Yucatan peninsula. There are over 6000 of them in the region, making them a popular tourist destination from Yucatan tourist hotspots like Cancun, Tulum and Playa del Carmen.
These sinkholes formed over thousands of years, with the action of acidic rain filtering down the porous limestone rock and gradually dissolving it away. Slowly, this process created huge water-filled caves – in some cases, the cave roof collapsed under its own weight, exposing the water pool beneath to the elements. Cenotes are actually all connected with one another, forming the longest underground river in the world.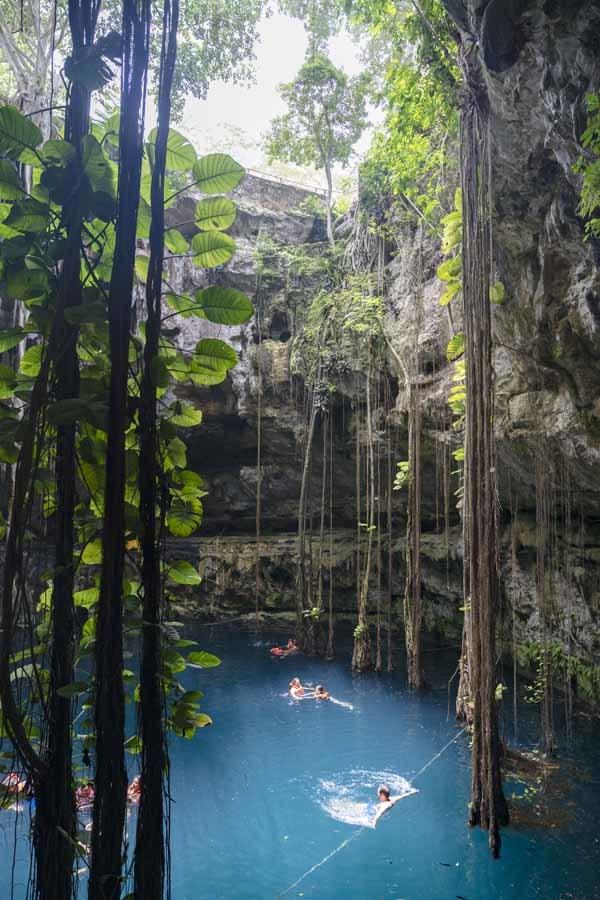 Cenotes can be classified in different groups, depending on their age and on how much of the cave roof is collapsed.
Ancient Cenotes are usually fully open to the elements and covered in vegetation – their walls have often eroded, and they could be mistaken as small lakes
Open Cenotes have a fully collapsed roof, looking like a cylinder with steep walls, and often have tree roots descending from the roof to the water level
Semi-Open Cenotes have a partially collapsed roof, with a portion of overhanging rock covering the cenote opening
Cavern Cenotes are mostly underground, with natural light streaming in from one or two small openings on the top of the cave roof. These kinds of cenotes are usually the most scenic and mysterious ones (in my opinion)
Underground Cenotes have no opening at all, and can usually only be accessed by certified scuba divers
The word cenote derives from the Mayan word ts'onot, meaning 'location with accessible groundwater'. There is evidence that the Mayan people used the cenotes as water sources, but not only – they were regarded as sacred places, where the worlds of the living and the spirits connect.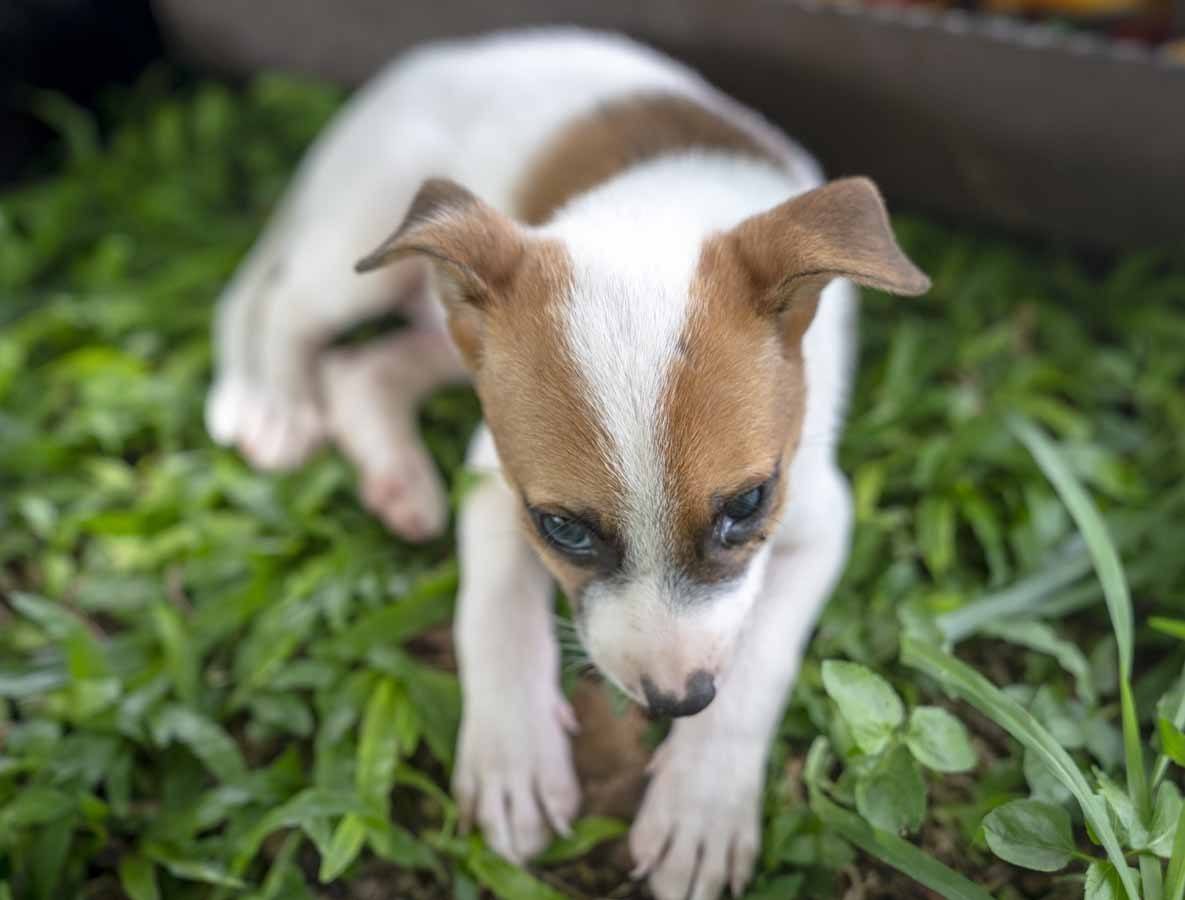 In this article, we'll be focusing on cenotes near Valladolid, a colonial town in the heart of the Yucatan peninsula, about 100 km from the coast. Valladolid is the ideal base to visit cenotes, even if you don't have your own car, since many cenotes can be reached by colectivo or bicycle.
Here is our selection of the best cenotes near Valladolid – make sure you include them in your Mexico itinerary! For extra info on how to plan your cenote visit, don't forget to read the Cenotes Practical Info section at the bottom of this post.
Cenote Zaci
Let's start with Zaci, the easiest cenote to get to from Valladolid – because it's right in the city! Zaci is a semi-open cenote with a hanging roof, and easy access from a restaurant.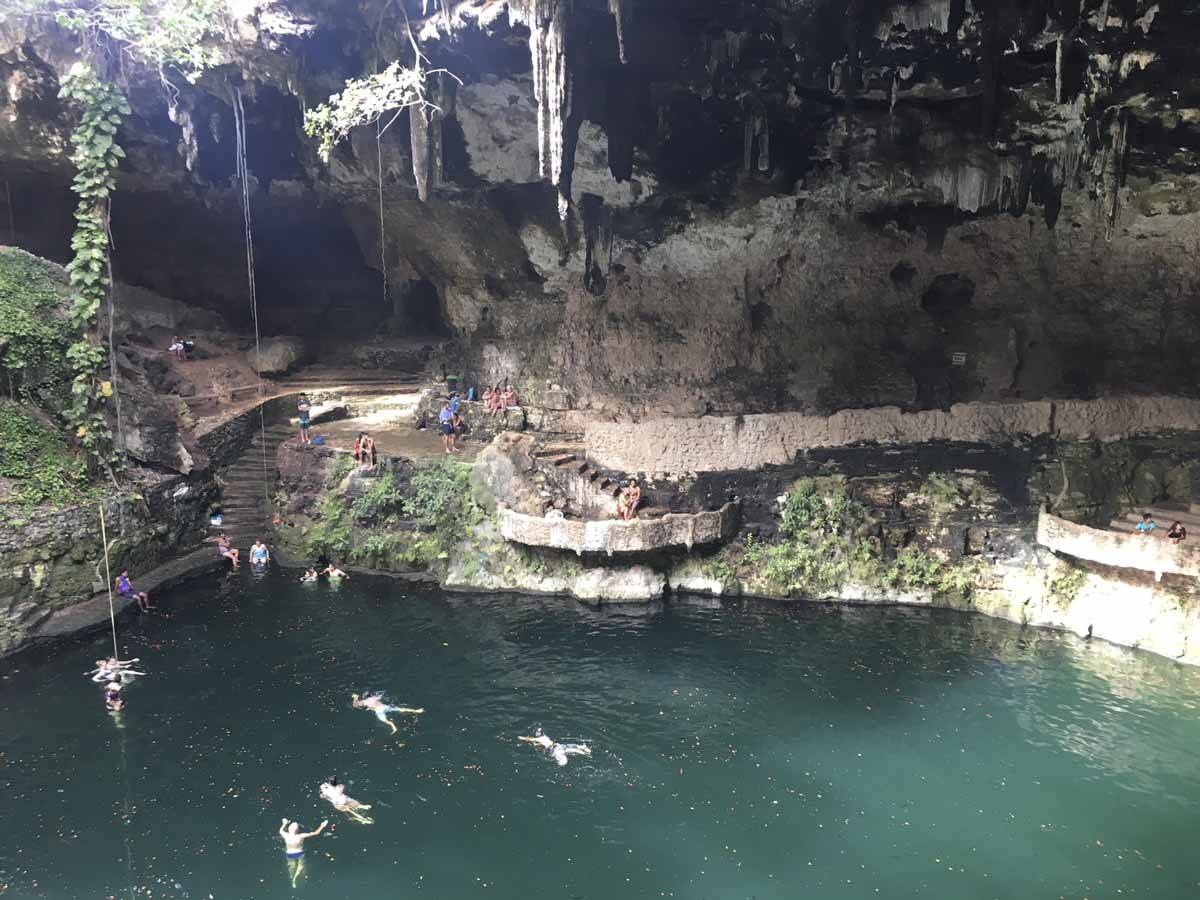 There's a staircase leading down to the cenote from the surface, and several places to dive down into the water from various heights, including a ledge halfway up the side of the cave. We even saw some daredevils considering jumping in from the top of the cenote opening, definitely not something we would recommend!
Zaci is probably not the best looking cenote in Valladolid, but it's certainly the easiest to get to – don't miss heading there for a refreshing swim, after a day spent touring Chichen Itza and the other sights in and around Valladolid!
Getting There – about 10 minutes walk on foot from the main square in Valladolid
How Much – $30 MXN
Check out These Awesome Cenote Tours!
Cenote Xkeken (Dzitnup)
Cenote Xkeken and nearby Cenote Samula are also known as Cenote Dzitnup, after the nearby village, and they're located just 6.5 km outside Valladolid.
Cenote Xkeken is a cavern cenote, with beautiful turquoise waters and a narrow opening at the top. Inside, there are lots of stalactites, and tree roots almost touching the water. The atmosphere is quiet, almost mystical – visit in the middle of the day, when the sun is at its strongest, to see a beam of light streaming into the cave.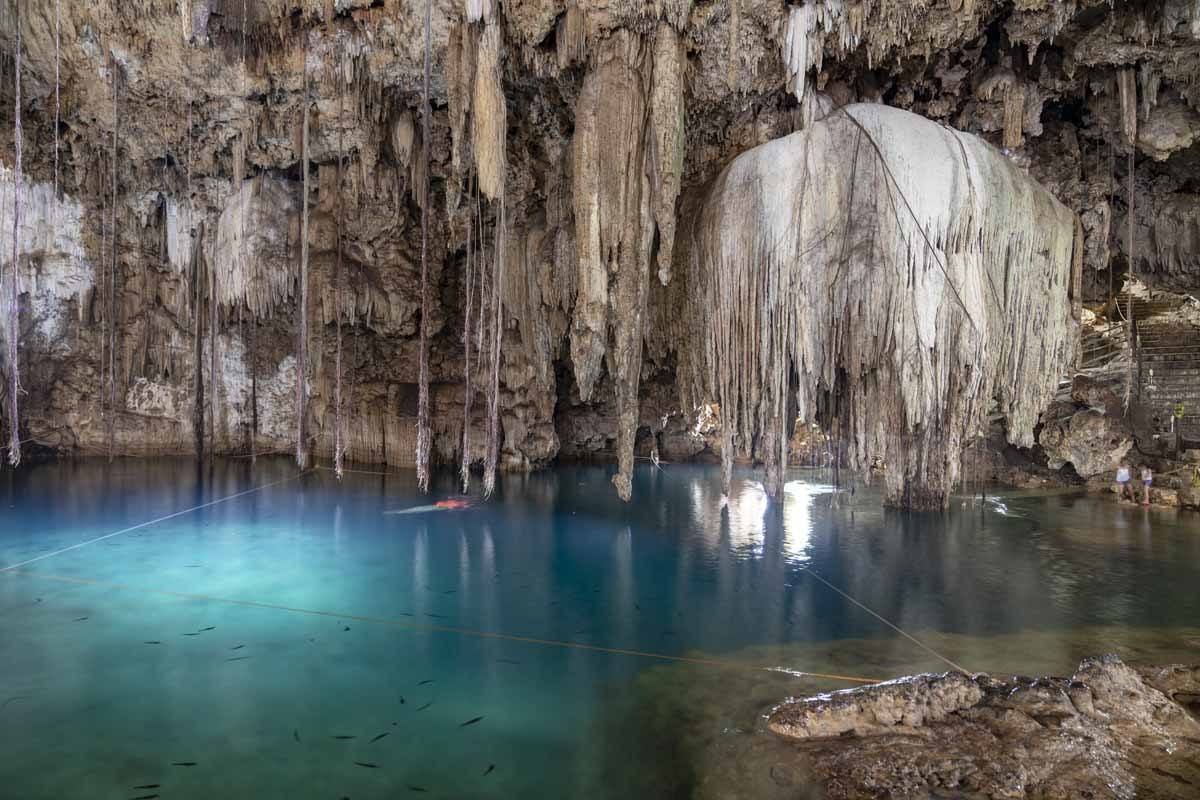 The complex surrounding Cenote Xkeken and Samula is quite touristy, with lots of people selling souvenirs and photography services – but once you're underground, everything changes. Plus, these cenotes are super close to Valladolid – don't miss them!
Getting There – it's an easy 20-min bike ride from downtown Valladolid. We recommend hiring a bike from MexiGo Tours located just behind the main square and asking them for a map showing where all Valladolid cenotes are located.
Bike rental starts from $25 MXN for an hour, or $150 MXN for the day.
How Much – $125 MXN for Cenote Xkeken and Samula
Cenote Samula
The second cenote forming the Dzitnup complex, Samula is also a cavern cenote, just a little larger than its neighbour Xkeken, and with a taller ceiling. Access is super easy via a staircase running around the cave, up to a platform from where you can get into the water.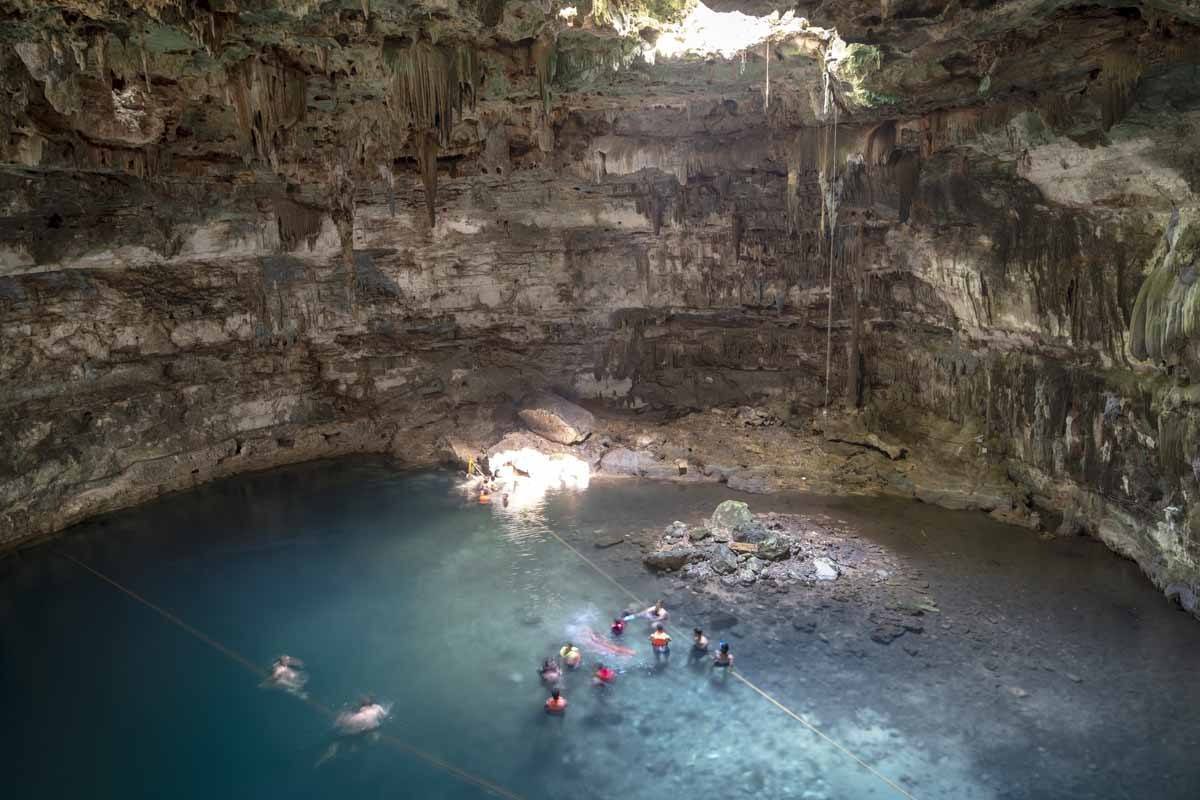 Cenote Samula also has a small opening on the cave roof, with roots descending to a small rocky island at the centre of the cenote. If you're thinking Yay! Insta opportunity! think again – access to the island is prohibited because of dangerous currents dragging swimmers to the bottom of the cenote.
Getting There & How Much – this cenote is located in the same complex as Cenote Xkeken, so refer to the paragraph about it for info on access and prices.
Cenote Suytun
If you're after an instagrammable cenote, head to Cenote Suytun, a cavern cenote with a small opening at the top of the cave, clear azure waters and a partially submerged platform. If you visit at the right time of year, you can get a stunning picture of light shining on the platform from the opening on the top.
You'll find small black fish in all cenotes near Valladolid, including Suytun, where they seemed to everywhere! There are also lots of stalactites on the ceiling, and a small museum with pre-Hispanic artefacts inside.
This cenote is a popular stop on tours to Chichen Itza and Ek Balam, and it's often busy with buses. To have it all to yourself, visit just after opening time at 9 in the morning, or before it closes at 5 pm!
Getting There – Suytun is just 9 km east of Valladolid, an easy 30 min bike ride.
How Much – $70 MXN
Cenote San Lorenzo Oxman
If you're only going to visit one of the Valladolid cenotes, make sure you head to San Lorenzo Oxman! This is probably the best all-round cenote experience near Valladolid, and we encourage making a day out of it.
Start by renting a bike from MexiGo, and follow their directions – it's an easy 20 minute ride to San Lorenzo Oxman, where you'll find a cenote right next to a beautiful restored hacienda, which also has a swimming pool with outdoor seating, and a bar/restaurant serving excellent food.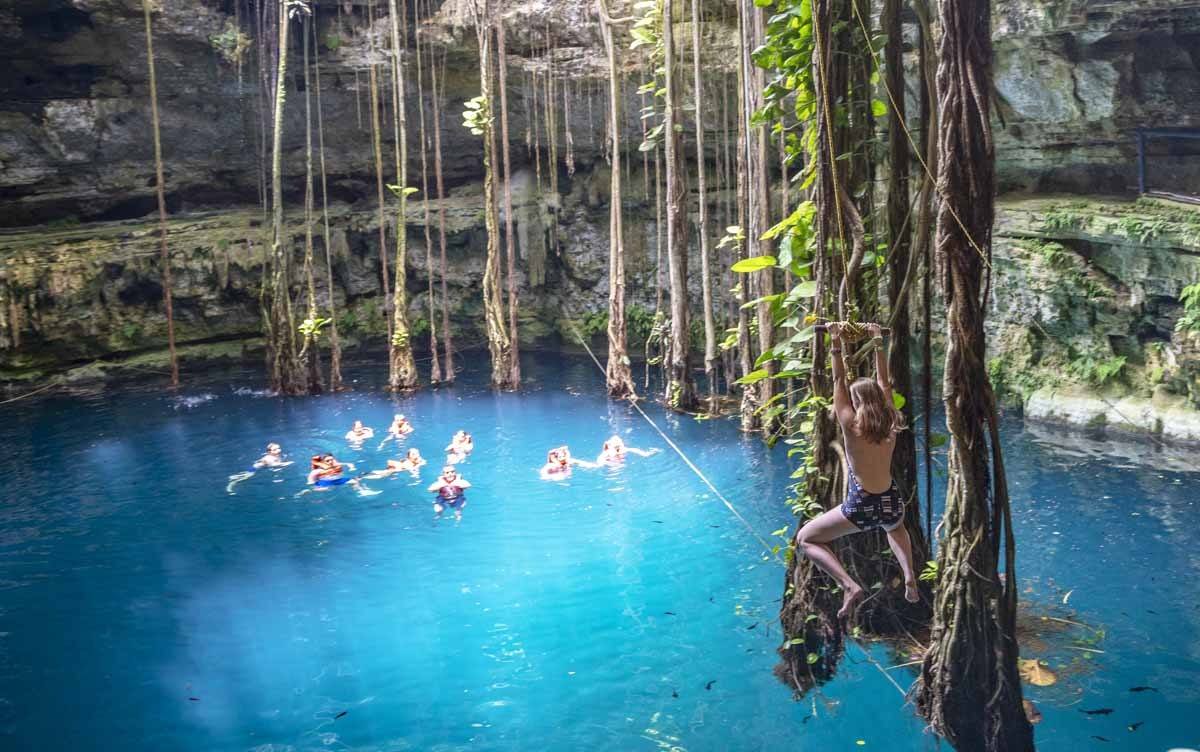 The cenote is of the open-top sort, with a cylinder-shaped opening and beautiful blue waters. There's also a rope swing, making the experience even more fun!
Getting There – the cenote is 5 km southwest of Valladolid. If you rent a bicycle, you can easily combine San Lorenzo Oxman and the two Dzitnup cenotes in one day. Head to San Lorenzo first, then ask staff to show you the shortcut to the road heading to Dzitnup.
How Much – you can choose between different entry packages to the cenote. Entrance alone is $70 MXN, or you can choose to pay $100 MXN but get 50 back to use at the restaurant, or pay $150 MXN and get the entire amount to spend on food and drinks.
We recommend choosing this last option and spending the whole day at San Lorenzo Oxman, swimming in the cenote and pool, and enjoying Yucatecan food and drinks at the bar!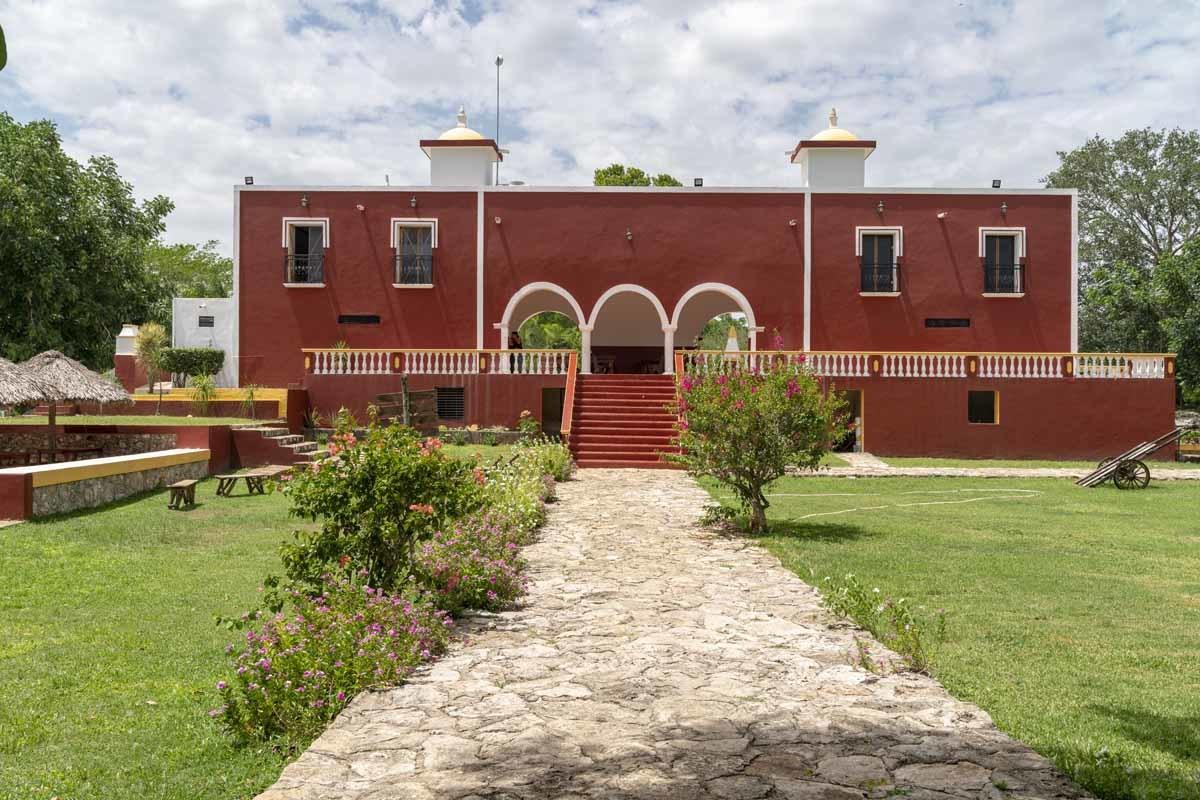 Cenote Ik Kil
This is probably the busiest cenote near Valladolid, because it's located right next to the Chichen Itza ruins! All 'cenote and ruins' tours stop there, so if you want to skip the crowds we recommend heading to the cenote first thing in the morning, as most tour buses tend to stop around lunch time.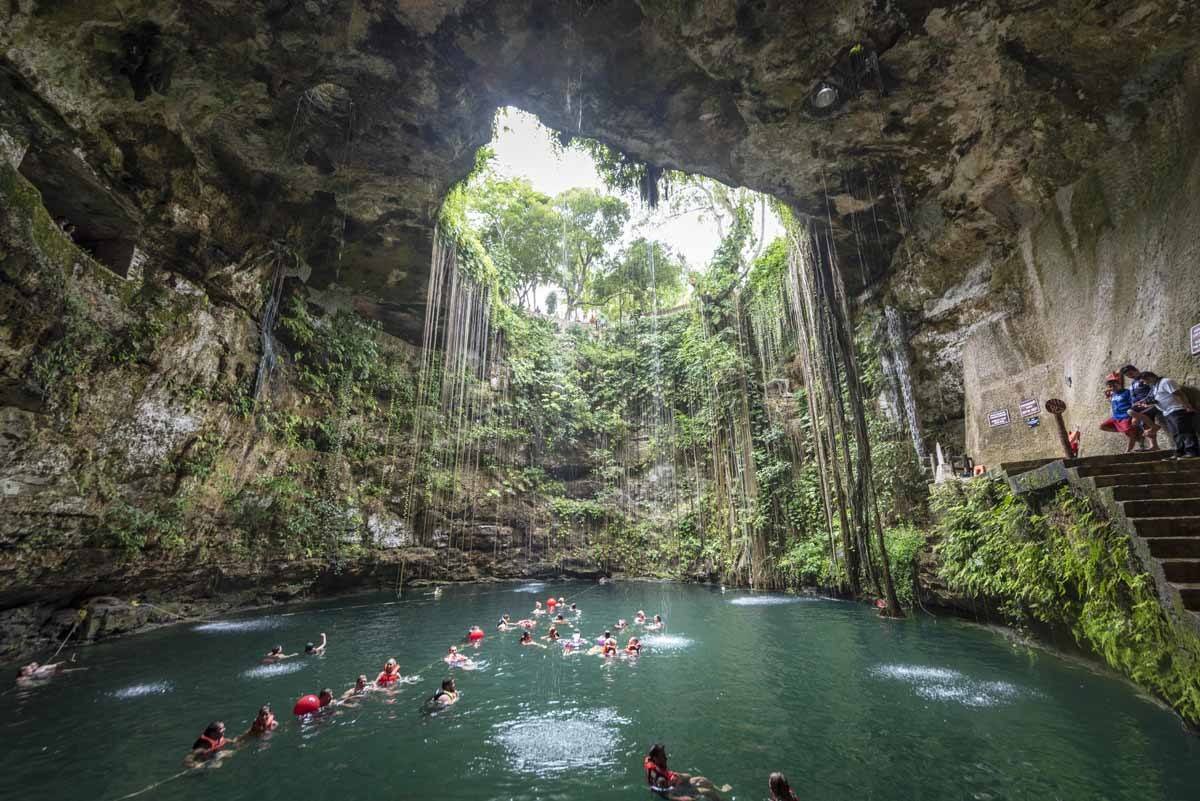 Ik Kil is an open cenote, with lots of tree roots and vines descending down the steep cave walls into the clear, cool water. There's also a diving platform, about 5 meters high.
The cenote surrounds are tourist central, with restaurants, bars and souvenir shops, but the cenote itself is really beautiful – and worth a visit before or after a Chichen Itza tour!
How Much – $80 MXN
Getting There – Cenote Ik Kil is located on the Valladolid-Chichen Itza road, about 7 km from the entrance to the temple complex. Any bus or colectivo will drop you off at the turn off, from where you can easily walk to the cenote.
If you don't want to wait for a bus/colectivo, a taxi from Chichen Itza will cost about $100 MXN (with some bargaining!)
Cenote X'Canche
This cenote is located about 2 km away from the Ek Balam ruins, making it a worthwhile and convenient top after a sweaty morning touring the archaeological site.
This cenote is basically a smaller version of Ik Kil, an open top cenote with green-blue waters and lots of vines and roots cascading into the water from the sides. It feels a little bit 'wilder' than many other Valladolid cenotes, with plants all around and only a rickety staircase descending to the cenote – but it's part of its charm!
Getting There – You can walk from Ek Balam, or get a bicycle taxi for $30 MXN. You can get to Ek Balam from Valladolid by colectivo.
How Much – $70 MXN
The Sacred Cenote
I was in two minds whether or not to include the Sacred Cenote (Cenote Sagrado) in this list, since you can't actually swim there. This open-top cenote is located within the Chichen Itza complex, and it is connected to the main temple area by a sacbe, a raised, paved walkway built by the Maya.
The cenote is known as 'sacred' because it was dedicated to the rain god Chaac, and evidence of sacrifices has been found – including human sacrifices. So, even if swimming was allowed, I don't think anyone would actually want to. Unlike most cenotes that have blue/turquoise/azure waters, at the Sacred Cenote the water is an eerie green.
Getting There – the Sacred Cenote is part of the Chichen Itza archaeological site, which can be easily reached by colectivo from Valladolid.
How Much – included in the Chichen Itza entrance fee, approx $250 MXN per person.
Cenote Practical Info
You are not allowed to swim in the cenotes with regular sunscreen, to protect their delicate ecosystem. You can wear biodegradable sunscreen, or just go without.
If you're not a confident swimmer, you can rent lifejackets at most cenotes for a small extra charge (usually $20-30 MXN)
Most cenotes are open from either 8 or 9 am to 5 pm. To beat the crowds, visit early or late in the day – however, to get the streaming beams of light in cavern cenotes, it's best to visit in the middle of the day.
Prices quoted are up to date as of June 2018.
Where to Stay in Valladolid
We found Valladolid to be a great base to explore the cenotes, Chichen Itza and other surrounding sights like Izamal. The town feels a lot more chilled compared to places on the coast, and it is home to beautiful colonial architecture and some great food spots. Valladolid is also the perfect chill out spot after a Mexico City break!
In Valladolid, we stayed at Casa Hamaca Guesthouse, the best hotel we encountered during our 6-week trip across Mexico. The owner, Dennis, is genuinely passionate about Mayan culture and gave every single room a Mayan name – we stayed in the 'Red Room', but for the life of me, I cannot remember the name in the Mayan language!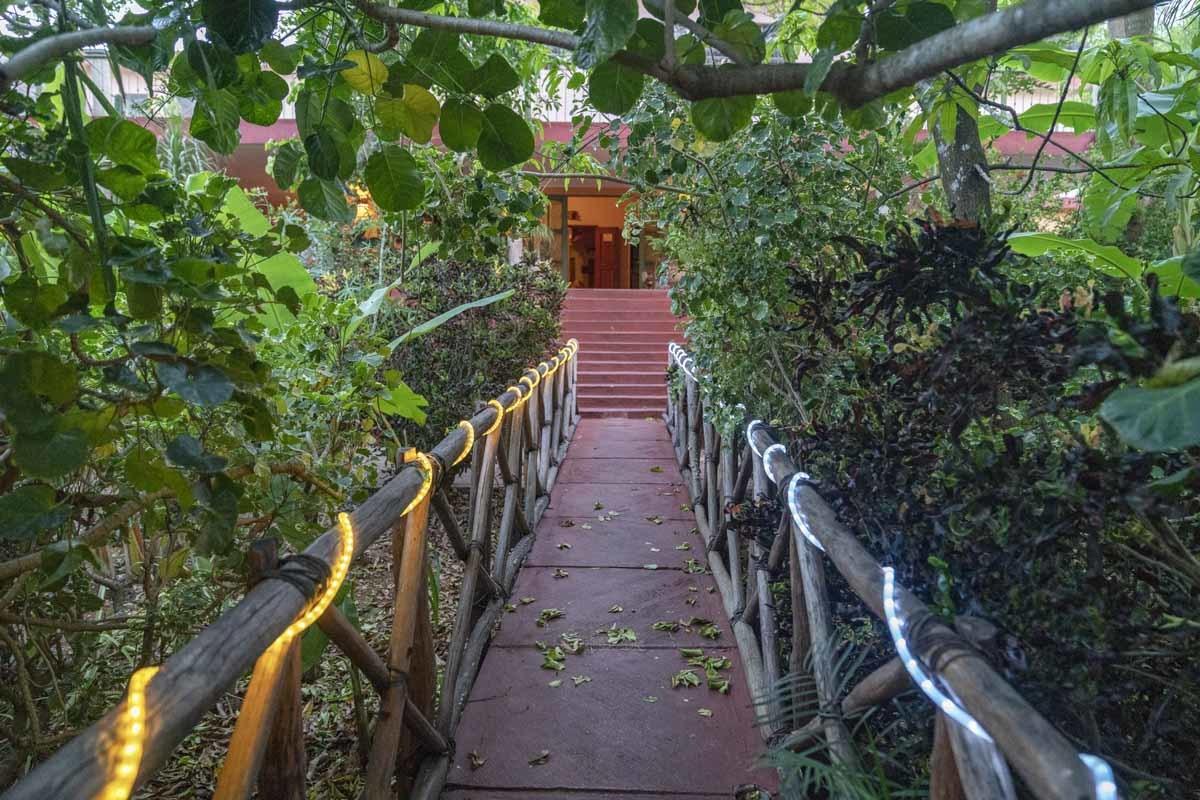 Casa Hamaca means 'Hammock House' – each and every room comes with a hammock, together with instructions on how to correctly lie in it and the health benefits of sleeping in a hammock rather than a bed. I had lots of naps in my hammock, ideal to escape the Valladolid heat!
Another reason to love Casa Hamaca are the events regularly organised by Dennis and the rest of the team – during our three-day stay there was a movie night and a 'lotteria' night, basically a Mexican version of bingo with pictures instead of numbers. We even won chocolates!
Casa Hamaca also includes breakfast in the room rate – not the usual hotel buffet, but a selection of a la carte, freshly cooked Mexican breakfasts! I'm still dreaming of the chilaquiles and quesadillas, served with freshly made agua de jamaica.
Have we convinced you to stay at Casa Hamaca? If you're still in two minds, check out the lovely hotel cats – and click here for the best Casa Hamaca prices!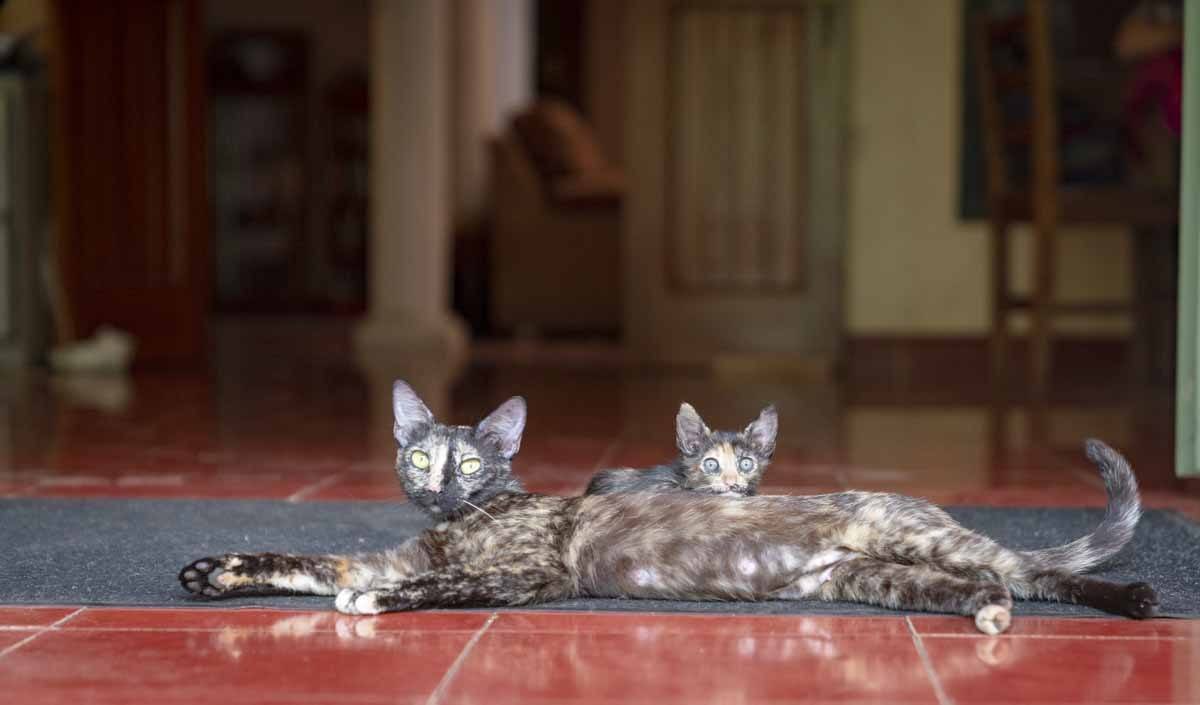 Pin it for later?