Planning to travel to Iran? Well, you can't miss visiting Shiraz! Here we've selected our favourite luxury and boutique hotels in Shiraz, to help you plan your next stay!
If you are an independent traveller visiting Iran, I am sure that Shiraz will be high on your list. The city is much smaller, far less crowded and hectic than Tehran – if you've spent a few days in the capital checking out what to see in Tehran, and battling the daily traffic, I'm sure you'll be happy to spend some time in a quieter place.
The centre of Shiraz is compact and walkable, and most attractions are located within walking distance of one another – things to see in Shiraz include the famous mosques of Nasir-Ol-Molk and Shah Cheragh, the Vakil Bazaar, plus gardens, shrines, not to mention Persepolis, only a quick trip from the city.
So, we've established that Shiraz is worth seeing – the next step would be booking your hotel. Finding a reliable way to book hotels in Iran is often a major challenge for international travellers, since popular websites like Airbnb and Booking.com do not operate in the country.
Luckily we can now rely on 1stQuest, a one-stop shop website for all travellers to Iran, where you can book not just hotels, but also tours, guides, drivers, get visa assistance and travel insurance for Iran. We've talked more about the website in our 5 Ways to Book Hotels in Iran post!
After visiting Shiraz and asking friends who did the same about their favourite Shiraz hotels, we've come up with a selection of 10 wonderful hotels in Shiraz, including both luxury and bou options. If you are a luxury lover, there are any Shiraz hotels that will fit your needs.
Otherwise, we highly recommend staying in a boutique hotel in Shiraz – these are normally boutique hotels in historical Persian homes, with an open patio, often with a small swimming pool or fountain, traditional decor and a warm welcome. After all this is Iran, the most hospitable country on the planet!
Best Luxury Hotels in Shiraz
Zandiyeh Hotel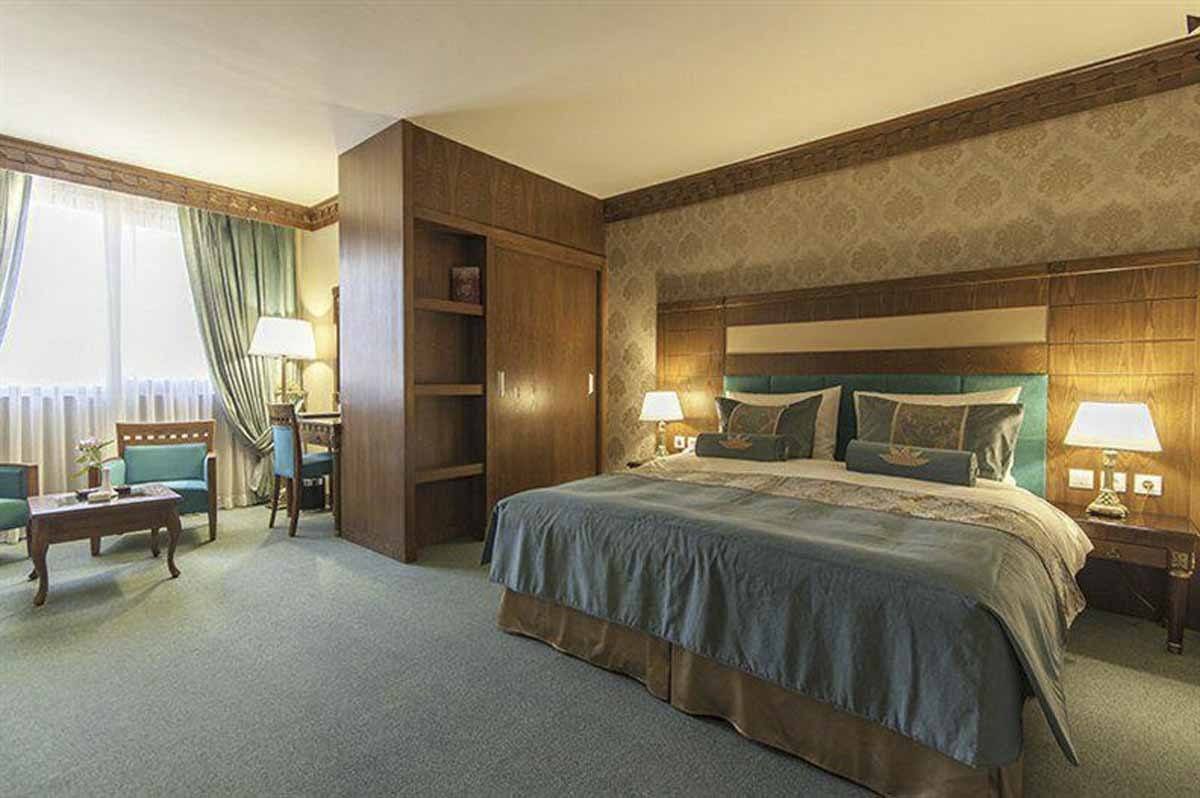 Zandiyeh Hotel is a recently-built 5-star hotel in the centre of Shiraz, perfectly located just steps away from Karimkhan Citadel, and a short walk from the other sights and attractions in the city centre.
The hotel has a luxurious feel throughout, with gleaming marble covering the lobby and a number of facilities to make your stay extra special, including a swimming pool and traditional Persian bath decorated with geometric tiles. Can you imagine a better way to relax after a full day sightseeing around Shiraz?
Zandiyeh has 72 rooms on 6 floors, all ensuite with either a bath or Jacuzzi, TV, coffee making facilities and a mini bar. There is also free Wi-Fi available throughout. Definitely a great choice for those looking for a luxury hotel in Shiraz!
Shiraz Grand Hotel
If luxury and decadence are what you're after, there's no better place to stay at than Shiraz Grand Hotel, a stunning property with 170 rooms on 14 floors. The hotel is in the proximity of Quran Gate, 3 km away from the historic centre – which can be easily reached by taxi in 10-15 minutes.
This hotel is probably the best in Shiraz in terms of facilities – there are three restaurants, including a revolving one with great views over the city, separate sport complexes for men and women with pool and spa, a Moroccan garden and several conference rooms.
All rooms come with ensuite bathroom, minibar, free Wi-Fi and breakfast included in the room price. The Shiraz Grand Hotel is the best hotel in Shiraz for families – there are interconnected rooms, lots of child-friendly spaces like a cinema room with beanbags, adventure park and Aladdin playroom.
Homa Hotel
Homa Hotel may not look so elegant from the outside, with a weird stepped concrete façade reminiscent of a cruise ship – but it's actually a wonderful accommodation option in Shiraz for those looking for peace and quiet.
The hotel is right next door to Azadi Park and all 232 rooms on 10 floors have a view over the park, the hotel garden or the mountains. Shiraz historic centre is only 20 minutes walk away.
Rooms are decorated with Persian carpets and all have an ensuite bathroom, coffee making facilities and a mini bar. Some suites also have a balcony. Guests can also access a fitness centre, spa, pool and even a tennis court.
Chamran Hotel
Chamran Hotel is located in the tallest building in Shiraz, with 250 rooms on 30 floors. It's about 8 km from the city centre, which can be reached by taxi in about 20 minutes or by bus/subway. The hotel is in the charming Ghasr al-Dasht district, once covered in trees and gardens.
The city is growing and the district may not be the verdant paradise it once was, but Chamran is still a great Shiraz hotel for visitors that want to be close to nature.
Services and facilities are another great reason to choose Chamran for your Shiraz stay – there are plenty of dining options, including an Italian coffee shop and a restaurant specialising in the cuisine of Northern Iran, a gym, a fish spa, Moroccan baths and concierge offering travel services.
Rooms have large floor-to-ceiling windows to make the best of city views, ensuite bathroom, minibar, coffee making facilities and free Wi-Fi.
Royal Hotel
If you want luxury without moving too far from the historic centre, Royal Hotel is another great option for you. It's a 4-star hotel, so it may not quite be as decadent as other 5-star options mentioned above, but as an added benefit most Shiraz points of interest are within 20-30 minutes walk, and the Hafez Mausoleum is only 10 minutes walk away.
With only 44 rooms, the hotel is ideal for guests looking for a more intimate hotel. All rooms have ensuite bathrooms, minibar, coffee making facilities and great views over the mountains, plus free Wi-Fi to keep in touch with your loved ones back home.
Facilities include an indoor swimming pool, sauna, fitness club and dining options. Yet, the main reason to choose Royal Hotel is probably the great mountain panorama you see from most rooms!
Best Boutique Hotels in Shiraz
Karimkhan Hotel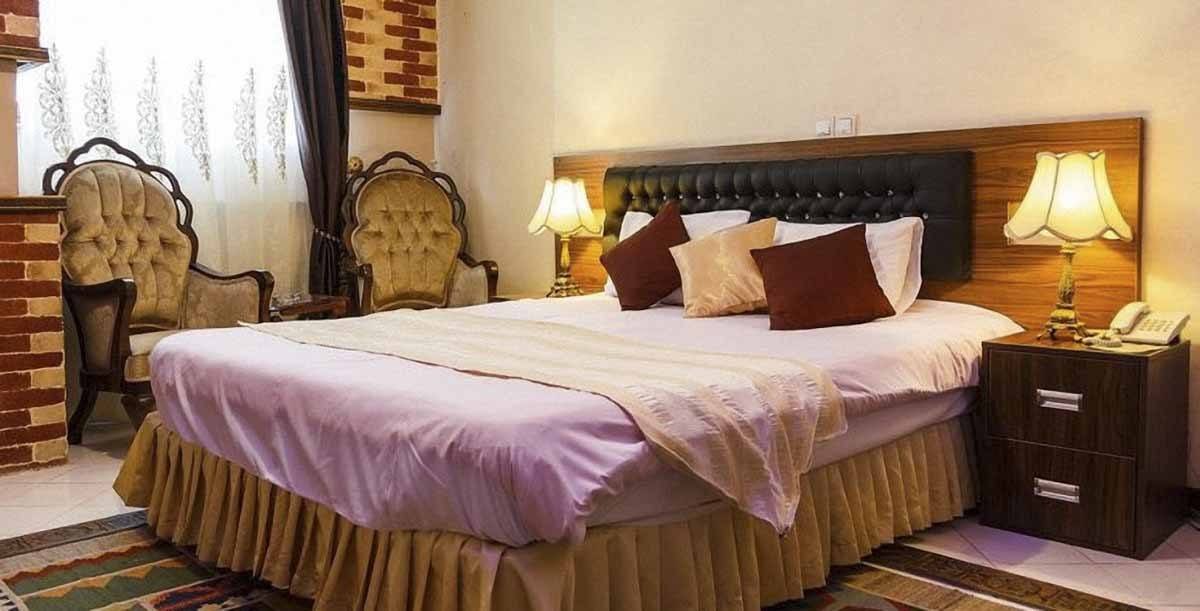 The name of this hotel reveals its hyper-central location, a short walk from the Citadel of the same name. Karimkhan Hotel is a wonderful option for those looking for a boutique hotel in Shiraz – there are only 51 rooms, all with Persian touches like rugs and wall hangings throughout, and staff members all wear traditional clothing.
The hotel's traditional architecture – yet modern amenities – make it a true Shiraz favourite. You can escape the heat with a faloodeh (ice-cream dessert) in the Iranian tea house, buy handicrafts from all over the country and just chill in the charming common spaces.
Rooms are equipped with all mod-cons, including safety boxes, fridge and coffee making facilities, and all children under 4 stay for free, making the Karimkhan Hotel ideal for families visiting Shiraz!
Forough Boutique Hotel
With only 18 rooms, this boutique hotel is perfect for those who want to stay in a boutique Shiraz hotel with a homely feel. Forough Boutique Hotel is in the oldest part of Shiraz, well located to visit sights such as Shah Cheragh Mosque and Vakil Bazaar.
The stunning traditional architecture is the main draw of this hotel – the inner patio is covered in colourful tiles, rooms have stained glass windows and there's also a small swimming pool to relax. Free breakfast and friendly service make this one of the best boutique hotels in the city.
Darbe Shazdeh Hotel
Architecture lovers can't miss staying at Darbe Shazdeh Hotel, a true gem not far from the bazaar. This boutique hotel is named after a region in northern Iran, and it only has nine rooms decorated in Qajar style, with colourful windows in all rooms, floors with geometric tiles, and a charming courtyard with a water feature, perfect to relax after a day of sightseeing around Shiraz.
The owner is kind and welcoming and food also comes highly recommended. There's also a small cafe, and rooms are all individually decorated – our favourites are the Owrsi Suite and Mirror Room, with pale-green walls and mirror decorations.
Taha Traditional Hostel
Budget-minded travellers who want to stay in a boutique-style hotel should look no further than Taha Traditional Hostel, centrally-located in Shiraz and offering dorms as well as double rooms.
The hostel is located in a period home in the historic centre of Shiraz, and what it lacks in luxury it makes up for in terms of charm – there's an inner courtyard with lounges and a pool, rooms are decorated with Persian touches, and guests can enjoy a delicious free breakfast every day.
Niayesh Boutique Hotel
Niayesh is another budget-friendly boutique hotel in the historic centre of Shiraz. The building's history dates back centuries – it was the headquarters of the first Shiraz literature club, and it housed the printing presses for the first newspaper in the city.
The hotel has decorated eaves and latticed windows with colourful glass panels, and the inner courtyard has oodles of charm, with lots of plants, a twinkling fountain and screened lounges to enjoy your drink in total peace.
There's also a rooftop terrace, and guests can choose to stay in private rooms or dorms. In both cases, breakfast is free and you'll get a warm welcome!