Are you wondering what you need to get a Thailand tourist visa? After our post about Brazil eVisas, here's our guide to Thailand tourist visas – including 30 day visa exemptions on arrival, 60 day tourist visa and the new eVisas on arrival, which will gradually be rolled out in 2019!
It is not by chance that I chose to feature Brazil and Thailand as the first two countries of our new 'how to' visa series. Brazil was the very first country on our two-year round the world backpacking trip almost a decade ago, and Thailand was the first country we visited in Asia, and one we returned to time and time again over the years. I mean, how good is street food in Bangkok?
We probably visited Thailand 5 or 6 times over the last 10 years, and noticed that visa rules change frequently – once we got 15-day visas on arrival, another time we got 30 days extendable, another time we couldn't extend it.
Let's not even get into the subject of visa runs! At some stage, a visa run just meant a quick dash across the border, then you had to spend at least one night, then it changed again…
The information contained in this Thailand tourist visa guide is accurate as of April 2019, when the article was written. We'll do our best to update this guide as often as we can – if you notice any inaccuracies, feel free to let us know in the comments or email us!
Do I Need a Thailand Tourist Visa?
That depends on your nationality. Thailand has one of the most confusing visa policies ever, and it's ever changing, so make sure you double check before you travel, possibly on a Thai government website.
Travellers from a number of countries are allowed visa-free access into Thailand for a period ranging from 14 to 90 days, depending on nationality. Passport holders from the US, Australia, New Zealand all EU countries are granted 30 days visa free access.
If your nationality does not allow visa-free access, you'll have no option but apply for a Thailand tourist visa before reaching the country. This is the case for most African, Central American, Middle Eastern and Central Asian countries – check this post to see what category your country falls into.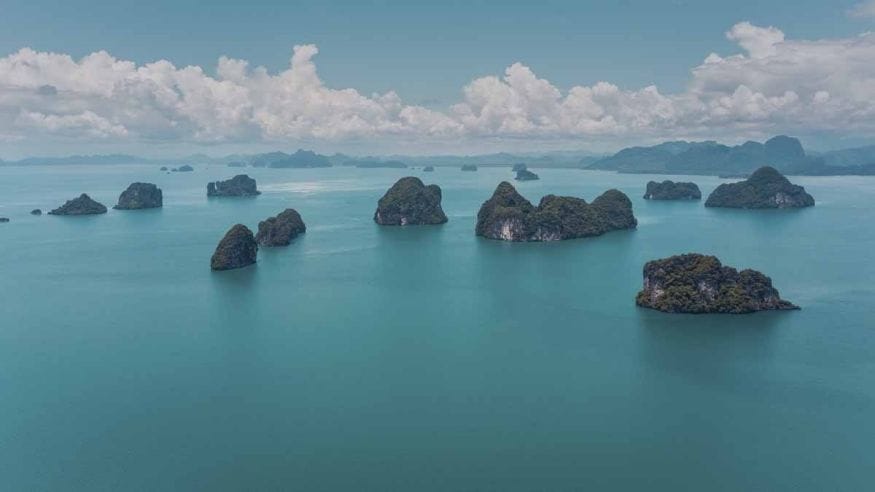 How to Get a Thailand 30-Day Visa Exemption or Waiver on Arrival
If you're a national of 51 countries (including the US, Australia, New Zealand, Japan, Israel, South Africa, and all EU countries except for Romania and Bulgaria), you will get a 30 day visa upon your arrival into Thailand. The visa exemption is granted maximum twice per year when entering Thailand by land or sea, but there are no restrictions when entering by air.
Passport holders from Hong Kong, Macao, Russia, Mongolia, Vietnam, and Laos are granted a 30 day visa waiver.
In both cases, you must show proof of onward travel (usually a flight out of Thailand) and proof you have enough money to support yourself while in the country, although the latter is rarely checked.
How to Get a 60-Day Thailand Tourist Visa
If you wish to stay longer in Thailand and don't want to bother with visa runs and extensions, your best bet would be applying for a 60-day Thailand tourist visa.
This can be done at Royal Thai consulates and embassies throughout the world, and you can choose between two options – a Single Entry Tourist Visa, valid for 3 months from the date of issue, and a Multiple Entry Tourist Visa, valid for 6 months.
Travellers with a Thailand Tourist Visa are allowed to stay in Thailand for a maximum of 60 days for each entry.
What are the Requirements for a Thailand Tourist Visa?
Getting a single entry visa is very straightforward – the only documents required are a passport with minimum 6 months validity, a completed visa application form, and two recent photos.
For a multiple entry visa, besides the documents mentioned above you'll also need to present an original bank statement showing a balance of at least €5,500, flight itinerary, hotel reservations and a letter from the applicant's employer (or a company registration form if the applicant is self-employed).
How Much Does it Cost?
A single entry visa costs around €30, and a multiple entry visa varies between €60-150 depending on the applicant's nationality.
How Long Does it Take?
How long is a piece of string? There truly is no clear cut answer to this question. Processing times vary from 2/3 business days, to one month or more if you're applying in a country that is not your own.
Please check on the relevant website of the Royal Thai consular mission you're planning to apply from to get accurate info on processing times.
How About the New Thailand Electronic Visa?
Good news! From early 2019 onwards Thailand started rolling our electronic visas, granting passport holders of select countries 15-day visas on arrival, saving time when you reach your Thailand port of entry. The visa can then be extended for up to 90 days.
These new visas are now available to 21 nationalities, and more will be added later in the year. It is also a very affordable way to get a visa for the Land of Smiles, as the visa fee is currently being waived by the Thai government and you'll only need to pay an application fee. Check this post to get more info about the new electronic Thailand tourist visa!
Can I Extend my Thai Visa?
Yes, you can! You can extend your 60 day tourist visa for a further 30 days (90 days in total) at immigration offices throughout Thailand, for a fee of 1900 THB (approximately €55).
You'll need your passport, the fee, a photo of yourself, a filled in application and photocopies of your passport photo page, visa page and entry stamps. It's a straightforward process and only takes about an hour or so, if you know where to go!
If you entered the country with a 30-day visa exemption, previously you were only able to extend your stay by 7 days for 1900 THB, but it appears that 30-day extensions are now being given.
Check this post with detailed info on how to extend your Thai visa at Bangkok Immigration!
What if I Overstay my Thai Visa?
Until recently, overstaying one's Thailand tourist visa was a popular way for travellers to stay in Thailand long-term. However, rules are now much stricter, with hefty fines and even bans for those who overstay their visa for 90 days or more.
Fines for overstaying are charged THB 500 (€13) per day, with a maximum of THB 20,000 (€560) for overstaying 40 days or longer. Considering that getting a Thai tourist visa is simple and extensions are straightforward, make sure your documents in order!
Ok, I'm in Thailand now. How Do I get Around?
Depending on where in Thailand you need to go, you can get around with a combination of bus, train, ferry and internal flights.
You can also buy single tickets and ticket combinations online to reach some of the most popular Thai destinations with no hassle – have a look below!