Have you always wanted to visit Iran independently? In this post, we'll give you our best tips on how to do it. Also, learn about Mondays in Iran, our initiative running until the end of the year to promote Iran as an amazing tourist destination!
Introducing #MondaysinIran
Ladies and gentlemen, welcome to Mondays in Iran. As some of you will know, Nick and I visited Iran at the beginning of the year, and it was one of our most memorable holidays to date – we just couldn't wait to share it with you all, but as it often happens, other things got in the way and we never got a chance to publish a single article. Until now – eight months later.
So, we've decided to do something special for Iran, and started this series that will run until the end of the year – it will be called Mondays in Iran, after our successful Mondays in Milan series. This time, we won't be publishing a post every single Monday – after all, we were in Iran for only two weeks. We'll publish a post every other Monday, and promote other Iran posts written by our favourite blogger friends on the remaining Mondays.
We'll be sharing posts and Iran pics on social media using the #MondaysinIran hashtag – help us out with some share love, and let's spread the word about how amazing Iran is.
Here's the first post – a guide on how to visit Iran independently. We do hope this inspires you to visit this amazing country!
Here's a brief overview of contents
Sort out your Visa
Navigating the confusing amount of information about how to get an Iranian visa is likely to be a formidable task – one that very nearly drove me insane. There are two ways to get an Iranian visa – in advance through a consulate or embassy, or on arrival.
British, American and Canadian citizens are subject to visa restrictions, meaning they can't visit Iran independently. Please note that this info is updated to early 2015 – with the opening of a British embassy in Tehran in August 2015, things may change soon.
You can't enter Iran with an Israeli passport, or any passport bearing an Israeli stamp.
Visa on Arrival
Let's start with visa on arrival, because that's what we used. Citizens of most countries (Canada, US and UK are excluded) can get a 15 day visa on arrival at Tehran's Khomeini airport and many other international airports.
The process is relatively straightforward and hassle-free. You just need to show proof of your first night accommodation, travel insurance and a return flight. Make sure you have your hotel's phone number handy as they often call to check.
Join the queue, give your documents to the officer and he'll hand you a slip with the amount you have to pay – you do that at another window. Prices are quoted in euro or US dollars and they vary according to nationality – I paid €60 with an Italian passport, while Nick (Australian) paid €120. Pay your dues, then return to the first window with your receipt and you'll get your visa. The whole process lasts about an hour.
Some visa agencies offer 'authorisation codes', saying that they're essential to get a visa on arrival. We didn't have an authorisation code and were granted a visa on arrival anyway. Admittedly, tourists with an authorisation code had their visas done quicker, but that's about it.
Remember to book your first night ahead and get email confirmation from the hotel. Not all Tehran hotels will offer this service – Hotel Atlas and Gollestan Hotel do.
**UPDATE** Iran now offers 30 days Visas on Arrival. Yay!
Tourist Visa in Advance
If you're planning to stay in Iran more than two weeks and don't want to go through the hassle of extending your visa, you need to apply for a tourist visa at an Iranian embassy or consulate. The process takes two or three weeks and grants you a 30 day visa, extendable for up to 90.
However, the process is usually straightforward only if you apply in your home country, and if you're flying in and out. Some consulates are more lenient than others, but if you're travelling overland or applying in a country that is not your own, be prepared to produce mountains of additional paperwork – in this case, a visa agency will definitely help. You might also need a flight reservation for your visa application.
How to Extend your Visa
Extending your visa is possible – both tourist visas and visas on arrival. Some say that cities like Yazd or Shiraz are much better places to extend than Tehran.
It seems that now a visa will only be extended when it's about to expire. We tried to extend ours when we had about a week to go and were refused – 'just come back the day before it runs out' was the reply. We met a few tourists who did that and were able to extend their visa with no hassle for up to another 30 days. Just go to the visa office early and be prepared to wait a few hours, and you should get your visa extension on the same day.
In the end, we didn't extend our visa, as we were told there are three days leeway after expiration – we had a 15 day visa on arrival and were able to exit Iran after 17 days from our entry, with no hassle whatsoever.
When to Go
Spring and autumn are the best seasons to visit Iran. Winters can be bitterly cold, especially in the north of the country, and summer sees boiling temperatures everywhere, often in excess of 50°. The country is very big, and temperatures change a lot from north to south, with the southern coast being warm year round.
We visited in winter, between December and January, and temperatures were mild and pleasant – around 10° in Tehran and Isfahan and 20° in Yazd. But we were told it was an unusually mild winter.
If you want to ski (great fun!) the season in the Alborz mountains near Tehran runs from October to May.
Want to know more about Iran and what to expect? Read our Things to do in Tehran post!
Dress Code for Women
In Iran, women are expected to adhere to Islamic dress code. You need to wear a headscarf at ALL TIMES from the moment you step off the plane, everywhere except in private homes or your hotel room.
When I say 'headscarf', I don't mean a full fledged affair – just something covering your hair. You can pin your headscarf to the back of your head, leaving your hairline exposed. If the scarf falls for a second, fear not – you won't be arrested. Just put it back on.
Besides headscarf, women should wear long-sleeved, loose-fitting clothes. No low-cut tops, exposed shoulders or midriffs. We saw loads of women wearing leggings or tight jeans, especially in the least conservative areas of Tehran and Isfahan. Colourful clothes and headscarves seemed to be fine, same for make-up – most Iranian women are actually crazy about make-up.
Where to Stay
Hotels and Guesthouses
Iran is most definitely not on the beaten track. The country was subject to sanctions for 35 years, and for quite a while it was near impossible to visit. Accommodation is limited to budget/midrange hotels and some luxury affairs. When I say 'luxury', this needs to be taken with a pinch of salt, as many places were probably luxurious in the 1960s and have been poorly maintained ever since.
Smaller cities like Yazd also have traditional guesthouses, usually set around an internal courtyard with a fountain and divans to relax – Kohan Hotel in Yazd's historical centre was a great example and a bargain at only $18.
Looking for the best places to stay in the Iranian capital? Read our Best Hotels in Tehran post!
Otherwise, check our post about booking hotels in Iran to plan your trip with absolutely no hassles!
Couchsurfing
Iranian hospitality is incredible. Everywhere you go you'll be stopped by locals wanting to have a chat, which inevitably will end with an invitation for lunch, dinner or tea. The best way to experience this is Couchsurfing in Iran. We couchsurfed 9 out of 15 nights we spent in Iran, with two different families, and loved it.
First of all, you'll get to try delicious cuisine. Home-cooked Iranian food and what you get at restaurants are quite different things – read the Food & Drinks section if you want to know more. Then, you'll get access to insider's tips and knowledge – from the right price to pay for taxis to when to visit the wonderful Pink Mosque in Shiraz (before 8.30 am, BTW).
It's very easy to secure a CS host in Iran. Some will even invite you to 'secret' underground parties. Remember to be respectful around your hosts at all times, especially if elderly or conservative people live in the same house.
How to Get Around
In cities
In most cities, getting around means using buses or taxis.
Buses can be confusing due to the use of Farsi numbers, but locals are usually happy to help you out. More often than not they also ended up paying for our bus ticket! Just be aware that there are separate sections for men (at the front) and women (at the back) – if you're a couple, just stay near the centre at either side of the bar separating the two sections.
Taxis are plentiful and easy to use, but (as always) many will try to overcharge you, especially in Tehran. Try to find out what the right fare is and don't be afraid to bargain down – or walk. For instance, at Imam Khomeini Airport in Tehran rates to the city centre are set and displayed, but taxi drivers will still try to overcharge you.
In Tehran, there's also an excellent subway system, easy to use and costing literally pennies.
Between cities
We found Iranian buses to be excellent. We simply turned up at the bus station and within an hour or so, found a bus to our destination. You can also book buses in advance – sites are usually in Farsi, but your hotel or CS host will gladly help you. Buses cost €8-10 for a 5-6 hour trip like Tehran-Isfahan. Try to book 'VIP' seats, offering reclining business class-style seats and free drinks and snacks for a couple of extra euro more than 'normal' buses.
There's also a good train system in Iran, ideal if you're planning to travel at night (from Yazd to Tehran for example). the only issue is that trains need to be booked a few days in advance as they tend to sell out. Again, ask your hotel or CS host for help.
Food & Drinks
Finding a restaurant in Iran can be hard. On our first night in Tehran we walked around for two hours in search of a restaurant, and ended up having a limp kebab in a shisha joint. Why? Strangely, many restaurants are either on the first floor or basement of buildings, and signs are (yes, you guessed it) only in Farsi. If you see an open door with a staircase either going up or down, chances are it will lead to a restaurant.
Food in restaurants and home cooked food are two entirely different things. Whsn I asked my CS host why, he said 'why would I want to eat in a restaurant what I can have at home?' In restaurants, kebabs reign supreme – a grilled skewer of beef, chicken or both on a bed of rice. That's pretty much it – delicious indeed, but gets old.
Outside Tehran, vegetarians might have a hard time. In restaurants there are very few dishes prepared with no meat or fish at all – just a few aubergine-based dishes. Ordering a series of starters will be your safest bet, and maybe ask your hotel or CS host to write down in Farsi a list of what you can or cannot eat to show your waiter.
At home, food is an entirely different story. We had stews, chicken casseroles, and lots of 'sabzi' dishes, meaning vegetables. A really good dish you might also find in some small restaurants is 'dizi', a lamb stew with meat/veg and stock served separately then mashed together. We also ate veg fritters, meatballs and mixed salads, everything accompanied by mugs of sweet tea and mountains of fresh herbs. Everything was delicious and a lot healthier than restaurant kebabs!
Also, remember that alcohol is illegal in Iran. You won't find it anywhere, not even in the most expensive restaurants and hotels – what Iranians call 'beer' is fruit-flavoured and non-alcoholic. You might be offered home made wine or brandy in private homes but trust me – it will probably be disgusting. Just give your liver a break and enjoy delicious freshly-squeezed juices instead!
Money & Costs
Currency
You won't be able to withdraw money in Iran, as no Western cards are accepted. So, make sure you bring plenty of dollars or euros and exchange them at official exchange offices, which offer better exchange rates than hotels.
Iran's official currency is the Rial. When we visited, one euro was equal to 45,000 Rial, but rampant inflation means exchange rates are anything but stable.
You'll find that prices are always quoted in 'toman' instead of rial. The toman price is one tenth of the price in rial – for instance, for the taxi ride from Khomeini airport to central Tehran we were quoted 45,000 toman, equal to 450,000 rial. This can be very confusing, making things sound much cheaper (or much more expensive) than they actually are.
So, always make sure that you understand what currency is being referred to – and 99% of the times, it will be toman. Just add one 0 and you're ready to go.
Taarof
Another strange Iranian custom is taarof. Picture this – you have just bought something at a shop and wish to pay. The shopkeeper basically says 'no worries, you honour me with your presence'. What do you do? Think 'quids in' and run away?
This is taarof, an ancient form of Persian etiquette. The shopkeeper does want you to pay, but he'll refuse your money three times before finally taking it. Just keep insisting and eventually he'll take it, and you'll make him happy for having understood his country's etiquette and customs.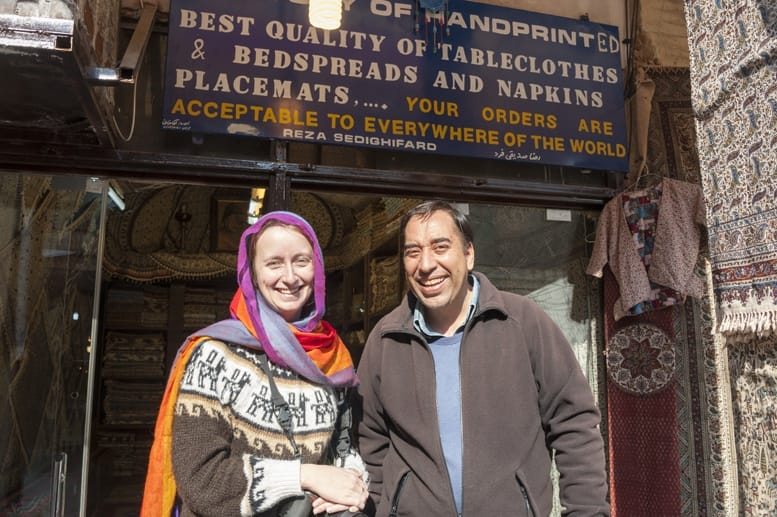 Travel Costs
Overall, Iran is not an expensive country to travel. Couchsurfing and eating in with our hosts most of the time helped us keep prices low. Here's a recap of what we spent:
Midrange hotel in Tehran: €40 per night
Budget guesthouse: €15 per night
Dinner for two (kebab, rice, salad and a soft drink): €10
VIP Bus Tehran-Isfahan / Isfahan-Shiraz: €8
Regular bus Shiraz-Yazd: €5
Entrance to sights: usually between €2 and €5
One day desert tour from Yazd: €40
A day skiing in Tochal, near Tehran (skipass & ski rental): €20
All in all, we spent about €700 for both of us, for a two-week trip. Not bad!
Internet
Say goodbye to social media while in Iran! Not only is internet painfully slow in the country – Facebook and Twitter and many news sites are also blocked. A menacing-looking page in Farsi will pop up if you try to access them.
Instagram, Buffer, Whatsapp and Viber (HUGE in Iran!) can be accessed no problem, and you'll pick up loads of Insta followers and even a dinner invitation or two when posting from Iran!
You can use a VPN to access 'blocked' sites. We had hit-and-miss success with Tunnelbear, Surfeasy and Hotspot VPN.
Security
Western media reports of Iran as a hotbed for terrorists and extremists couldn't be further from the true. Iran is a country of wonderful, welcoming and generous people, whose primary concern with tourists is making sure they have a good time. 99% of invitation to dinner and tea are honest ones. This is a place where you can trust strangers – accept invitations, and be ready to have a wonderful time.
Having said that, Iran is not a crime-free haven. Exercise the usual amount of caution on public transport and crowded streets and bazaars, especially in Tehran where motorbikes run on the pavement and bag-snatching is common.
A few taxi drivers are tricksters, but usually the worse they can do is overcharge you or short-change you. That's about it.
Is there anything else you'd like to know on how to visit Iran independently? Let us know in the comments!
Pin it for later?