Are you following Mondays in Iran? We started out with our visit Iran independently post. Today we have an article about things to do in Tehran, and why you shouldn't miss it.
Let's start from the beginning. We didn't love Tehran. I had been looking forward to this Iran trip for years, and when we finally landed at Khomeini airport and walked out with our Iran visas on arrival, we were both ecstatic.
But the city was too big, too crazy, too crowded. The traffic was by far the worst we had ever seen. Worse than Bangkok, Saigon, Napoli, São Paulo, you name it. Streets were already congested at 5 am, and the 30 km from the airport to the city center took over two hours.
The streets were so full, that motorcycles traveled on the footpath. Yes, really.
Our hotel didn't let us check in early, despite the room being ready. We went out for a walk and a passing motorcyclist tried to snatch Nick's bag – luckily, he managed to not let go of his backpack. Was this Iran, the friendly place I had wanted to visit for decades?
A few hours into our trip, and we had been victims of an attempted crime, had only met unfriendly and unhelpful people. Not to mention that what we had seen of the city was rather ugly. Fifties-style concrete buildings, busier streets, even busier squares and roundabouts.
In total, we spent four days in Tehran, two at the beginning and two at the end of the trip. We explored the city, and found some great sights and things to do. We didn't fall in love – but we didn't hate it either. And we think the city is worth a visit. If you're planning to backpack Iran, you'll have to go through Tehran at some stage – so you may as well make the most of it!
Why you should visit Tehran
Some friends recommended we get out of the city as quickly as possible, because it's not the real Iran. But once again, we disagree. Tehran is the real Iran, as much as Isfahan and Shiraz are the real Iran, and so is the Caspian Sea, Qeshm Island, Iranian Kurdistan and every other corner of this amazing country.
Tehran may not be the enchanting Iran you dreamt of visiting, but it's the place where modern Iranian history was made – from Moussadeq to the Shah, and then the 1979 Revolution, Tehran it's where it all began.
In some ways, it's the Iranian world in one city. You'll find bearded mullahs, ladies wrapped in black chadors – and others wearing their headscarf wayyyy back. You'll find a bazaar and an old city, a dazzling palace, mountains and the glitzy world of north Tehran, with would give the poshest arrondissements of Paris a run for their money.
Here we listed 5 things do do in Tehran – I'm sure there are plenty more, and some will be definitely featured on Mondays in Iran in the upcoming weeks.
Looking for the best places to stay in town? Read our Best Hotels in Tehran post!
5 Things to do in Tehran
1. Golestan Palace
This was the first place we visited in Tehran, still groggy from our nighttime flight, as we waited to be allowed to check into our room. Golestan Palace is located in southern Tehran, near the bazaar – the oldest and poorest part of town.
Once you cross the gates and enter the palace compound, you're thrown into a whimsical world of mirrored halls and tiled façades, alabaster tables and stained glass windows.
'Palace' is a misnomer, because Gollestan in fact contains 17 buildings that were completed over a period of 400 years. It's one of the best examples of Qajar-era architecture in the city – if not in the whole country.
You can visit buildings individually or buy a combo ticket that allows you to visit them all. Sadly, you cannot photograph the interior of several buildings. But the spectacular tile work on many of the façades, fountains, wind towers and manicured gardens nevertheless makes for some amazing shots!
And the Tehran traffic will be just a distant memory.
Check out this amazing post by Anekdotique about Golestan Palace, if you wish to know more!
Opening times: Fri-Sat & Mon-Wed 9am-3.30 pm
Price: 450,000 rial for the combo ticket.
2. Tehran Grand Bazaar
After visiting Golestan palace, if you're after some hustle and bustle, you should head to the bazaar just across the road.
If Tehran is Iran in one city, this is Iran in one market. The bazaar is absolutely huge. There are banks, restaurants, tea houses, mosques and stunning mausoleums concealed beneath the tiny lane ways and twisty corridors of the market. Bazari people are one of the strongest and most conservative groups of society, and their support has been instrumental during the Islamic Revolution.
Bad bazaar news? This place defies maps, and it's near impossible to find your way around. Merchandise is arranged in sections; there's the dried fruit and spices section, the carpet section, pottery, enamel work, Jewel section, as well as areas dedicated to homewares like pots and pans and even garish eighties-style blankets.
Good news? People are helpful and will be glad to point you around – some might even offer a mini-guided tour followed by a sales pitch in their carpet shop. Don't expect hardcore sales tactics like in Morocco or Egypt, in Iran sellers do take no for an answer, but definitely haggle if you want to buy something.
Two places not to be missed in Tehran bazaar are the Old Jameh Mosque and Sharaf El Islam restaurant. The mosque contains stunning mirror work in the interiors, making you feel you're standing in a dome made of silver. The restaurant serves excellent and moderately priced food, and the portions are absolutely huge – a rarity in Tehran! Ask locals to point you in the direction of these two places.
Opening times: 7am-5pm Sat-Wed, 7am-12pm Thu
3. National Jewelry Museum
This museum is located in the caveau in the Central Bank of the Islamic Republic of Iran on Ferdowsi Avenue, and as soon as you walk in, you'll understand why the location.
You know the Crown Jewels in London? They pale in comparison to this lavish collection of wealth, once owned by the Shah and then confiscated and put on display following the Islamic Revolution.
You'll find the Peacock Throne, a solid-gold bejewelled throne where the Shah used to sit. There are diamonds the size of apricots and so many emeralds, rubies and sapphires shining through the dim lighting. The exhibit I loved best was a globe made out of gold and precious stones, that was probably worth more than some small countries. You can easily spot Iran – it's the only country made out of diamonds.
Opening times: Sat-Tue 2-4.30 pm
Price: 300,000 rial
No pics, sorry! It's forbidden 🙁
4. Anti-American Graffiti and 'the Den of Espionage'
If you're familiar with Iranian history (and/or have watched the film Argo) you'll know that the area around the former American Embassy, now known as the Den of Espionage, was one of the hotspots of the Islamic Revolution.
Nowadays, the area around the embassy is filled with anti-American graffiti, proudly boasting 'Down with the USA' and picturing the American flag with skulls and rockets instead of stars and stripes.
The best murals are found outside the Taleghani subway stop, all around the embassy and a few streets back on Karim-Khan e-Zand street.
If you're game, you can try your luck with the guards outside the American embassy and haggle your way in. Becki from Borders of Adventures succeeded!
On this note, let me reassure all American readers. Iranians don't hate Americans. In fact, it's quite the opposite. Iranians are not a bunch of Islamic integralists, most are quite liberally-minded and have positive views towards the States.
The anti-American graffiti are not to be interpreted as one country manifesting hate towards another country – they are just the symbol of a moment in history.
5. Skiing in Tehran – Tochal
Last but not least, skiing! Did you know that in Tehran you can go skiing by subway? The town is bordered by the Alborz mountains on the northern side – their snow capped peaks are visible from all over Tehran.
The mountains are over 5000 meters high, and ski resorts are located at 3700 meters above sea levels. That's crazy high for European standards, but allows the skiing season to stretch from October to May/June.
Tochal is the easiest resort to reach from Tehran – Dizin and Shemshak offer better slopes, but are harder to get to by public transport. Just catch the subway to Tajrish, the end of the line, transfer on a collective taxi (just say 'Tochal') and then either catch a bus or walk to the cable car from the drop off point.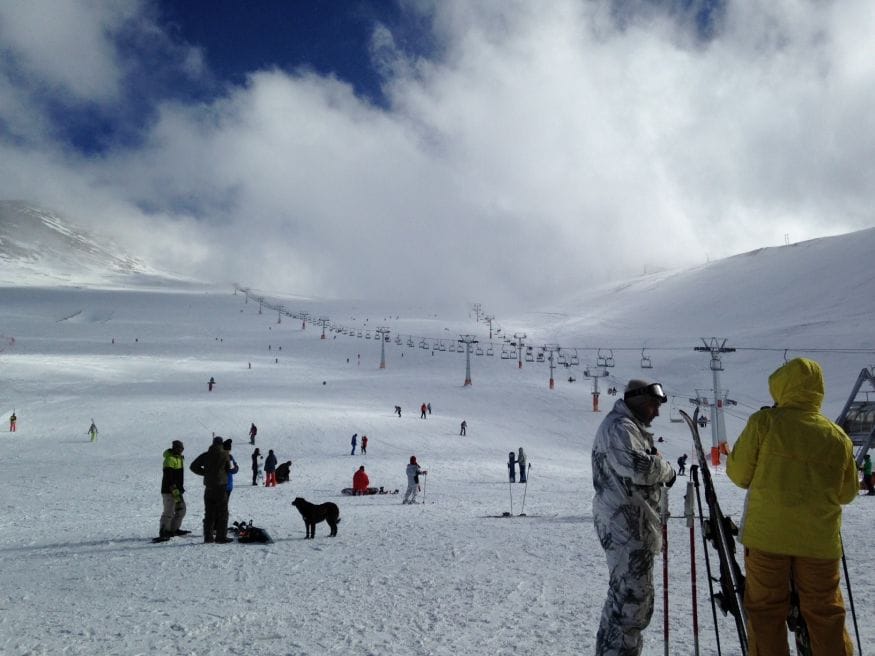 There you can get your cable car ticket – choose station 7 for the slopes, and remember that chairlifts on the pistes are included. You can also rent ski gear and even jackets, goggles and gloves.
The Iranian ski scene has the reputation of being 'wild', by Iranian standards. Here hair flows a lot more freely than elsewhere in the country. Mountain huts don't serve alcohol, but apres-ski parties are said to be the craziest for miles.
And here's a funny anecdote I learnt at Tochal. During the times of the Imam Khomeini, there were separate slopes for men and women, and 'modesty police' patrolled the resorts to make sure there was no promiscuity. Men could ski down black and red slopes, while women were relegated to the baby pistes. An Austrian ski champion was visiting an unspecified resort with a delegation, and she decided to have a go on the men's pistes. Sure enough, the modesty police stopped her. The champion said 'catch me, and if you can I'll go over to the ladies', and she took off.
Was she caught? Of course not!
The Tochal cable car is one of the longest in the world at. 7.5 km, and takes nearly an hour to go from 1500 to the top at 3740 meters. Once you get to he top, be prepared for freezing temperatures. It was -20 when we visited, while in downtown Tehran it was 15!
If you're used to Alpine slopes, Tochal is nothing to write home about – there are only two pistes and they are very easy, even for me and I'm terrible at skiing. But just the idea of going skiing by subway in Iran made it an awesome day out for us. The views over Tehran on the cable car was wonderful, especially coming down as the sun was setting.
Price: 500,000 rial to station 7
Ski or snowboard set rental 600,000 rial / gloves or goggles 150,000 rial / jacket or pants 200,000
Do you know of any other things to do in Tehran? Let us know in the comments!
Pin it for later?