Good morning and welcome to another post about my hometown! Are you planning to spend 1 day in Milan? Find out how to make the most of it with this itinerary, written by a local (i.e. ME!)
One of the aims we had when we opened this blog in 2014 was showing people that Milan, my hometown, is indeed amazing. I had enough of all the stereotypes – Milan is grey, Milan is expensive, Milan is just Italy's fashion capital and there's nothing to see.
I told you that Milan is colourful – remember our Milan street art guide? I also showed you how to have a good time in Milan without breaking the bank – check out our 45 free things to do in Milan article if you need a reminder!
Just check out our MondaysinMilan category to see all our Milan content – we have posts about where to get the best street food, the perfect weekend in Milan itinerary, how to get the best views in Milan, and more.
Everything is tried and tested – including our massive where to stay in Milan post, for which I actually spent a month and a half trying out all different hotels in town!
However, most people visiting Milan are only in town for a day, or maximum two. That's why we felt it was time to put together a Milan in 1 day guide – to help you make the most of your time in Milan, and hopefully making you want to visit a second time!
Milan in 1 Day – Morning
Breakfast – Pavé
Via Felice Casati, 27 – M1 Porta Venezia
Ok, so you're in Milan for 1 day. If your hotel doesn't include breakfast, we recommend starting with a nice, relaxing breakfast at Pavé, our favourite cafe, not far from the Porta Venezia M1 stop.
In my opinion – Pavé is THE perfect café. They don't just serve espresso and cappuccino, but also a variety of coffee-based drinks. Do you want an oat milk flat white? Or a matcha latte? You can find it there, together with some truly delicious croissants and pastries.
Yes, you can also have a coffee on the go, in one of many cafés all around the city centre. If you wish to do so, don't forget to stand at the bar to drink your coffee. In that case, coffee will cost between €1 and €1.20 for an espresso. If you sit down, your coffee will be WAY more expensive!
Visit the Duomo
M1 Duomo (25 mins walk from Pavé, 7 mins by metro)
After a tasty breakfast, head straight to Piazza del Duomo. If you are going to have breakfast in your hotel, feel free to start the itinerary here! You only have one day in Milan, so let's start with the main attraction in the city – the Milan Duomo.
We highly recommend having your ticket ready before your visit – you can get your Duomo ticket on GetYourGuide, offering free cancellation up to 24 hours before your visit.
Don't forget to select the option that includes the Duomo terraces as well! The view from the rooftop of the cathedral is probably the best in Milan, stretching all the way to the Alps when it's clear.
As you make your way up, you'll be getting up close to the hundreds of statues and gargoyles that decorate the Duomo façade. By the way, did you know that the Duomo is the building in the world with the highest number of statues?
To know more about the Duomo and what to expect, we recommend checking out our Milan Duomo guide, with everything you need to know including history, what to see, and how to get tickets!
Head to Galleria Vittorio Emanuele
2 mins walk from Duomo
You're in for a treat now – the second stop on this Milan in 1 day itinerary is just across Duomo Square! You can't miss walking across Galleria Vittorio Emanuele, one of the oldest shopping arcades in Milan, and probably the most beautiful.
Make sure you look in all directions as you walk around – up, to see the beautiful glass ceiling and the four mosaics at the centre, with allegorical portrayal of four continents; and down, at the intricate mosaic floor.
You'll probably notice people standing beside a mosaic bull on the floor, taking turns to spin with their heels on the bull's balls. This is a Milanese tradition for good luck – see if you can spin three times!
The Galleria is full of expensive boutiques, as well as upscale cafés and restaurants. Resist the urge of stopping for a drink or snack – prices are extortionate and quality is subpar. No locals eat there, trust me!
Quick Stop in Piazza della Scala
Right on the far end of Galleria Vittorio Emanuele, you'll find Piazza della Scala, home to the famous opera house.
The interior screams 18th century opulence, and performances are always top notch – the calendar includes opera, ballets, and classical music concerts, but make sure you book your tickets in advance!
Otherwise, just have a look at the stunning opera house from the outside, or consider visiting the La Scala Theatre Museum located inside. If are a theatre lover, it's worth adding this museum to your itinerary – even you have only 1 day in Milan!
Best (Window) Shopping in Milan
5/10 mins walk from Piazza della Scala
From the Scala, walk down Via Manzoni keeping the Galleria to your back. In about 5 minutes or so you'll reach Via Montenapoleone, the most expensive and exclusive shopping street in Milan!
If you have 'shopping in Milan' on your wishlist, and a credit card to match, this is the place to do it. Via Montenapoleone, Via della Spiga and all the nearby backstreets form what is known as the Quadrilatero della Moda (Golden Quadrangle).
Gucci, Prada, Dior, Louis Vuitton, Ferragamo – you name it, they all have shops there. Spend an hour or so browsing the shops, or just have a walk through looking at the windows. Don't miss the huge Armani flagship store in Via Manzoni, also including a hotel, sushi restaurant, cocktail bar and even a nightclub!
Milan in 1 Day – Afternoon
Lunch – Gino Sorbillo
Largo Corsia dei Servi – 12 mins walk from Via Montenapoleone
By this time, I'm pretty sure you'll be hungry. The are around the Duomo is not great when it comes to dining options, but in the myriad tourist traps there is one really good pizza place – Gino Sorbillo/Lievito Madre al Duomo, the Milanese outpost of a famous Naples pizzeria.
Gino Sorbillo is tucked in a quiet backstreet just behind Corso Vittorio Emanuele, the pedestrian street between Piazza San Babila and Duomo. Bookings are not accepted, so you might have to wait for a table, but the queue usually moves quite fast.
If you are visiting in winter, you may want to try some traditional Milanese food, like risotto alla Milanese (with saffron), cotoletta (breaded veal schnitzel on the bone), or ossobuco.
A great place to try Milanese food near the city centre is Enoteca Regionale Lombarda, a short walk from the Duomo.
Last Supper
Santa Maria delle Grazie – M1/M2 Cadorna (5 min by metro from Duomo, plus 10 mins walk).
After lunch, you might want to see another one of Milan's most famous sights, not to mention Milan's only UNESCO heritage site – Leonardo's Last Supper.
The famous fresco is located in the refectory of Santa Maria delle Grazie church, and entrance is strictly limited – people are allowed in for 15 minute slots, with a maximum of 25 people per slot. This means tickets are VERY hard to come by, selling out months in advance on the official website.
We recommend booking your Last Supper tickets on GetYourGuide – it's much easier to find availability for your preferred time slot, and tickets are fully refundable up until 24 hours before your visit.
We've put together a full, up to date guide on how to get Last Supper tickets – don't miss visiting the Last Supper, it's definitely an unmissable stop on your 1 day in Milan itinerary!
Castello Sforzesco
10 mins walk from Santa Maria delle Grazie
After visiting the Last Supper, walk 10 minutes to the Castello Sforzesco (Sforza Castle), the 15th century home of the lords of Milan.
Leonardo da Vinci lived in the castle during his Milanese sojourn – you can visit Sala delle Asse, a room covered in frescos by none other than Leonardo himself. If you missed out on Last Supper tickets, this could be a great alternative!
Otherwise, there's plenty more to see and do around the castle. The interiors of the castle house several museums, dedicated to topics as diverse as archaeology, musical instruments, wooden furniture and more. Don't miss the Pietà Rondanini Museum, an unfinished sculpture by another great Renaissance master, Michelangelo.
Entrance to the Castle is free one hour before closing time, and after 2pm on Tuesdays.
Parco Sempione
At this stage, it will probably be mid/late afternoon – you'll have spent a few hours looking around museums, so you might want some fresh air. Luckily, we have the perfect place for you – Parco Sempione, located right behind the castle.
Parco Sempione was created as a hunting reserve for the lords of Milan, and nowadays it's probably the nicest park in town. You can wander around in search of a secluded spot, or check out some of its sights – like the Acquario, located in a pretty Art Nouveau building, or Torre Branca, a scenic tower from where you get a great view of the city.
Don't miss walking all the way up to the Arco della Pace, the triumphal arch located on the far end of the city. It's a great vantage spot for pictures, and once there you can hop on tram number 10 to your next destination!
Milan in 1 Day – Evening
Vintage Tram Ride and Dinner – e/n Enoteca Naturale
Via Santa Croce, 19/a
20 mins from Arco della Pace on tram 10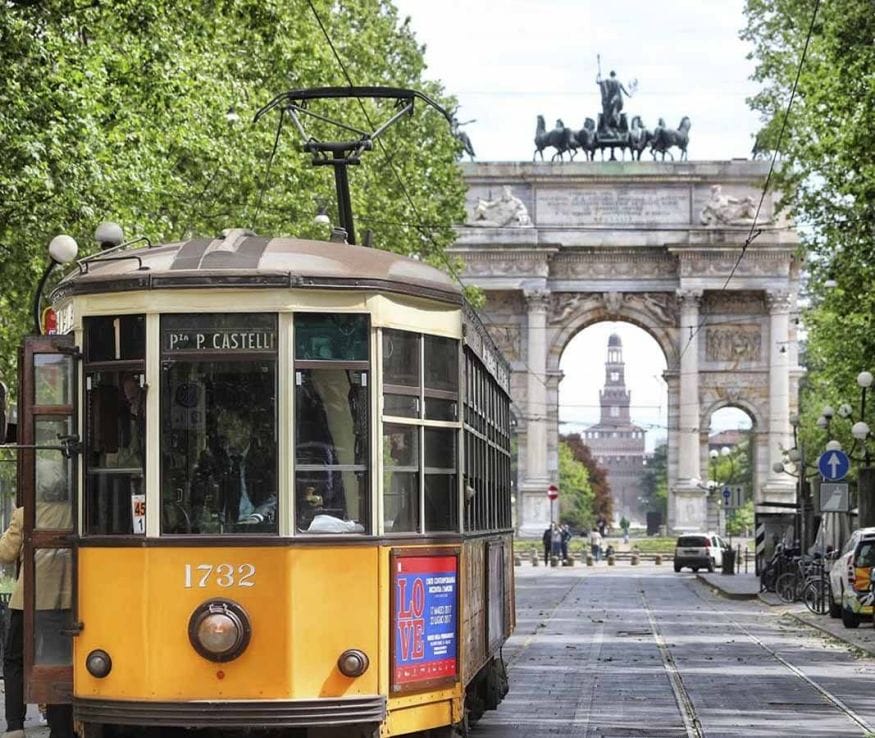 Depending how long you wander around Parco Sempione, it may already be time for dinner! Now, listen to a local and skip the ill-informed advice of people who recommend going for aperitivo.
You may be tempted by those gargantuan buffets, free with an €8 mojito. Listen to yours truly – there's a reason why you can eat for free and drink for cheap. Because quality is bad. Yes, it may have been nice in 2000 – now it's crap. Not to mention, local people rarely go there.
My advice is heading to a nice wine bar like e/n Enoteca Naturale, located in a beautiful garden not far from the Navigli area. To get there from Arco della Pace, you can hop on vintage tram number 10 for a 20 min journey – a bargain that will only cost you a regular €2 ticket!
Enoteca Naturale only serves organic wine, paired with a selection of small plates that changes daily. The garden location is very pleasant on a warm summer night, and every single dish I've had there has always been outstanding (just a tad on the small side).
Walk along the Navigli
5 mins walk from e/n Enoteca Naturale
I'm sure you'll be tired by now! Guess what – it's not time to go back to your hotel! There's just one more thing to end your 1 day in Milan, a nice evening stroll around the Navigli.
The Navigli are a network of artificial canals, originally built for transportation. Most of them have been covered over, but two still survive, together with the Darsena, an artificial lake that was once Milan's fluvial harbour.
The Darsena/Naviglio Grande area is probably the nicest nightlife area in Milan. You can find some good restaurants, especially along Via Vigevano, but most of the eateries lining the canals themselves are real tourist traps.
This is why we recommend eating elsewhere, and just going to the Navigli for a walk. From Enoteca Naturale, you can circle around the Darsena, then walk along the Naviglio Grande, stopping at the various bridges for pictures.
If you feel like an ice cream, walk along the Naviglio Grande about 20 minutes, all the way to Gelateria della Musica – one of the best places for ice cream in Milan. After all, is there anything better than ice cream to end your 1 day in Milan?