Are you planning to add the Danakil Depression to your list of places to visit in Ethiopia? If so, read this article very very carefully – here's everything you need to know before your Danakil Depression tour!
Nothing prepared me for the heat when I stepped out of our jeep in the Danakil Depression. It felt as if I'd been punched in the face, a back-handed slap of boiling, dry heat, so overwhelming and oppressive I was left wondering how anything (or anyone) could survive in a place that felt like hell on earth.
Well, guess what – not much can. The Danakil Depression is the hottest place on Earth, with an average year-round temperature of 34.4 °C. Temperatures exceeding 50°C are not unheard of, especially in the hottest months of the year.
Nothing grows there – the landscape is a crazy, psychedelic blend of white salt flats, boiling lava lakes, rocky desert, rugged volcanic flows, and sulphur-yellow springs, looking as if the land was melting away before our eyes.
However, some argue that this stark, inhospitable place is the cradle of humanity. Many hominid skeletons were found in the Danakil, including the famous Lucy.
The Danakil Depression is home to the Afar people, one of the many ethnic groups inhabiting Ethiopia. They are nomadic people, living in dome-shaped huts in the desert, looking after small herds of cattle or goats.
I'm sure you'll have understood by now that the Danakil Depression is a truly unique place – where you'll be camping on the rim of an active volcano one night, floating in a salt lake the next, and sitting by sulphur geysers and acidic springs the one after that.
Yet, it's not a place for everyone. Here's all you need to know before booking a Danakil Depression tour in Ethiopia – to help you choose whether or not you're up to the challenge!
What is the Danakil Depression?
The Danakil Depression is one of the most inhospitable places on Earth. It's not just the hottest, but also one of the least rainy and lowest places, located on average 125 meters below sea level.
The region is part of the Afar Triangle, a depression where three tectonic plates meet. It is also part of the larger East African Rift Valley, where tectonic plates are constantly shifting apart from one another, creating new crust.
The springs, geysers and crazy rock formations seen in the Danakil Depression are the main visible consequence of this process.
Wanna know more about Ethiopia's capital? Here's our post about 14 Things to do in Addis Ababa!
Where is the Danakil Depression?
The Danakil Depression is in the Afar Region, located in northeastern Ethiopia, close to the border with Eritrea and Djibouti.
Danakil Depression tours usually start in Mekele, the largest town in the Tigray region, also close to the stunning Tigray churches.
As the crow flies, Mekele and the Danakil are about 150 km from one another. Be ready for long drives – during your Danakil Depression tour you'll be spending between 6/8 hours a day in a 4×4, since roads are in poor conditions and sights within the Danakil are quite spread out.
Is the Danakil Depression Safe to Visit?
Chances are you'll have a great time during your Danakil Depression tour, and will return home with amazing memories (and pictures).
However, it's important to know about safety issues in the Danakil Depression. First of all, please be aware of the heat. Make sure you have a hat, use plenty of suncream and have water with you at all times.
Don't wander off from your group, as the risk of heat stroke is very high. In August 2019, an Israeli tourist died in just a few hours, after becoming separated from her group in Dallol.
If you have chronic health conditions, please reconsider the idea of joining a Danakil Depression tour. There are no hospitals or clinics anywhere in the region – the closest are in Mekele, several hours drive away.
Over the last few years there have been clashes between the Afar Revolutionary Democratic Unity Front (ARDUF), fighting for an independent Afar state, and tourists. There has been an attack on tourists in 2012, with 5 people killed and 4 kidnapped, and one German tourist was shot dead in 2017.
For a long time, an armed escort was required for all tours to the Danakil Depression. I visited in November 2019 and we didn't have an escort, since a peace agreement was supposedly reached with the ARDUF in 2018.
However, our group was held at a checkpoint by a breakaway Afar group for close to an hour, demanding bribes. Our guides handled everything very well and we didn't have to pay a single cent out of pocket – but only a few days before, another group was not allowed through.
The Danakil Depression and Afar Region as a whole remain a volatile place, with serious safety issues. Please be aware of them and always ask locally if it's safe to visit before booking your Danakil Depression tour.
Looking for a fun reason to come to Ethiopia? Here are 13 Reasons to do the Great Ethiopian Run!
How Long Should I Spend in the Danakil Depression?
You can choose between Danakil Depression tours lasting 2, 3, and 4 days.
With a 2-day tour, you'll only have time to visit one of the two Danakil highlights, Erta Ale volcano or Dallol, the place with geysers and multi-coloured hydrothermal fields.
3-days tours include both Dallol and Erta Ale, plus a visit and a swim in Lake Afrera/Giulietti, and a stop in the salt flats on the way to Dallol.
4-day tours follow roughly the same itinerary, plus a market visit and an extra night in the desert before heading to Dallol for an early morning visit. The rhythm is a bit slower and you'll spend fewer hours in the car each day.
I opted for a 3-day Danakil Depression tour, and I recommend people to do the same. 4 days would be a bit too long, considering it's a very tiring experience, and 2 days is simply not enough.
Here's a quick description of what we got up to each day of our Danakil Depression tour!
Danakil Depression Tour – Day 1
The first day was mostly spent driving – we left Mekele around 11 am, and reached base camp at the bottom of Erta Ale volcano around 7.30 pm, in the darkness. We only had a quick lunch stop in a local guesthouse in Abala, a ramshackle town on the edge of the Afar region.
The drive may have been long, but the scenery was stunning throughout. Rocky mountains covered in shrubs gave way to a flat, dusty desert as we descended deep into the Danakil Depression. The landscape turned from grey, to dark grey, to the clear black of lava rocks, signalling that we were getting closer and closer to Erta Ale.
Now, let me take a step back. Google or Instagram 'Erta Ale', and you'll see a crazy-looking, doorway-to-Hell-like lake of bubbling lava. The sight of Erta Ale may very well have been what made you decide to book a Danakil Depression tour – am I right?
Look closer and you'll see that those pics date back to 2015/2016. That is because from 2017 onwards, the lava started to dry out. The burning lava just started to reappear a few months ago, but it's still nothing like it used to be.
From the base camp at the bottom of Erta Ale, we hiked up for about an hour and a half in the darkness. We spent some time on the rim of the crater before heading back to the camp where we slept under the stars, located about 15 mins away.
One word of warning – regardless of how much lava you see, Erta Ale is still very much active, spewing out toxic gases. Our tour operator didn't supply gas masks, so we all just covered our mouths through scarves. If you have respiratory problems, reconsider the idea of a Danakil Depression tour.
Danakil Depression Tour – Day 2
Our guides woke us up at 5 am to see the sunrise from the edge of Erta Ale. Afterwards we hiked 1 hour and a half back to base camp where we were dropped off the night before, got into our jeeps, and started driving.
After approximately 4 hours we reached the highlight of the day – Lake Afrera (also known as Lake Giulietti), a saltwater lake over 100 meters below sea level. You'll have time to float in the lake, which felt like floating in the Dead Sea, and wash off in a nearby freshwater hot springs.
The rest of the day was spent driving back to Abala, where we spent the night in the same guesthouse where we had lunch on the first day. Other groups spend the second night in charpoy-style beds in the desert – I personally would have preferred this option.
Danakil Depression Tour – Day 3
This is the day where you'll see the Danakil Depression at its true, spectacular best. Be ready for an early wake up – we were on the road by 4 am, ready for the long drive to Dallol, the geothermal area in the heart of the Danakil Depression.
On the way to Dallol, we crossed the salt flats, flooded from recent rains which turned them into giant mirrors. We saw Afar men at work cutting salt blocks from the flats, and transporting them to the closest market towns by camel caravans – a two day journey, on foot, under the burning Danakil sun.
Finally, we made it to Dallol. We walked around the geothermal field for a couple of hours, learning from our guides that the landscape is shifting and ever-changing.
Geysers appear and disappear overnight, and even the sulphur-yellow lakes and springs go through a cycle – they appear from the blood-red soil, tiny bubbling milky-blue puddles getting progressively larger and more colourful, before being reabsorbed into the land, as geothermal activity goes through peaks and troughs.
The Danakil Depression doesn't yet have an over tourism problem, but we were really sad to see that tourists were allowed to get as close as they wanted to rock formations and springs – sometimes too close.
I guess the absence of barriers and walkways is due to the fact that no one knows where the next geyser or acidic lake might appear – but please, don't forget to be responsible and not get in danger for the benefit of a few pictures.
How Much are Danakil Depression Tours?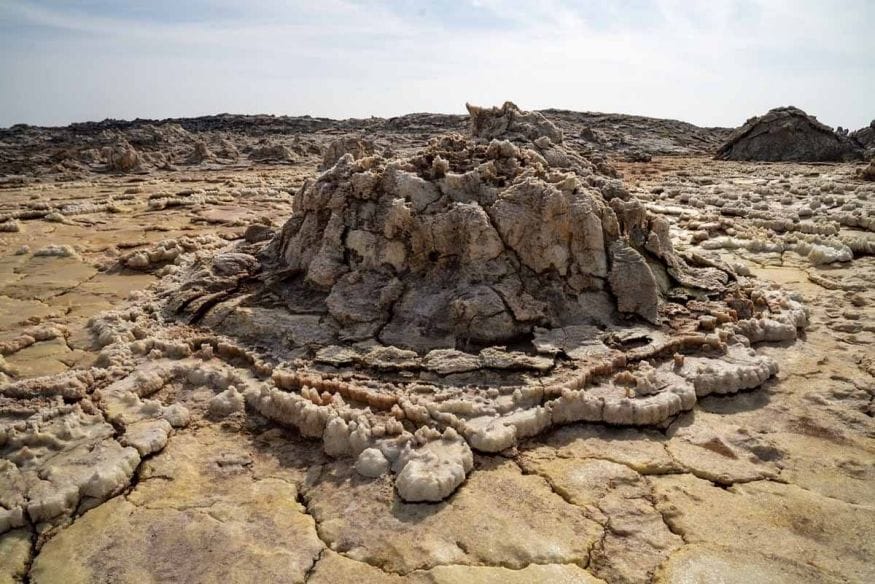 Tour prices vary considerably, between a minimum of $250 for a 2-day tour to $500 and more for 4-days. The prices includes meals, accommodation with camping equipment, transportation, fees to the Afar people, and security.
Prices may also rise all of a sudden if the Afar people start asking for more money or if the situation is particularly volatile.
For a 3-day tour like the one described above, I would budget between $350 and $450.
What is the Best Time to Visit the Danakil Depression?
Don't forget that the Danakil Depression is the hottest place on Earth, so do yourself a favour and visit when it's slightly cooler – the best time is between November and early January.
What to Expect During a Danakil Depression Tour
Facilities
Facilities are basic all throughout the Danakil Depression. We slept on thin mattresses on the floor, both at Erta Ale and in the Abala guesthouse. When staying in the desert, there are no toilets, running water or electricity.
Bottle water is usually provided by tour companies – double check, just to be sure!
Food
With the exception of dinner the second night, all food we ate in the Danakil Depression was basic at best – think overcooked pasta with a watery vegetable sauce. Vegetarians and vegans were always catered for, but don't expect gourmet food. Make sure you pack some snacks.
Rubbish
Unlike the rest of Ethiopia, the Afar Region has a serious rubbish problem. I won't delve into why or how – I just would like to remind people not to add to the problem. Since there are no water sources, plastic water bottles are a necessity. Make sure you always pack your rubbish away, and pick up some extra bottles lying around!
Dangers & Annoyances
Besides the issues listed in the paragraph about Danakil Depression safety earlier in the article, there are a couple more things to add.
Generally speaking, the atmosphere in the Afar Region is tense. Locals don't seem to want tourists visiting – so much so that I've been wondering whether or not I should recommend Danakil Depression tours at all. Yet, at the same time, tourist money are direly needed in a place where extreme poverty is commonplace.
You'll also find lots of street children begging for money or sweets. Please, don't give them anything.
Discomfort
If you decide to join a Danakil Depression tour, expect to be uncomfortable. Facilities are basic, food is basic, distances are long, roads are in poor conditions and the Land Cruisers we travelled onto had very little legroom.
I was stuck on the back seat for 6+ hours a day – if you suffer from back pain or any other conditions, make sure you're aware of what you're getting into!
Danakil Depression Packing List
Besides the usual stuff like clothes, toiletries, personal items and naturally your camera, make sure you pack all these items for your Danakil Depression trip!
Headlamp – remember you'll be climbing Erta Ale in the dark!
Hiking shoes – in my opinion, it's too hot for hiking boots. Lighter footwear like trail running shoes will be enough.
Swimsuit and Towel – to swim in Lake Afrera!
Sleeping bag – they are provided by tour companies, but may be in poor conditions. Pack your own to be sure!
Scarf/Buff/Shemagh – to cover your nose and mouth in Erta Ale.
Baby Wipes – you'll need them in the desert as there's no running water!
Suncream
Hat
Powerbank – you'll be without electricity for 2/3 days!
Snacks
Danakil Depression with Ethio Travel and Tours (ETT)
My 3-day Danakil Depression tour was organised by Ethio Travel and Tours (ETT), one of the most popular tour operators in Ethiopia.
The tour was ok. We saw everything we were meant to see, and our guides handled the mishap with the breakaway Afar group that held us at the checkpoint in a very professional manner.
However, our mattresses and bedding while we were camping were in really poor conditions – to the extent I wished I had my own sleeping bag.
ETT tours to the Danakil Depression usually attract many people because of their competitive price and guaranteed departures. The downside is that groups are large, and you might feel you're being 'herded' around.
This could also be dangerous in places like Dallol – our group was too large for guides to keep an eye on everyone. Some of the guides also spoke very little English, and the explanations we were given could have been better.
All in all, ETT is a good choice for budget-minded travellers, but don't expect first class service.