Have you ever heard of the Great Ethiopian Run? It's a 10 km race taking place every November in Addis Ababa, Ethiopia, a country where running is incredibly popular.
If you're a runner, you should definitely consider heading to Addis for the Great Ethiopian Run. If you are not, you should anyway – let me reveal why!
First things first, a confession. I'm a failed athlete. When I was a child, my parents tried to get me into athletics – but I hated it all. I hated running around the track in the cold and fog. I hated tripping over hurdles, face planting whenever I attempted the Fosbury flop, and always, always being last at shot put.
And more than anything else, I hated competing – something I've always been (and still am) terrified of.
Ultimately, I gave up athletics – but I kept watching it on TV, especially long-distance running. My favourite competitions were always the 10,000 meters and the marathon, and in the mid-Nineties, there was one name dominating all the races – Haile Gebrselassie.
Fast-forward 20 years later, and imagine my excitement when I received an invitation to the Great Ethiopian Run in Addis Ababa, a 10 km race created by none other than Haile himself. I knew, at once, I had to do it.
The Great Ethiopian Run (GER for short!) was an incredible (albeit challenging) experience. Not just for the run itself, which was fun, but mostly for the atmosphere around the event – for the entire 10 km course we were surrounded by colours, singing, sound systems pumping out music, while people around us danced as they ran, and onlookers cheered us along.
If you're into running, you can't miss joining this event in Ethiopia, the home of Haile and many other legendary long-distance runners. If you're a novice, afraid you won't make it along the entire 10 km, fear not – you can walk, jog, skip, dance your way through.
Here are 13 reasons why you should consider running the Great Ethiopian Run at least once in your life, even if you've never ran before!
Would you like to know more about the city? Check out our article about 14 fun things to do in Addis Ababa!
Great Ethiopian Run – 13 Reasons To Do It!
1) It's Only 10 Kilometres Long
What do you mean by ONLY?
I mean that far as long-distance races go, a 10 km is totally achievable by pretty much anyone in good physical conditions. It only takes a few months of regular exercise to get ready for your first 10K – unlike marathons or half-marathons, which can take up to a year to prepare.
I ran four 10 km races over the last 4 years, and never worked with a coach – I always trained by myself, alternating running and walking first, then trying to increase the distance gradually, always focusing on endurance rather than speed.
Having said that, I think that working with a coach or joining a running club is actually a great idea to prepare the Great Ethiopian Run or any other 10 km race – first of all because it's hard to get motivated at the beginning, and also because it's the best way to prevent getting injured.
And who knows? You might get hooked on running! I certainly did, and now I'm training for my first full marathon in November 2020, in the stunning mosaic city of Ravenna!
2) Run With 45,000 Others
The Great Ethiopian Run is one of the largest mass races in the world, with increased sign-ups every year. In 2019, there were a whopping 45,000 Ethiopian and international participants, and numbers are set to be even higher in 2020, when the GER will celebrate its 20th edition.
I know some hardcore runners will be thinking Whaaaat? 45,000, that's crazy! – so let me explain. The Great Ethiopian Run is not the kind of race where you'll be chasing your 10 km PB – it is indeed crowded, so unless you start at the front with the elite runners, you'll be stuck at bottlenecks every so often.
At the Great Ethiopian Run, you should (and definitely will) have fun, running at a comfortable pace, while taking in the atmosphere surrounding you. Enjoying yourself is the goal here, not running as fast as you can – also because there's something else you need to take into account…
3) Try Running at Altitude
In case you didn't know, Addis Ababa is one of the world's highest capitals at 2355 meters above sea level. You might feel the altitude while walking uphill, or climbing the stairs to your hotel room, and you'll DEFINITELY feel the altitude while running.
We recommend reaching Addis Ababa at least 2/3 days before the race, and if you can, spending one or two nights at Yaya Village, an athletes resort in the highlands surrounding Addis Ababa.
Staying at Yaya means you'll be able to escape the traffic of Addis, and get some high-altitude runs before the event itself – the resort has a gym and even its own track, plus it's located near some forest trails where local athletes train regularly.
After some high altitude training, the Great Ethiopian Run will feel like a piece of cake!
4) Or Just Enjoy Africa's Biggest Street Party!
If running is really not your thing, we still recommend visiting Ethiopia for the Great Ethiopian Run – because it's not just a race, but also Africa's biggest street party!
Remember how I said it's attended by 45,000 people? Many of them couldn't care less about running, and just want to have fun. You'll find people singing Ethiopian songs, live bands performing, DJ sets, people dancing, cheers, chanting, shower stations to cool off, and it's easy to pick up a beer or two.
Locals are super friendly and will no doubt 'adopt you' if you want to party but have no one to party with – and as two females, we found the experience super safe at all times.
5) See Addis Ababa While You Run
Addis Ababa is not the world's best looking city, and the traffic is amongst the worst we've ever encountered.
The Great Ethiopian Run starts and ends in Meskel Square, the largest in Addis. The exact venue is a fourteen lane highway right in the middle of the square, wide enough for all 45,000 participants! The entire city centre is closed to traffic on race day, making it the ideal time to enjoy being out, without having to fear for your life every time you cross the road.
Make sure you take your phone with you because even if you're running, there are times when you'll be going so slowly you can take pictures of sights and landmarks around you.
6) Support the GER's Fundraising Efforts
The Great Ethiopian Run is not just a race, it's also a huge fundraising event supporting a variety of projects around Ethiopia, through the country's favourite sport.
The first edition of the Great Ethiopian Run took place in 2001, and 2020 will mark its 20th edition. It was created by Haile Gebrselassie together with British economist Peter Middlebrook, and Richard Nerurkar, a British marathon runner – Haile and Richard are still actively involved in the organisation.
In 2005, the Great Ethiopian Run launched the official fundraising campaign 'Running for a Cause', to raise funds for vulnerable children, women and elderly people.
This year, the GER raised over 2 million Birr (around €60K) to help disadvantaged people in the country – and this sum is set to increase further as the race gains popularity.
7) Support Gender Equality
The GER has a different motto each year – the one for 2019 was 'Girls Deserve To Be Equally Seen, Heard And Valued.'
Ethiopia seems to have made positive changes for women's rights in recent years – there's a female president, a woman at the head of the Supreme court, and the country's prime minister, Nobel Peace Prize winner Abiy Ahmed, picked female ministers for half of his cabinet.
However, the divide between men and women remains deep, especially in rural areas, and domestic violence is rampant. Charities like the GER are working hard to change this, building shelters for women and girls cast out from their communities, and campaigning for equality in education and in the workplace.
Joining the GER means your sign-up fees will be used towards these efforts, and carrying a gender empowerment slogan on your race t-shirt is a small contribution towards a very important goal.
8) Have Fun at the Pasta Party
International participants are also invited to join another fun event – the official pre-race Pasta Party, held at the Hyatt Regency in Meskel Square.
Haile Gebrselassie himself stressed the importance of eating carbs before a race, which explains why the buffet at this event is primarily carb based. The food is delicious, and a nice break from Ethiopian fare, with lots of freshly-cooked pasta, salads, and some very nice desserts.
The Pasta Party is also worth attending for the entertainment – there's music, traditional Ethiopian dancing, and there will be chances to practice the official Great Ethiopian Run dance! To start learning it, check the video below!
9) Check Out the Children's Races
The GER is not just for grown-ups! On the Saturday before the race, the children's edition of the run takes place at the Ethiopian Youth Sport Academy, and everyone is welcome to attend.
The event is sponsored by Plan International, a development organisation dedicated to advancing children's rights and promoting equality for girls. This year, over 3500 children aged 2 to 12 took part, divided in several categories according to age and gender, with special races for disabled participants.
It's a fun event to attend, with lots of singing and dancing, and the perfect lead-up to the main race on the following day!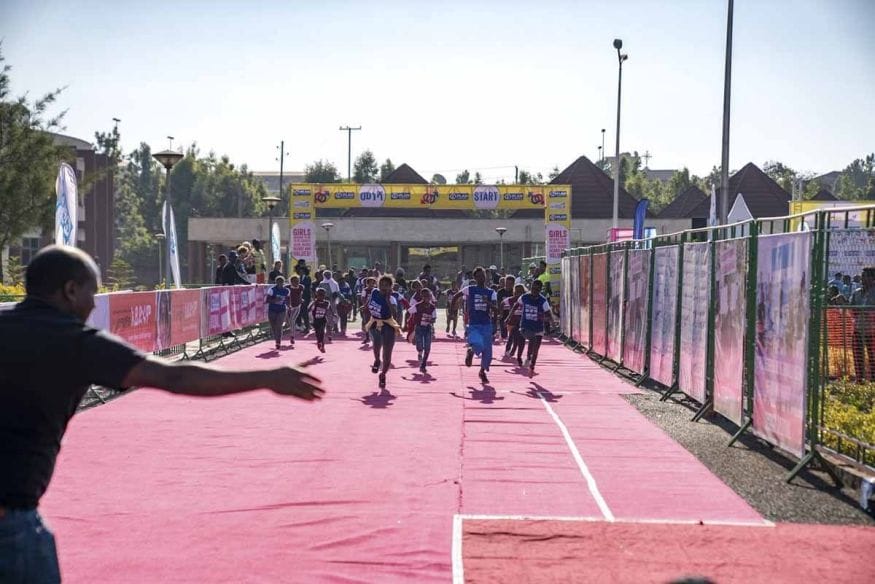 10) Meet Haile Himself (and Other Running Legends!)
If you're a runner, or you're like me and remember when Haile Gebrselassie was the undisputed emperor of long-distance races, this should be reason enough to attend!
Attending the Great Ethiopian Run as an international participant might give you the chance to meet Haile in person. He's a fun, charming and incredibly humble person, and he's usually happy to sign autographs or pose for selfies (as you can see below).
We met Haile at the children's races, where he was very busy dancing and high-five'ing all the kids, and then again at the Pasta Party, and after the race – where he gave me and my friend Claudia a big hug!
Besides Haile, there are usually many other elite runners attending the GER – we even got to train with Hellen Obiri, the current 5000 meters world champion.
11) Run the Great Ethiopian Run during a Short Break…
Did you know you can also visit Addis Ababa for a long weekend, to run the Great Ethiopian Run without having to use too many of your holidays?
Addis Ababa is only about 6/7 hours away from Europe, and there are many direct flights with Ethiopian Airlines. Flights to Ethiopia are usually overnight, landing in Addis in the early morning; flights back to Europe also depart late at night.
We wouldn't normally recommend people to fly that far only for a few days, but we're aware that getting time off is not easy for many people. If you just have 4-5 days and you're set on coming to Addis for the GER, it's totally doable – just remember the city is ai high altitude, so don't push yourself too hard!
12) Or Explore More of Ethiopia
If you have the chance to take some time off, make sure you visit more of Ethiopia! The country is huge and you can easily spend a month or more, but even if you just have a couple of weeks there are plenty of places to see in Ethiopia without having to travel too far from Addis.
To make matters even better, if you've flown to Ethiopia with Ethiopian Airlines you can get some really good discounts on domestic fares – we visited Lalibela and its famous rock-hewn churches, the Simien Mountains, marvelled at the stunning scenery of the Danakil Depression, and climbed to Abuna Yemata Guh, easily the most amazing church I've ever been to.
13) Why Not Run the Great Ethiopian Run AGAIN?
The Great Ethiopian Run is not just the kind of experience to have once in your lifetime – after having experienced it, you'll just want to do it again and again!
The race theme, motto, race t-shirt and entertainment are always different. The enthusiasm of local people stays the same, and that will definitely be enough to make you want to run the Great Ethiopian Run a second (and maybe a third?) time!
Important Things to Know About the Great Ethiopian Run
Registration
You can sign up for the Great Ethiopian Run via the official website – the 2020 edition will take place on November 15th, and registration costs £70 (about €82) for international participants.
Registration includes a race bag with official Great Ethiopian Run t-shirt, and invitation to the pre-race pasta party. And naturally a medal, given to all those who cross the finish line!
Getting to Addis Ababa
The easiest way to reach Addis Ababa is flying Ethiopian Airlines, connecting the capital to a number of cities in Africa, Europe and beyond.
Fares are usually very good, starting at €400 return in low season – and having an international Ethiopian Airlines ticket will grant you great discounts on domestic flights.
Visa
You'll need a visa to enter Ethiopia. You can get a visa on arrival at Addis Ababa Bole Airport, at a cost of $50 USD, but be ready for long queues.
Alternatively, you can apply for an eVisa before your trip, for an extra $2 handling fee. Make sure you use the official site, and not one of many copycats charging high fees!
Acclimatising
As I said before, Addis Ababa is at 2355 meters above sea level. The altitude is likely to bother you a bit, especially if you're planning to run or train before the race.
Make sure you stay hydrated and take it easy – plan to spent at least two or three days getting used to the altitude before the race.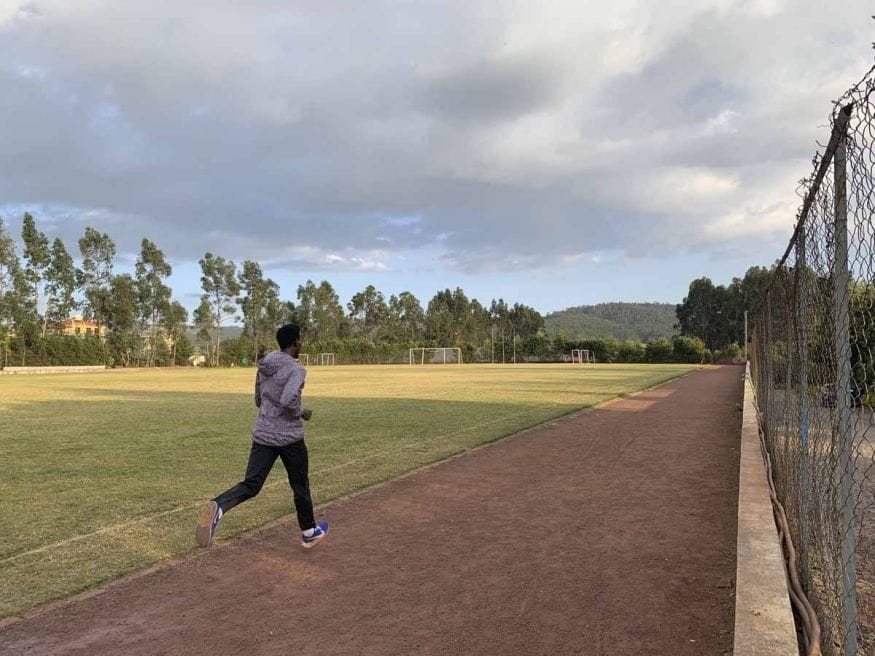 Where to Stay in Addis Ababa
Hyatt Regency – one of the best hotels in town, and definitely the best in terms of location since it's right on Meskel Square, where the race starts and ends. Rooms are spacious and comfortable, and the hotel also has an outdoor pool, gym, coffee shop and excellent Middle Eastern restaurant.
Yaya Village – owned by Haile Gebrselassie himself, this hotel in the highlands about an hour away from Addis is ideal for athletes wanting to get some high-altitude training in. There's a gym, a small spa, an on-site track and even a Spartan-style obstacle course, plus a nice local restaurant!
I would like to thank the Great Ethiopian Run and Blogilicious for having invited me to join this wonderful event.