Have you ever wondered what's there to see and do in the Ethiopian capita? Here we'll tell you all about it with 14 fun things to do in Addis Ababa!
If you're travelling to Ethiopia, no doubt you'll be passing through Addis Ababa at some stage.
Those who reach Ethiopia by plane will no doubt be flying into Addis Ababa's Bole Airport, located just a few km outside of town – which means it's also possible to visit Addis Ababa on a layover, provided you have a few hours to spare.
Addis is a hard city to fall in love with. Its name may indeed translate as 'new flower', but there's very little about Addis that's flower-like. Imagine a huge, dusty, traffic-congested metropolis, growing wildly year after year.
At the same time, Addis is a lively, youthful place. It's a city on the go – from dawn, when locals head to the hills for their morning run, to night, when the action moves to the dance floor of many clubs around the city.
The city is not just the capital, it's also the economic heart of Ethiopia – the country is going through a period of fast economic development, with double-digit growth most year since 2007.
According to the official census, Addis is home to 3.5 million people, but the real number is estimated to be as high as 10 million, making it the fourth largest capital in Africa by population – and if the 'unofficial numbers' are correct, it would be the second, behind Cairo.
Addis is also sometimes referred to 'Africa's Capital', for being home to the African Union, the UN Economic Commission for Africa, and embassies of most world countries. It's also one of the world's highest capitals at 2355 meters above sea level.
So, Addis may not look like a conventional 'pretty' city, but it's very interesting to visit. It may not have many 'instagrammable places', but it's full of life and culture.
I highly recommend spending a few days at least, to check out the many things to do in Addis Ababa, before moving on to visit more places in Ethiopia.
Let's have a look!
Things to do in Addis Ababa During the Day
1) Run the Great Ethiopian Run
'A day without running is not a day' – Haile Gebrselassie
Running is by far the most popular sport in Ethiopia – unless you've been living under a rock for the past 50 years, you'll know that many of the world's best elite long-distance runners come from the country.
Ethiopia's love for running is celebrated every year in November with the Great Ethiopian Run (GER), a fun 10 km race/street party around the streets of Addis Ababa.
The GER has taken place yearly since 2001, and part of the participation fees is used to support a variety of social projects – in 2019, the focus was gender equality and helping underprivileged women and girls.
Every year, more and more people take part in the race – in 2019, a whopping 45,000!
If you are a runner, I highly recommend visiting Addis Ababa in November to join the Great Ethiopian run. If you've never run before, you should do it anyway – remember how I said it's a 10 km race/street party? Forget about the race, and just enjoy the party – that's what many locals do!
Fore more info about it, have a look at our post about the Great Ethiopian Run, or check the official website!
2) Meet Lucy at the Ethiopian National Museum
If you ask me, this and the GER should be your top things to do in Addis Ababa! And whereas the GER only takes place in November, the museum is always open, so take my advice – don't miss it!
The price is a steal at only 10 birr (30 euro cent!) and the main reason to visit is to see Lucy, the most complete skeleton of a hominid ever to be found, located in the basement of the museum.
Beside Lucy there are several other skeletons and bones, like that of Selam, a three year old Australopithecus afarensis – believed to be 120,000 older than Lucy.
You'll also find a good archaeology section, paintings of local artists and exhibits related to Ethiopia's former emperors.
3) Visit St. George's Cathedral
Another unmissable thing to do in Addis Ababa is visiting a church – over 60% of the Ethiopian population is Orthodox Christian.
In Addis, one of the nicest churches to visit is St. George's Cathedral, located on a hill overlooking the city. The church is of octagonal shape and dates back to the 18th century – it was the coronation site of many Ethiopian emperors, including Haile Selassie. For this reason, the church is an important pilgrimage site for Rastafarians.
There's also a small museum attached to the cathedral, showcasing liturgical art, stained glass, and weapons used in the Battle of Adwa against the Italians.
The copy of the Ark of Covenant housed in the church was carried to battle, which ended with an Ethiopian victory – and as it turned out, Ethiopia was the only country in Africa never to be colonised.
4) Walk around Meskel Square
Meskel Square is the largest in Addis Ababa, smack-bang in the centre of town. It's the place where the Great Ethiopian Run begins and ends, where gatherings and celebrations happen, and a good reference point to get anywhere in the city.
It's fun to walk around Meskel Square, or sit on the steps surrounding one of its sides, looking at life go by in central Addis.
If you want to brush upon recent Ethiopian history, you can visit the Red Terror Martyrs Memorial Museum, a recently-opened museum about the horrors that took place in Ethiopia during DERG dictatorship in the Seventies and Eighties.
5) Haggle at the Merkato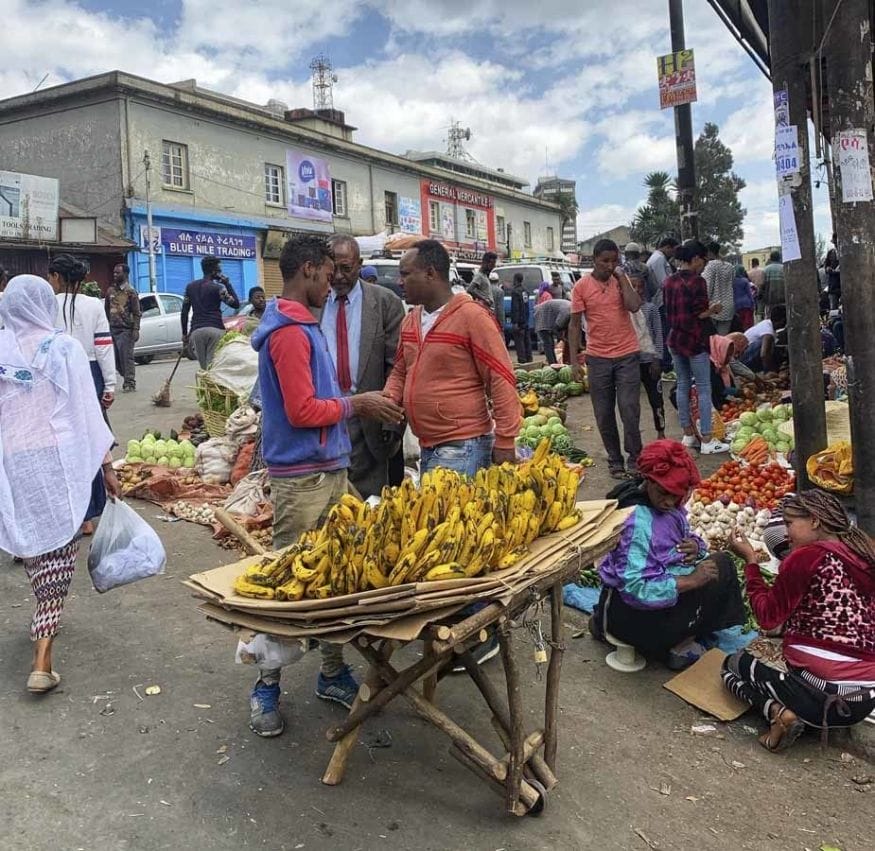 This is another top thing to do in Addis Ababa! The Merkato (market) of Addis Ababa is one of the largest and busiest in Africa, the kind of place where you can find clothes, food, household products, and all sorts of mysterious items.
The Merkato covers several blocks and it can be an overwhelming experience – try to visit with a guide if possible, and definitely be mindful of your belongings!
6) Escape to the Hills in Sululta
Yes, Addis is hectic. If you want a nature escape, you have two options – visit one of Addis Ababa's parks, like Africa Park not far from Meskel Square, or head to the highlands surrounding the city.
I spent a night in Yaya Village, a training centre and resort located in Sululta, about 15 km from Addis Ababa. For athletes and runners visiting Addis, Yaya is a great place to train at high-altitude – there's a gym, an obstacle course and even a running track on site, and it's only a quick drive away from a forest where local athletes train every morning.
If you are not a runner and just want a quick escape from the city, Yaya is still a nice place – there's also a swimming pool, and it's fun to walk around the grounds.
7) Ethiopian History Immersion at Unity Park
This is one of the newest things to do in Addis Ababa, opened just one month before my visit in November 2019.
Unity Park is located in the palace and grounds of Emperor Menelik II, and includes a park, museum about Ethiopian history, and various exhibitions located in the palace and its cellars.
In the palace, it's possible to see Haile Selassie's throne room, and when we visited there was an exhibition on about the connection between Ethiopia and Judaism. I also liked the 11 pavilions dedicated to each of Ethiopia's regions found in the park, showcasing the cultural diversity of the country.
The only downside is that tickets to Unity Park are quite pricey – entrance is between $20 and $50 USD for foreigners, depending whether you opt for a regular or VIP ticket.
8) Learn How to Cook Ethiopian Food
Ethiopian food is the sort of thing that really divides opinions – but no one can deny it's really unique! The staple in Ethiopian diets is injera, a giant pancake made with fermented teff (a native grain and superfood!), topped with a variety of stews, curries and stir-fried dishes.
Ordering from an Ethiopian menu can be a little daunting, as personally at the start of my trip I had no idea of what anything was.
A good way to get acquainted with Ethiopian dishes and flavours is adding a cooking class to your list of things to do in Addis Ababa – the walking food tours with Go Addis Tours comes highly recommended!
9) Have the Best Coffee of Your Life at Tomoca
Ok, so I told you about Ethiopian food, now let's talk about Ethiopian coffee! Ethiopia is a coffee-producing country, and it does a damn fine job of brewing it too!
Walk around Addis or other Ethiopian cities, and you'll be surrounded by the scent of roasting coffee. That is because traditional Ethiopian coffee is made with freshly-roasted coffee beans, hand-ground and served from a ceramic pot. Ethiopian-style coffee is often enjoyed with popcorn, and frankincense burning on a brazier.
However, espresso coffee can be found everywhere in Ethiopia, heritage from many years of Italian occupation. One of the coolest places to have coffee in Addis Ababa (and a must on your list of places to visit!) is Tomoca, a coffee house that looks straight out of the 1930s.
10) Have Lunch in an Art Gallery
One of the most unique places to eat in Addis Ababa is Makush, a restaurant located inside a gallery specialising in Ethiopian contemporary art.
Makush is on Bole Road, the main drag connecting Addis to the airport. You'll be eating surrounded by 600+ paintings from 70 different local artists, meaning that if you like the look of something around you, you can take it home with you.
Makush serves both Ethiopian and International cuisine, including pizza and cotoletta milanese!
Things to do in Addis Ababa at Night
11) Have Dinner in a Traditional Restaurant
Ethiopians have a really unique dancing style, with lots of shoulder and head movements. If you're planning to go out and enjoy the legendary Addis Ababa nightlife, a good way to do so is starting your evening with dinner and a show at a traditional restaurant.
These establishments usually serve dinner, with a la carte and buffet options, while local musicians and dancers perform on a stage. Sometimes, performers may pick people from the audience and invite them to join on stage – perfect if you want your practice Ethiopian dancing moves!
12) Visit the Beer Garden
Does your idea of a perfect night out include beer and tasty food rather than dancing? Head to the Beer Garden Inn, an Addis Ababa hotel with its own in-house brewery and biergarten!
You can choose to sit outside or inside, and order one of two house-brewed beers, both made according to German purity laws – Blondy, an unfiltered blonde with Bavarian hops, or Ebony, with dark roasted barley.
13) Listen to Ethio Jazz
One day, in the Simien Mountains, my friend and I had breakfast with a man from New York City who had come to Ethiopia specifically for jazz music. I was bewildered – I didn't know Ethio Jazz was a thing.
In the 1960s, there were more jazz clubs in Addis than New York, so much so that the city was known as 'Swinging Addis'. Then Derg came, plunging Ethiopia into dark decades – and Ethio Jazz all but disappeared.
From the 1990s onwards, Ethio Jazz has been on the rise again, attracting music aficionados with its captivating blend of Afrobeat, funky jazz, and Ethiopian folk with a dash of Sixties rock and roll thrown in.
I found out about the existence of Ethio Jazz only after having left Addis, otherwise I would have visited a club for sure. Some of the best places in town to listen to this kind of music are Mama's Kitchen, near Bole Airport, African Jazz Village in the basement of Ghion Hotel, and Fendika, especially on Saturdays.
If I ever make it back, this is going to be at the top of my list of things to do in Addis Ababa!
14) Party the Night Away
Do you prefer dance music to mellow Ethio Jazz? I may disagree, but I hear you. Jazz or not, Addis Ababa nightlife is said to be legendary, with lots of clubs worth taking a taxi across town for.
Clubs that came recommended include Stockholm Bar, Flirt Lounge (nothing racy there, it's actually a shisha bar!), and Club H20, playing both jazz and Western music.
Looking for more Ethiopia inspiration? Here's our post about Hiking the Tigray Churches, and here is all you need to know before booking a Danakil Depression tour!
Things to Know Before Visiting Addis Ababa
Visa Info
You'll need a visa to enter Ethiopia. There are two options – getting a visa on arrival at the airport ($50, USD only, be ready for queues!), or getting an eVisa and skipping the line. Electronic visas are only $2 more expensive, but be sure to use the official site!
Altitude
Don't forget that Addis Ababa is 2355 meters above sea level, so you may feel a little dizzy and short if breath after your arrival. Take it easy, especially if you're planning to do the Great Ethiopian Run, and don't forget to stay hydrated!
Getting To and From the Airport
Addis Ababa Bole airport is only 6 km southeast of the city – travel time can vary from as little as 10 minutes in the middle of the night, to close to an hour in the middle of the day.
Some hotels offer shuttle service to and from the airport, otherwise the easiest way to get to central Addis is by taxi, for a cost of 200/300 birr.
Getting Around Addis
There are two main ways for visitors to get around Addis – by tram or taxi.
The elevated tram system is brand new, having been inaugurated in 2015, and there are two main lines – one travelling north/south, and one east/west. Tickets only cost between 2 and 6 birr, and signs are in Amharic and English.
If you need to go somewhere that's not close to a tram stop, you can take a taxi. There are both shared and regular taxis, the latter costing 50/150 birr depending on how far you have to go.
There are no meters so foreigners are likely to be overcharged – ask locally for the correct fare to your destination, arrange the price beforehand, and don't forget to haggle!
Where to Stay in Addis
–Hyatt Regency – excellent upmarket hotel near Meskel Square, with a pool and amazing Middle Eastern restaurant!
–Sheraton Addis – another top option for a luxury stay, with a heated pool and garden!
–Radisson Blu – worth staying at for the terrace and gym with top equipment!
–Hilton Addis Ababa – great location near Africa Park!
–Addis Regency Hotel – midrange hotel in a historic building, offering great value for money.
–Golden Tulip Addis Ababa – gets rave reviews for its HUGE rooms and excellent barbecue restaurant.
I wish like to thank the Great Ethiopian Run and Blogilicious for having invited me to Ethiopia. It was a great experience!