The Tigray Churches were one of my favourite sights in Ethiopia. Here I'll tell you all about them – where they are, how old they are, and how to visit them. Make sure you don't miss Abuna Yemata Guh, the most famous one!
If you've come across this post because you're researching your Ethiopia itinerary and you're wondering whether or not to add the Tigray churches, do me a favour and listen to yours truly – this is a place you cannot miss.
Imagine a barren landscape, a high-altitude desert reminiscent of the Southwestern US. Plains extend as far as the eye can see, with clusters of sandstone rocks appearing every now and then, out of the dusty desert. You'd be forgiven to think that nothing is to be found in the sandstone – except maybe some caves, or some tombs, or the like.
What if I said that the rocks conceal over 120 churches, some hewn into the sandstone itself? Some with paintings dating back over 1500 years go?
There's a catch, though – the Tigray churches are not easy to get to. You need to hike, and in some cases even climb, following ancient routes covered by pilgrims for over a millennia.
The Tigray churches are a well-kept secret because of their inaccessibility, which meant they were safeguarded from looters and vandals through the centuries. Nowadays, they can be visited easily – but only if you're brave enough.
Where are the Tigray Churches?
The Tigray region is the northernmost of the nine regions of Ethiopia, adjacent to the border with Eritrea. There are over 120 churches in the Tigray, most to be found in the mountainous region between Axum and Mekele.
The best known (and most visited) are the Gheralta churches, found around the Gheralta Mountains, about two hours away from Mekele. The Gheralta churches include Abuna Yemata Guh, carved into the top of a sandstone pinnacle, plus Maryam Korkor and Daniel Korkor.
The base to visit the Gheralta churches is Hawzen, a dusty two-street town halfway between Axum and Mekele. If you're planning to head to Tigray on a tour, your accommodation in Hawzen and local guide to the churches will typically be included.
Otherwise, if you're heading to Hawzen independently, you'll have to arrange your own guide. Please note it's impossible to visit the Tigray churches without a guide – almost all the churches require some hiking to access them, and the routes are not signposted.
Tigray guides belong to a consortium and work on a rotation basis, so the only way to get a specific guide is contacting them directly.
We recommend getting in touch with Tsega Gebru, one of only 4 female guides in the consortium. Her phone number is +251 96 738 6160
Want to know more about the most beautiful landscapes in Ethiopia? Here is everything you need to know before booking your Danakil Depression tour!
How Old Are the Tigray Churches?
The Tigray churches are some of the oldest Orthodox churches in the world, dating back to the 5th/6th century AD.
Legend goes that they date back to the time of the Nine Saints, missionaries from Rome and Syria that brought Christianity to Ethiopia. The theory is likely to be correct, as radio carbon dating on manuscripts supposedly written by Abba Garima, one of the Nine Saints, supports the 5/6th century AD timeframe.
Many of the Tigray churches were carved out by hand from the surrounding mountainsides, using axes, picks and chisels. They were hewn differently from the Lalibela churches – whereas the latter were carved out from the top down, Tigray churches are located at the top of rock spires, which means that brave builders had to climb, then carve. Quite a feat!
Which Tigray Churches Should I See?
There are 120 churches in total to be found in the Tigray region, divided in groups. The most famous churches are located in the Gheralta cluster, which includes 35 churches.
The three most famous Gheralta churches are Abuna Yemata Guh, Maryam Korkor, and Daniel Korkor, which can easily be combined into a day trip from Mekele, or from Axum to Mekele.
Those with more time can include some of the churches near Adwa and Adigrat, like Abba Garima or Debre Damo monastery, or visit the churches of the Wukro cluster located about an hour out of Mekele.
1 Day Itinerary – Gheralta Rock Churches
Abuna Yemata Guh
Most day trips to the Gheralta churches from Mekele or Axum start from Abuna Yemata Guh, the most spectacular of all Tigray churches.
Abuna Yemata has been called 'the world's most unaccessible place of worship' due to its location at the top of a sandstone pinnacle. This place isn't for the faint of heart – to reach it, you'll have to climb (yes, I said CLIMB, not hike).
But let's back it up for a second. To visit Abuna Yemata Guh, you'll be dropped off at the foot of the Gheralta mountains. The hike starts nice and easy, following a good path climbing slowly but steadily up the mountains.
The more you progress, the steeper the path gets. The first 30 minutes are a simple uphill hike, then the path gets steeper and steeper, and you'll have to proceed using your hands to get over the steepest sections.
Then, you'll reach a ledge just under a 15-meter cliff. This is where the actual climb begins. There are two ways to overcome this obstacle – you can use a rope and harness, or free climb, following hand and footholds carved into the sandstone by centuries of passing pilgrims.
I don't mind heights and I have been rock climbing regularly for years, so I opted to free climb – but if you are not confident, definitely opt for the rope and harness. However, there's an extra charge for that – so make sure you double check with your guide if you've already paid for that as part of your tour fee.
After conquering the climb, there's only a small boulder left to cross, and then a 5 minute traverse on a metre-wide ledge – with a sheer 200-m drop to the side.
By this stage, you'll be pumping with adrenaline for sure. Everything will seem worthwhile as soon as you enter the tiny church, with its walls and ceiling covered in paintings.
My guide pointed out the Nine Saints, and then the Twelve Apostles, but I was happy to just sit there, absorbing the ancient, sacred energy of the most beautiful of the Tigray churches, like so many pilgrims did before me over the past one and a half millennia.
Maryam Korkor & Daniel Korkor
After visiting Abuna Yemata Guh, it will be time to head to Maryam and Daniel Korkor, other two famous Gheralta Churches.
There's no need to climb to reach these two churches, but the hike is considerably longer – about 1 and a half hour each way, with spectacular views over the Gheralta Mountains. The trail is quite steep and you'll have to use your hands sometimes, but there's nothing like the rock face on the way to Abuna Yemata Guh.
Maryam and Daniel Korkor are only about 5 minutes away from one another. Maryam Korkor is one of the largest churches in the Tigray, and it is known for its intricate architecture, with pillars, arches, and cupolas, plus intricate 17th century frescos.
Nearby Daniel Korkor, sitting on a vertiginous clifftop, is smaller and more secluded. This is the perfect place to take some time to relax and reflect on the marvels of Tigray churches, before starting the long hike down.
2 Day Itinerary – Axum to Mekele via Tigray Churches
If you have 2 days to dedicate to the Tigray, you could visit the churches in the Wukro cluster near Mekele, or opt for Abraha We Atsbeha, with a small museum displaying church treasures.
Those visiting the Tigray churches while travelling overland between Axum and Mekele, should visit the two churches below on day 1, then spend the night in Hawzen and check out the three Gheralta churches described above on Day 2.
Wanna know more about Ethiopia's capital? Here's our post about 14 Things to do in Addis Ababa!
Debre Damo Monastery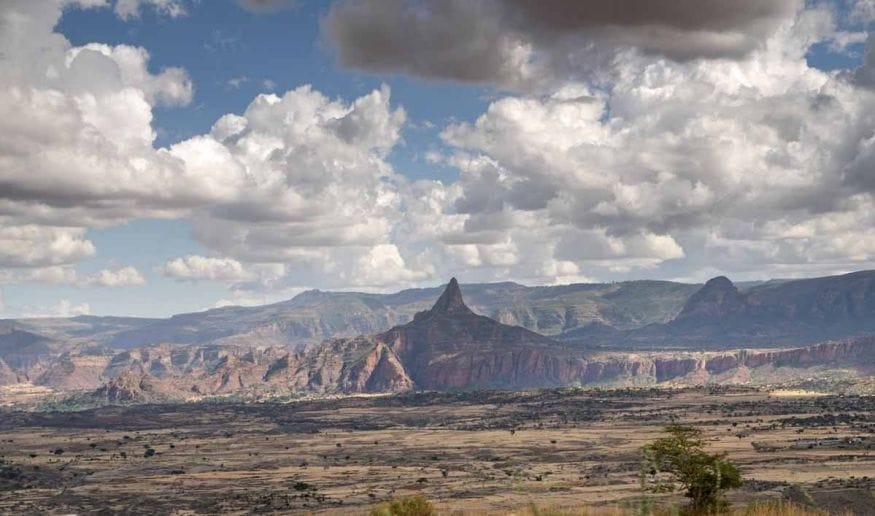 Debre Damo Monastery is located on a flat-topped mountain just off the Axum-Adigrat road. It's believed to be the one of the oldest Tigray monastery, set up in the 6th century by Abuna Aregawi, one of the revered Nine Saints.
Unfortunately, Debre Damo is off-limits to women, so I couldn't visit. Access to the monastery is said to be as thrilling as that to Abuna Yemata – you'll have to climb up a 15-meter cliff, aided by a thick leather rope placed by the monks.
At the top, you'll find two churches, plus the quarters where the monks eat and sleep. Make sure you visit the older of the two, with unique layered stone and wood walls, and admire its wooden panels and painted ceilings depicting the life of Abuna Aregawi.
The second, more modern church is brightly painted outside, looking even more vivid in juxtaposition with the stark desert landscape all around.
Abba Garima Monastery
As the name suggests, this monastery was founded by another of the Nine Saints, Abba Garima. It's just a few km outside of Adwa and worth a visit mainly for the museum, containing 6th century manuscripts believed to be written by the saint himself.
Sadly, once again, the church cannot be visited by women.
How Much Does It Cost to Visit the Tigray Churches?
Most Tigray churches charge the same entrance fee, 150 birr per person. If you're travelling on a tour, double check whether or not the entrance fee to the individual churches is included in what you paid – our guide tried to make us pay again!
Please don't forget that scouts helping you up the cliff at Abuna Yemata will expect to be tipped, as will priests, especially if you photograph them holding out crosses or old books.
Remember that tips are up to you, so please don't let individuals decide how much you should give. Scouts may ask for as much as 100 birr each – fees add up quickly if you consider there's usually 6/8 of them. I gave them 300 birr to share and they seemed to be ok. A good tip for priests is between 50 and 100 birr for a picture.
Looking for a fun reason to come to Ethiopia? Here are 13 Reasons to do the Great Ethiopian Run!
Where to Stay Near the Tigray Churches
You can easily visit the churches in the Gheralta cluster and elsewhere in the Tigray as a day trip from Mekele, or a (long) day trip driving between Axum and Mekele.
Otherwise, it makes sense to spend the night in Hawzen, where you have two good places to stay at!
-Gheralta Lodge – an excellent, Italian-run desert lodge, with accommodation in bungalows, a good restaurant and excellent guides. Book up way in advance as it's always sold out!
-Vision Hotel – a good choice for budget travellers, or anyone really if Gheralta Lodge is full. The rooms could use a lick of paint, but the owner is really nice, and will cook an excellent vegetarian meal for you if you don't fancy going out.