Are you a history, culture, and literature lover? Would you like to explore a long-distance path on the footsteps of Italy's most famous poet? Keep reading to discover Dante's Way, an amazing hiking itinerary through Emilia-Romagna and Tuscany!
An excerpt of this article was published on the e-magazine Unforgettable Experiences #InEmiliaRomagna – you can download it here!
Our journey is entirely imaginary. That is its strength. The words of French writer Louis-Ferdinand Céline resonate more than ever these days, when most of us are stuck in our homes, and can only dream of the footloose days when we could travel freely.
Well, guess what – sometimes we don't need to step a foot outside to be able to travel, and many great journeys are a product of great imagination.
An example of this is the Divine Comedy, Dante's three-part journey through the Underworld. Every single person who read the famous poem must have wondered, at some stage, how Dante came up with it all – the vivid descriptions of demons, the graphic punishments of souls damned for eternity, and the pure bliss of what Paradise was for him.
Was it copious amounts of Medieval drugs? Deep, boundless faith? Or just pure genius?
Regardless of it all, Dante and his afterlife tales have been entertaining readers for over seven centuries. However, I bet that not many will know that Dante spent twenty years of his life travelling around what is now Italy, seeking refuge in noble houses after being exiled from Florence, his hometown.
During Dante's life, the politics of Italy were defined by the struggle between two opposing factions, the Guelphs (supporting the Pope) and the Ghibellines, supporting the Holy Roman Emperor.
In Florence, the Guelphs were split further into two groups in opposition with one another. Dante was a White Guelph, seeking political independence of the city from the Pope – as a result, when the Black Guelphs took control of the city in 1302, he was exiled, and never saw his hometowns again.
Dante's journeys between Tuscany and Emilia-Romagna, all the way to Ravenna where he died in 1320, have been the starting point for a new long-distance path – Dante's Way (Cammino di Dante in Italian), connecting places where Dante lived during his exile, and locations mentioned in the Divine Comedy.
Dante's Way – Practical Information
-Hiking Dante's Way
Dante's Way is 395 km long, divided into 21 stages between 9 and 26 km in length. The vast majority of the route is along trails and paths, including some of Etruscan origins – only 3% of the total distance is along paved roads.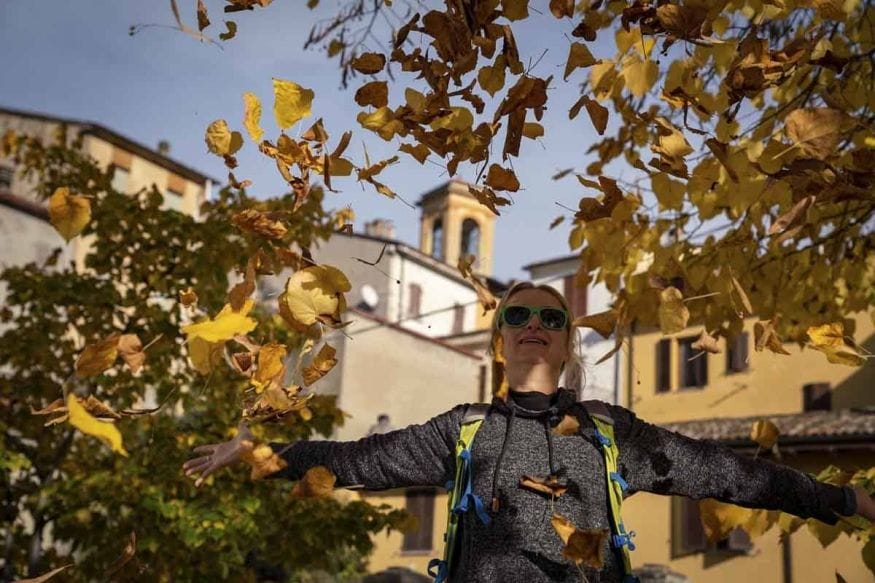 The route is loop-shaped, starting in Ravenna at Dante's tomb and continuing southwest via Oriolo dei Fichi, Brisighella, Marradi and the Acquacheta waterfall, before reaching Florence.
The 'return' branch of the path connects Florence with Ravenna, travelling in a north-east direction along the Casentino valley, then across the Apennines to Premilcuore, Portico di Romagna, Forlì, and finally Ravenna again.
The best time to hike Dante's Way is Spring and Summer. The trail crosses the Apennines, including some high-altitude passes that may be covered in snow from November onwards.
Autumn is also a great time to visit – the Foreste Casentinesi area usually has vivid autumn displays, but mountain huts will be closed, and accommodation may be hard to find in small villages.
-Cycling Dante's Way
Dante's Way is also perfect to explore by bicycle. Depending on what kind of bike you have, there are two options. If you have a mountain bike, you can actually cycle along the trails and paths of Dante's Way, but you need to be very good riding downhill.
Those on a road bike can cycle between trailheads on secondary roads, often very scenic and with little traffic. Around Ravenna, you'll be cycling along largely flat roads – then, you'll have to cross the Apennines, so get ready for some up and downhill action. The hills continue all the way to Florence, after which you'll turn back, cross the Apennines again, and leisurely descend all the way to Ravenna.
In both cases, allow at least one week to cycle Dante's Way. If you are very fit, you may take fewer days – but you won't have as much time to stop and look around. If you wish to visit Florence and Ravenna, give yourself an extra 2 days (minimum!) in each destination.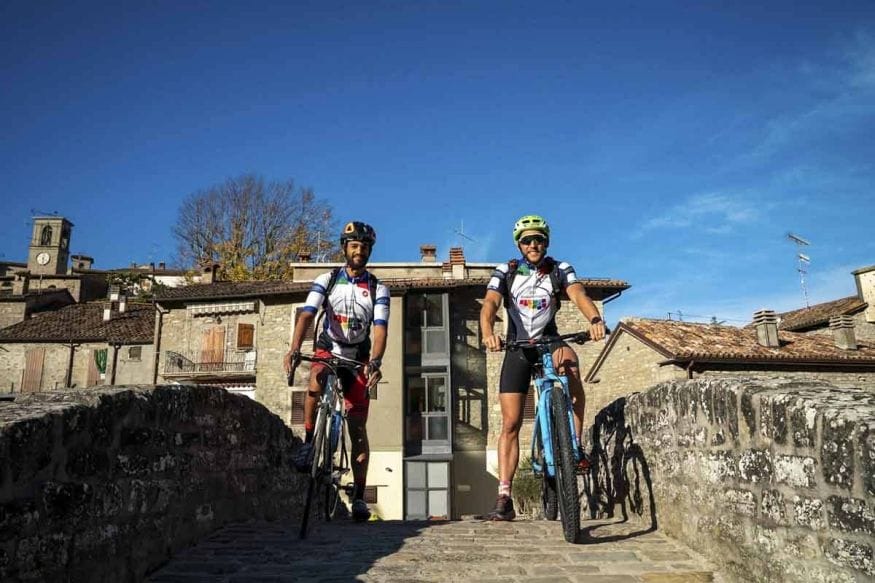 You can cycle Dante's Way year round, but we recommend avoiding winter to prevent having to cycle on icy roads, and the middle of summer to escape the heat (which can be brutal!)
-Driving Dante's Way
Are you not really into hiking or cycling, but still want to 'walk' along Dante's footsteps? You can explore destinations along Dante's Way by car!
All stops at the start and end of each stage can be reached by car, with the exception of Rifugio La Burraia, which is half an hour walk from the nearest car park. You'll have the option to drive along scenic roads, often with many twists and turns, but also with great views – especially when you'll be climbing up and down the Apennines.
If you're planning to drive Dante's Way, you'll need 3 days minimum – more if you want to spend time in Ravenna and/or Florence, or in other destinations along the route
What to See Along Dante's Way – Ravenna to Florence
Ravenna
There's only one place to start your experience along Dante's Way – the Tomb of Dante, a small, neoclassical chapel in the centre of Ravenna, where the poet's remains are kept.
After Dante's death in Ravenna in 1321, his body changed locations several times, to prevent it from being stolen. In the 19th century, it was lost for several decades, and found again by chance by a student, hidden in a false wall.
Since then, Dante's remains have been held in the chapel, save for a few years during WW2, when they were moved under a grassy knoll to prevent it from being damaged.
Dante's tomb aside, Ravenna is a wonderful place to explore. The town's main draw are its wonderful Byzantine mosaics, the best preserved in Western Europe, part of UNESCO World Heritage.
The two best known are San Vitale, right in the city centre, and Sant'Apollinare in nearby Classe.
To know more about the city, we also recommend visiting the brand-new Classis Museum, also found in Classe, presenting the history of Ravenna with interactive exhibits, in a truly stunning location. Just check out the cool mosaic just in front!
Another site that cannot be missed is Dante Literary Park, located along the first stage of Dante's Way. You'll find info panels with all 100 chapters of the Divine Comedy on display, and you can also collect your pilgrim's passport and guide to the entire trail.
Oriolo dei Fichi
After leaving Ravenna, Dante's Way crosses the small town of Pontevico, where the first stage ends. Afterwards, it continues along the Via Emilia all the way to Oriolo dei Fichi, a tiny village in the hills just above Faenza.
Nowadays, Oriolo is a tiny sleepy place – but in the Middle Ages, it was a location of strategic importance, contended between the Diocese of Ravenna and the Lords of Faenza. The tower you can see today, dominating the village and the surrounding hills, was built in the 15th century, to protect the town from invaders.
If you visit Oriolo on a weekday, you may think the town has fallen under a sleeping spell. We recommend planning your visit in the afternoon of Saturday or Sunday, if possible, to be able to visit the tower and enjoy views over the surrounding hills from the top.
In Oriolo you'll also find some info panels with extracts from chapters VIII, IX and X of Inferno, about Dante and Virgil's arrival in the damned city of Dite. You'll find similar info panels in most stops along Dante's Way, sometimes illustrating the place's connection with the Divine Comedy or with Dante's life.
Brisighella
Welcome to one of the most beautiful small towns in Emilia Romagna! You'll be reaching Brisighella after a 17 km walk from Oriolo through hills, farmland and calanchi, clay and gypsum rocks reminiscent of Canadian Badlands, formed as a result of erosion.
Brisighella is a spectacular pastel-coloured village surrounded by three hills, with a clock tower, a church and a castle on top of each. The historic centre is a real delight to wander, stopping at shops selling local goods, and admiring the colourful houses – even more stunning when golden hour comes.
Make sure you also walk down Via Degli Asini, a unique covered street that was once used to transport gravel and gypsum on donkey's back ('asini' in Italian).
Each of Brisighella's three hills offers great views over the surroundings, but the best of them all is probably the view from the Clock Tower, a quick 10 minute walk from Via degli Asini in the historic centre. If possible, try to reach the top at sunset – the warm sunlight makes the terracotta roofs and pastel walls look even more spectacular.
Marradi
Dante's Way straddles Emilia-Romagna and Tuscany, so you'll find yourself crossing back and forth between the two regions. After leaving Brisighella, the trail continues to Gamberaldi, where you can see the remains on a church in a scenic location, and then to Marradi.
Marradi is just over the border in Tuscany, surrounded by the mighty Apennines. The town is worth visiting for its compact but interesting historic centre, lined with elegant palazzos, and for being the hometown of Dino Campana, a famous Italian poet from the 19th century.
Food lovers rejoice – if you visit Marradi in Autumn, it's time to enjoy the famous local chestnuts! You'll see them for sale all over town, and featured on many restaurant menus – as a filling for ravioli, to accompany grilled meat, and as a base for cakes and desserts!
Acquacheta Waterfall
After this quick Tuscan detour, it's time to head back into Emilia-Romagna for one of the hardest, but also most scenic stages!
There are 22 km between Marradi and San Benedetto, climbing over the Apennines to the tiny Gamogna Hermitage, after which you'll be taking a trail through the woods until you finally reach Acquacheta Waterfall, created by the Montone river as it falls over a sandstone wall.
You'll be hearing the rumble of Acquacheta long before you actually see it – and the more you get close, the more you'll understand why Dante compared the sound of the waterfall to the infernal river Flegetonte, where damned souls are destined to boil in blood for eternity.
The stage ends in San Benedetto in Alpe, a small mountain village with an ancient church that is worth visiting – if it happens to be open, of course!
Florence
After leaving San Benedetto behind, you'll be walking four more stages through small Tuscan towns until you finally reach Florence, the 'halfway point' along this adventure on Dante's footsteps.
Summarising a place like Florence in a paragraph is a formidable task indeed – if it's your first time in town, make sure you visit the Uffizi Gallery, the Accademia to see David, and enjoy the view from Piazza Michelangelo.
If you are on a Dante mission, there are two places in town you cannot miss. The first is Museo Casa di Dante, in the house where the poet was and lived until his exile, with three floors full of exhibits illustrating different aspects of Dante's life – as a poet, a warrior, a politician, and his private life.
Also, don't miss paying a visit to Dante's Cenotaph in Santa Croce Church. A cenotaph is a funerary monument with no grave, built in honour of a person that is buried elsewhere. It was erected when there were hopes that Dante's body would one day be returned to his hometown, and portrays the poet supported by Italy, while Poetry cries on his sarcophagus.
What to See Along Dante's Way – Florence to Ravenna
Poppi
The 'return' branch of Dante's Way crosses one of the most beautiful places in Italy – the Casentino Valley, connecting Tuscany with Romagna. The valley was ruled for centuries by the noble Guidi family, sharing Dante's political views – for this reason, the poet was often a guest of the Guidi family during his exile.
You'll find a castle built or previously owned by the Guidi family in pretty much every town in the Casentino – but the most spectacular of them all is without a doubt Poppi Castle, built high on top of a hill overlooking the town of the same name.
The castle dates back to the 12th century, and looks like the typical fairytale Medieval castle, complete with battlements and a high tower. You'll also notice a statue of Dante just in front – the poet spent a whole year living in the castle, where he composed the final chapter of Inferno.
Technically speaking, Poppi is not located alongside Dante's Way – it's an 8 km detour from Prato di Strada, where the second stage from Florence ends. We highly recommend making the detour as Poppi is a real delight, with its hilltop historic centre offering great views over the Tuscan hills.
Foreste Casentinesi National Park
After Poppi/Prato di Strada, hikers will be heading to Casalino, a tiny village on the edge of one of Italy's wildest forests. After that, the most scenic (but also most challenging) section of this long distance hike begins – you'll be crossing the Foreste Casentinesi National Park.
The National Park extends over section of the Apennines between Tuscany and Romagna, and over 80% of it is covered in remote, unspoilt beech and fir forests. Animals like bears, deer and wolves are spotted in the park, and if you are a nature lover, this section will be the highlight of your experience along Dante's Way.
A great time to visit Foreste Casentinesi is autumn, as this is where you'll find some of the best autumn displays in Italy.
Otherwise, plan your visit for summer to be able to stay at the amazing Rifugio La Burraia, a mountain hut which can only be reached on foot, right at the border between Tuscany and Romagna.
Rifugio La Burraia is the highest point of the trail, at around 1400 meters above sea level. Right outside the hut you'll find grassy meadows, high above the peaks of the Apennines, usually offering scenic views… unless it's cloudy, like when we visited. Never mind, next time!
Premilcuore
Descending from Rifugio La Burraia, the next stage ends in Premilcuore, a tiny mountain village that looks out of a dream. You'll need to cross a mountain pass to get pretty much anywhere from Premilcuore, which explains why the village and its surrounds feel really remote and secluded.
Premilcuore is really, really pretty – make sure you walk through the tiny historic centre overlooked by a castle, explore the forests all around, and admire the fast-flowing Rabbi river, creating pools and waterfalls.
On the way into Premilcuore, you'll hike past two wonderful waterfalls – Cascata della Sega, with a twin water flow, and the Grotta Urlante, looking like a natural corkscrew-shaped slippery slide disappearing into a cave – a bit scary, if you ask me!
'Urlante' in Italian means 'shouting', and I kept wonder if Dante was inspired by this waterfall when describing the screams of damned souls…
Portico di Romagna
Brisighella was our favourite destination on the way to Florence, and Portico di Romagna was definitely the one we liked best on the return branch!
I guess it has to do with the way into town – we reached Portico di Romagna in the late afternoon, around the time when shadows lengthen and blades of warm light filtering through the trees anticipate the coming sunset.
Hikers coming from Premilcuore reach Portico by crossed the Ponte della Maestà, a single-arch Medieval bridge with original stonework. After that, you'll be right in the village, lovingly kept and decorated by residents. We visited right before Halloween, and it was full of pumpkin and scarecrow decorations, which made the little streets look even more beautiful.
Alongside Dante, you'll also find mentions of Beatrice all over Portico. Beatrice was the poet's legendary sweetheart, who died very young and led him all through Paradise in the Divine Comedy.
She was a member of the Portinari family, hailing from Portico di Romagna, where Palazzo Portinari still stands. Make sure you visit the Dante and Beatrice Municipal Gardens, in a beautiful location overlooking the city centre.
Another great place to visit near Portico is the Brusia a Bocconi Waterfall, about 2 km outside town. Just have a look at this picture to see why!
Dovadola
When you reach Dovadola, the 'hard' part of Dante's Way will be all behind you. This quiet village sits on the edge of the Apennines, surrounded by forests and overlooked by yet another Guidi Castle.
It's worth walking around Dovadola for a while, or you can use it as a base to visit another scenic location – the Montepaolo Hermitage, where Saint Anthony of Padua lived in the 12th century, located 300 meters above town.
Forlì
After so many hills and mountains, the rest of Dante's Way will feel like a holiday. From Dovadola, you'll be hiking downhill through the thermal village of Castrocaro, and then continuing to Forlì, one of the largest towns in Romagna and the largest place on this hike, besides Florence and Ravenna.
Forlì sits in the flat Po Valley along the Via Emilia, the ancient road of Roman origin connecting all main cities in Emilia-Romagna. If you're hiking across Forlì, make sure you pay a visit to Piazza Aurelio Saffi, the heart of town.
Right next to the statue of patriot Aurelio Saffi, you'll see the slender belltower and brick façade of Saint Mercuriale Abbey, and the fascist grandeur of the Palazzo delle Poste right next door, making for an unusual contrast.
Then, it's time to leave Forlì behind and hike two more stages to Ravenna, where the trail once again ends at Dante's Tomb.
At this point, I'm sure that Dante will no longer be an almost-mythological figure, and feel like an old friend. Along Dante's Way, you saw his places of birth and death. You fell in love with Beatrice alongside him in Portico, listened to the rumble of Flegetonte, to the screams of damned souls, and experienced the pain of exile with him, as you crossed the Casentino Valley.
At the end of it all, Dante's Way is not just a long-distance hike – it's a journey through the great poet's life, his dreams and his nightmares, his feelings and emotions.