If you are planning a trip to Florence, you can't help but visit the masterpieces treasured by the Uffizi Gallery. In order to enjoy them at the fullest, I suggest booking your Uffizi Gallery tickets in advance and skip the line. Let me explain why and how! ***UPDATED 2023
Also, make sure you check out our post on how to book Accademia Gallery tickets to see Michelangelo's David.
Whether you are in Florence for a day or a week, you simply have to visit the Uffizi Gallery.
The reason is easily explained – this museum holds some of the most important paintings from the Italian Renaissance. Leonardo da Vinci, Botticelli, Michelangelo and Caravaggio are just some of the artists whose works you'll get the chance to see.
The downside (if it can be considered a disadvantage) is that the Uffizi Gallery is huge, and a tour could be physically exhausting.
For this reason, you don't want to spend hours in line before even getting in, believe me! This is why I warmly suggest booking your Uffizi tickets beforehand.
After so many visits to Florence and the Uffizi Gallery, and so many hours spent waiting in line, here we'll explain the 6 best ways to book your Uffizi Gallery tickets and skip the line – and also one (secret) way to get in for free!
First, let me dig a little deeper into the reasons why it's necessary to book tickets for the Uffizi Gallery in Florence before your visit.
Don't have time to read? Book your Uffizi tickets in no time here!
If you're also heading to Milan, don't forget to check our posts on how to book tickets for the Last Supper and the Milan Duomo!
Why You Need to Book Tickets for the Uffizi Gallery
As soon as you approach the Uffizi Gallery, there's one thing you will notice for sure – the queue. You aren't the only one who wants to visit this world-famous art gallery, after all.
But if you're smart, and do your research before getting to Florence (meaning, if you follow my tips), you will able to skip that scary line and enjoy your Uffizi visit.
This is the main reason why you really need to book your tickets ahead of time.
Don't be naïve, and think that "the line can't be that bad". Trust me, it can. Florence is one of the most famous and visited Italian cities, attracting tons of visitors from all over the world every single day.
To give you an idea, in 2018 Florence was visited by a whopping 10 million visitors, and 4 million of them visited the Uffizi Gallery.
Just imagine how many tourists will want to enter the Uffizi Gallery during peak season. You don't want to waste your precious time in Florence waiting for the queue to move on, do you? You can spend that time more wisely, if you book the tickets in advance.
There's another good reason to book Uffizi tickets in advance – the number of people who can access the art gallery each day is limited.
Getting your admission ticket in advance will guarantee you a timed spot, so you will definitely be able to get in, and enjoy your full immersion into Italian Renaissance art.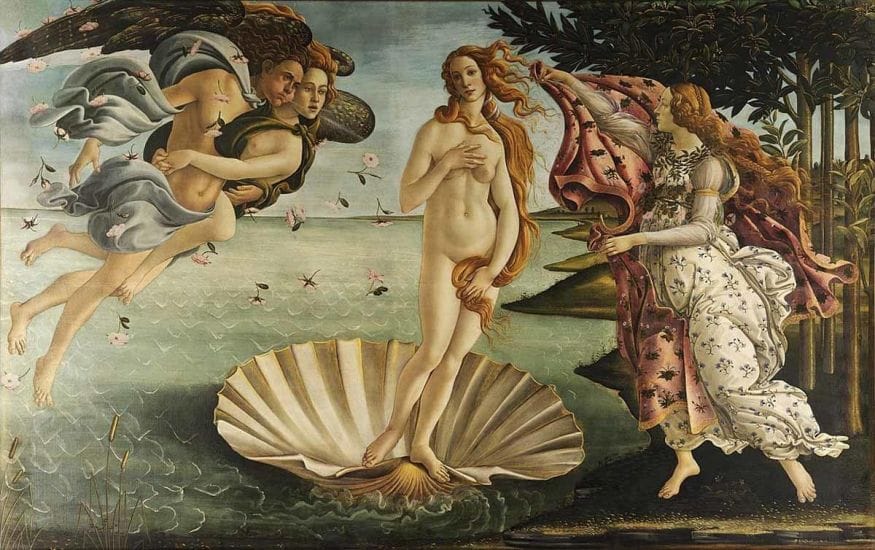 Spending a few days in Florence? Here's all you need to know if you want to skip the LONG line for Florence Duomo tickets!
Here is all you need to know to plan the 20 Best Day Trips from Florence!
Uffizi Gallery Tickets Price
There are a few different ticket options for the Uffizi Gallery. Essentially, you can get full-price tickets, free entrance ones, or reduced-price tickets.
Here's a breakdown:
Full price – whether you buy your Uffizi ticket online or in person, the full price ticket doesn't change. What has changed, since 2018, is that there is 'low season' and 'peak season' pricing. The cost of the Uffizi ticket is €12 from November to February, and €20 from March to October.
Free entrance – it is possible to access the Uffizi Gallery for free on some specific days – more on this later! However, some categories of visitors can always enter free of charge. Namely, this is the case for children under the age of 18, disabled people and those who accompany them, school groups and teachers, tour guides, interpreters, scholars, university students, journalists, people who work or volunteer for the Italian Ministry, and ICOM members.
Reduced price – if you are a citizen of the EU, Norway, Iceland, Switzerland or Liechtenstein under the age of 26, you can enter the Uffizi Gallery paying only 2€.
6 Ways to Book your Uffizi Gallery Tickets
Now you know why you should book your Uffizi Gallery tickets in advance, and the ticket options available. However, what's the best way to actually book Uffizi tickets, in practical terms?
Here are the 6 main ways to book your tickets and skip the line at the Uffizi, and make sure you have the best possible experience at the museum.
Let's find out how!
Are you planning to also visit Rome? Here's a post on how to get Vatican Museum tickets and skip the line!
1) Buy Uffizi Tickets Online
The easiest way to get your tickets is to purchase them online. Just pay attention not to buy through obscure online agencies that charge way more than the effective admission cost.
These are some reputable online vendors who only charge a few euro booking fees on top of ticket prices:
Alternatively, opt for B-ticket, the only vendor that is an official partner of the Museum Authority of Florence. You will notice that their system adds 4€ to the base rate. That's the booking fee – basically, that's what you have to pay if you want to skip the line.
The mechanism is very intuitive – choose a day and time and, after buying the ticket, you will get an email with a voucher to show at the counter number 3 of the Uffizi 15 minutes before the entrance time. That's it – you're ready go get in!
2) Book a guided tour of the Uffizi Gallery
Booking a guided tour of the Uffizi Gallery might be a more expensive solution, but it comes with some interesting advantages.
First of all, you will still skip the line – your guide will take care of the tickets and you will be ready to enter the museum shortly after your arrival.
Here are some of the best Uffizi Gallery tours!
A private tour will be completely customisable according to your pace and taste, although going with a group would be surely cheaper.
You will get explanations about the various art pieces, which is the main advantage of guided tours because the Uffizi are not an interactive museum – you won't find any information there, besides the name of the author and piece.
3) Buy a Combined Ticket
Another possibility is to opt for a combined ticket that allows you to visit Uffizi Gallery, Pitti Palace and Boboli Gardens – don't miss this last one, my favourite Florence insider tip!
It's valid for three days in a row and you can enter each museum once for the total cost of €18 (from November to February) or €38 (from March to October).
This ticket will also allow you to skip the line for the Uffizi Gallery, so if you're really into art and you're staying in Florence more than one day it's a pretty good deal.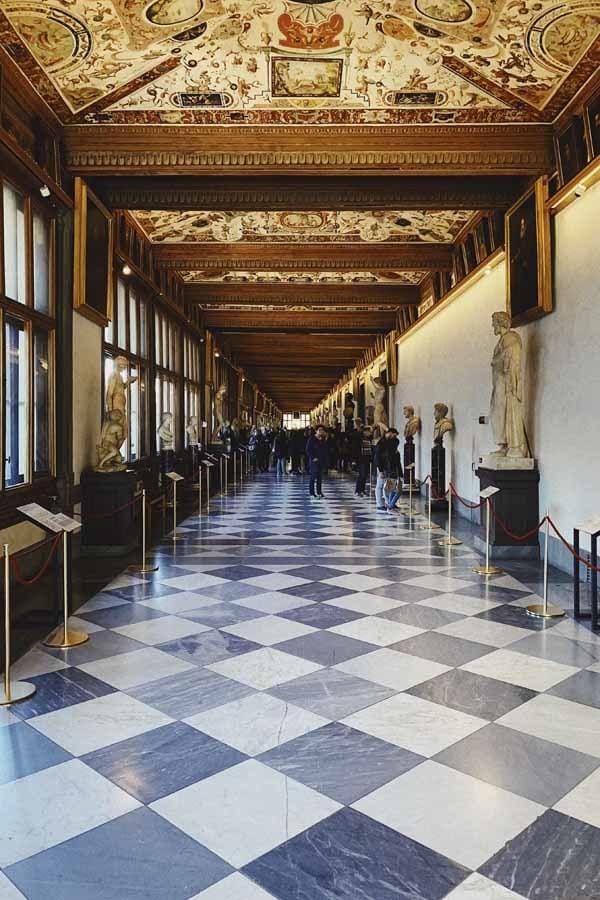 4) Book Uffizi Gallery Tickets in Person
Maybe you're walking by the Uffizi Gallery one day, and think 'I really want to visit it tomorrow'. Nothing easier: just stop at the door number 2 and book your ticket in person – then show up on the chosen day and time and there you go.
As an alternative, if all of a sudden you feel the urge to see Botticelli's Birth of Venus, you can also head to one of these ticket offices and check out if there still are available tickets for the Uffizi:
Pitti Palace ticket office;
National Archaeological Museum ticket office;
Orsanmichele Museum store (located in Via de' Calzaiuoli);
ticket office of any of the national museums in Florence.
Don't rely on the 'last-minute' approach though – it may indeed work sometimes, but it's unlikely to work in high season. If you want to visit the Uffizi Gallery, you'd better plan in advance and reserve your admission at one of these desks in the previous days.
5) Book Uffizi Gallery Tickets on the Phone
If you are not in Florence yet, you can also book your Uffizi Gallery tickets with a good, old phone call at the number +39 055 294883.
You can call from Monday to Friday, from 8.30am to 6.30pm and on Saturday until 12.30pm.
Most phone operators speak English, and if you need to they'll be able to connect you with operators speaking other languages like French, German, Spanish, and more.
They will give you a booking code that you have to communicate at counter number 3 of the Uffizi 15 minutes before your entrance time.
6) Get the Firenze Card
There's one last option if you want to book your tickets for the Uffizi Gallery beforehand: purchasing the Firenze Card.
As the name suggests, this card allows you not only to visit the Uffizi Gallery, but also to access quite a few other attractions of the city. Some examples? The churches of Santa Maria Novella and Santa Croce, Palazzo Vecchio museum, Pitti Palace, Boboli Gardens and so on.
The Firenze Card has a validity of 72 hours from the moment you access the first museum so it makes sense to get it if you're planning to visit many attractions in that three-day span.
In order to skip the line at the Uffizi Gallery, you have to reserve your spot in advance even if you're already holding a card. You can do that by phone (the number and timetable are the same as stated above) or in person (at the Gallery or at one of the spots you find in the FAQs of the website).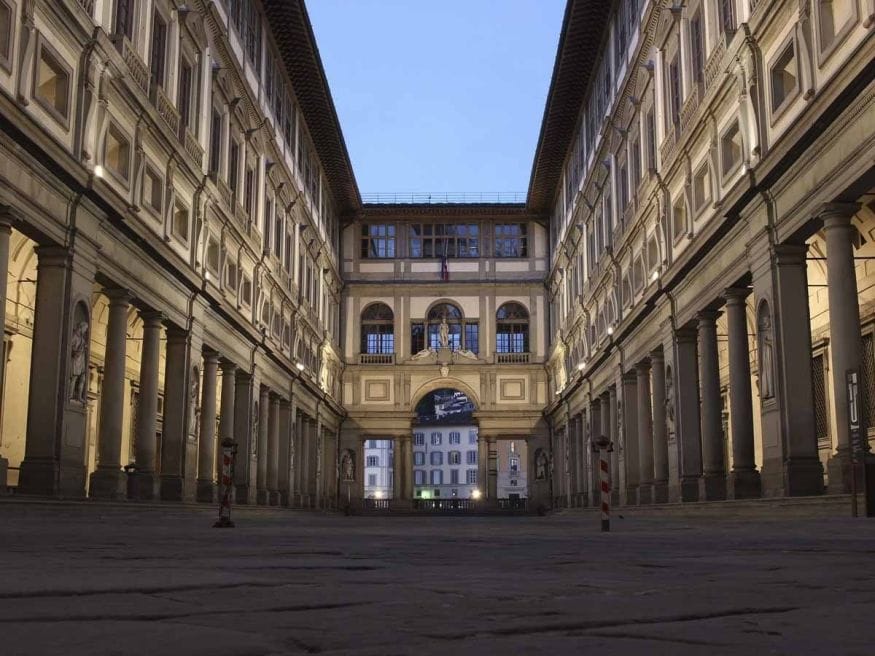 How to Visit the Uffizi Gallery for Free
Now, let's reveal the secret you all want to know – YES, you can visit the Uffizi Gallery for free on many occasions. Some examples?
On National Museum Week
On the first Sunday of the month (between October and March)
On June 2nd
On some special days for the city of Florence: March 24th, May 26th, June 23rd, August 11th, October 11th, October 31st and November 6th
The specific days might change year by year, so my suggestion is to check out this page to make sure that they are still valid.
In order to access the Gallery on those days, you need to get a voucher from one of the interactive kiosks located near door 1 under the loggia. You can't reserve your favourite time – you will have to check in at the time stated on the voucher itself. Don't be late or you will lose your place in the queue!
These are all the smartest ways to get your Uffizi Gallery tickets – or to visit them for free. I hope you enjoy what you'll see: your eyes will surely fill with wonder!
Looking for more Florence posts? Here you are!