Sometimes it's hard to scratch beneath the surface of a city, if you're only staying for a few days. Having a local friend definitely helps. This is what we thought of our Athens Insiders tour; it felt like walking around with a friend.
Athens is not a pretty city. It has some amazing sights, and a history that only few other cities can match, but it's no eye-candy. One may be tempted to spend only a day or two in the city, ticking off the Acropolis, Monastiraki and Lycabettus off the old bucket list, before moving on to Meteora or the Greek Islands.
It would be a shame not to give Athens a chance. Spend some days in the city, and besides the history, you'll find a great cultural vibe, an amazing culinary tradition, all topped off by friendly locals and wonderful weather. Don't let bad news of protests and riots deter you. Athens and Greece are well on their way to recovery, and clashes with police are a thing of the past.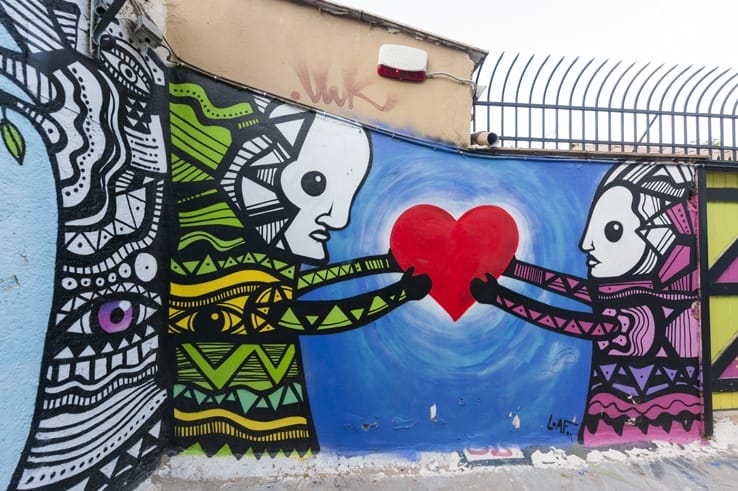 The most visible consequence of the crisis is the creativity of young Athenians. From cafés to craft stalls, from amazing street art to flea markets, the people of Athens are reinventing themselves. I remember visiting Buenos Aires not long after the 2001 default and thinking the same thing; that the crisis hadn't bred hopelessness, but hope.
Athens Insiders is a company created a few years ago by three young Athenians. They were all expert travellers, and understood the travellers' desire to discover the city away from the beaten path, walking the streets away from the polished-up touristy centre, eating at local stalls and hole-in-the-wall gyros stands. In a few words, discovering the city through a local's eyes, even if just for a few hours.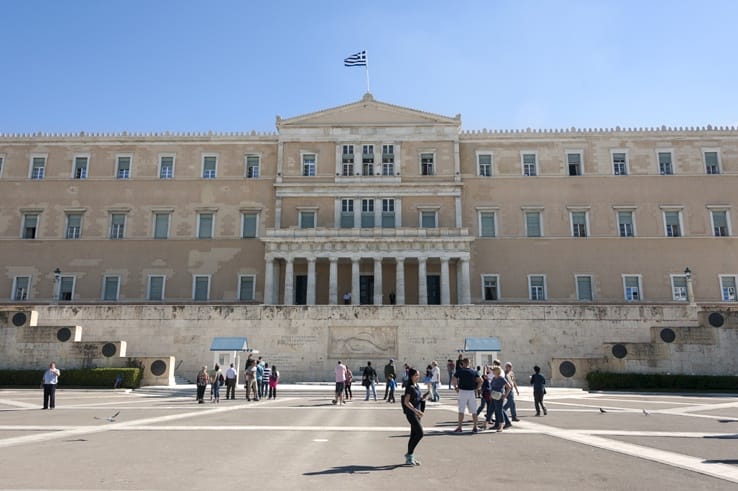 We met Natalie and our guide George one sunny morning in late October, in front of the Greek Parliament in Syntagma Square. Athens Insiders tours are completely customisable; our tour was going to be based on their Flavours of Athens tour, focusing on street food and traditional eateries, including a stop at Athens Central Market.
While we waited for the other tour participants, George told us that Syntagma means Constitution; the square is named after the constitution that Otto, Greece's first king, was forced to sign after a military uprising. The square houses Otto's Palace, built in the middle of the 19th century by Cycladian workers, and the monument to the Unknown Soldier.
The focus of our visit were going to be the backstreets of the town centre, where traditional eateries have been serving their fare for fifty years or longer, where multilingual menus with pictures don't exist.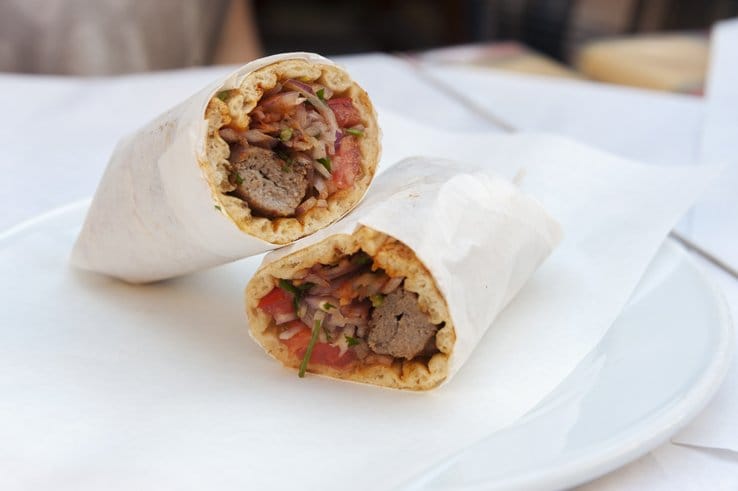 One perk of having local friends is that they can draw their attention to gems you probably would miss, if you don't know where to look. As we were walking towards the backstreets, George pointed out a beautiful Neoclassical building on the far end of Syntagma square, one of the few surviving buildings after the spate of wars that rocked Greece in the 20th century; the Greek-Turk War of the Twenties, World War II, and the Greek Civil War.
Athens was left bloodied, scarred and in ruins, after thirty years of pretty much non-stop fighting. This is why most of Athens now is built following the functional style of the Fifties and Sixties, turning the city into 'a monster of concrete' (my friend's words, not mine!)
George led us to the backstreets behind Ermou Street, Athens's main shopping street, named after Hermes, god of commerce and thievery. Our first stop was Ariston, one of the best pita shops in town. We tasted a kourou cheese pie, a tasty filling of crumbly cheese surrounded by tasty buttery pastry. Ariston translates as 'perfect', and after devouring the delicious pie, I could see why. There are more than 150 varieties of pie on Ariston's menu, but only 40 varieties are made every day, to ensure freshness and quality.
In addition to being a guide, George works as a private chef. He seemed to know the secrets of just about any shop. I loved the story of Pnika bakery, selling bread made with stone-milled flour. The legend goes that Dimitris, the founder, in his prayers asked God to help him open an 'honest' shop, with a real attention to quality and the use of excellent ingredients. His wish was granted, and after his first shop opened in 1981, he became a 'celebrity baker', and once even gave a talk in Harvard.
Athens Insider tours are no whirlwind stuff-your-mouth sort of tours. The pace is quiet and relaxed, and after an hour or so, we stopped for a coffee in a tiny café we would have never found  by ourselves. We had a cup of Greek coffee, the same drink that is elsewhere known as Turkish, or Arabic coffee. The ground coffee is not filtered away, it remains into the cup. The drink needs to rest, to let the ground coffee deposit on the bottom of the cup.
Greek coffee a drink that encourages contemplation; looking out the window to the wonderful Acropolis view, we learnt the history of the establishment. It was one a centre of political discussion, and opposition to the Colonels' regime. The thought was that having the Acropolis as a view, people would be filled with democratic feelings, remembering Greece's classic history and her role as creator of democracy.
Our tour continued with a delicious souvlaki lunch and a platter of sticky loukoumades, a Greek dessert of fried doughnuts soaked in syrup and cinnamon. Meanwhile, we were shown iconic Athens hangouts like Kostas in Agia Eirini Square, a tiny gyros shop rumoured to make the best pork souvlaki in town. Looking at the queue snaking around the block, it certainly appeared popular.
The tour finished with a visit to Athens Central Market, one of many unusual places in Athens. George led us to the fish section, where the catch of the day was displayed, fresh and glistening, over mounds of crushed ice. Then, we quickly toured the meat market, where butchers joked with us and let us take pictures of sheep and pig heads lit by dangling light bulbs. We were surprised by how clean the market was. There were no dodgy smells, no dubious looking produce, no fish scales or blood lying about.
'Like a local' is a phrase that has been abused so much, it's turned into a cliché. Of course, it's hard to get a glimpse of how locals live, if you're only in town for a few days. Athens is a city that is all too often overlooked, with many people following the same airport-Acropolis-Piraeus circuit before heading off to the islands and leaving the 'monster of concrete' behind.
I won't try and state that an Athens Insiders tour is going to turn you into an Athenian. But it will give you a different outlook on the city. It will show you that beautiful places and delicious surprises can be found even in the most unassuming of alleyways and the simplest of shopfronts. It will show you the city like a friend would – by showing you where to look.
We would like to thank Natalie, George and Athens Insiders for having invited us to join the tour. As always, all opinions are our own.