Have you ever heard of Meteora, a region of mountains and monasteries in Northern Greece? Here is our Meteora sunset photo story, a collection of stunning images of this wonderful place. 
Meteora and Mount Athos
Out of all the places in the whole wide world, there is one that I'm sure I'll never go to. It is Mount Athos, a peninsula in Eastern Greece, home to a community of Orthodox Christian monks for over one thousand years. I had seen pictures of the lofty monasteries built on mountaintops, of the tiny churches covered in frescoes and of bearded, robed monks climbing wandering the mountain trails and the dimly lit corridors.
Trouble is, women are not allowed in Mount Athos, by way of a decree dating back to 1046. So, unless I disguise myself as a man (a handful of adventuresses have done so within the last two centuries), I'll never see Mount Athos.
However, there is another place that is just as beautiful, perhaps even more beautiful; a place where monasteries are built on top of rock towers, where tiny churches covered in frescoes and lit by candlelight are freely accessible to all, where dark-robed monks and veiled nuns wander around, praying and chanting from dog-eared prayer books. This place is Meteora – a place that simply needs to be on your Greece itinerary.
I have dreamed to go to Meteora for as long as I can remember. Knowing I'd never make it to Mount Athos, Meteora was always going to be my number one Greece destination. Not Athens, not Santorini, not the white-blue landscapes of the Greek Isles. I dreamt of a Meteora sunset, when the sun paints the rock towers apricot and the monasteries chant their vesper choirs. That, to me, is peace.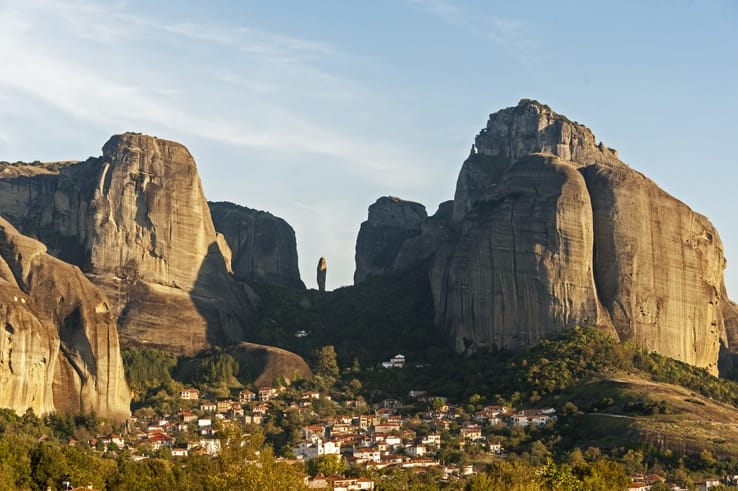 Meteora and mysticism
Mountains and mysticism have always gone hand in hand. The mountaintops of my beloved Alps are full of churches, chapels and hermitages. Being high means getting closer to the sky, to the heavens, to God. But there's something else. The mountains foster introspection and self discovery. The elements test your faith and your endurance. You don't find monks and hermits meditating on beaches and under coconut palms. You find them on freezing glaciers, on scorching deserts and windswept plains.
Meteora was the ideal place for a group of Mount Athos monks to build monasteries. Lying just opposite the Turkish coast, Mount Athos monasteries were often the target of Ottoman raids. A monk called Athanasios found the impregnable rock pillars of Meteora to be the ideal location for a monastery, and began construction of the Great Meteoron Monastery, which has never been abandoned to this day. Following Athanasios's example, more monks flocked to the area, building more than 20 monasteries. Six of them are still active.
Protection and security were definitely one of the reasons to build monasteries at Meteora; but there is another one. Meteora rocks are sandstone pillars, and building monasteries on their top relates back to the tradition of the stylites, or pillar dwellers, an early Christian type of asceticism where devotees climbed to the top of pillars, and lived there, exposed to the elements and with very little food, until their deaths.
An amazing Meteora sunset
Meteora is a stunning sight. Not only are there the monasteries, the sandstone pillars and the quiet, still atmosphere inside the fresco-covered churches; the landscape is amazingly scenic, with rock formations, caves and the remnants of hermit dwellings. The rocks are surrounded by beautiful oak forests, and further down by the villages of Kalambaka and Kastraki, looking like a sight out of a fairy tale from the top of the rocks.
A Meteora sunset is a wonderful, mystical experience. We visited in the early autumn, but the scenery was still verdant and wild thanks to a recent burst of hot weather. During the day, the sun shone brightly; as the golden hour approached, the sandstone pillars changed in colour, from gold to mellow orange, to deep rose, and finally to indigo as the sun dipped behind the Pindos mountains on the horizon.
Only a handful of tourists were present; a far cry from the claps and cheers of sunsets at Oia and Crete in the height of summer. A soft breeze blew as the sky changed into a million warm hues of pink, purple and orange. All around us there was peace, just peace.
Alsos House – an amazing place to stay in Meteora
If you're coming from Athens, Kalambaka will surprise you in a positive way; it's a sleepy village with lazy cats dozing around, and the stunning rocks of Meteora as a backdrop. If you walk up all the way from the train station, heading towards the rocks, you'll get to Alsos House, a family-run hotel with a view to die for. Just check the pic below, taken during the night from our front balcony.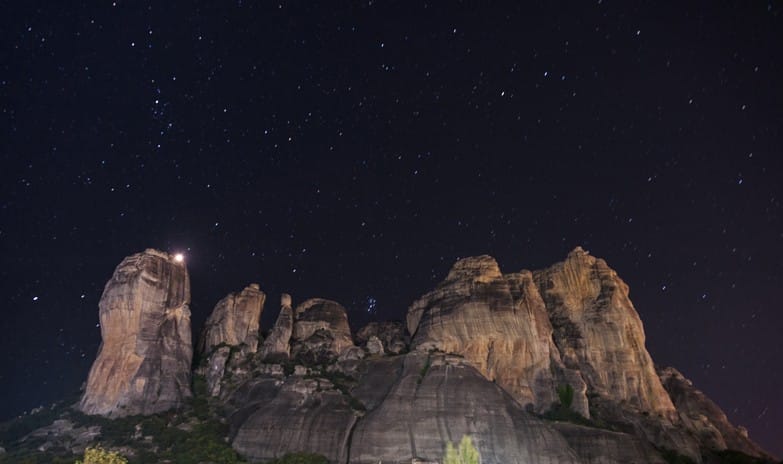 Rooms at Alsos House are bright and comfortable, with big windows offering great views on the rocks. Having breakfast sipping coffee in the morning sunshine, surrounded by sweet kittens and the Meteora rocks was an experience that we will treasure forever, since we wanted to visit Meteora for a very long time. Staying at Alsos House, you'll feel right in the middle of it all, completely immersed in nature. We could have spent hours just sitting on the balcony – and with this view, can you blame me?
Yes, Alsos House may be a fair walk from the train station, but you're super close to the hiking trails. The path to Holy Trinity monastery starts just behind the hotel, leading you up in about an hour walk or so. Just make sure you get to the monastery before 5pm, when the monastery close.
Owner Yiannis and his son were excellent hosts, always ready to help us with advice and tips on the best restaurants and best viewpoints of the rocks. They greeted us with a big hug when we arrived, and when we left – we promised we would be back one day, and we loved Meteora so much I have no doubt that we will!
By the way, if you have problems finding Alsos House… just follow the map!
We would like to thank George of Visit Meteora and Yiannis of Alsos House for having hosted us during our time in Meteora. As always, all opinions are our own. 
If you want to know more about Meteora, here's the podcast of Margherita's interview from Amateur Traveler on travelling to Mainland Greece.
Amateur Traveler Episode 449 – Travel to the Mainland of Greece