Hey! Did you know there's more to Estonia than Tallinn? The capital is lovely indeed, but you also have to check out the rest of the country. Learn where to go with these 14 wonderful day trips from Tallinn, recommended by ourselves and other bloggers!
In 2011, we visited Tallinn for the first time – or maybe, I should say we visited Tallinn Old Town, since we barely left the medieval historic centre for one entire week. Don't get me wrong- the UNESCO-listed Old Town is a great place to visit, but Tallinn and the rest of Estonia offer so much more.
Last October, after our autumn road trip around Latvia, we returned to Tallinn. This time, we decided to spend as little time as possible in the Old Town, and to explored the surrounds of the city instead. In five days, we saw some cool cities, abandoned Soviet sites, national parks, and even went rafting on top of a flooded quarry at night!
Here is our selection of the best day trips from Tallinn – focusing on locations in Estonia, but not only. Since there's only so much you can do in five days, we gathered up some of our blogger friends and asked them to help us out with their favourite Tallinn day trips – needless to say, we're already planning another trip back to Estonia now!
Where to Stay in Tallinn
Here are some options for cool design and boutique hotels to choose as your Tallinn base!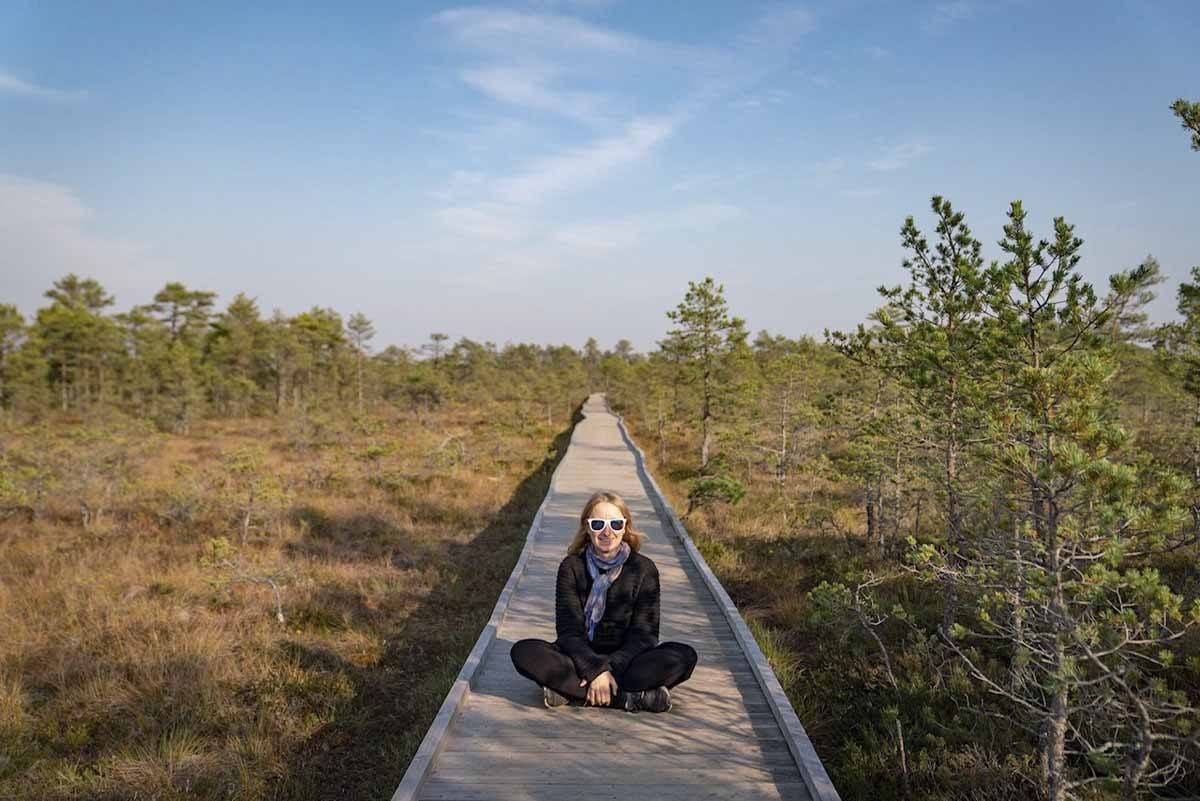 Day Trips from Tallinn in Estonia and Outside
Lahemaa National Park
Estonia is a great destination for nature lovers. The country offers forests, dramatic stretches of coastline whipped by the Baltic wind, ancient bogs wrapped in mystery, opportunities to see wildlife like bears and lynxes, and so much more.
You can see pretty much all of the above at Lahemaa National Park, a great option for a day trip from Tallinn, since it's located only about 50 km out of the city.
Lahemaa is also the largest national park in Estonia, and it offers a great variety of things to see and do – two must-visit locations that can be combined into the perfect Tallinn day trip are Viru Bog and Hara submarine base, covered in detail in the next two paragraphs.
Other sights located in Lahemaa National Park include the Beaver Trail, a 1 km loop near Oandu where it's possible to see beavers (if you're lucky) or their dams, and the boulder field of glacial origin near Käsmu.
Getting There: We recommend hiring a car to make your way from Tallinn to Lahemaa and around, since the park is large and public transport is scarce. Alternatively, a Lahemaa day tour is a wonderful way to check out the park's main sights with no hassle!
Hara Submarine Base
Lovers of urban exploration and Soviet history cannot miss including Hara submarine base in one of their Tallinn day trips. This crumbling relic of Soviet times in Estonia is located in Hara Bay, part of Lahemaa National Park, in a once super-secret location surrounded by forests, about an hour drive from Tallinn.
The base was built in the Fifties and used for submarine demagnetisation up until 1991, when Estonia gained independence and Soviet troops left in a hurry. The structure lay abandoned for a couple of decades, visited only by graffiti artists who decorated the long pier jutting into the Baltic, and by a few intrepid urbex lovers.
Nowadays, the submarine base has been acquired by a company planning to open it to the public. As of October 2018, access is only allowed with a guide – tours take place during the weekend, and cost €5 per person.
We visited on a Thursday and found the place closed, with a sign that trespassing is forbidden. However, we were lucky to meet a guide leaving the site, and managed to convince her to allow us in. All valuable machines and materials were taken away by Soviet troops, and now only the shell of the submarine base survives.
It's possible to wander inside and marvel at the juxtaposition between Soviet propaganda graffiti and modern street art, or just walk to the end of the pier and imagine the base when it was a hive of activity.
Just be very, very careful if you explore Hara submarine base by yourself, there is a lot of scrap metal and deep holes everywhere.
Getting There: There are two buses travelling from Tallinn to Hara every the afternoon, taking about 1 hour and a half each way. However, Hara tours run in the morning, so we recommend hiring a car.
Viru Bog
by Allison – check out her blog post about Tallinn in Winter!
Viru Bog is a fantastic day trip from Tallinn since it is an easy 45 minutes away by car in Lahemaa National Park! Viru Bog is fantastic for people of all ages and accessibility needs, as it is one of the only bogs in Estonia to have a boardwalk (3.5 km long) so that it can be accessed by stroller or wheelchair.
If you're up for a little more of an up close and personal experience in the bog, it is possible to go "bog-shoeing" with a guide, using snowshoes to traverse the mushy, wet ground while also protecting the bog's delicate ecosystem. It's extremely fun to do, especially when you get to the most bouncy parts of the bog which feel like a natural waterbed!
There's also a viewing tower which you can ascend for bird's eye views of the bog, looking out over the pools and trees that make this landscape so unique. You can visit the bog any time of year – it tends to be greener in the summer months, reddish-brown in the autumn and winter months, and covered in snow in the dead of winter.
No matter what season, it's one of the most fun day trips from Tallinn, so don't miss it!
Getting There: Make your way to Tallinn's Balti Jaam bus station then take bus number 151, or any bus towards Loksa or Rakvere. Travel time is just over one hour.
Rummu Quarry & Underwater Prison
Besides Hara submarine base, there's another abandoned place ideal to be visited on a Tallinn day trip – the Rummu quarry and flooded prison.
In Soviet times, in Rummu there was a forced labour penitentiary providing workers for the nearby limestone quarry, established in the 1930s. Groundwater was pumped continuously to prevent flooding the quarry, but when the latter was considered no longer viable after the end of Soviet times, pumping was stopped – and the entire area was covered with water.
Nowadays, Rummu is probably one of the most bizarre attractions in the whole of Estonia, and certainly makes for an unusual day trip from Tallinn. The main prison building is half-submerged, and it appears out of the turquoise lake waters like a dreamy mirage, while the spoil tip right on the shore provides the perfect viewpoint for pictures of the whole area from above.
There's a fence around the site, but for years that didn't seem to stop people. It was a popular destination for summer day trips from Tallinn – swimming, hiking, diving and mountain biking were all popular activities. At the time of our visit, it was no longer possible to access Rummu independently, so our only option was to join a tour.
We opted for a night tour of Rummu on lighted rafts – basically, inflatable rafts with electric lights on their bottoms, illuminating the lake bottom and allowing us to see fish and submerged buildings. Paddling around the lake at night definitely added to the eerie feel of the place!
Getting There: Take bus 145, 146, 148 or 149 from Tallinn's Balti Jaam bus station towards Laimi or Harju-Risti, with departures every hour or so. The journey takes about an hour.
Helsinki
Located just across the Baltic Sea from the Estonian capital, Helsinki is a great day trip from Tallinn. The city offers a lot to see and do, but public transport is good and ferries stop not far from the city centre, giving you many options to explore even in just one day.
If you're visiting Helsinki in winter, you can simply wander around enjoying the magical atmosphere of the city covered in snow, opt for a sauna at Löyly, visit the fortified island of Suomenlinna or even treat yourself to a heli ride above the city. In summer, you can't miss exploring Helsinki's islands and urban nature, as well as its vibrant nightlife offering its best during the warm summer months.
Getting There: There are several ferry companies travelling between Helsinki and Tallinn, with travel times ranging between 2 and 3 and a half hours. We travelled with Viking Line, offering 2/4 daily departures depending on the season. In Helsinki, ferries stop in Katajanokka, a quick tram ride to the centre.
We have a full guide highlighting how to plan a day trip to Tallinn from Helsinki, highlighting all the practicalities of how to travel by ferry between the two cities. Check it out if you're planning to visit the Finnish capital!
Paldiski
by Lavina @ Continent Hop
Located about 50 kilometres from the Estonian capital, former Soviet base Paldiski offers travellers something different to a city break – making it a wonderful idea for a day trip from Tallinn.
On the road to Paldiski, you will pass through coastal cliffs with a sheer drop and on a clear day, you can see the bottom of the bright blue sea. In spring, the area near the coastal cliffs has many wildflowers growing around it which makes it quite colourful.
Paldiski is not just popular for its cliffs but also has waterfalls and abandoned monasteries. The Padise monastery which has the oldest Church bell in all of Estonia was built over a period of 200 years and has a steep tower which offers panoramic views. However, the monastery is in ruins in a few places and one has to be careful when getting to the top.
The main highlight of Paldiski, however, are still its abandoned missile bases. There are no restrictions to take a walk in the area however it can be difficult to spot locations that have value due to shrubs growing everywhere.
Another attraction in Paldiski is the Murru prison quarry that has semi-submerged buildings that provide excellent opportunities for diving. The prison is located next to the quarry and it is possible to climb to the watchtower and enjoy panoramic views from here too.
Getting There: Bus 136 or 145 from Tallinn's Balti Jaam bus station, running every two hours.
Otepää
by Karolina – check out her blog post about what to see and do in Tallinn
Located on the south of Estonia, Otepää is a small town hidden away in rolling hills and valleys and is widely known as the winter capital of the country. Otepää's perfect conditions set the stage up for great skiing, snowboarding, and skating experiences. It is located about 230 km from the capital but it can be reached in about 3 hours, and thus makes a great idea for a day trip from Tallinn.
The winter capital of Estonia boasts different slopes and tracks ideal for alpine skiing, snowboarding, and cross-country skiing. The area became more popular worldwide when it hosted the FIS Cross-country World Cup. Ice skating is also possible when Puhajarv lake freezes during winter. It is not unusual to see professional athletes practicing on its slopes every now and then.
During the summer season, the top things to do in the area are hiking, biking through the forest, along rivers, and to the top of hills in Otepää Nature Park, as well as swimming in Puhajarv Lake (also known as the Holy Lake). The lake features sandy beach and water sports that are loads of fun for a Tallinn day trip.
The town itself is cozy and picturesque being surrounded by forests, hills, and valleys. There are also luxury ski resorts and spa in Otepää to chill and relax. Numerous restaurants in this small town offer delicious food too. If you're traveling through Estonia, Otepää is a great idea for a day trip from Tallinn.
Getting There: you can get to by car in just 2.5 hours. Taxis are an option too but they can be expensive. Buses run from Tallinn and go to Otepää through the town of Tartu every 30 minutes. They stop at the Otepää Bus Station where the tourist information center is also located.
Narva
by Liza – check out her blog post about cruising the Baltic Sea
One of the great day trip options from the capital of Estonia, Tallinn, is going to Narva. Narva is the third biggest city in Estonia (although it only has slightly over 50,000 people living there) and it's located just on the border with Russia.
The two countries are separated by the river Narva and while crossing the border, you can see many people casually crossing the border by food with shopping bags. The residents of Narva and Ivan-Gorod (the other part of Narva on the Russian side) have a special visa regime, so they don't have problems crossing the border. However, if you're not from there, you won't be able to visit Russia without a visa.
There are plenty of things to do in Narva during a day trip: you can explore Hermann Fortress, visit Alexander's Church, walk around the city or even soak in a spa in a nearby town, Narva-Joesuu.
You won't need much time in Narva, as it's a very small city, however, it's definitely worth exploring it for a day!
Getting There: All buses travelling between Tallinn and Saint Petersburg stop in Narva, so departures are fairly regular. Travel time is about 3 hours.
Pärnu
by Dave – check out his blog post about Pärnu
Pärnu is considered to be the summer city of Estonia, due to its sunny coastal beach location and its endless selection of spas. The town is very large, about the same size as Berlin, but population density is really low, making this town a wonderful Tallinn day trip if you're looking for a relaxing atmosphere.
Similarly to Hanko in Finland, Pärnu is a true summer paradise – there are long, sandy beaches, the weather is often sunny, and temperatures are as warm as the Baltics get. There are plenty of outdoor activities to enjoy – the promenade is perfect for walking, running or cycling, or you can go kayaking nearby or just laze on the beach and sunbathe,
Why not add a spa trip to your Estonian beach break? The Hedon Spa hotel is one of the most popular resorts with a rich and long Estonian history for being a mud bath location. Sit back, relax and enjoy this unique Estonia spa break destination.
Getting There: Journey time from Tallinn bus station is just under two hours, with frequent bus departures.
Bear Watching in Alutaguse
by Jules – check out his Estonia itinerary and travel guide
One of our favourite experiences in Estonia was to go bear watching! We drove about 2 hours from the capital to a town called Alutaguse in northeast Estonia, near the Russian border.
Once you leave Tallinn you quickly see that Estonia is largely undeveloped with miles of forest surrounding you in every direction. That means that there is plenty of space for wild animals like moose, boars and bears!
In Alutaguse, we met our guide who walked with us about a mile into the forest to a bear watching hut. This small wooden cabin was our home for the night, with little windows to peep through for bear spotting. Spending the night in the cabin is recommended since bears are at their most active around sunrise and sunset, but it is also possible to visit this location as a day trip from Tallinn.
The bears tend to come out around dusk, so we were pretty surprised when we almost immediately saw a big brown bear lumbering through a clearing in the trees. It was incredible to watch in silence as this magnificent animal sniffed the ground and turned over logs to look for food. We were so in awe of the sight that we didn't even think to pull out our cameras.
Unfortunately, we weren't the only spectators around, as there were other tourists in nearby huts. Someone used a flash to take a picture and the bear immediately took off running. We were so annoyed, especially as the night got darker and we were only able to make out moving spots that we assumed were bears.
We did catch a glimpse of what looked like a small, reddish bear walking around that we later learned was most likely a wolverine! Even though we didn't see a ton of bears, we really enjoyed the peacefulness of being in a simple cabin with nothing to do but look out into the quiet forest.
Getting There: It's probably easier to drive to Alutaguse then take a bus. It's a 2 hour drive from Tallinn.
Tartu
Tartu is the second city in Estonia, and it's famous for its university and student population. A day trip to Tartu from Tallinn is a good idea year round to escape the crowded Old Town, but the best time to visit the city is autumn, when the new academic year starts and the city truly comes alive.
Things to see in Tartu include Raekoja plats, the heart of the city, and the surrounding historic centre. Don't miss Supilinn neighborhood, also known as Soup Town, one of the best places to admire traditional wooden architecture. The town is home to a vibrant cultural scene – there great examples of street art all over town, and lots of things to do at night, if you decide to stay, from jazz clubs to comedy theatres and alternative cinemas.
Alternatively, you can explore the best of the city for only €20 on this 2 hour private walking tour!
Getting There: There are frequent Tartu-bound buses departing from Tallinn bus station. Travel time is 2 and a half hours.
Haapsalu
Haapsalu is a great alternative to Pärnu if you want to experience an Estonian seaside resort. The town is known for its pretty historic centre, white sand beaches and lovely seafront promenade with stunning wooden villas like Kuursaal, dating back from the 19th century and now housing a restaurant.
This seaside resort is also a great place to visit to experience spa culture in Estonia, since it is known for its curative mud. You can check into a spa for a day to pamper yourself with a range of treatments – the ideal day trip from Tallinn if you just want to relax.
Another reason to visit Haapsalu is the early 20th century train station – not only it is a super-photogenic building, is also houses the Estonian Railway Museum. Right in front of the station you can hop on a sightseeing train, but it runs on wheels, not rails!
Getting There: The bus ride to Haapsalu takes approximately 1 and a half hours, with departures every hour.
Prangli Island
Not many visitors are aware that Estonia has over 2000 islands. Most of those are off the country's western coast, making them too far for a day trip from Tallinn – but if you still want to experience island life on a day trip, you can head to Prangli, the only island off the northern coast.
Prangli island is only 6.5 square kilometres and it is home to just slightly over 100 people, with only one shop, a restaurant and a bar. It's a real unique destination for a day trip from Tallinn because it is home to unspoiled nature, it has its own Estonian dialect and a strong fishing tradition.
Prangli is best visited on organised trips, including ferry to and from the island, and tour on an open-bed truck, visiting the island's only wooden church, a nature reserve, boulders and a natural gas source.
Getting There: Join a day trip to Prangli Island.
Soomaa National Park
Located in the south of Estonia, not far from Pärnu, Soomaa is a lesser-visited alternative to Lahemaa. It's possible to explore different ecosystems, including coastal dunes, raised peat bogs that can be visited on boardwalks, forests and rivers.
Soomaa is unique because it floods every year during the 'fifth season', the time following early spring snowmelts (April/May). However, rather than closing down, it is possible to visit the park on canoes, and even spend the night in historic farmhouses that become 'islands' for a week or two.
Getting There: Hire a car and make your way to Soomaa for a day trip from Tallinn. Driving time is about two hours each way.
We would like to thank Visit Estonia for having hosted us as part of the Storyteller's Nest project. All opinions are our own.
Pin it for later?