Latvia in autumn is simply breathtaking. The weather is still warm and sunny, most tourists have gone, and the fall foliage is colourful and vivid like few other places in Europe. Here is where to go to enjoy autumn in Latvia!
Planning to visit Latvia in summer? Have a look at our things to do in Latgale post, with cool outdoor activities like SUP and kayaking!
For many years, autumn was taken for granted. Now, people are starting to realise what a wonderful time of the year it is – blame Instagram, if you want, but up until 5 years ago I've never heard of anyone plan a trip with the sole intention of enjoying autumn colours and vibe.
Instagram or not, in recent years there has been a greater appreciation for the natural spectacle that nature puts on every autumn – flamboyant trees, crisp blue skies and golden light, all surrounded by mountains of leaves to play with, jump onto, throw in the air.
In North America, New England has been an established autumn destination for decades, with places like Maine and Vermont seeing a surge of visitors as soon as the trees start to change colour. These places are so popular in autumn, that prices go through the roof, hotels are booked to capacity, and traffic is horrendous.
What if I told you that in Europe there is a little country that is just as spectacular as New England come autumn time, but with barely any tourists in sight?
I'm talking about Latvia, the 'middle one' of the three Baltic countries, located in between Lithuania and Estonia. We've just spent one week road tripping around Latvia, looking for the best autumnal landscapes – and what we found vastly exceeded our expectations.
Here are the 7 best place to experience autumn in Latvia!
Where to See Autumn Colours in Latvia
1) Riga
Many Latvia visitors just head to Riga, the capital city – blame the 'ticking off countries' mentality. Riga is indeed worth a visit, with its beautiful Art Nouveau architecture, exquisite Old Town and sprawling Central Market, but Latvia is so much more – over half of Latvia is covered in forests!
In any case, if you're just visiting Riga and want to experience a little autumn magic, you're in luck – there are two beautiful parks just a stone's throw from the city centre.
Bastion Hill (Bastejkalns Parks) is definitely the most romantic, with narrow paths framed by trees, small waterfalls and bridges crossing the Pilsetas Canal, with slow boats floating along. There's so much to do in Riga, make sure you plan to stay at least two or three days!
There are countless corners to explore and photograph – we loved taking pictures of the bridges lit up at night, and of the canal surrounded by golden trees.
The Esplanade is another park only two blocks north of Bastion Hill, and it is also a wonderful place to explore in autumn. Some of the most picturesque corners include the Birth of Christ Orthodox Cathedral, with its golden domes flamed by multicoloured leaves, and the vicinity of the Latvian National Museum of Art.
Another reason to visit Latvia in autumn is Riga Restaurant Week, an event taking place the second week of October with the aim of showcasing seasonal ingredients like autumn berries, forest mushrooms, freshwater fish and more.
Several restaurants in Riga take part, offering a three-course tasting menu for just €15 or 10 – which is an absolute bargain, since many of these establishments are really top quality!
Where to Stay – Wellton Hotel Riga
2) Sigulda
One of the benefits of visiting Latvia in autumn is that you'll have places to yourself most of the times, since visitors are still relatively few. This is true anywhere in the country, except Sigulda over the weekends.
See, Latvians are well aware that their country is spectacular in the autumn. Moreover, Latvia is a largely flat country (the highest point is Gaiziņkalns, only 311 meters above sea level), and Sigulda is one of very few place in the country with hills and panoramic views. This means that during autumn weekends Sigulda is literally PACKED with day trippers from Riga, traffic grinds to a halt, and parking is hard to come by.
The solution? Visit Sigulda during weekdays and have the place to yourself! The Centre of all autumn colour displays in Sigulda is the Gauja River Valley – the easiest way to enjoy views over the flaming trees all over the valley is the 'Vagoniņš', a little cable car connecting Sigulda to Krimulda, on the other side. You can get a return trip and just zip back and forth, or catch the cable car one way and hike back – a great way to enjoy autumn colours up close.
Another great viewpoint to enjoy the marvel that is autumn in Latvia is Paradise Hill, located on the outskirts of Sigulda next to a large cemetery. It is also known as Painters Hill, as many prominent Latvian artists painted the view from the hilltop.
Paradise Hill is located just north of Sigulda, along the course of the Gauja River, and from the hill you can follow various paths through the river valley. One of the places you can easily reach is Peter's Cave (Petera Ala), a small cave surrounded by a red sandstone cliff, about 10 minutes walk from Paradise Hill.
Sigulda is also famous for having three castles located in the immediate vicinity of the city – the Sigulda Castle, which is currently being restored, Turaida Castle (find it in the paragraph below!), and the Castle of the Livonian Order of Sigulda. Even though the latter is mostly ruins nowadays, it houses a reconstructed panoramic tower with great views over the river valley and a building with workshops of local craftspeople, which is a great place to pick up some souvenirs.
To learn more about this place, go and read our things to do in Sigulda post!
Where to Stay – Hotel Reinis
3) Turaida
I've decided to separate Turaida from Sigulda because 'technically' it's a separate municipality – in fact, you can easily visit Turaida and Sigulda on the same day.
If that is the case, though, please don't make the same mistake we did, and allow a few hours to dedicate to Turaida Castle. Not only is it beautiful, there is also a lot to see and do – and in autumn, it's truly one of the best places in Latvia!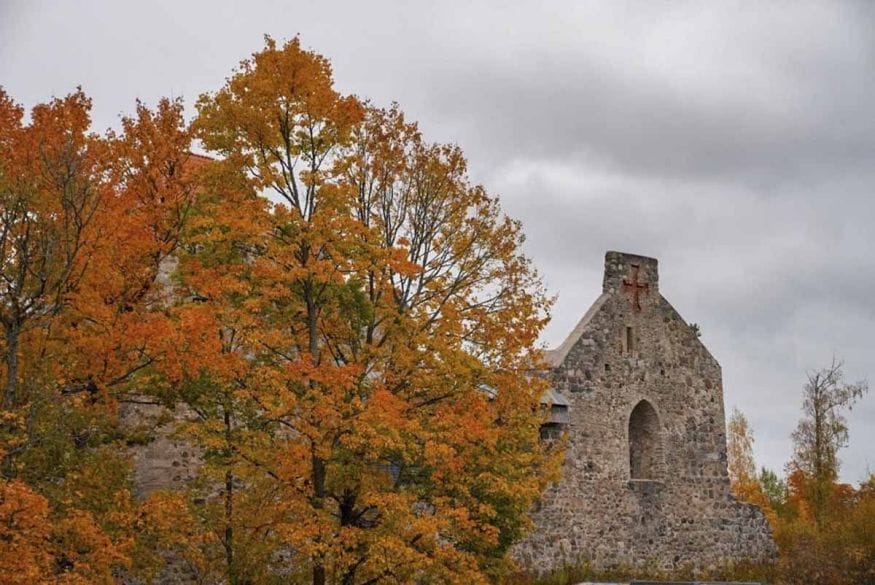 After entering the castle grounds, you are faced with a choice – turn left to visit the 'village' that developed surrounding the castle, where you can see an old sauna, a smithy workshop and many other buildings with info about life in the Turaida Castle village, or head right towards the medieval fortress itself.
We chose the second option, and made straight to the castle – the same red castle we had admired earlier in the day from Paradise Hill and the Cable Car. Much of the castle has been destroyed, but the main tower survives – and its top is a wonderful place to appreciate the magnificence of autumn in Latvia.
It's also worth allowing time to walk through the grounds, as there are many corners to discover like the Folk Song Park, with many oversized sculptures, and the Monument to the Rose of Turaida, dedicated to a beautiful maiden who was murdered in the 17th century because she refused to betray her one true love.
Are you also heading to nearby Estonia? Check our post about the best day trips from Tallinn!
4) Tērvete
Tērvete is a nature park located just an hour south of Riga. It's one of the best family destinations in Latvia – it's entirely covered by forest, with two 'fantasy villages', the Fairytale and Dwarf Forest. There are miniature houses, winding paths and even some semi-underground dwellings to explore.
At first, I was a bit unsure whether I would like Tērvete or not. I already wrote in my post about Naantali, Finland, that I feel awkward whenever I visit family attractions sans kids – and I expected to have the same feel in Tērvete. Yet, I loved the place, probably because we had the park to ourselves.
We spent the whole afternoon cycling around, trying to squeeze into miniature houses, pretending to be little elves and trying to find all the dwarves in the Dwarf forest. The fantasy wooden sculptures found all over the nature park really added a touch of magic to the place – there were oversized mushrooms, wooden animals hanging on trees, faces between the rocks, and even houses with fairies and wizards – in summer that is. In October, they stood empty.
The best place to enjoy the magic of autumn in Tērvete is the observation tower, higher than the treetops – on one side, we saw some fields, but on the other, the forests never seemed to end.
Where to Stay – Berkenes Muiza
5) Jūrmala
'I live in Riga now, but my heart is in Jūrmala' said Aleksandra, our guide for the day. 'I grew up here, and when I moved to Riga to be with my husband, I realised this town needs to be part of my life.'
Aleksandra's eyes sparkled as she spoke. Her passion for the town was contagious, and she told us how the town changed over the past decades. Jūrmala was a popular holiday resort in Soviet times, popular with high-ranking Communist – both Brezhnev and Khrushchev were regular visitors.
A couple of behemoth hotels on the seafront still bear testimony to Latvia's recent past – otherwise, this seaside town on the Gulf of Riga, just 25 km from the capital, felt like a relaxed seaside resort, deep in off-season slumber.
Many of Latvia's rich and famous, including diplomats, politicians and entrepreneurs, choose to live in Jūrmala as an antidote from busy Riga – as a result, the architecture is a curious mismatch of extravagant villas, refurbished wooden mansions, and cabins with paint peeling in the wind.
Jūrmala may indeed be just a short hop from Riga, but you'll never know – it's surrounded by nature on all sides, and the busy capital city feels like a distant dystopia. The noun 'jūrmala' actually means sea coast in Latvian – and there certainly is an abundance of coastline to enjoy, 33 km of wild, fine quartz beaches, surrounded by pines and sand dunes.
We walked across Ragakapa nature park on the edge of the town to one of the beaches, and then continued up and down the coast – on one side, we had the chilly Baltic, steel-blue wavelets lapping at the shore, and on the other, the famous Jūrmala pines, reason for the legendary 'sea air' that led to the opening of five sanatoriums in the town.
Aleksandra explained to us that nowadays it is forbidden to construct buildings taller than trees. To explain why, she took us to the Seaside Bar, on the top of hotel Hotel Jūrmala SPA, built before this regulation.
Before us, the town had disappeared, there was only an expanse of nature, with patches of pine green, golden yellow, burnt orange, and russet, extending all the way to the steely Baltic.
Where to Stay – Kurshi Hotel & SPA
6) Cena Bog
So, over half of Latvia is covered in forests, and a further 10% is made out of bogs, dating back from the ice age and deeply ingrained in the psyche of many Latvians as a place of mysteries and otherworldly presences.
Some of Latvia's bogs are set up with boardwalks for tourists to visit independently – but the vast majority are left wild, with stretches of moss-covered land giving way to swamp lakes, with dark brown, almost black water.
Visiting Latvia's swamps is another wonderful thing to do in autumn – the mosses start to change colour, heather is in bloom, there are cranberries to pick and the atmosphere is just utmost peace. There are no sounds and next to no people in sight, save for a few locals, buckets in hand, foraging for cranberries.
We highly recommend visiting a 'wild bog' like Cena, located roughly between Riga and Jurmala. A guide is essential since it's extremely difficult to find your way around, and there are no marked paths.
Plus, you'll get to wear bog shoes – which are basically just snowshoes, the most convenient way to walk on the squishy, pillowy surface of the swamp.
If you don't have time for a guided bog trip, Cena is also set up with a boardwalk, allowing access to independent day trippers and regular hikers.
7) Alūksne
Why am I saving the best for last? Alūksne was the place we both liked best during our time in Latvia, a lakeside town that almost felt like the end of the line, after driving for hours on a bumpy highway.
If you are planning to visit this town, check our Alūksne post. Meanwhile, if you want to know about autumn colours, we can recommend three places – the New Manor Park, with yellow leaves everywhere turning paths golden, the Observation Tower for a view over the lakes and forests surrounding Alūksne, and a cruise on the lake, to view everything from another perspective.
Where to Stay – Jaunsetas Guesthouse
Latvia Weather in Autumn & Best Time to Visit
Autumnscapes (is that even a word?) are literally everywhere in Latvia – do you know why? The reason why some places in the world have spectacular autumn colours, while other don't, is related to the climate – this Accuweather article explains the process in detail.
The gist is that the ideal weather for a vivid autumn display is wet in the spring, dry and sunny in the autumn, with cool nights but warm days – basically, pretty much exactly the weather we had this year.
As a result, autumn colour displays are strictly dependent on the weather, and dates may vary from year to year. We were in Latvia from October 8th to 14th, and the autumn colours were really spectacular – generally speaking, mid October is a good time to visit.
We were also lucky that our visit coincided with one of the warmest Octobers in recent time – save for a couple of days, the sun was always shining, and daytime temperatures touched 20°C. This is unusual for Latvia, where it is not uncommon to have temperatures close to 0°C as early as October, so make sure you check the weather forecast and pack accordingly!
We would like to thank Linda and Lelde from LIAA -Investment and Development Agency of Latvia for supporting our autumn trip to Golden Latvia!
Pin it for later?