Think about China cities. What comes to mind? Beijing, Shanghai, Hong Kong? In fact, pretty much the whole of China is a city. With this post, we'll share with you five things to do in Datong, the first Chinese city we visited.
What is there to do in Datong?
1) City Walls
When we first got to Datong, the town looked like a construction site. Travelling around the country, we discovered that this is true pretty much everywhere. A skyscraper here, a block of flats there; new cities are popping up like mushrooms after a rainy day. Meanwhile, the old sections of town are being pulled down to make way for glass and steel monsters, as we discussed in this post about the disappearance of Beijing's hutong.
In the flattened silhouette of Datong, the imposing city walls loomed from the four corners of the city, surrounding restored sections of the old town and (yet more) construction sites. A walk on Datong's city walls is a great way to get a bird's eye view of the city, and to survey from up high how the city is changing.
The walls themselves were rebuilt, the centrepiece of a giant city development started in 2008. Read this article for a more in-depth discussion of the matter.
2) Yungang Grottoes
Our China trip was largely based on chance; we decided to visit Datong after seeing a picture of Yungang Grottoes, with gigantic Buddhas etched out of the mountainside, some covered in beads of moisture and others surrounded by wall paintings.
Yungang Grottoes are a short distance from the town itself and can be combined in a day trip with the Hanging Temple and Heng mountains. There are 252 temples, and more than 50,000 Buddha statues, built in the 5th and 6th century, and the whole area is a UNESCO site. The visitor centre has been recently restored and now hosts a restaurant, tea shop and shadow puppet theatre. Entrance costs ¥150.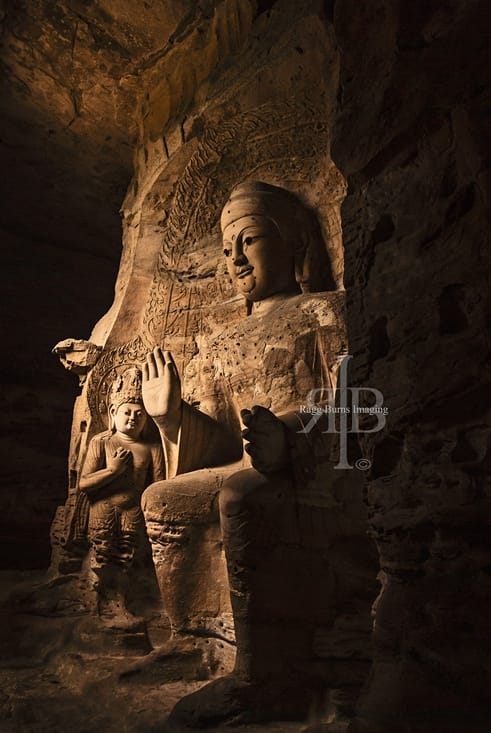 3) Hanging Temple
As we revealed in our Ten Tips for China first timers, a big chunk of your China travel budget will be spent for entrance tickets to temples, national parks and other sights. Sometimes the ticket will cost more than your meal or budget hotel room. Most of the times though, these places will be really special. The Hanging Temple is one of them. Built over 1500 years ago, the temple is a complex of 40 rooms that look precariously balanced on the rockface, but are in fact supported by wooden stilts.
It is possible to see the temple from the outside, and save the ¥130 entrance fee. Photography is forbidden inside, so we figured there was no point and didn't get in. How wrong we were. Some fellow travelers ranked this as their top China experience. Walking around allows you to appreciate the original decor (a rarity in China) and, most importantly, the unique way it was built. So, don't be mean and pay up.
4) Heng Mountain
This is a collection of dozens of hilltop temples, linked by paths. Each temple comes with (often grumpy) groundkeepers and throngs of Chinese tourists. On a nice day, the scenery is beautiful, and on a rainy day it becomes eerie and mysterious. Ditch the crowds and head for the smaller temples, where you may also find a cheerful groundkeeper.
Heng Mountain is one of the Five Great Mountains of China, destination of imperial pilgrimages for over two thousand years.
5) Hotpot
Datong is China's hotpot capital, and a hotpot dinner is a great way to round up a day's sightseeing. Hotpot (also known as steamboat) usually comes in the form of a big bowl filled with broth placed on a burner at the centre of the table. In Datong you may also find the Shanxi version, where every diner will have his or her individual bowl.
The broth, which can be spicy or not spicy, is heated to boiling point and a variety of raw ingredients are dipped and cooked by the diners. Ingredients can be more or less exotic, from beef slices to beef penis, from mushrooms to congealed pig's blood. A hotpot dinner is best enjoyed in a group, Mǎdàhā Hotpot is a good restaurant.