Is Lake Garda too crowded for you? Escape to the hills and explore Tenno, an interesting town just a quick drive from Riva del Garda. Here are 9 fun things to do in Tenno, Italy, with pictures showing how pretty it is!
Planning to visit Trentino? Find out all about things to see in Trento, the region capital!
You all know of our love for Garda Trentino, the northernmost stretch of Lake Garda, famous for its blend of Alpine and Mediterranean vibes and the many adventure activities on offer year round.
We wrote at length about Garda Trek, the three loop-shaped paths at various altitudes around the lake, about Riva del Garda and its restaurants, Nago/Torbole and its bike festival, and about nearby Arco, Italy's climbing mecca.
Yet, I haven't yet told you about one place – perhaps because it's so special, and I love it so much, that I like to keep it all to myself. Tenno is a small, unusual town just 10 minutes north of Riva del Garda, overlooking the lake in the valley below.
It is home to one of the most beautiful medieval villages in Italy, and to a sparkling lake surrounded by mountains – which has nothing to envy to the famous 'Instagram lakes' of the Dolomites. You'll find viewpoints over Lake Garda, easy hikes to follow, and restaurants offering traditional Trentino cuisine – none of that faux German-Italian blend often found down in Riva.
Before we move on to looking at things to do in Tenno, let's just have a look it. Similarly to many other mountain towns, Tenno is made up of a larger town (where you'll find the castle and many things to see in Tenno I am going to illustrate) plus three smaller 'frazioni', smaller villages separate from Tenno itself. These frazioni are called Gavazzo, Cologna, Ville del Monte, and Pranzo.
To be honest, I have never even been to Pranzo – even though I always thought it would be fun to go there for lunch, as 'pranzo' means lunch in Italian. Shame there are no restaurants, or else I would.
So, if you find yourself on Lake Garda and it's too busy for you, or simply want a change of scenery, hop on a car or bus and make your way to Tenno. Here is our selection of 9 fun things to do in Tenno, most of which you'll be able to enjoy in one day!
1) See the Castle (From the Outside)
As you approach Tenno from Riva del Garda, Tenno Castle will probably be the first sight you notice. It dates back to the 12th century, and it's set atop a cliff overlooking Lake Garda, with a squat silhouette and crenellated battlements, lending it a 'storybook' appearance.
Not much is left of the original castle building – Tenno Castle changed hands several times over the centuries, it was damaged after being sacked by French troops in the 17th century, and the last remaining medieval keep collapsed after a storm in 1920.
The castle is in private hands, and as such it cannot be visited, sadly. According to local rumours, the present owners are currently restoring the property – hopefully soon they'll also open their doors to the public.
2) Walk Around Lake Tenno
This is probably my favourite thing to do in Tenno, and my #1 reason to visit. Lake Tenno is super tiny compared to Lake Garda – it's only 2.5 square km, and you can easily walk all around it in less than one hour.
The lake is not of glacial origin, like most of Trentino's lakes – it was created by a landslide around the year 1100, that blocked the course of a stream. The lake also includes a small island – when the water level drops during the winter, the island becomes the tip of a tiny peninsula, and you can reach it on foot.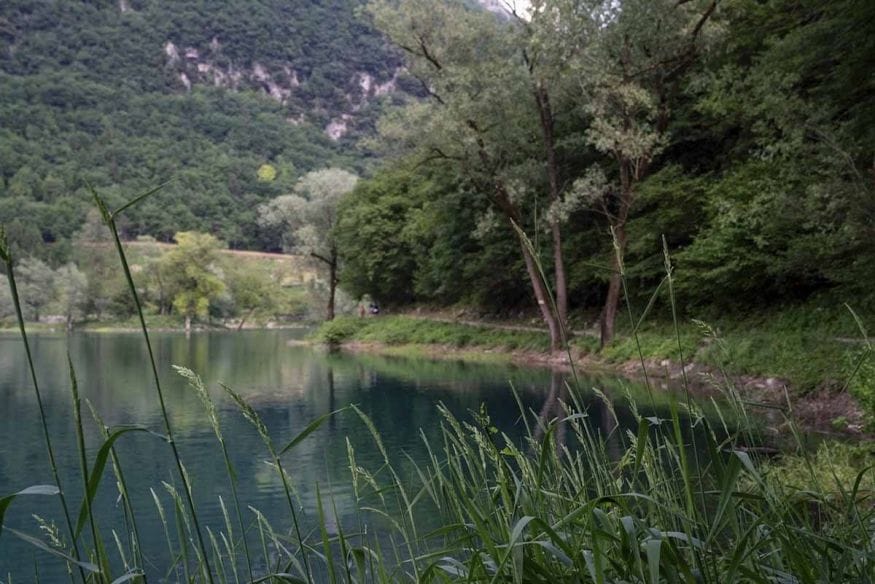 Lake Tenno is one of my favourite places in the world. Walking around it, sitting on the shore looking at the way the green of the surrounding mountains blends into the sapphire-emerald coloured waters. It's a place never fails to fill my heart with peace and joy, and I really, really recommend visiting if you can – especially in winter, when there's next to no one there.
3) Explore Medieval Canale di Tenno
Out of the three frazioni (smaller villages) of Tenno, Ville del Monte is the largest in terms of size – and to make matters even more complicated, it is also formed by four separate hamlets, one of which is Canale.
After the lake, Canale is my second favourite Tenno attraction. It's a small medieval village, still perfectly preserved, with narrow cobblestone streets and stone buildings close to one another, and the unique 'avvolti', hanging bridges that connected houses to one another.
Canale di Tenno fell into neglect throughout the first half of the 20th century, but it was 'born again' from the 1960 onwards, after it became popular with artists. Houses were renovated and decorated with frescos and wall paintings, and Medieval-inspired events are organised throughout the year – the most popular are the Christmas Markets, with local producers selling food products and handicrafts, and Rustico Medioevo in August, with dancing and folk shows taking place in the streets.
Canale and the lake are not at all far from one another, and can easily be combined in a single visit. Don't miss these real gems!
4) Rifugio San Pietro
We already told you all about this place in our GardaTrek in winter post, when we spent an unforgettable night in this mountain hut with owner Andrea, his dog Ben, cute cat Mea and other furry friends.
Rifugio San Pietro is one of the few mountain huts to be open year round in the Garda area, and it's also one of the easiest to reach – you can walk there from Canale di Tenno in just over an hour, or else you can get almost all the way up, and walk just the final 500 meters.
The hut is on Monte Calino, at approximately 1000 meters above sea level, with scenic views over Lake Garda below. It's a great base for hikes or bike rides, but part of the pleasure of visiting Rifugio San Pietro is just lying on a deck chairs looking at the lake below, enjoying the silence and the cool mountain air.
5) Grom Belvedere
Tenno is right above Lake Garda, so you'll be spoilt for lake views pretty much anywhere you go. Rifugio San Pietro is great but if you have no time to get all the way up there, fear not – there's also Grom Belvedere, a scenic viewpoint just a few steps away from the castle.
It's super easy to get there – keep walking with Tenno castle behind you for about 5 minutes, heading towards Frapporta and San Lorenzo Church, until you see a clearing with a picnic table and a comet above it.
This is the view you'll get – it's definitely one of the best things to do in Tenno!
6) San Lorenzo Church
From Grom Belvedere, tiny San Lorenzo Church is only 2 minutes away. If it's open, make sure you go in and take a look – it's a great example of Medieval Romanesque architecture, and inside you can see some examples of Gothic art and even some traces of earlier paintings dating back to the 11th century.
7) Carne Salada at Ristorante Castello
Naturally, eating is by far one of the best things to do in Tenno! The first place I am going to recommend is Ristorante Castello, located right next to the castle. This family-run place serves a set menu completely dedicated to carne salada, a local specialty of cured beef, served both carpaccio-style as a starter and grilled and served with borlotti beans as a main.
It's a must for meat lovers and a great deal, since a full menu (with wine!) will only set you off about €25. The atmosphere is friendly and welcoming, but be sure to book ahead!
8) Trentino Cuisine at Antica Croce
If you're after a truly special meal, Antica Croce should be your choice. This self-styled 'slow emotion hotel' is also right next to the castle, and has a pleasant outdoor terrace to enjoy when it's warm. Antica Croce is the kind of place where you can enjoy a long, lazy lunch, with some good wine and perfectly-made local dishes, just like we did after our dive in Lake Garda.
The menu features a tasty selection of Trentino dishes, all made with the very best local ingredients – from fresh pasta to home cured carne salada, freshwater fish and Garda truffles and mushrooms. Don't miss enjoying a meal here!
9) Organic Food at Agritur Calvola
Finally, if it's your first time in the Lake Garda region, you should also visit an agritur, farms offering meals and accommodation. My friend Valentina, who has lived in Tenno for most of her life, recommended Agritur Calvola – a sustainable organic farm growing fruit and vegetables, and producing their own oil and wine.
The menu features local dishes like rabbit and polenta, and tagliatelle con le molche – molche is the 'olive pulp' left after oil pressing, and it's absolutely delicious.
Where to Stay in Tenno
Lakeside towns like Riva del Garda and Torbole offer more options in terms of accommodation, but if you want to be away from the crowds and closer to the Tenno attractions mentioned in this article, you can opt for one of these Tenno hotels!
Our last Tenno visit took place in occasion of Traverse 2019. We would like to thank Valentina for having made our stay amazing as usual!
Pin it for later?