Do you love elephants? If the answer is yes (I mean, who doesn't?) I'm sure they'll also be in your Sri Lanka list – so, keep reading this post about our elephant safari at Kaudulla National Park!
'They're over there, beyond the river' our guide said as we started our jeep safari around Kaudulla National Park. I tried to make out the shapes of what could be Sri Lankan elephants, hidden by trees, bushes and the pouring rain. Then, finally, I saw them. There weren't one, or two, or even one single herd of elephants.
There were literally hundreds of elephants. Some were eating, others were holding bunches of grass in their trunk, thrashing it back and forth in the water as if to wash it.
Little babies peeked through their mothers' legs, while juvenile elephants sprayed each other with water, and white and pink storks stood straight right next to them like a sentinel group.
The Elephant Gathering in Sri Lanka
We were witnessing the Elephant Gathering of Sri Lanka, one of Asia's greatest wildlife shows, which has been compared to the Great Migration in the Rift Valley.
Sri Lanka is home to approximately 7000 elephants, living all over the country in 26 national parks. The Sri Lankan elephant, scientific name Elephas Maximus Maximus, is the largest subspecies of Asian elephant, as the double 'maximus' in the name reveals.
Similarly to their African cousins, elephants in Sri Lanka have been heavily hunted for their ivory, to the extent that only about 7% of elephants now have tusks – scientists have claimed that it may be an evolutionary response to increase the chance of elephant survival from the poachers' guns.
Currently, Sri Lanka is the Asian country with the largest elephant density, even though the WWF currently lists Sri Lankan elephants as 'endangered' – mainly because their habitat is dwindling, as more and more forest is being clear and development is disrupting their behaviour.
The Gathering takes place each year during the dry season in northeastern Sri Lanka, between July and November, with peak numbers in August and September.
During this time, as water levels decrease throughout the country, elephants head to places where they know they will find water – first and foremost, a reservoir built over 1700 years ago by the king in what is now Minneriya National Park.
For centuries, hundreds of elephants have gathered in these places – not just to eat the tasty grass that grows where the reservoir and river water recedes, but also to socialise and play together, spraying each other with water and splashing in the river.
Looking for more Sri Lanka wildlife inspiration? Check out our Animals in Sri Lanka and Where to Find Them post!
Kaudulla National Park or Minneriya?
The Gathering mainly takes place in two national parks – Kaudulla and Minneriya, with the latter getting the lion's share (or shall I say elephant's share?) of visitors.
Minneriya is the best known of the two parks, simply because it's closer to the 'Cultural Triangle' of north-central Sri Lanka, including frequently-visited locations like Sigiriya, Kandy and the ancient temples of Polonnaruwa and Anuradhapura.
Minneriya is also home to the famed 1700 year-old reservoir, and it also benefits from better marketing and more media exposure – when researching the Gathering before our trip I found dozens of articles about 'The Gathering at Minneriya', and next to none about 'The Gathering at Kaudulla'.
However, a Minneriya safari comes with a number of drawbacks. The park is very well known and overrun with jeeps, and there have been reports of unscrupulous jeep drivers getting too close to the elephants, even getting between mothers and babies so that tourists could get pictures.
By the way, if you want to know more about overcrowding in Sri Lankan parks, don't forget to check out this Yala National Park safari guest post by Jing!
Moreover, increased vehicle traffic has led to a disruption of the elephants' migratory route and to changes in their behaviour. Elephants are becoming exceedingly confident in relation to vehicle traffic, leading to jeeps being frequently charged – it is only a matter of time before someone (elephant or human) gets seriously injured.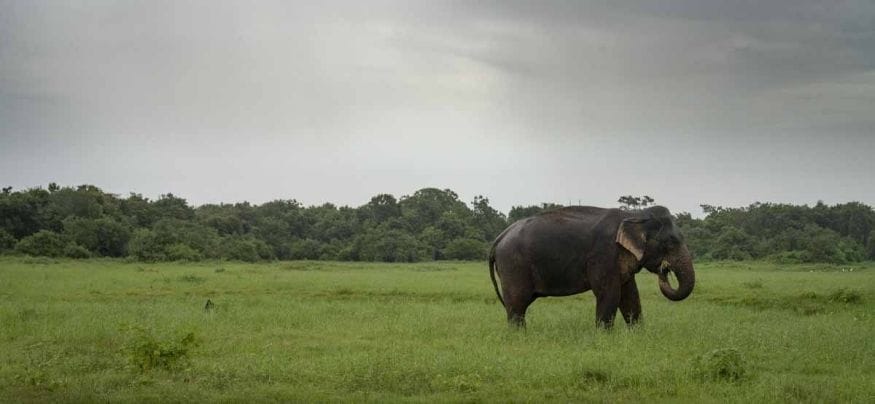 Kaudulla National Park is a wonderful alternative for responsibly-minded travellers – and generally speaking, anyone that doesn't want to end up in a national park traffic jam. It's only a further 25 km north of Minneriya, and a slightly longer drive from accommodation near Dambulla or Habarana – on the upside, if you're lucky, you'll only have another five or so jeeps to share the park with.
Kaudulla National Park Safari – Our Experience
We visited Kaudulla right at the beginning of the wet season, in early November. Rain had been a constant companion of our two weeks around Sri Lanka, and sure enough, as soon as we drove into the national park it started pouring.
There are both morning and afternoon safaris available at Kaudulla National Park, with about equal chances of spotting the elephants. Safaris take place on open jeeps with a canvas roof that can be unrolled, and each of them fits 6 people. We opted for an afternoon safari as we spent the morning visiting nearby Sigiriya and Pidurangala rock, and we reached the park around 3 pm.
Elephants are not the only animals you can see on a Kaudulla National Park safari – we also saw some storks, bee eaters and a couple of fish eagles, as well as two of Sri Lanka's endemic primate species, the toque macaque and purple-faced langur. Leopards have also been spotted, but they are not seen regularly.
Yet, it is elephants that most people come to see at Kaudulla. Even if you don't see the huge elephant numbers experienced during the Gathering, you're pretty much 100% guaranteed to spot at least one herd and a few individuals.
We were indeed lucky to see large numbers of elephants across the river, but sadly we were too far to get decent pictures. Two other jeeps tried to get across but our guide said it would be too risky due to the danger of flash floods – definitely not something I'd like to experience.
Our guide took us to other 'elephant hotspots' around Kaudulla National Park to find some more individuals that had wandered away from the big gathering. We saw a herd of about twelve, including a tiny baby, another one of about six elephants and a couple of lone young males – our guide explained that once they reach young adulthood, male elephants are forced to leave the herd and fend for themselves.
Everything considered, we loved our experience at Kaudulla National Park. It was a shame that the big elephant gathering happened too far from us to see well – but in a way, it was good not to be in the middle of it, possibly upsetting or disrupting these wonderful animals.
Kaudulla National Park Safari Price and Entry Fee
Safaris around Kaudulla National Park last about 4-5 hours including travel to and from your hotel in Sigiriya or Habarana, taking about 45 minutes each way. The price for two sharing a jeep should be about 12,000 Sri Lankan rupees (about €58), less if more people are sharing.
Entry fee to Kaudulla National Park for foreigners is 2700 Sri Lankan rupees, and it is usually included in tour prices. There is no need to reserve a Kaudulla safari in advance, you can easily book one on the day or the day before from your hotel.
Best Time to Visit Kaudulla National Park
Kaudulla National Park is a year-round destination, and as I mentioned before the likelihood of seeing elephants is always high. The dry season in northeastern Sri Lanka happens between July and November, and the top months to see the Gathering are August and September.
Where to Stay Near Kaudulla National Park
Cinnamon Lodge Habarana is my favourite hotel is Sri Lanka, and it just happens to be a short distance away from Kaudulla National Park! There are so many reasons why I love this hotel – first of all, food is delicious and they even make their own ice cream!
The grounds are expansive and filled with trees and plants, giving you the feeling of never having left the national park, and you're guaranteed to have an excellent night sleep as accommodation is in beautifully designed cottages.
If you want to enjoy nature even more, don't miss enjoying a walk around the lake bordering the property, an excellent birdwatching spot. Cinnamon Lodge Habarana is also home to Nature Trails, Cinnamon's own ecotourism operator. They organised our Kaudulla safari, and as you now know, we had a great time!
Check out our Reasons to Stay at Cinnamon Hotels post to learn why i love Cinnamon Lodge Habarana so much!
Our trip to Sri Lanka was sponsored by Cinnamon Hotels and Sri Lankan Airlines as part of TBC Asia 2018. Thanks for the great adventure!
Pin it for later?