Have you ever heard of Lethem, Guyana's adventure heart and gateway to the South Rupununi savannah? If you haven't, and you love adventure, read on – and get ready to add Lethem and Guyana to your travel list!
Just when I thought I'd seen it all, when I thought our journeys had taken us to some wild and remote places – Kyrgyzstan, Madagascar and the Faroe Islands to name just a few – Guyana surprised me again.
Welcome to Lethem, the gateway to the South Rupununi savannah, Guyana's last frontier and home to many adventures.
Introducing Lethem, Guyana's Wildest Town
Lethem is the largest town in the south of Guyana – or maybe I should say the only town?
If you pull out a map of Guyana, you'll notice that most people (about 90%, to be precise) live in the northern half of the country. Lethem is the only large town located in the southern half, right on the border with Brazil. And when I say 'large', don't expect to find a metropolis – it is only home to approximately 3000 people.
Lethem is a dusty border town, blazing hot year round. The real reason to visit Lethem is to use it as a base for an expedition to the South Rupununi savannah – a place only visited by a handful of very adventurous travellers each year, where we spent a week driving off-road, horse riding in a working cattle ranch, and enjoying the feeling of being alone in the wilderness.
Yes, the South Rupununi is WILD. To give you an idea, our guide Ian said that in fifteen years of running trips in the area, he's never once come across another group of tourists.
You'll find next to no roads, and no comforts of any kind. The area is very sparsely inhabited – outside of Lethem, the only settlements in the South Rupununi are small Amerindian villages, each of them home to 50/100 people.
Yet, when people ask me about my experience in Guyana, my mind goes back to our week around Lethem and the South Rupununi. Places like this are what makes Guyana truly special – and people who check 'Guyana' off their list after spending a few days in Georgetown, and checking out Kaieteur Falls on a day trip, truly miss out on the country's real, adventurous soul.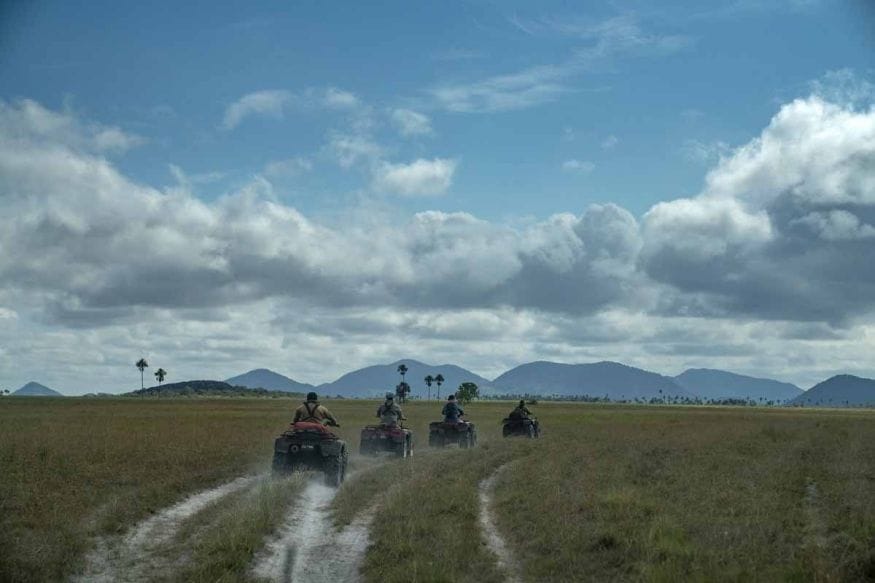 Let's have a look at what we got up to in Lethem and the South Rupununi, and why you have to visit if you love adventure!
Looking for reasons to visit Guyana? Check out our 14 reasons why Guyana is South America's best kept secret post!
Check out our Lethem & South Rupununi Road Trip Video!
Learn about Survival Techniques
You can't visit the South Rupununi independently, full stop. Doesn't matter if you are a super expert traveller and you've 'backpacked independently in XXX' (insert weird country) – getting around the savannah outside Lethem by yourself can be very dangerous. The heat is brutal, and finding your way around is almost impossible, as there are no roads or signs of any kind.
Travelling with a reputable operator is a much better idea, and we were lucky to be accompanied by Ian, a former British army officer, whose company Bushmasters focuses on extreme adventure and survival trips in Southern Guyana. Ian also runs jungle survival trips, during which participants are left for a week to fend for themselves.
Our plan included something not quite as extreme, but we still spent our first day in Lethem listening to a full briefing on what to expect. We were provided with a military issue backpack, including all the gear we would need over the upcoming week – including a machete!
Luckily, we weren't left to our own devices, or I would probably still be there! Ian and his right-hand man Lionel were with us the whole time, and helped us whenever needed – but we all appreciated that the trip was very 'hands on'.
Drive an ATV Across the Savannah – or a 4×4!
The first three days of our week around Lethem and the South Rupununi were spent driving across the savannah. This is one of those cases in which the journey is not a way to get from A to B – the journey became the destination, and the highlight of each day, as we made our way across grasslands, passed remote Amerindian villages and drove through rivers.
There are no paved roads around the South Rupununi savannah, only a few unpaved roads and savannah tracks. Regular cars are pretty much useless, so we drove 4×4 and ATV, taking turns and switching between one and the other.
Yes, that's right – we actually drove. Our part included two bush mechanics, but their job was to take care of the vehicles, as the brutal terrain took its toll on them and reparations were often needed.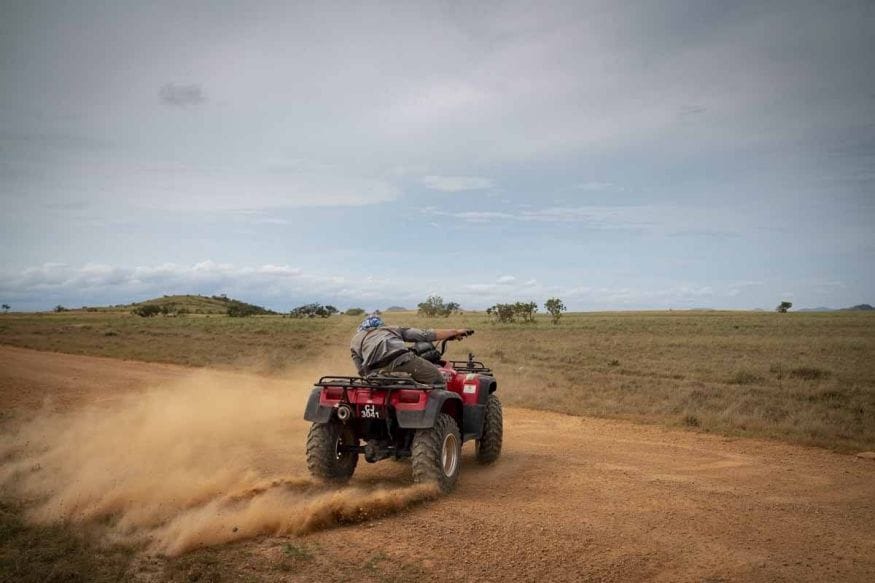 Driving around the savannah was a crazy, exhilarating experience. We zipped on ATV through dust clouds, bounced around on hummocky grasslands, smashed the poor little Land Cruiser across a creek, drove through a storm and more – only in Guyana!
Camp Under the Stars in Hammocks
The bulk of our military backpack was taken up with rations and camping equipment. There's nowhere to stay in the South Rupununi, not a single hotel outside of Lethem, so naturally camping is the way to go.
After spending the day each day driving through the savannah, we reached our camps for the night, and spent about twenty minutes or so setting up our hammocks. The machete we were given were used to clear the ground around our chosen spots, and afterwards we strung our hammocks between two trees, securing them using a half-hitch knots.
Hammocks are ideal to camp in Guyana – they are far lighter than tents, and there are plenty of trees to string them. They are also very comfortable, provided you don't lie 'like a banana' along the length of the hammock, but horizontally.
Swim in Creeks
Ok, I am sure what you are wondering now. You spent the day driving through dust and mud, and spent the night in hammocks strung in the middle of the savannah – did you even wash at all?
Well, the answer is yes. After all, Guyana means 'the land of many waters' – creeks and rivers are plentiful, even in the seemingly-dry savannah. We always set up camp close to creeks or rivers, and after setting up camp, we all jumped into the water – getting clean and refreshed at the same time, while watching fiery sunsets before millions of stars started shining just above us.
Spot Savannah Wildlife
The Rupununi is made up of both savannah and rainforest – in total, about 80% of the surface of Guyana is covered in forests. The South Rupununi is home to a great diversity of wildlife species – including iconic species like the harpy eagle, one of the world's most secretive birds of prey, as well as cats like the jaguar and puma, and unusual species like the giant otter.
Most wildlife in the Rupununi can be found in the rainforest. Spotting animals in the savannah was hard, since we were moving around in the hottest part of the day and the engines of our vehicles were very noisy.
Yet, we were lucky enough to spot an anteater, walking on its knuckles through the savannah with its bushy tail up high. It didn't seem bothered by us, and even approached Ian's ATV to check him out!
Enjoy Guyana's Best Horse Riding
After off-roading and camping for three days, we reached Saddle Mountain, a working cattle ranch in the heart of the South Rupununi, where we spent two days horse riding and experiencing ranch life.
The time at Saddle Mountain was the highlight of my Guyana trip – check out this article about Horse Riding in Guyana at Saddle Mountain Ranch to know more. Even if you're not into horse riding, you'll love Saddle Mountain – sleeping in a bed and eating tasty, freshly-cooked food after military rations seems truly amazing!
Attend the Rupununi Rodeo
If you find yourself in Guyana around Easter time, make your way down to Lethem to attend the yearly Rupununi Rodeo, a yearly celebration of vaquero culture in the dusty Rupununi plains.
Vaqueros are Guyana's very own cowboys, who still live a similar lifestyle to 150 years ago, when the first ranches were established in the Rupununi. Most vaquero are Wapishana, one of Guyana's nine Amerindian tribes, and spend their days riding their horses across the savannah, rounding up cattle living a semi-wild life in the savannah.
The rodeo includes events like barrel racing, bull riding and steer roping, and it's a great time to visit to party with locals and celebrate Rupununi culture. Our trip took place in November, so sadly we couldn't see the Rodeo – but I sure hope to attend sooner or later.
Paddle Along the Brazilian Border
On our way back into Lethem from Saddle Mountain, instead of driving our jeeps and ATV, we decided to take a more scenic (and more peaceful) kind of transport – kayaking along the Takutu River, marking the border between Guyana and Brazil.
Ian had brought along some inflatable kayaks, and after putting them together ourselves (didn't I say that this trip was hands on?), we started paddling along the river. After the adrenaline rushes on horses and ATV over the previous week, paddling felt like a peaceful, meditative experience – and the three hours went by in a breeze.
Kayaking is a great way to see wildlife in the rainforest. There's no need to worry about animals being scared away by noises, because there are no engines. Kayaks allow Ian and his groups to access the remotest backwaters – just to give you an idea, he told us that during one of his past trips, the group was attacked by giant otters!
Our kayaking trip wasn't quite as scenic from a wildlife point of view, as the Takatu is a very wide river, and we went kayaking in the middle of the day. However, it was still a wonderful time to wind down our time in the South Rupununi wilderness.
Enjoy 'City Life' Back in Lethem
If Lethem left you underwhelmed at your arrival, by the time you get back from the savannah you'll probably be looking forward to some mod cons – things like air conditioning, hot water and Wi-Fi.
The main thing to do in Lethem is using the town as a base to get out into the South Rupununi. In Lethem itself, there's no much to speak of in terms of sights and attractions. There are a couple of nice colonial houses, some interesting shop fronts, and in a few shops we saw some Brazilian wares like Havaianas flip-flops at really good prices.
You'll notice a visible 'Brazilian connection' walking around Lethem, due to the nearby border. Portuguese is widely spoken in town, Brazilian reais are accepted, and I even thought that the local accent sounded vaguely Brazilian.
In any case, it's worth taking a few hours to wander around Lethem, and enjoy its unique atmosphere – that of a dusty, rough-around-the-edges frontier town, miles away from the Caribbean flair of the coast.
Hotels in Lethem, Guyana
There are very few options for hotels in Lethem, and there's nowhere to stay in the South Rupununi, besides camping and the Saddle Mountain Lodge (both of which need to be organised through Bushmasters).
Here are the three hotels in Lethem:
Takutu Hotel – where we stayed, with comfortable rooms, aircon and good Wi-Fi. There's also a good restaurant with cold beer. What more do you need?
Rupununi Eco Hotel
Savannah Inn
Flights to Lethem, Guyana
Trans Guyana Airways has three return flights from Georgetown to Lethem and back – check their official website for info on times and luggage restrictions.
Flights depart from Eugene F. Correia International Airport, known locally as Ogle, not far from Georgetown city centre and about 45 km from Cheddi Jagan, the larger international airport where flights to and from the Caribbean and North America depart.
Ticket prices for flights to Lethem are about $150 each way. Please note that at present it is not possible to purchase Trans Guyana Airways tickets online, you'll have to ask a travel agent or buy them in person once you're already in Guyana.
For more info, check the official Guyana Tourism site!
Getting from Lethem, Guyana to Brazil
From Lethem, it's easy enough to cross into Bonfim, the Brazilian town on the other side of the border. The bridge on the Takutu river connecting the two countries is a long walk or short taxi ride from anywhere in town. Taxis are not immediately obvious, but if you ask around you should have no problem finding a ride.
Bonfim is much larger and more built up than Lethem, and it's about 120 km away from Boa Vista, the capital of the Brazilian state of Roraima, where you'll find lots of onward travel options.
I was a guest of the Guyana Tourism Authority during my visit. We would also like Caribbean Airlines for their kind assistance, and Inmarsat Global for allowing us to stay connected in Guyana!
Pin it for later?