About 8% of Sri Lanka's total land area is declared as protected national park by the country's Department of Wildlife Conservation. If you are a wildlife enthusiast, Sri Lanka is a great country to see wildlife in their natural environment. Of the 26 national parks in Sri Lanka, Yala National Park is the most visited.
Here's to why it is a popular Sri Lankan destination, how my Yala National Park Safari went and what lessons I learned taking the safari.
Guest Post by Jing Calonge of Finding Jing – give her a follow on Instagram!
Yala National Park, Sri Lanka: Why Is It Popular?
Yala National Park is the second largest national park in Sri Lanka, next to Wilpattu National Park. It is home to 44 species of mammals and a good place for spotting several bird species, as well. Among its residents are the elephants, sloth bear, wild buffalo, spotted dear, jackals, peacocks and leopards.
Yala has the highest leopard population density in the world – the chances of spotting a leopard in Yala are higher than anywhere else. For this reason, Yala National Park is a popular safari destination, but the major drawback is that it often gets crowded in the park.
Aside from animals, visitors can also admire Yala National Park's varied landscapes. Ecosystems include semi deciduous forest, grasslands, sandy beaches, marshes and wetlands, providing homes to a variety of animals. Interesting rock formations can also be seen within the park.
Looking for more Sri Lanka wildlife inspiration? Check out our 2 Weeks in Sri Lanka travel itinerary!
My Yala Safari Experience
Our Yala National Park Safari was my first ever game drive. I went with a friend and together we were joined in by a German couple in an open jeep. We booked our Yala jeep safari through our hotel in Tissamaharama.
On our way to the national park, I was excited thinking what animals we will see free roaming in their natural habitat. That was the fun part of going on a safari, you never know what animals will come out on that day and what activities you might encounter.
Personally, I wouldn't have minded not spotting the elusive leopard, as there are so many more wildlife species to see in the park.
I was expecting that we would be sitting next to a naturalist or a guide, who could provide us with information about the park and its residents. However, we were left with just the driver during the entire Yala jeep safari. Unfortunately, he did not speak English well. He did stop when he spotted animals, point to their direction, mention the name of that animal, give us some time to take photos and that's it!
Leopards in Yala National Park
The first 30 minutes or so inside the park went okay, until our driver suddenly started accelerating at a speed which I'm sure exceeded the 30 kph speed limit inside the park. Our driver was on the phone while driving, talking to another ranger reporting the spot where a leopard was currently being sighted.
We raced our way along the dirt path to the spot, his driving taking us to the edge of our seats. Aside from our safety, what concerned me was the danger of hitting an animal at that speed.
Researching on Google, I was shocked to learn that the Department of Wildlife Conservation has, in fact, a record of hit and run incidents due to reckless driving inside the park. I could not find the exact figures, but even a single hit is already unacceptable.
When we got to the spot, it was unbelievably full of jeeps queuing up for that chance to see one leopard. We stayed on the line for about 30 minutes or longer, waiting for our turn to get to the best vantage point.
When it was finally our turn, it took me a while to discern where the leopard was. I could not see it entirely, as it was partly hidden behind a large rock and under the shade of trees. The leopard wasn't moving, looking as if it was resting or sleeping.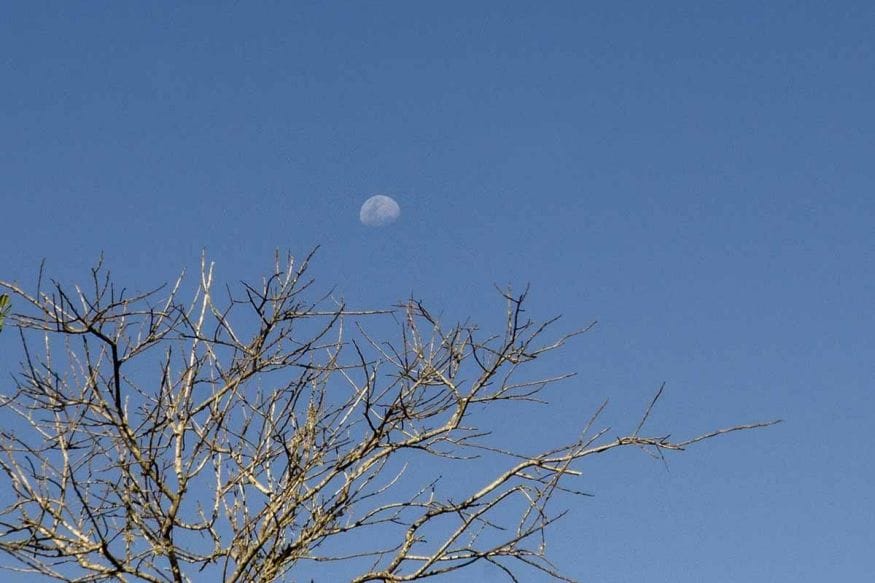 At that time, I did not attempt to take a photo of the leopard as I knew it would be useless. I don't have the appropriate zoom lens and even with one, it would still be unrecognisable.
I kind of felt lucky to have spotted an elusive leopard, but the reckless driving and overcrowding around the animal ruined the experience for me. I wasn't happy thinking I became part of a practice that contributes to a potential alteration of wildlife behaviour in the long run.
Would you like to know about another Sri Lankan national park? Here's our post about our elephant safari at Kaudulla National Park!
Stuck in the mud in during our Yala Safari
Getting out of the queue for leopard sighting, I thought things would get better. Our Yala safari jeep went on and we saw beautiful Sambar deer separated from us through a small body of water. There was only one jeep ahead of us and for the first time, it felt peaceful.
I believe we were starting our way out of the park when the unexpected happened – one of our wheels got stuck in a puddle of sandy ground. Our driver throttled up the engine hoping to get us out but this didn't work. The spinning wheels only dug the jeep deeper.
The good thing was that the driver of an oncoming safari jeep helped us out. He revved up the engine while our driver pushed the vehicle. The jeep successfully moved about 3 feet forward. We thought the wheels had escaped, only to advance later into another deeper puddle, where it got stuck again – and more of our Yala safari time was lost.
At this point, another jeep driver offered a tow strap (thankfully someone actually has some stuff available for situations like this). Our jeep was now literally dragged out of the situation.
A high density of safari jeeps in this circumstance was, after all, advantageous in that more people were available to lend a helping hand. Jokes aside, the situation made me think of the importance of buddy system, and emergency preparedness for safari jeep operators.
Visiting Yala National Park Responsibly
The influx of tourists in Yala National Park is beginning to have serious repercussions for its wildlife residents. Overcrowding has also compromised the visitors' nature experience to this state-declared protected area.
If you intend to experience wildlife safaris in Sri Lanka, the good news is that there are a lot more national parks in Sri Lanka other than Yala that are open to the public. Find out here the best places in Sri Lanka where you can find wild animals in their natural habitat.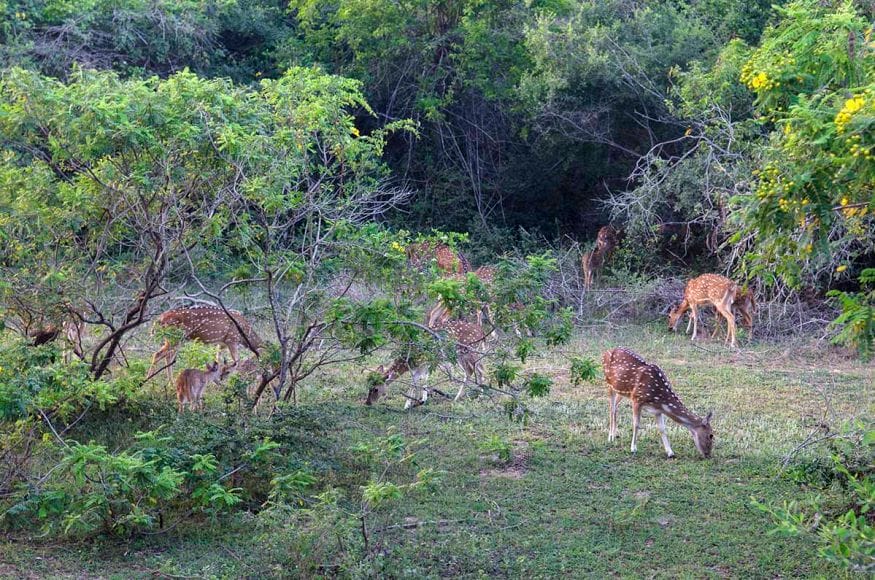 Whether you choose to go to Yala National Park or other parks in Sri Lanka, we have a role as visitors to act responsibly.
Choose a Responsible Tour Company
It's a shame that we were not able to make the best out of our Yala safari because of our poor choice of safari operator. Having this unfavourable experience, I could never stress enough the value of doing one's own research when picking a safari company.
The day after our Yala safari, we went birdwatching at Bundala National Park with Nature Odyssey. We were guided by a naturalist who introduced to us the name of the bird species we sighted, and gave us some interesting information about their natural behaviour. We drove slowly and met only two or three other jeep safaris on that day. We were also provided binoculars for better bird viewing.
In other words, our safari experience at Bundala was a lot better than our Yala jeep safari. The choice of a responsible tour operator made a whole lot of difference. We chose to visit Bundala because of their ecotourism efforts, whereas our choice to visit Yala was due to convenience. Even so, we should have done a little more research first.
Respect the Rules of the Jungle
Going on safari is like visiting someone's home. We should exercise proper conduct and respect the home owners. Below are some important reminders when visiting national parks.
Research the place you wish to explore prior to the safari. Know your "hosts" and know the rules of the park.
Do not throw anything out inside the park.
Do not feed the animals. If the food is good for humans, it is not necessarily good for animals. Feeding wildlife is prohibited as it may cause them health problems. Likewise, feeding them will cause a change in their natural feeding behaviours, could pose safety risks to both humans and animals, and could potentially aid in spreading diseases.
Keep your bags with food items tightly locked to prevent animals from potentially accessing them. Do not bring strong-smelling food. Know the park rules on eating. Eating is normally allowed only in designated areas.
Do not shout and avoid any kind of interaction with the animals. National parks are not theme parks. Avoid disturbing the animals, just observe them quietly from a distance. Show respect to wildlife.
Put your mobile phones in silent mode. Do not play any music or videos, as some animals can hear sounds even at low frequencies.
Wear light clothes with neutral colours that blend with the environment. In this way, you will prevent disturbing the animals.
Do not bring weapons, matches, lighter, drugs, cigarettes and alcohol inside the park.
Do not use flash from your camera.
Do not touch or pick anything from the park. It's an overused quote that others surprisingly still ignore. "Take nothing but pictures. Keep nothing but memories. Kill nothing but time."  
Hope for Yala National Park
Negative reviews published by visitors of Yala National Park are hard to ignore. As someone who visited the park, I had similar sentiments – I didn't like the poor behaviour of our driver, speeding and talking on the phone , the overcrowding of jeeps and the dire consequences that all these things have on animal welfare.
This all needs to be addressed immediately.
Reading through some of the local news articles is not very encouraging, as issues on Yala's wildlife conservation seems to be clouded by political interests and a conflict with jeep operators.
Sustainable tourism requires the concerted effort of the government, tour operators, tourists, locals and other relevant stakeholders. The best we can do as travellers is to minimise our negative environmental impacts by being responsible visitors.
Thanks Jing for contributing to our site!
Looking for a place to stay in Sri Lanka? Here's our post about Cinnamon Hotels and why we loved staying with them!