Wondering what to do in London in winter? This evergreen article is the result of 11 years of living in London (between the two of us) and 8 more travelling back and forth! We'll share 20 awesome things to do in and around London in December, January and February, plus practical info on winter weather in London and how to get around!
I've always loved London in winter. True, the city is amazing at all times of the year – in spring, when the first daffodils start to bloom, in summer when everyone gets out to enjoy those (rare) warm days, in autumn when London's parks and gardens turn multicoloured.
But there's no time like winter. London is one of the most amazing cities on the planet around Christmas – between Christmas lights, markets and displays in the shop windows, Christmas in London has always warmed our hearts, even though we had to spend the festivities away from our families.
Winter is also the time for ice skating, winter festivals, cozy pop-up cafes and rooftop bars.
Weather in London in Winter
Yes, but how bad is the weather in London in winter, you may be asking. To be honest, in all the years I spent in the city, I never found London winters to be harsh – on the other hand, I hated summers, since there usually were two weeks of nice weather followed by three months of rain.
Fellow immigrants coming from warmer countries usually wanted to get away – but to be honest, I loved the roaring fires, hot cups of eggnog and comfort food, and generally speaking the winter atmosphere in the city.
Before we start talking about winter weather in London, we need a quick clarification. Winter in London 'officially' lasts from December to February, but it's common to be find winter weather also in November and March.
London isn't as cold as places like Berlin or Helsinki in winter – temperatures are usually between 5 and 10 degrees during the day, dipping close to freezing at night. Rain is common in London throughout the year, but the months of February and March are usually quite dry.
Winter days in London are usually quite short. December and January are the darkest months – the sun is up from 8 am to 4 pm, and by 4.30 it's already pitch black. Days start to get longer after the Winter Solstice on December 21st – in February, the sun sets after 5 pm, and in March around 6 pm.
London in winter is often windy, but London is just beautiful on those blue sky winter days, when the wind blows all the clouds away – if you're lucky with the weather, you may also consider to go on some day trips, to Stonehenge for example!
Below you'll find a quick recap of average temperatures in London during the winter months, from November to March:
November London Temperature: high 12°C (53°F), low 7°C (44°F)
December London Temperature: high 9°C (48°F), low 5°C (41°F)
January London Temperature: high 9°C (48°F), low 4°C (39°F)
February London Temperature: high 9°C (48°F), low 5°C (41°F)
March London Temperature: high 12°C (53°F), low 7°C (44°F)
Here's our evergreen guide of what to do in London in winter – 20 fun activities to help you enjoy the city even in the coldest months, making the most of the festive atmosphere.
Things to do in London in December
1) Ice Skating
You know it's almost Christmas in London when ice-skating rinks start popping up. Every winter there are new openings all through the city, and spending an afternoon skating at an ice rink is something you simply cannot miss when visiting London in winter.
You can take your pick between rinks located near London's most famous landmarks, in parks or in the 'Winter Villages' like Winterville or Winter Wonderland.
Our favourite London ice rinks are the Somerset House, National History Museum and Tower of London ones – prices usually range between £10 and £15, and rinks normally remain open from late November until early January.
If you're afraid of catching a cold, why not head to the ice rink in Canary Wharf, the only covered rink in the city, open until late February.
2) Christmas Markets in London
The Christmas Market Mania sweeping all over the world didn't spare London! Every December, a number of Christmas Markets open in London, with an array of wooden cabins selling gifts, hot wine and street food, as well as winter-themed activities for the whole family, including ice skating.
The 'daddy' of them all is Winter Wonderland in Hyde Park, a mammoth of a Christmas Market with over 200 huts, more than 100 rides and a Santa village. It's fun, but it gets super crowded – I prefer heading to Wintertime in Southbank or Winterville in Clapham Common, which also have the added benefit of feeling less 'package' and have a little more local flair.
Other Christmas markets to visit in London are the Japanese-themed Hyper Japan Christmas market in Wapping and the Christmas Fair at the Chelsea Physic Gardens. If you're in London in December, try to visit at least one Christmas market – or even better, join this London Christmas Markets Tour with a local!
Are you planning to head to Northern Ireland? Here's our 16 Best Things to do in Belfast guide!
3) The Best Christmas Windows
Another thing I love doing in London at Christmas time is looking at the Christmas displays in the windows of the most famous department stores in town. Harrods, Selfridges, Fortnum and Mason's and Harvey Nichols (which is where Nick and I met, did you know?) usually set up stunning Christmas windows.
Definitely worth the detour, even of you're not buying anything!
Looking for the best Christmas displays? Check out these London Christmas tours!
4) Winter at Kew Gardens
Kew Gardens is another wonderful place to visit at Christmas time. You may be thinking why, since plants don't usually show their best in winter – but the clever folks at Kew Gardens decided to make up for the lack of flowers with some truly spectacular lighting displays.
Think tunnels with a million twinkling fairy lights, light displays over the greenhouses, and light and sound installations over the trees and lakes, turning the garden into a true winter wonderland.
In 2017 there was also a Christmas tree decorated with wooden sledges, and in 2018 there were huge dandelions covered in fairy lights – I wonder what future Christmases will bring?
This is simply a must visit if you're in London in December or January – just don't forget to book your Kew Garden tickets in advance as they often sell out in winter!
Things to do in London in January/February
5) Lumiere Festival
If you're visiting London around the end of January, you're in for a treat! The last two years, there's been a brand-new winter festival – Lumiere London, a series of light installations by contemporary artists all over the city.
This year, the festival took place in six locations – King's Cross, where there was a stunning water-themed installation by Dutch artist Daan Roosegaarde, nearby Fitzrovia, the West End, Mayfair, Westminster and Waterloo.
The displays are visible from about 5.30 pm until late night – don't miss them, if you happen to be visiting at the right time! Try to time your January visit to London to catch this!
6) Chinese New Year
The dates of Chinese New Year celebrations vary between late January and early/mid February, depending on the year. If you find yourself in London around the same time, don't miss visiting – London's Chinese New Year celebrations are the largest outside Asia!
The heart of celebrations is Chinatown near Soho, especially Gerrard Street, the main drag. On New Year's Day there's usually a huge street parade with drum performances, lion and dragon dances, and lots of street food stalls. If you miss New Year's Day, fear not – 15 days later the Lantern Festival takes place, and at night the streets are illuminated by hundreds of red lanterns.
You have to go if you're in London between January and February – in 2021, Chinese New Year will fall on February 12th, and in 2020 it will be on Feb 1st.
Things to do in London all Winter
7) Wildlife Photographer of the Year Exhibition
This is a true London winter tradition for us! The Wildlife Photographer of the Year exhibition is held every year at the Natural History Museum, and it's open from October to May – so theoretically, you don't have to visit in winter, but we've decided to include since we've visited this exhibition either in November or December for the last 15 years!
If you're a photography and nature lover, this exhibition is absolutely unmissable. You can even submit your own shots and hope to be featured, but competition is pretty high, with some of the best nature photographers participating every year. Our favourite London winter activity, don't miss it!
8) Visit a Pop-Up Winter Bar, Café or Restaurant
Londoners have a real knack for making the most of winter, with pop-up bars and restaurants opening up all over the city, from the riverbank to the rooftops. Every winter there are new places to choose from, so this list will never be an exhaustive one – here are some of our favourite locations from winter 2017/18, who knows, maybe they'll be around next year as well?
Coppa – bubble-shaped 'igloos' on the riverbank with views over Tower Bridge, perfect for afternoon tea (and for the wow effect, of course)
Hot Gin Roof at Ham Yard Hotel – hot gin on a Piccadilly rooftop. Need I say more?
Queen of Hoxton – every winter there's a new pop up on this Shoreditch rooftop.
The Candlelight Club – this 1920's speakeasy-themed supper club hosts candlelit events all over London year round… but the idea of a candlelit dinner is just so wintery, isn't it?
9) Tour London's Best Pubs
A pub is just a great place to be in London in winter – especially if it's not just any old Weatherspoon's, but a real, cozy pub, with comfort food and a roaring fire.
Finding a pub in London is not a problem, finding a good one is a whole different story – the pub panorama of the city is dominated by chains, and most pubs end up having a very 'fake' feel. Some of our favourite pubs in the city include the following:
The Churchill Arms near Notting Hill, famous for its flowery façade and Thai cuisine,
Historic pubs in the Docklands like the Grapes, opened over 500 years ago,
The Pride of Spitalfields, famous for its resident cat Lenny (and for the beers, of course)
Check out some of London's best pub crawls here!
10) Head to a Cat Cafe for Tea and Cuddles
Who doesn't love a cat cafe? When it's freezing outside there's nothing better than a slice of cake and a warm drink with furry friends to warm up your soul.
There are surprisingly few cat cafes in London, but luckily there's a great one – Lady Dinah's Cat Emporium in Shoreditch, named after the cat in Alice in Wonderland!
All the cats at Lady Dinah's are rescue cats, and some are periodically up for adoption. Bookings are essential – you can opt for the Entry, Cats and a Cuppa formula for £10, or choose to have high tea for £25. You're allowed to play with the cats for 90 minutes, but please don't forget to be respectful!
11) Enjoy Afternoon Tea
No, I'm not just talking about a cup of milky English breakfast with sugar – afternoon tea in London is a serious event, with restaurants, hotels and teahouses around the city serving up hot brews accompanied by trays of delicious mini-sandwiches, scones and other sweet and savoury finger food. Can you imagine a better way to warm up on a chilly London winter afternoon?
A good tea experience can be pricey, with charges for the full works usually starting around £50, but it's worth doing at least once – and it's a good idea to do so in winter, since tea o'clock is 5, when it gets dark and chilly. There are literally hundreds of places to choose from to enjoy afternoon tea in London, but here are some great options:
The Ritz – this is English tradition at its best! You need to dress up, as jeans, trainers and sportswear are not allowed, but the setting in the Palm Court is out of this world
The Gallery at Sketch – a creative tea menu in a stunning pink tea room, with a vague retro feel
Sosharu – the best pick in town for a Japanese tea experience
Sunborn Afternoon Tea – this hotel in a luxury yacht located near Canary Wharf offers afternoon tea in collaboration with Hummingbird Bakery, one of my favourite bakeries in London!
Check out some of the best London tours including afternoon tea!
12) Go on a Food Tour
If you're one of those people that think food in London is bad, I'm sorry, we can't be friends! The gastronomic scene in London is second to none, and a food tour is a great way to get to know about it, especially if it's your first time in town!
During our visit to London last winter we headed on a street food tour around Brick Lane and Shoreditch, including British classics like fish and chips and bacon butties, as well as samples like curry and bagels, reflecting the multicultural history of the area. There are also excellent food tours being held around Soho, Brixton and more, vegan tours, carnivore tours, and even a cupcake and macaron tour – something we have to try very soon!
Check out some of London's best street food tours here
13) Find the Best Street Art in London
In recent years, London has also become a great street art destination. If you're visiting London in winter, there are street art tours you can take, or you can simply make your own way to some of the best street art hotspots in town and create your own tour – places like Shoreditch, Hackney and Brick Lane all have great pieces to be found, as does Camden Town, which is a must for all Amy Winehouse fans!
London street art changes frequently, so some of the pics you see here may be gone by the time you visit – this is one of our favourites, and it can be found in Miller Street, Camden Town! This was spotted in January/February 2018 – let us know in the comments if you've found any new pieces!
Here are some of the best street art tours in London!
14) Go on a Winter Walk
Winter is a wonderful time to walk around London. The city's outdoor spaces are overrun with visitors as soon as a little bit of sun and warmth come out – walking around on a chilly, misty winter day may not sound like your idea of fun, but you'll be pretty much guaranteed there won't be many people about. The atmosphere of London in winter is always magical, even if the weather is not the greatest!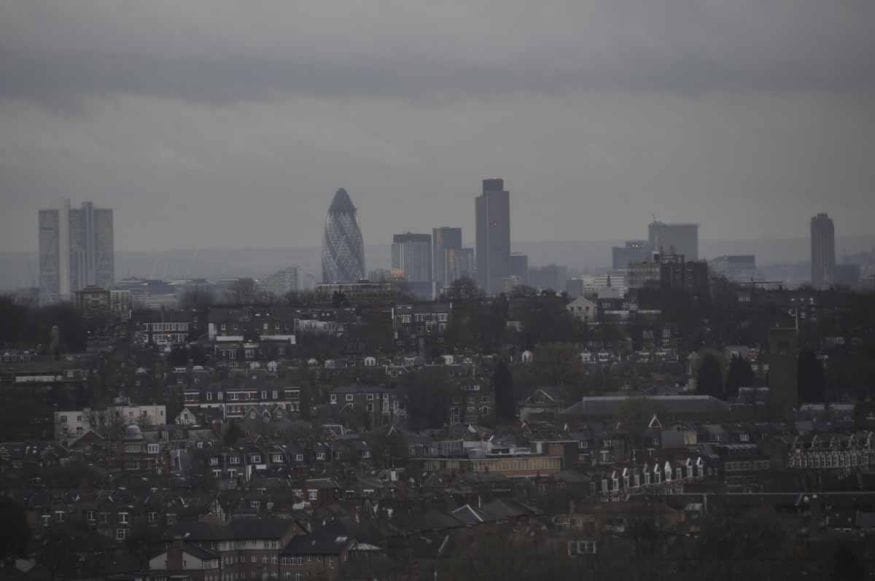 Hampstead Heath is my favourite destination for a winter walk in London – make sure you walk all the way up the hill to see London from above, and end your winter walk at Kenwood House, a villa turned art gallery, where you can enjoy a hot drink.
Other wonderful places for a winter walk in London are Regent's Canal, heading west from Camden Town all the way to Little Venice, Highgate Cemetery, London't best and final resting place for Karl Marx and many other, and Alexandra Park close to the famous 'Ally Pally', where you can get awesome London views too! Definitely one of the top things to do in London in winter!
15) Visit a Rooftop Garden
Yes, I can hear you – walking in the cold is not fun. I accept that. So, if you find yourself in London in winter looking for nature in December, January or February but don't want to deal with freezing temperatures, I have the perfect solution for you – the Sky Garden!
Sky Garden is a rooftop garden located on the top of 20 Fenchurch Street, the city skyscraper also known as the Walkie Talkie. Access to the gardens is free with prior reservation, and you'll get to enjoy amazing London views as an added bonus!
Try to book at least a week in advance if you want to be sure to visit Sky Garden – if you can't find an available slot you can always opt for plan B, and book a table at one of Sky Garden's restaurants and bars!
16) Go to a West End Show
Going to a show in London's West End is a must do year round, not just in winter! All around Piccadilly Circus and Shaftesbury Avenue you'll find the highest concentration of theatres in the city, with shows to please everyone. Just take your pick!
Musicals are probably the most popular – iconic West End shows include the Lion King at Lyceum Theatre, Wicked at Apollo Victoria Theatre, Phantom of the Opera at Her Majesty's Theatre, and Mamma Mia at Novello Theatre.
Another cool idea is going to see The Mousetrap, a murder mystery play by Agatha Christie. It was the longest running show in London, held non stop from 1952 to 2020 at St Martin's Theatre.
Shows are currently on hold due to COVID-19, but they will be resumed as soon as theatres are allowed to open again.
17) Visit a Museum – for FREE!
One of the most amazing things about London is that it has some of the world's best museums, and they are always FREE to visit!
I've spent many, many winter days visiting the Tate Modern, the British Museum and many others – this is definitely a London winter activity not to be missed, especially when it rains (and it will!)
Here are the top London museums you can visit for free!
British Museum – artefacts from all over the world, including the Rosetta Stone and Parthenon friezes
National Gallery – the premier art gallery in town, with over 2000 paintings from the Middle Ages to the 20th century
Tate Modern – contemporary art gallery in a striking post-industrial building
Tate Britain – best of British art from the 16th century to today
Royal Academy of Arts – temporary exhibitions from the archives of the Academy
Science Museum – dedicated to science with lots of hands on exhibits
Natural History Museum – exhibits from the natural world, including dinosaur skeletons and a stuffed dodo
Victoria and Albert Museum – vast collection of art and design objects, with sections dedicated to fashion, furniture, sculpture, photography, jewellery and more.
18) Enjoy Views from the Shard
Do you like viewpoints? Then you have to visit the Shard during your London winter visit!
The Shard was opened in 2012, and at 306 meters (1000 ft) it's the tallest building in London. The name 'Shard' is in reference to the shape of a building, looking like a shard of glass sticking out from the London skyline, more than double the height of surrounding buildings.
The Shard is 96 storeys high, and you can choose between different viewing platforms – an indoor one at level 68/69, perfect if you're in London in winter, and an outdoor one at level 72 – the highest observation deck in the city.
Tickets are free for children up to 4 years old, and cost £35 for adults. Make sure you book ahead!
19) Visit the Tower of London
Another amazing thing to do in London in winter is visiting the Tower of London, a must for all history buffs!
The Tower of London is a complex of 20 Medieval buildings, some of which are almost 1000 years old. The Tower was the royal residence until the 17th century, and some of the coolest things to see inside include the Bloody Tower, where prisoners used to be kept, the White Tower, the oldest part of the complex, and naturally the Crown Jewels.
We've put together a full guide about the Tower of London, including how to get tickets – perfect to skip the lines in winter!
20) Ride on the London Eye
Am I really old if I still remember when the London Eye used to be called Millennium Wheel?
Jokes aside, London's great Ferris wheel was opened in 2000, and at 135 meters (443 ft) tall, it used to be the tallest Ferris wheel in the world. Now, it's been surpassed by a few other panoramic wheels, but riding it remains one of the best things to do in London, especially in winter if it's sunny or snowing!
The London Eye is located in Westminster, and from its top you get a stunning view of Big Ben and the Houses of Parliament, Westminster Abbey, the River Thames and surrounds. Adult tickets start from £25 – worth every penny!
How to Get Around London in Winter
By Tube – the London Underground, affectionately called 'Tube', is the best way to get around London, in winter and in all the other seasons! The Tube covers most of the city, and some lines even run 24/7.
We recommend getting a pay-as-you-go Oyster card, and topping it up with about £10 for every day of your stay – the cost for your rides will be deducted automatically, until you reach the daily cap limit. Alternatively, you can also use your contactless debit or credit card.
There are only two drawbacks to using the Tube – it does get super busy during rush hour (7/9 am and 5/7 pm on weekdays), and many Tube stops only have stairs, no escalators or lifts. Try to use the Tube during non-rush hour (the fares are also cheaper that way).
If you have issues walking or climbing stairs, avoid the Tube – use taxis or Uber instead.
By Bus – buses are also a great way to get around London in winter. Naturally, they take longer than the Tube since London traffic in winter is always a nightmare, but they are also considerably cheaper, plus they reach every corner of the city, including areas the Tube doesn't go to.
You can also use your Oyster card or contactless bank card on London buses. Cash payments are also accepted – one ride is £1.50 per adult, but you must have exact change.
If you are planning to use buses or the Tube to get around London in winter, be warned that delays and closures are common, and the service may be halted altogether in case of severe weather storms.
-By Taxi/Uber: it's also possible to use taxis (cabs) or ride share services such as Uber to get around London. When talking about cabs, there are two different kinds – black cabs, the official ones you hail off the streets (very cool but very expensive) and minicabs, private hire vehicles with a driver that must be pre-booked in advance.
-On Foot: if you can, walking is a great way to get around London in winter. Even though the weather may be chilly and maybe a little rainy, the winter atmosphere should make up for it!
Pin it for later?