Thinking about visiting Stonehenge from London? Here is all you need to know about how to reach Stonehenge from London, the best Stonehenge day trips, and how to visit this mysterious historical site!
If you know the couple behind this blog, you'll know Nick and I met in London, where we lived together for several years.
There are so many reasons why we loved (and still do love) London – the multicultural atmosphere, the wide choice of restaurants and amazing food tours, multitude of things to do in winter, and last but not least, the fact that London, for a long time, was an amazing place to travel from (hello £o.o1 Ryanair flights!)
There are also many great adventures within day trip distance from London – my favourite of them all is Stonehenge, a place I dreamed of visiting ever since I was a little girl, and that surprised me every single time I visited.
Whether you're heading to London for the first or fifteenth time, we highly recommend visiting Stonehenge if you haven't been before – here's our guide to visiting Stonehenge from London, including how to get there, the best Stonehenge tours, what to do at Stonehenge and (don't reveal the secret) how to visit for free!
Would you like to discover the best hiking destination in the UK? Read our post about 11 amazing hikes in the Peak District!
Best Time to Visit Stonehenge
Stonehenge is open year round, so any time is a good time to visit Stonehenge from London! Weather is the UK is notoriously changeable and unstable, so you're just as likely to encounter clear skies (or rain!) in winter as you are in summer, so our advice is just visit whenever you can.
In winter, days will be shorter and temperature colder, so just plan and dress accordingly. In summer, the days are much longer and opening times are extended (more info in the 'Stonehenge Visitor Information' section below), but this is also when Stonehenge is at its most crowded – especially around Summer Solstice, the only time of the year when visitors are allowed to access the Stone Circle.
Best Stonehenge Tours
Stonehenge is 150 km to the west of London, and it's a great day trip destination. It can indeed be reached independently, but you'll either need to rent a car or use public transport, which can be pricey!
To give you an idea, the train + bus combo costs a minimum £50, plus £17 for the Stonehenge entrance ticket! For the same price, you can book a full day tour to Stonehenge and Bath from London, including tickets and an audioguide!
A Stonehenge tour is a more convenient alternative for those visiting Stonehenge from London, allowing you to save money and time, and to combine your visit to this ancient monument to other places like Bath, Oxford, or Windsor Castle.
Here are some of the best Stonehenge tours from London!
How to Get to Stonehenge from London
-By Bus
The cheapest way to reach Stonehenge from London is by bus with National Express from Victoria Coach Station. Tickets cost less than £20 but require one or two changes in Salisbury and/or Amesbury, meaning it can take up to 3 hours to travel each way!
-By Train
If you're set on visiting Stonehenge from London using public transport, opt for the train. You can travel from London Waterloo to Salisbury in under 1 hour and a half for about £40 return, depending how far in advance you reserve your train tickets.
Once you get to Salisbury, you'll have to change to the double-decker Stonehenge Tour Bus, departing every half an hour in summer and every hour in winter. Return tickets for the bus are £10 per person, and journey time to Stonehenge is approximately half an hour.
-By Car
Driving from London to Stonehenge takes between 2 and 2 and a half hours, depending on where in London you're staying. It's fairly straightforward – take the M3 heading west, then turn into the A303.
The downside is that you'll have to rent a car, which may be pricey, and that the A303, the road between Salisbury and Stonehenge, can be congested in summer.
Have you also considered visiting the Tower of London? Find out the best ways to get Tower of London tickets here!
Stonehenge Visitor Information
Stonehenge Opening Hours
Opening hours change throughout the year – here you are! Plan to visit as early as possible to beat the crowds.
| | |
| --- | --- |
| 30th March – 31st May | 9.30am – 7pm |
| 1st June – 31st August | 9am – 8pm |
| 1st September – 15th October | 9.30am – 7pm |
| 16th October – 29th March | 9.30am – 5pm |
Stonehenge Tickets
It's highly recommended to buy tickets online – they're timed, and there's only a limited number of tickets given out for each time slot.
If you don't book your ticket in advance, you can buy it onsite for a small extra charge. However, if you visit on a busy day, you may have to wait several hours for an available slot, and may even not be able to access at all.
You can find ticket prices below – don't forget to buy your ticket before your visit!
Adult £17.50
Child £10.50
Students or over 60s £15.80
Family ticket (2 adults and 1-3 children) £45.50
Free for National Trust and English Heritage members
Stonehenge History
It is often reported that the Stonehenge monument was completed between 2000 and 3000 BC, but there is archaeological evidence to suggest that the area surrounding the site were occupied by humans as early as 8000 BC.
However, it is not clear what the purpose of building Stonehenge was.
In 1965, British-born astronomer Gerald Hawkins first advanced the hypothesis that Stonehenge had an astrological meaning. In his book Stonehenge Decoded, he wrote that the site is aligned towards the positions of the rising and setting sun, and the moon on the horizon.
He concluded that Stonehenge was probably a megalithic astronomical observatory, with a precise calendar based on the movement of the sun and moon in the sky. Since then, the site has been considered a place of great historical and spiritual importance for many people.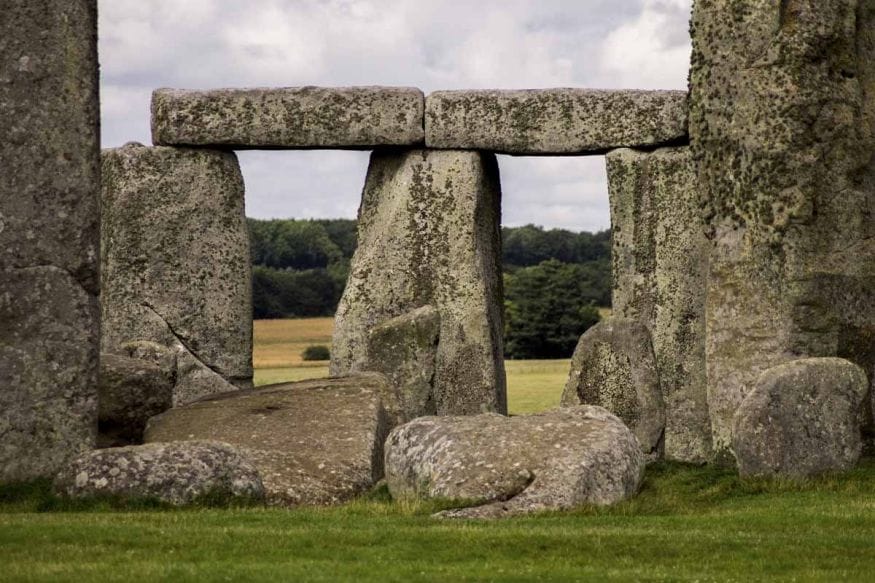 What to Do at Stonehenge
When you first reach Stonehenge, you may be disappointed – it is not possible to access the inside of the Stone Circle, you can only see it from behind barriers, and walk along a circle path that runs all around.
However, even if you're visiting on a 'regular day' and can't access the Stone Circle, Stonehenge is a truly magical place. It is impressive to think that these rocks, some weighing up to 50 tons, were transported during the Neolithic for over 40 km, from the quarry to the site.
Questions will definitely come to mind. How did people lift these rocks without modern machinery and technology? How did they calculate the specific position of the sun and moon, and align the stones so perfectly?
There's no straight answer to these questions, only theories. To find out more about Stonehenge, before or after walking around the Stone Circle, we highly recommend heading to the Visitor Centre – you'll find a fascinating exhibition with modern audiovisual experiences and ancient objects, uncovering the secrets of this magical place,
One of the highlights of our visit was the 360​​° audio-visual view, allowing you to stand in the middle of Stonehenge both in summer and winter, and see the seasons change all around you!
Inside the museum there are also over 250 objects and archaeological findings from the nearby museums of Salisbury and Wiltshire, including jewels, ceramics, tools, and even the face of a 5,500-year-old man, reconstructed with bone fragments found in the area.
Visiting Stonehenge and the visitor centre will take about three hours, so if you want to check out other sights in the vicinity to make a day trip out of it, make your way to Salisbury or Avebury!
If you're travelling by train, you'll be going through Salisbury for sure, since this is where you change to the Stonehenge Tour bus. We recommend checking out Salisbury on your way back, and maybe visit the spectacular Cathedral, one of the best examples of Gothic architecture in England.
Avebury is a little further at about 30 km away, and it's best recommended if you have a car. If you want to continue your Stonehenge day trip with a 'prehistoric' theme, Avebury is ideal – it's the largest stone circle in Europe, free to access and with 30 stones still standing, and if you want to explore more you can also hit Silbury Hill, a 40 meter artificial hill constructed in 2500 BC.
Stonehenge Special Access
As we mentioned above, it is forbidden to access the Stonehenge stone circle, except on Summer Solstice. Stonehenge has been a site of solstice-related worship for centuries – for this reason, the Stone Circle is free to access every year between the afternoon of June 2oth and the morning of June 21st, to allow people to see the perfectly-aligned solstice sunrise.
This is the only time of year when it's possible to access Stonehenge for free. Access is on a first come, first served basis, but expect to find crowds in excess of 20,000 people. The atmosphere is chilled – think incense sticks, dance circles and druids, definitely no loud music!
For more info about Stonehenge Special Access for summer solstice, check this page on the English Heritage website!
Visiting Stonehenge for Free
Summer Solstice is the only time of the year when you can actually visit Stonehenge for free, and access the Stone Circle from the inside.
Otherwise, you'll need an entrance ticket. Leaving your car at the Stonehenge car park costs £5, refunded when you buy your Stonehenge ticket – this charge was introduced to prevent people from parking real quick and heading across the road to take pictures of Stonehenge from the outside.
It sounds as if it's impossible to actually visit Stonehenge for free outside of Summer Solstice – but actually, there is a way. Or two.
The first way is to drive to Woodhenge, another prehistoric site, with over 150 posts (once wooden, now concrete) arranged in 6 prehistoric circles. Parking and access to Woodhenge is free, and it is possible to walk across the fields to the back of Stonehenge, about an hour away – Google Maps is not very precise, but if you have a GPS you can use 'Old Kings Barrow' as a waypoint.
The path will take you just a few meters back from where paid Stonehenge visitors can get to – it's actually a great way to visit Stonehenge for free, and enjoy a nice walk in the English countryside.
The second way to visit Stonehenge for free would be to sign up for English Heritage, which is really worth doing if you live in the UK or visit regularly. Annual subscription is £60, and there are also temporary passes for overseas visitors, including access to over 400 sites – besides Stonehenge there's Tintagel Castle, Lindisfarne Priory, Whitby Abbey and many villas and palaces in London.