We briefly hinted to how much we loved francesinha in our Porto Five Insider Tips. Do you want to know what it is, and why we loved it so much? 
Walking around Porto, you'll see people tucking into a funny-looking sandwich on a plate, covered in melted cheese and a strange red-orange sauce. At a first glance, it doesn't look appetising at all. It looks as if each bite would increase your chances of a heart attack by two thousand percent.
Our friend Marcelo recommended we tried one, even one to share, before leaving the city. We spent some days resisting the urge of trying a francesinha, but soon our legendary gluttony won, and we finally tucked into this crazy sandwich. We were told it is the kind of thing you only ever try once, battle through, and then never taste again.
I am kind of weird when it comes to food; I am a durian-lover, after all.
Guess what. We didn't have a francesinha. We had two.
What is francesinha? As it's the case with many dishes, its origins are a mistery. The name francesinha translates as 'little Frenchie'; it is believed that an émigré returning from France decided to adapt croque monsieur to the Portuguese taste. Other versions relate the origins back to the late 19th century, during Porto's harbour heyday.
There are several variations on the theme of Francesinha; with prawns, with mushrooms, cooked in a wood-fired oven. The bottom line remains a thick white bread sandwich, filled with a variety of meats, including ham, bacon, linguiça (thin smoked pork sausage), chouriço (spicy pork sausage), roast meat and steak.
The whole thing is covered in melted cheese in croque-monsieur style, but it is with the sauce that the magic of the francesinha really comes alive. Every francesinha establishment has their own sauce, kept under lock and key like a family heirloom. Ingredients include tomato sauce and beer. The rest? We're not sure.
Francesinha #1 A Regaleira (Rua do Bonjardim 87)
We had the first francesinha from A Regaleira, a restaurant in downtown Porto. I fell in love with this place as soon as we walked past, one sweltering evening, on our way to the river. I loved the tacky neon sign, the grumpy waiters and its faded elegance, not unlike Porto itself.
One day we skipped lunch, we were famished by seven o'clock and when we saw A Regaleira open, we thought now it's the time. We ordered two francesinhas and two beers and after one bite we were hooked. The thick slices of bread revealed a filling of roast pork, ham and crispy linguiça. And the sauce! I still dream of that sauce, rich and thick and with just the right amount of spice.
Francesinha #2 Bufete Fase (Rua da Santa Caterina 1147)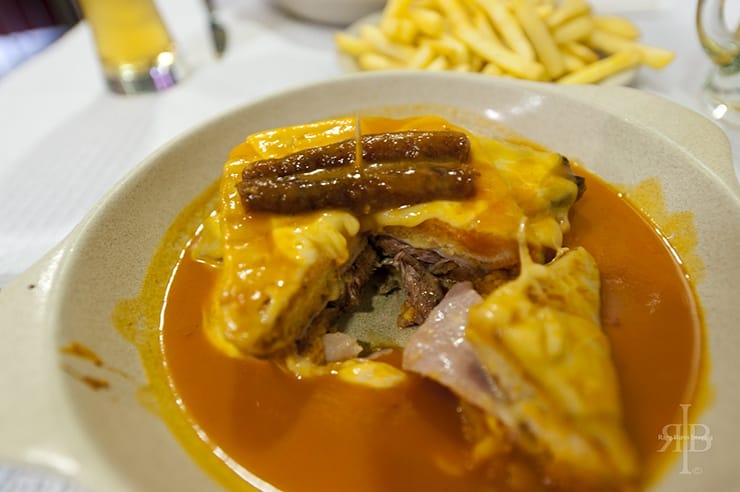 After the experience at A Regaleira, I knew that we had to have another francesinha. A Regaleira was not elegant (it may have been fifty years ago) but it still had a 'restaurant' atmosphere, so I wanted to have my second francesinha from a dingy bar, or something along those lines.
We were recommended to go to Bufete Fase, a café kind of place that specialises in francesinhas. As soon as we saw it, on the far end of Rua Santa Catarina away from the centre, we knew we got the right place. Bufete Fase is tiny, with only three tables inside, and there were a dozen people waiting outside.
They just serve francesinha, and the quality is outstanding. Inside the sandwich you'll find roast pork, ham and a steak. Yes, a steak, cooked medium rare. The whole thing was topped by a chargriled linguiça, plus the obligatory mountain of cheese and sauce. The sauce was different from the other one; more tomatoey, definitely tasted homemade, but it lacked the spicy kick that the other one had.
The Verdict? #1 for the sauce, #2 for the filling.
What's the craziest thing you've ever eaten?