Following our Simple Guide to Italian Trains, here's another guide on how to navigate the incredibly confusing world of Indian trains.
So, you've made it to India. Your first trip, congrats! You have overcome culture shock on your arrival and spent some days/weeks at your city of arrival, be it Delhi, Calcutta, Mumbai or other. Now it's time to move on. What to do? Fall for a tout's sweet talk and book an expensive car and driver? No. Follow said tout to a travel agency where you'll be charged a commission twice the price of the bus/train ticket itself? No.
Trains are the best way to travel around India, especially if you're on a budget. I mean, I might be biased as I always love trains, but I'm pretty sure most people will agree with me on that one.
Indian trains are cheap and reliable (sort of), and the railway network covers the whole country, from Kargil to Kanyakumari. Once you get the hang of it, the Indian train system is not too hard to navigate. Here is where we teach you how to do it by yourself.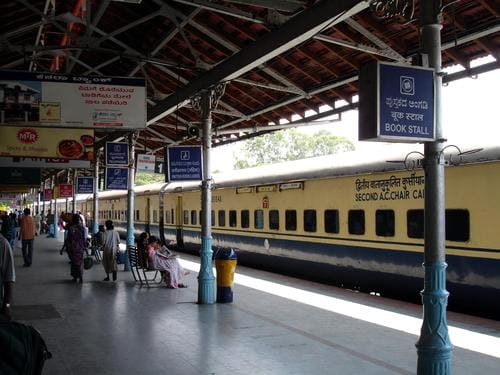 How to choose a train
There are a myriad of classes on Indian trains. Not a simple first/second like in most places. Turn up at a booking office without a clear idea of classes, and you're likely to leave with a headache and no ticket.
Here's an overview of classes. Most classes will be present on all long-distance trains; sometimes only unreserved, sleeper and AC3 are available.
1) Sleeper Class
This was our class of choice. Three tiers of sleeper bunks in an open carriage, that during the day are converted into seats, plus two tiers on the other side of the corridor, parallel to the window. For us, it was a good compromise between the local flavour of unreserved and our need for a little bit of comfort (read: you have a place to lie on, after all).
Top Tip: Choose the top bunk if you don't fancy being woken up at 7am because your bunk needs to be converted into a seat. Avoid the two-tier bunks next to the windows if you're taller average, as they are much shorter.
2) Second Class-Unreserved
The only class for which reservation is not necessary. Think your stereotypical image of an overcrowded train, with people hanging off the sides. Of course, it's the cheapest, and as a result only the poorest or those who haven't been able to secure a reservation would choose it. I've never been on one, so I can't really say much else. Feedback is really appreciated.
3) AC 3-tier
Three tier sleepers in compartments of 6, with air-conditioning. Usually about one and a half the price of sleeper class. The class of choice of most travellers with a budget that isn't rock-bottom.
4) AC 2-tier
Two tier sleepers in compartments of 4, with air-conditioning. Of course, less crowded and more comfortable.
5) AC 1-tier
Air-conditioned compartments with 2 or 4 bunks, bedding and washbasin. This is the most comfortable (and expensive!) class, your travelling companions will likely be other westerners or wealthy Indians.
6) First Class Non AC
Pretty much the same as the class above, but with no aircon, and about half the price. A great deal if you can find it, as it's not available on all trains.
How to book
Now you know what you want, how can you get your ticket? The simplest way is booking online via the IRCTC website, you just need to register and then use the Plan my Travel section. The printed reservation slip is your ticket.
But what to do if you haven't got access to the internet and/or no credit card? Head to the reservation office, which sometimes is in the station itself, sometimes just outside in a separate building. In big cities, such as Delhi and Mumbai, there's a separate office for foreigners called International Tourist Bureau.
Making your way to the office is the first challenge. Resist the offers of touts who will try leading you to their travel agencies claiming it's the 'official reservation office', or that 'all tickets are sold out' or such rubbish. Just say no and be polite, but firm.
Once you get to the office and fight your way through the crowd, grab a reservation form and fill it in with the details of the train you want. You'll need a copy of your passport too. Then, hand those rupees over and – voila – you get your ticket.
If tickets are sold out, there's a magic word to make some appear: Taktal. It's an emergency quota released 72 hours before departure, at an extra cost. We took over 20 overnight trains during the four months we spent in India, and only had to resort to taktal twice. The taktal charge for sleeper class ranges between 90 and 175 rupees.
If taktal is not available, you can try waiting list. You are asked to pay for your ticket in advance, and turn up at departure time. If a seat has become available, it's yours. Otherwise, you get a full refund. Never tried it though.
How to survive
Travelling on Indian trains is a great experience. You have the view, as the trains travel through some areas you'd be unlikely to visit by yourself. You have your travel companions, who are generally interested and sometimes even fascinated by foreigners. I travelled with hijras and snake charmers, with babas and IT geniuses.
Train travel in India is paradise for a street food junkie like me. Vendors board trains at stations, selling regional specialties. I remember a delicious peanut brittle in rural Maharashtra I was never able to find anywhere else.
And if it all gets a bit too much? That's where having the top bunk is a great choice. Climb down and swap jokes with your fellow passengers, climb back up and do what you please. Seat back, and enjoy the ride!