A post on one of our favourite delicacies, and some food for thought. Feel free to join in the debate!
There are few things in the world I love more than wurst. Usually I blame it on being of Austrian descent; I was brought up eating frankfurters and weiβwurst, and now the thought of a mustard-covered, slightly charred German sausage is enough to make me hungry pretty much anytime.
From knackwurst to kasewurst, I love them all. But when it comes to my favourite, it must be currywurst. Ever since I took the first bite at the age of 15, I've been hooked. The first thing I do when I travel to Germany is hunt down a currywurst stall and order an extra-spicy version. I love the tangy-sweet sauce, the whirring noise of the wurst-slicing machine, and how it's never spicy enough. Come rain or shine, when I start picking at sauce-covered slices on a paper tray with the usual tiny fork, that's when I feel I'm finally in Germany.
if you're not familiar with it, currywurst is a popular street snack in Germany, made of sliced sausage covered in a tomato-based sauce topped with curry powder. The origins of the dish date back to 1949, when a Berlin stallholder named Herta Heuwer obtained a ration pack containing curry powder, worcestershire sauce and tomato ketchup from American troops. She combined the ingredients and put them on sliced wurst, and the invention became a nationwide success. However, Hamburg's currywurst lovers have their own version of the story, claiming that the delicacy was invented by a local woman named Lena Brücker in 1947. Who knows? 
In any case, currywurst is street food. It was born as street food and it remained such. You may have noticed that recently street food has become really fashionable, street trucks are all the rage in London and in the US, and 'street food restaurants' are opening all over the place. Even here in Milan.
Currywurst is undergoing the same fate. It still is street food, and it's highly unlikely that it will ever disappear from the streets, but recently it's starting to be served in 'currywurst restaurants' and in swanky joints, such as the Ritz-Carlton in Moscow.
On my recent visit to Hamburg, I decided to try two different types of currywurst; one from the street, and one from a restaurant. Guess what happened?
Currywurst #1 – Express Buffet, street stall by the Rathaus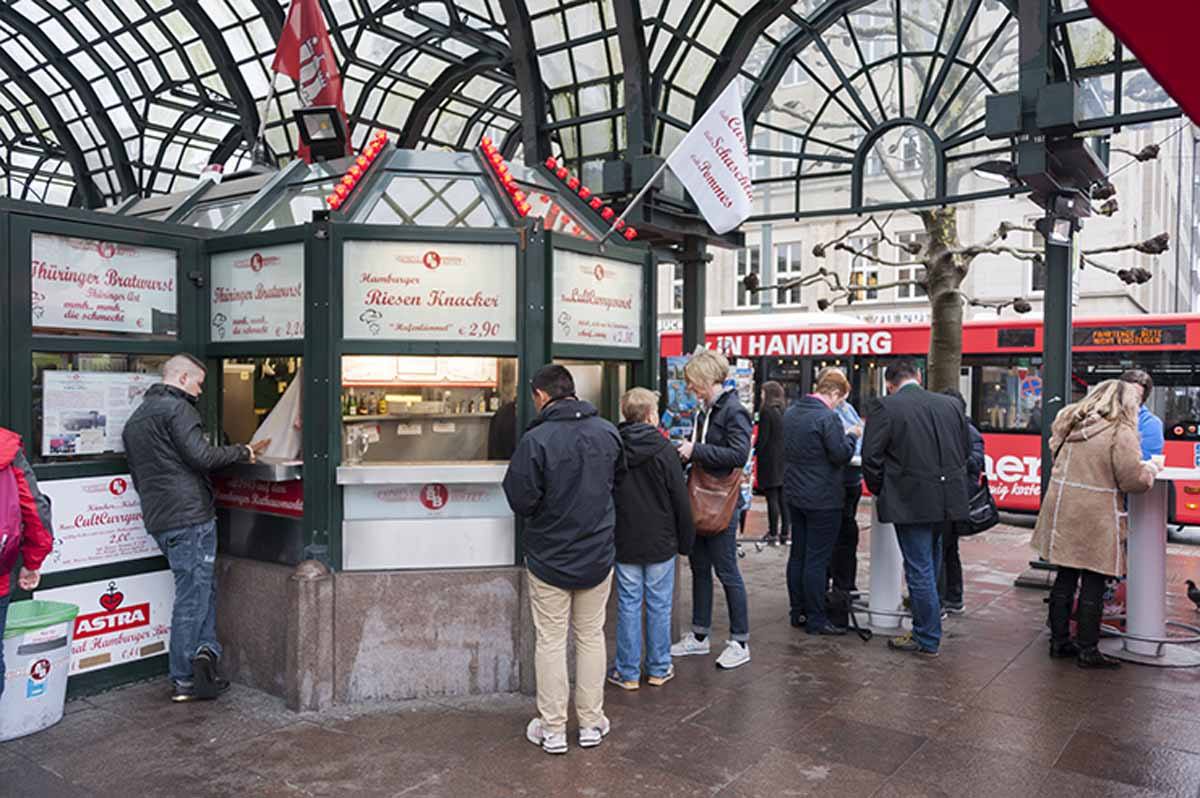 On our first day in Hamburg, it was freezing and miserable. Mist hung over the Elbe, shrouding the container cranes on the far side. Many riverside stalls were closed; we decided to head to the Rathaus, the impressive town hall, to hunt down a currywurst stall. We ran for cover under the market arcade in the Rathaus square and found exactly what I was looking for. The stall proudly served 'Kult Currywurst' since 1954. Two portions of currywurst, two of chips and two half litre beers for about 15€.
We grabbed the usual paper trays and tiny forks and started munching away. That's the currywurst I like. The sauce was dark brown, sweet and sour, sprinkled with curry powder. I asked for extra spicy, but it wasn't really. With a half-litre of Astra and chips drowned in mayonnaise, I was full and happy.
Currywurst #2 – Edelcurry, Hamburg's top currywurst restaurant
The following day we headed to Edelcurry, a recently-opened currywurst restaurant that has won praise with Hamburg locals and press. It was described as the 'posh' currywurst experience. We sat down and headed to the counter to order, but wait a second, a waitress? Table service, with plates and proper forks? Wow.
We got two different versions, classic and extra spicy. The sausage was not sliced, covered by a deep red tomatoey sauce. The wurst was perhaps better quality, but you don't actually eat currywurst for the sausage. At least, I don't. The secret is in the sauce. This version was definitely tasty, but the flavour was kind of watered down. It lacked the punch of the street version; I could barely taste the extra spice. The chips were a much smaller portion and not as greasy. It cost about 22€, but wasn't half as filling.
The verdict: #1 wins.
I revealed my opinion in the title. Street food should stay on the streets. Something is lost when it's eaten in restaurants. Strong flavours are tamed for the palate of discerning diners; it may be somebody else's cup of tea, but not mine.
I love street food for what it is: cheap, honest, no-nonsense stuff. Ingredients may be factory-made, quality not the greatest sometimes. But it's all part of the experience.
Are you interested in street food? Check our Penang in Ten Hawker Dishes post, or this post about world food in Berlin if you're heading to the German capital!