After Hamburg, for the second instalment of our brand new series we'll show you Florence through the eyes of locals.
First time in Florence? Don't miss our post on how to book Uffizi tickets!
Forget David, forget the crowds and forget the queues snaking outside the Uffizi. Forget tacky souvenir shops and overpriced pavement cafés. Five Florence residents shared with us their favourite places in this beautiful city. From gardens to hilltop churches, from a 'shot artist' to giant panini, ditch the crowds and discover another side of Florence.
1) San Miniato al Monte – recommended by Marco, a lover of good life and the time of Ancient Rome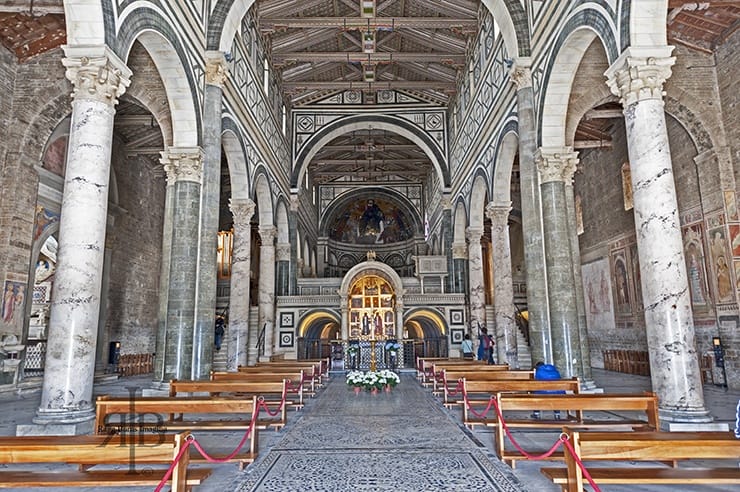 Everyone knows Piazza Michelangelo, the hanging square on a hillside that offers killer Florence views. The piazza is packed at all times of day and night, but few venture into the surrounding area, and even fewer climb all the way to San Miniato al Monte, a few minutes walk on top of the hill. The church itself is one of the most beautiful I have ever seen in Italy, a stunning example of Florentine Romanesque, with a geometric façade, frescos and mosaics in the interior. What we loved most of this place was the peace and quiet, perhaps courtesy of the adjacent Benedictine convent.
2) Giardino delle Rose – recommended by Davide, a globetrotting philosopher
If you decide to walk to Piazza Michelangelo, you'll pass a sign pointing to 'Giardino delle Rose'. When we walked into the gate of this walled garden, we couldn't believe our eyes. A sloped hillside, terraced and planted with dozens of rosebushes, in full bloom under the May sky. And beyond, Florence, its steeples and domes and the waters of the Arno. There is also a Japanese garden, donated to the city of Florence by a Kyoto Temple.
3) Eby's Bar – recommended by Carla, a Brazilian-Italian image maker, gypsy and free spirit
My dear friend Carla took us to Eby's Bar, describing Eby as 'a shot artist'. I had absolutely no idea of what she meant until we entered and saw Eby working behind the counter. Forget Jagerbombs, tequila salt and lemon and such rubbish; Eby is indeed an artist, mixing colours and layers in tiny glasses, adding fruit juices and coloured powders. Carla ordered some 'Eby', his signature shot, with coke, kahlua and god knows what else, accompanied by a platter of chopped fruit in the shape of a face.
4) All'Antico Vinaio – recommended by Isabella, a jewellery artist and graphic designer
This is no secret. The place has occupied the top position of Tripadvisor Florence restaurants for years. There's a queue outside all day long. For a reason. This place offers the biggest and tastiest panini you'll ever eat in Florence. Thick slabs of schiacciata, a focaccia-type bread, filled by order with an array of meats and cheeses. We tried finocchiona, a fennel flavoured salami, and porchetta, roasted pork with herbs. Both delicious, huge portions and a reasonable price at 5€ each.
5) Giardino di Boboli – recommended by Michele, who was Argentinian in a former life, loves River Plate and barbecues with friends
Florence is beautiful, but it can leave you overwhelmed. The crowds in Piazza del Duomo will drive you insane, along with the pushing and shoving on Ponte Vecchio and the ubiquitous 'Italian style' queues. Want to spend a day away from it all, in a place that is so artistically beautiful that it left me with a bad case of Stendhal Syndrome? Head to Giardino dei Boboli, on the far side of the Arno just behind Palazzo Pitti.
Ditch the queue in front of Palazzo Pitti and head south until you find a little side-entrance to the Giardino, with next to no-one queuing. Pack a picnic and spend the day wandering around the garden, between statues and landscaped gardens, fountains and fake grottoes. Even if you're just spending 48 hours in Florence, you can't miss it!
Bonus tip! Fancy an ice-cream? Head to Gelateria della Passera in the square of the same name just off Ponte Vecchio. This tiny gelateria churns out the best gelato in Florence, with regular flavours as well as original ones such as 'Monna Lisa' with apples and raisins and 'Crema alle spezie' with seven spices.
Boboli Gardens are very popular, so make sure you book your entrance ticket ahead of time. Find out how to book Boboli tickets here!
Do you have any more Florence tips to add to this list? Leave me a comment!