Welcome to our new USA series! Let's start with how to spend one day in Los Angeles, a perfect easy itinerary for first-time visitors!
First things first, we LOVED Los Angeles. We spent an entire week there, at the start of our road trip across California, Texas and the American Southwest.
We heard conflicting opinions about the city – people seem to either love it or hate it, and we were definitely in the first category.
Los Angeles is huge, and we recommend spending longer than one day if possible – at least two days, or three. Having said that, if you have a limited amount of time and only have one day to spend in Los Angeles before moving on to Joshua Tree or other national parks, this post is for you!
Would you like to spend more time in the city? Here is our itinerary for 2 days in Los Angeles!
Don't have time to read through? Here are some of the best LA tours for your day in the city!
LA in One Day – Planning Your Trip
Before moving on to discussing the best way to see LA in one day, let's have a look at some practical tips. LA is HUGE, so try not to plan too much – or else you'll be spending your day stressing out, or stuck in the notorious traffic.
With just one day in Los Angeles, we recommend focusing on two or three places. The itinerary we put together is based on what we like best – there's nature, great food, and some beach time.
Naturally, choices are endless in a place like LA. At the end of the post, I've included a couple of alternatives for art lovers, families, cinema aficionados, and true beach lovers.
The best way to see LA in a day is using ride sharing apps like Uber or Lyft to get around. Public transport is inexpensive but confusing, and driving yourself might end up being more expensive once you factor in fuel, parking fees and car rental.
All places included in this itinerary are all about 30 minutes drive from one another outside of peak hours (7 to 10 am, 4 to 7 pm), when it may take considerably longer.
The only exception is the Downtown LA/Santa Monica or Venice Beach segment, which may take 40/60 minutes.
Wondering where to stay in Los Angeles? Here are some of the best hotels!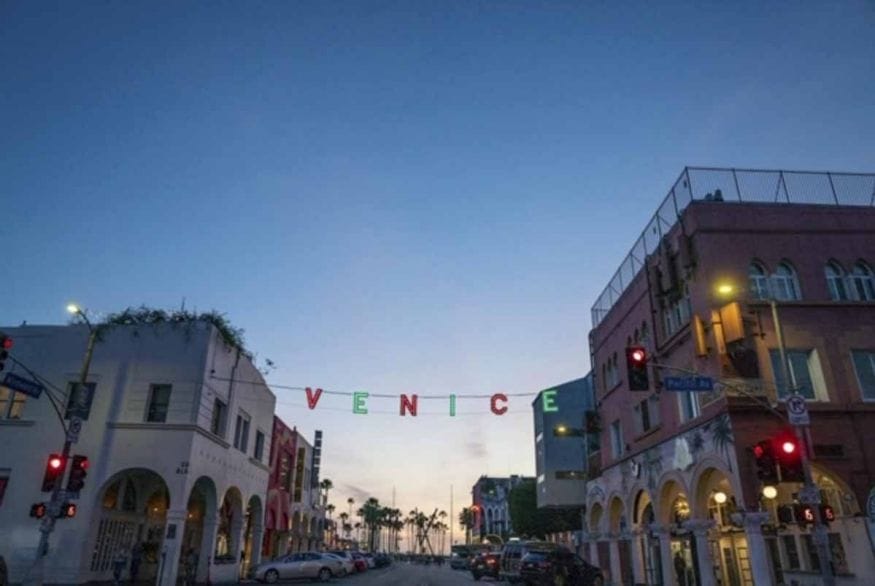 The Perfect Los Angeles in One Day Itinerary
Breakfast – 101 Coffee Shop
Get there by 8 am – Spend 1 hour
This LA in one day itinerary is really packed, so we recommend starting with a nice breakfast. Our Airbnb host recommended heading to 101 Coffee Shop, a diner in Hollywood where celebrities are often spotted – we didn't see any, but it would be a cool addition to your first time in Los Angeles experience!
101 Coffee Shop is located inside a hotel on Franklin Boulevard, and it's been a popular Hollywood eatery for decades.
The interior decor is reminiscent of a classic 1960s diner, and the menu includes a variety of diner classics, including eggs, granola and other breakfast favourites.
We recommend ordering the amazing brownie waffles – basically, waffles made with brownie batter. Yes, I know. Not a healthy breakfast, but you'll thank me later.
Morning – Griffith Observatory and the Hollywood Sign
Get there by 9 am – Spend 2/3 hours
Driving Time and Price Estimate from 101 Coffee Shop – 15 minutes, about $10
Since you're only in Los Angeles for one day, let's start with a nice hike with some killer city views. Hop on an Uber to the Griffith Observatory, an astronomic observatory located in the park of the same name, which is also free to visit.
If you are into astronomy, you can visit the observatory, look through the telescopes, attend talks and see demonstrations. But you only have one day in LA, so I would recommend heading to the roof of the observatory for the view over Downtown, and heading off on a hike.
There are many hikes available around Griffith Park, but the one I recommend takes you all the way to a true iconic LA sight, that cannot be missed on your first trip to the city – the Hollywood Sign!
If you're a fast hiker, you can hike all the way to the top of Mount Lee, from where you'll find yourself at the back of the Hollywood Sign. On this link you'll find a detailed description of the hike – the trail is all signposted and easy to follow.
The hike is 4.4 miles each way. We reached the top of Mount Lee in about 2 hours, and then took a further half an hour to walk to the Last House on Mulholland, from where you'll be able to see the sign from a different angle.
If you don't feel like hiking 2+ hours, just start walking following directions for Mount Hollywood. The sign will be visible very soon, and there's a really good viewpoint about 20 minutes down the trail. Just keep going as long as you wish, and then turn back towards the Observatory.
Lunch – Grand Central Market
Get there by 1 pm – Spend 1 hour
Driving Time and Price Estimate from Griffith Observatory – 20 minutes, $15-17
Driving Time and Price Estimate from The Last House on Mulholland – 30 minutes, $18-20
I don't know you, but after a hike, I always get hungry! With only one day in Los Angeles, my suggestion is having lunch at the Grand Central Market, offering all the best LA street food under one roof!
Now, I am by no means an LA local, and I know what some might think – but it's so touristy! There are better 'authentic' places to eat in LA!
However, since this itinerary is meant for LA first-timers, the Grand Central Market is a great introduction to the multicultural food scene in the city, and some stands are pretty darn good if you ask me!
On top of that, the best thing about eating in a place like LA's Grand Central Market is that everyone can have their own favourite food. Some of the best places to eat at in Grand Central Market include Sarita's Pupuseria for tasty Salvadorean food, Tacos Tumbras a Tomas for tacos, La Michoacana for carnitas, and the amazing Kismet for falafel.
Afternoon – Venice Beach or Santa Monica
Get there by 2.30/3 pm – Spend 3 hours
Driving Time and Price Estimate from Grand Central Market to Santa Monica – 40/50 minutes, $20-30
Driving Time and Price Estimate from Grand Central Market to Venice Beach – 40/60 minutes, $25-35
There's no way you can spend one day in Los Angeles and NOT go to the beach. Doesn't matter if you're visiting in Winter – Venice Beach and Santa Monica are amazing year round.
Since by now it's afternoon, and we're getting towards the end of your one day in LA, you'll probably have to choose between visiting Santa Monica or Venice Beach.
Or you can Uber to Santa Monica and walk to Venice Beach (or vice versa) – the distance between Santa Monica Pier and the Venice Beach Boardwalk is only 2 miles.
If you do have to choose, I would recommend opting for Santa Monica if you are travelling with children – they'll love the rides and lights of Santa Monica Pier, one of the most famous (and busiest) attractions in LA, and also the official end point for Route 66.
Venice Beach has a more alternative and hipster vibe. It's the kind of place where you see skaters, street performers, psychics and palm readers, and people selling arts and crafts on the street.
The heart of Venice Beach is the Boardwalk, the stretch of Ocean Front Walk included between Venice Boulevard and Rose Avenue. Other famous places to see in Venice are Muscle Beach, the Venice Fishing Pier (a great viewpoint for photographers) and the Venice sign at the intersection of Pacific and Windward.
If you want to escape the crowds, head to the Venice Canals – in case you were wondering where the name 'Venice' came from, now you know! The Canals are about half an hour walk away from the Boardwalk – they're full of cute viewpoints and photo spots, but don't forget that people live there, so be respectful!
Santa Monica and Venice Beach are both wonderful sunset locations – and after that, I'm sure you'll be hungry.
Dinner – Abbot Kinney Boulevard
Get there by 7 pm – Spend as long as you like!
Driving Time and Price Estimate from Grand Central Market to Santa Monica – 40/50 minutes, $20-30
Abbot Kinney Boulevard is the main street in Venice away from the beach, a one-mile stretch of cooler-than-thou shops and restaurants, popular with both locals and tourists.
There are plenty of dining options along Abbot Kinney. One of the most popular restaurants is Italian-inspired Gjelina, where snagging a reservation is near impossible. You can grab a pizza at the attached GTA (Gjelina Take Away) to eat on the beach, or opt for the brilliantly named The Butcher's Daughter (a vegetarian restaurant!) or Felix, known for its great pasta.
Whatever you choose, don't forget to end your one day in Los Angeles with a delicious ice cream from Salt and Straw. Don't worry, the line moves fast!
Other Options For A Day in Los Angeles
For Families
LA is also home to many excellent theme parks, perfect for families with children of all ages.
You'll find Disneyland in nearby Anaheim, about an hour from Los Angeles, or you can opt for the ever popular Universal Studios, home to the Wizarding World of Harry Potter, or Six Flags Magic Mountain for those into white-knuckle rides!
For Art Lovers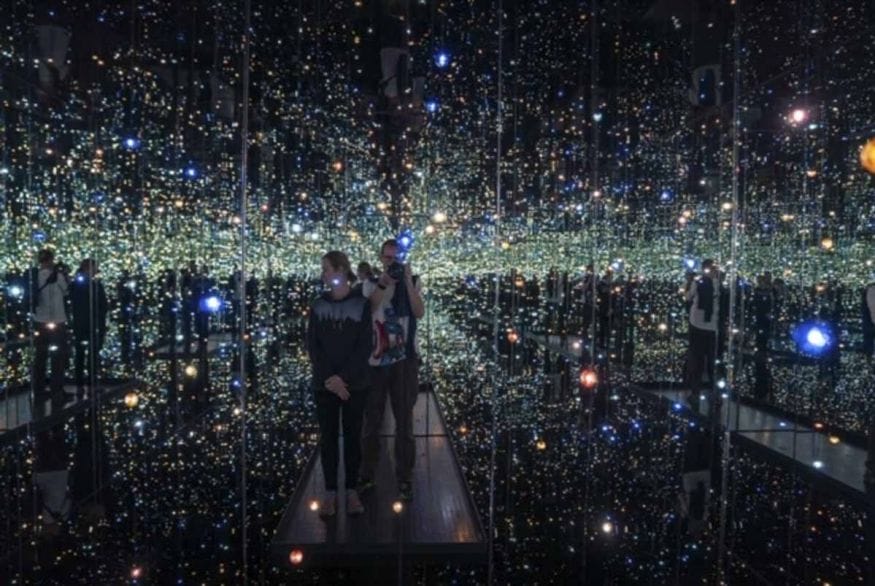 Los Angeles is also well stocked in the art museum department, especially when it comes to contemporary art.
The Getty Center is located in J. Paul Getty's hilltop villa in Brentwood – it's a bit of a drive from the locations listed in this itinerary, but it's a worthwhile addition to your one day in Los Angeles for the stunning views and great photography and art collection.
Two other options closer to downtown Los Angeles are The Broad and LACMA (Los Angeles County Museum of Arts). The Broad was opened only a few years ago to showcase the art collection of philanthropists Eli and Edythe Broad – you'll find artworks by Roy Lichtenstein, Andy Warhol, Jeff Koons and two infinity rooms by Yayoi Kusama.
The LACMA is known for its outdoor installation made with period streetlights, and for its eclectic collection ranging from pre-history to contemporary art.
For Cinema Geeks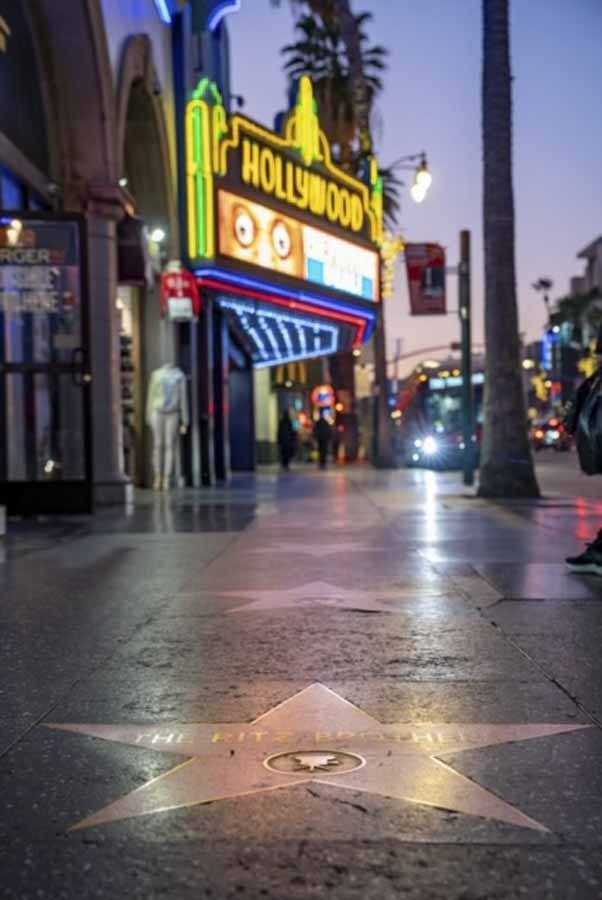 For cinema lovers, LA is truly paradise!
There are plenty of film-related sights – you can visit a working movie studio, like the Warner Bros. or Paramount Studios, take a tour to the villas and mansions of movie celebrities or catch a movie at one of the iconic cinemas on Hollywood Boulevard, like the Egyptian or Chinese Theatre.
Here are some options!LA
For Beach Bums
Love the beach? You're in the right place. It's quite easy to spend the whole day around Santa Monica and Venice Beach, walking or cycling between one and the other, checking out the two Muscle Beaches (did you know Santa Monica has one too?), or taking a surf lesson.
Los Angeles in One Day FAQ
What's the best way to get around Los Angeles?
Ride share apps are your friends. The most popular are Uber and Lyft – we mainly used Uber, and never had to wait more than 10 minutes for a ride.
To save some money, try selecting the 'Pool' option to share your trip with others!
Can I follow this itinerary if I have a layover in Los Angeles?
Absolutely. LAX is between 30 and 60 minutes from all attractions mentioned in this itinerary, but please also make sure to take traffic into account if you're planning to move about during peak times.
If you only have 4/6 hours, the best place to choose is probably Venice Beach, only 30 minutes from the airport by Uber.
What's the best time of year to visit Los Angeles?
Any time is great! Southern California is blessed with wonderful weather year round – it's almost always sunny, and even in summer the weather doesn't get too hot (between 26/30°C maximum, 20°C minimum).
Summer is the busiest season, while spring and fall are just wonderful. In winter, it can be rainy – but then again, we visited in January and had glorious weather and blue skies every single day!