Our time discovering the City of Angels continues with this itinerary for 2 days in Los Angeles! If it's your first time visiting Los Angeles, 2 days are enough time to get a good feel for the city!
Would you like to visit a great national park near LA? Check out our post on best hikes in Joshua Tree National Park!
One of the questions I kept asking myself while planning our California road trip was how long to stay in Los Angeles. The city is HUGE, hard to navigate, and traffic is truly terrible.
Similarly to New York, Los Angeles is one of those places you could spend months visiting. Yet, time is limited – but I would still recommend everyone visiting California to spend at least two days in Los Angeles, if possible.
This LA in 2 days itinerary basically expands the activities listed in our post on how to spend one day in Los Angeles. This way, you won't have to worry about jumping on an Uber every couple of hours to move to a different place in LA.
This itinerary focuses on just two areas – Hollywood and Venice Beach/Santa Monica. Two days in Los Angeles perfect for those visiting for the first time – one day spent on the beach, and one day exploring the city's most iconic neighbourhood!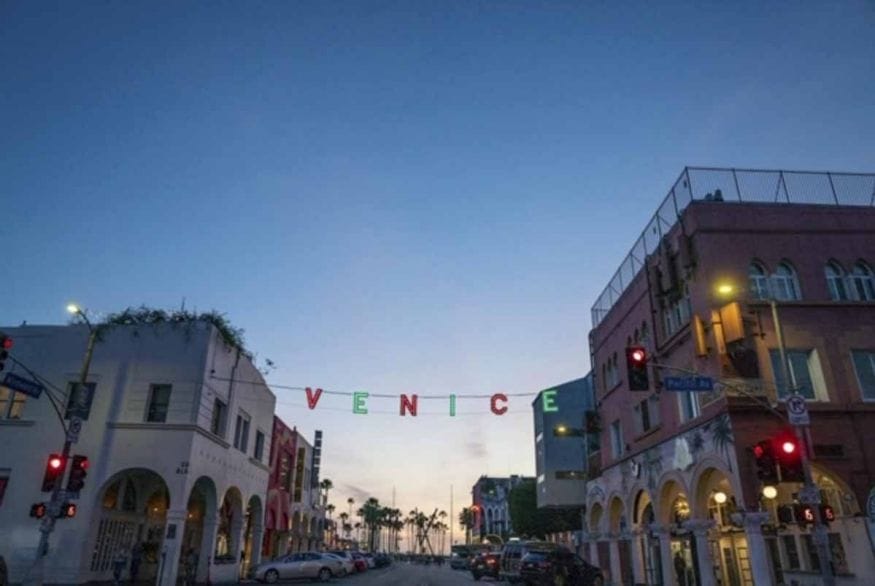 Don't have time to read through? Here are some of the best tours for your 2 days in Los Angeles!
Day 1 in Los Angeles
Morning – Griffith Observatory and Hollywood Sign
The Hollywood Sign is visible from all over the city – we even saw it from our plane as we were landing at LAX! If it's your first time visiting Los Angeles, I'm sure you'll want to have your picture taken in front of it.
Griffith Park, the park surrounding the Observatory of the same name, is a great place to get pictures of the Hollywood Sign, and it's also home to dozens of really great hikes – including one that will lead you to the back of the Hollywood Sign.
Start by taking an Uber to the Griffith Observatory, where you can spend time looking at the telescopes or even attending a talk – it's free to visit! Make sure you also climb to the Observatory roof and admire the view over the city, to get an idea of how big it was!
From the Observatory, you can hike 4.4 miles to the top of Mount Lee, from where you can see the back of the Hollywood Sign. The hike is all signposted and not too hard to follow – check this link for a detailed description.
It took us two hours to hike to Mount Lee from the Observatory, and a further half an hour to climb down the hill to the end of Mulholland Hwy, where you can easily call an Uber or keep walking past some truly stunning Hollywood mansions.
If you don't fancy hiking for two hours, there is a really nice viewpoint over the sign only 20 minutes walk from the Observatory.
Lunch – Pink's Hot Dogs
Just a quick alert – Pink's Hot Dogs is a really touristy place, and there are probably best hot dogs to be had in LA. Having said that, if it's your first time visiting Los Angeles, you have to visit!
Pink's Hot Dogs is a small stand in Hollywood serving up huge hot dogs with loads of creative toppings. Some of the specialties are inspired by the world of cinema – like the 'Lord of the Rings', with barbecue sauce and onion rings, or the Brando, with cheese and guacamole.
If you have a big appetite, don't miss the loaded chips with bacon and cheese! There's always a line, but it moves fast.
Afternoon – Hollywood
Let's continue the first of your two days in LA with a unusual place, perfect to walk off that Pink hotdog! 'Spotting Celebrities' is on the list of many people visiting LA for the first time – and at the Hollywood Forever Cemetery, you can do that!
The Hollywood Forever Cemetery is the resting place of celebs like Judy Garland, Joey and Dee Dee Ramone, Hattie McDaniel, Chris Cornell and even Toto, the sweet pup from the Wizard of Oz. It's a really lovely place to wander around, between trees, mausoleums and a small lake, away from the chaos of the city.
After spending some time at the cemetery, you can't miss the Hollywood Walk of Fame, along both sides of Hollywood Boulevard and three blocks of Vine Street.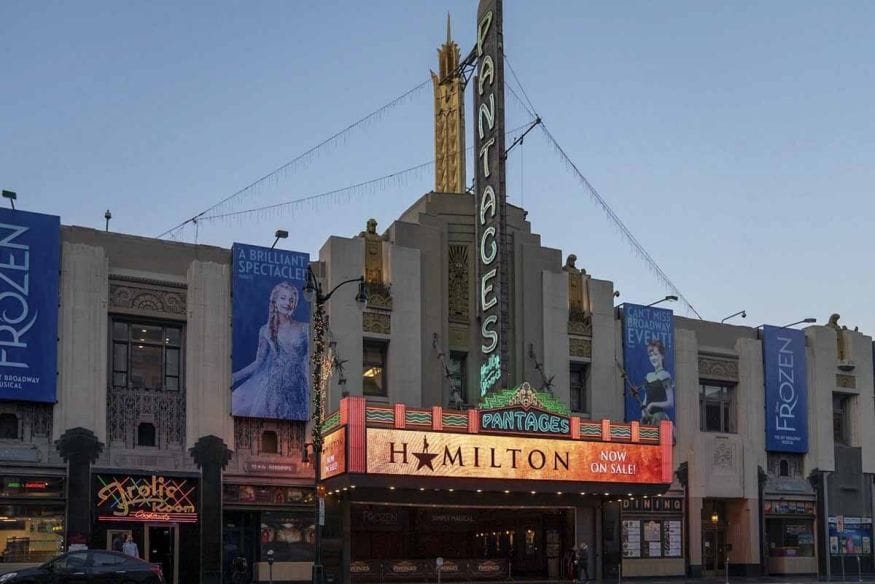 To be honest, taking pictures of stars with names on them gets old after about 5 minutes – but Hollywood Boulevard is still a fun place to see, with street performers, some grand movie theatres and lots of neon lights.
Depending on what time it is, and what time you want to have dinner, you may have enough time to squeeze one more sight in before dinner. If that's the case, you can either drive to Beverly Hills and have a walk down fancy Rodeo Drive, or go shopping on Melrose Avenue!
Dinner – El Coyote
You can't spend 2 days in Los Angeles and not have Mexican food! Since you'll be in Beverly Hills or Hollywood, El Coyote is a good option without having to drive too far.
El Coyote is one of the oldest Mexican restaurants in Los Angeles, open since 1931. The menu features the usual Mexican favourites you'll find on menus in the US – burritos, enchiladas, combination plates and the like. The interior is really cozy, with fairy lights and red booths, but it's also very busy so get there early.
Cinema lovers will also be pleased to know that El Coyote was featured in Tarantino's most recent movie Once Upon a Time in Hollywood – that (and the delicious burritos!) is reason enough to visit!
Are you also planning to visit San Diego? Here's our 2 days in San Diego itinerary!
Day 2 in Los Angeles
Morning – Venice Beach & Canals
Time to start your day 2 in Los Angeles with a nice walk on the beach! The whole dat will be spent between Venice Beach and Santa Monica – we'll go with Venice first!
If it's your first time visiting Los Angeles, you cannot miss Venice Beach. With its wide beach, palm trees piercing the sky, and motley crew of street performers, psychics, skaters and surfers, it's probably my favourite place in the city.
Start your day on the Venice Beach Boardwalk, the seaside stretch between Venice Boulevard and Rose Avenue. Go for a walk or a run along the beach, check out the souvenir shops, sign up for a surf lesson or simply wander around and enjoy the vibe – it truly is amazing!
Afterwards, it's time to check out the Venice Beach canals. Did you know why Venice Beach has its name?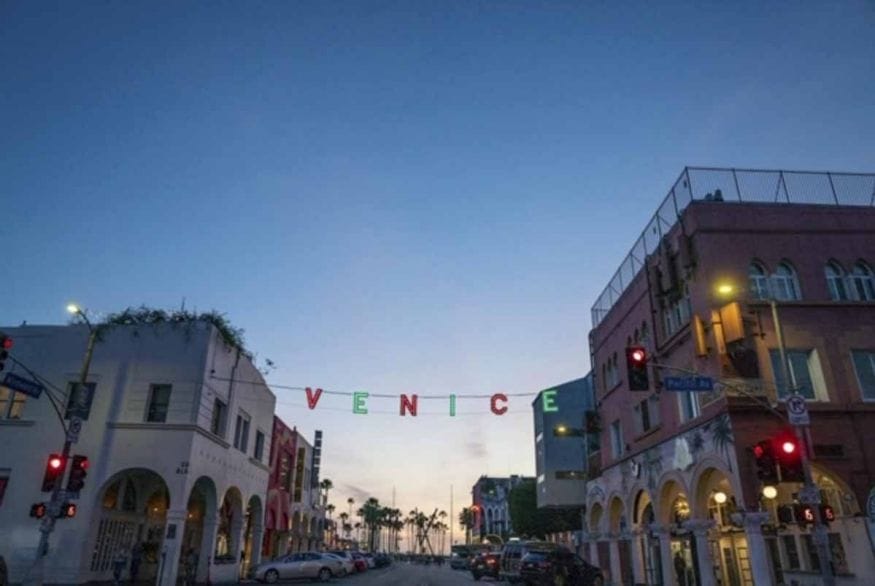 The neighbourhood was built in 1905 by developer Abbot Kinney, wanting to create the 'Venice of America'. Canals were dug to provide transportation, just like Venice in Italy. Then, with the rise in car traffic, many canals were filled in.
Nowadays, only six canals survive, a few blocks away from the beach south of Venice Boulevard – it's a really nice place for a walk, and there are plenty of photo opportunities. However, please be respectful of residents!
Lunch – Gjusta
Gjusta is about 15 minutes walk from the Venice beachfront, tucked in a nondescript warehouse-looking building. As soon as you walk in, you'll see it's super busy – mainly with locals.
Gjusta is a fantastic deli, opened by the same people behind super popular restaurant Gjelina on Abbot Kinney Boulevard. Ordering is a little confusing – you need to get a numbered ticket, listen for your number to be called out, place your order at the counter and pay, then you can find a sit and your food will be brought to you.
Queues are long, but you can order your food to go if you don't want to wait. Pretty much anything at Gjusta is delicious – I highly recommend the tuna conserva sandwich, made with tuna, sourdough bread and lots of pickles, and all the salads are also really good.
Afternoon – Santa Monica
After lunch, I recommend dedicating a couple of hours to walking from Venice to Santa Monica, taking your time to absorb the atmosphere – depending on the day, you may find people practicing acroyoga, four-wheel skaters dancing, and people working out at the famous Muscle Beach.
Compared to Venice Beach, Santa Monica is more family friendly and less 'weird'. I recommend visiting in the afternoon/evening rather than in the morning because it's a better time to check out the main attraction in the area, the Santa Monica Pier!
The Santa Monica Pier is popular point of interest you may want to check out it's your first time visiting Los Angeles. You'll find a sign marking the official end of Route 66, lots of souvenir stalls and places to buy food, and Pacific Park, an amusement park with a solar power Ferris wheel!
Spend the rest of your second day in Los Angeles going on rides at the Pier, or relaxing/cycling/walking around Santa Monica. Don't miss watching sunset on the beach!
Dinner – HiHo Cheeseburgers
One of my greatest disappointments in Los Angeles was finally trying In'n Out burgers, and being incredibly disappointed. (Soggy fries… really?)
Luckily, if you're after a burger, Santa Monica offers a few good options like HiHo Cheeseburgers, serving burgers made with 100% Wagyu beef.
If you're not a burger person, there are plenty of other dining options in Santa Monica, or you can head to Abbot Kinney Boulevard in Venice, full of cool bars and restaurants.
Would you like to have ALL these Los Angeles tips at your fingertips? Here's our Wowanders diary from LA, with even more restaurants, places to see and other recommendation!
Los Angeles in 2 Days FAQ
Can I spend 2 days in Los Angeles without a car?
Absolutely! I actually don't recommend renting your own car to travel around LA – once you take into account rental fees, parking, and fuel, it's actually cheaper to use ride share apps.
The two most used apps are Uber and Lyft, and they work exceptionally well in Los Angeles. We never had to wait more than 5 minutes for a ride and always got excellent drivers – we even got to ride in a Tesla one day!
If you'll spend your two days in Los Angeles using Uber/Lyft to get around, use the 'Pool' option to share your ride with other people and save $$$!
Where in Los Angeles should I stay?
Los Angeles is a huge city, and choosing wisely where to stay is ideal to prevent spending your 2 days in LA stuck in traffic (and all your money on Uber).
I recommend staying in Hollywood, Santa Monica/Venice or Downtown LA if possible – here are some of the best hotels in the city!
It's my first time in Los Angeles. What else should I not miss?
This itinerary covers as many LA sights as you can see in 2 days without getting stressed. If you want, you can spend the afternoon of Day 2 visiting Downtown LA rather than Santa Monica – have lunch at Grand Central Market, climb to the top of City Hall, see the Bradbury Building and go souvenir hunting (and/or ramen slurping!) in Little Tokyo!
Stay tuned for your 3 day LA itinerary for more info on what to see in Downtown LA!