Do you have just one day to explore Porto? Fear not – we have the ultimate one day in Porto itinerary, put together by a local!
This new guest post is by Marco from Travel-Boo, a Portugal travel blog. Marco is originally from South Africa but now lives in Portugal, discovering his Portuguese heritage as he explore the country.
In recent years more and visitors to Portugal have started paying close attention to the still undiscovered north. The capital of this region, Porto, certainly receives its fair share of visitors – however, the majority of Portugal visitors ofter overlook this elegant city, and instead head south to Lisbon or the golden beaches of the Algarve.
This is a big mistake in my opinion. Porto possesses a charming allure, an old-worldly feel that's uniquely different to any other city you'll find in the country.
Featuring a slew of UNESCO World Heritage Sites, gorgeous architecture, incredible gastronomy, and not to forget the warm hospitality, a visit to Portugal simply isn't complete without visiting this stunning city.
In this one day Porto itinerary, I'll outline all the top sights to see and explore along the way. Even though one day in Porto may be a push, I would certainly recommend more time here, you can still tick off all the major sights and get a feel for this beautiful city.
This guide will hopefully let you on all the Porto insider tips and secrets to help you plan your perfect visit!
How to Get to Porto
Porto is very well-connected to all the major cities of Europe. You can either fly direct, landing at Porto's International Airport, or cover those long distances from European cities to Porto via road or by train, depending on where you're travelling from.
Flying is by far the better option for those who want the ease of a shorter journey.
Getting Around in Porto
The best way to see and explore Porto is on foot, as you get to see some of the hidden spots that often get ignored. I always recommend being based in Porto's Baixa (downtown) district as it's close to all the city's main sights, meaning you can just about walk everywhere!
You can always make use of the Porto public transport and travel by bus, trolleys, metro, and trams, as per your needs and preference.
Best Time to Visit Porto
Summer is the peak time to explore Porto as the weather is comfortable, and one can also sneak in time to explore nearby beaches or even head to the beautiful Douro Valley wine country, a popular day trip from the city.
However, it can be expensive and crowded too, so make sure to confirm your bookings in advance. If you don't mind the slightly cooler weather you may want to visit between March to May, or even after the summer months from October to November to get the best travel deals.
Porto in One Day Itinerary
Downtown Porto is fairly small in size with most of its highlights located within the compact city centre. It means that you can cover most of the attractions within this Porto one-day itinerary by walking.
Ideally, you should have a couple of days to spare for Porto as just one day will only give you a slight glimpse of what the city has to offer. However, for those who have just 24 hours to spend in Porto, make the most of your time with a well-planned itinerary.
Have a Hearty Breakfast in a Padaria
Make an early start and after a quick breakfast in your hotel, or at one of the local padarias (a coffee and pastry shop) get ready for the day.
Many local Padarias offer a breakfast or lunch menu that may include soup, some form of a sandwich, as well as a freshly squeezed orange juice along with an espresso. A great way to kickstart your day.
Confeitaria Serrana located just across the street from the Sao Bento train station is a great option in the heart of the city. Be sure to indulge in their range of delicious sweets and pastries whilst there! Padaria Ribeiro in downtown Baixa is another top-rated Padaria worth trying out!
Porto in One Day – Before Lunch
After a hearty breakfast, start your day and cover the following attractions before lunch.
Stop 1 – The Clerigos Tower
Climb the Clerigos Tower, one of the most iconic and visible landmarks towering out above the city. This tall granite tower dates back to the 18th-century and is about 75 meters in height.
Learn about the history of the tower and climb the 240 steps to reach the top of the tower to get a birds-eye-view of Porto. While the entry to the Clerigos church is free, you need to pay €3 to climb the Clerigos tower.
Insider Tip: If you love organ music, you may want to swap your itinerary around in order to get to the Clerigos church by 12:00 where they host a daily free organ concert.
Avenida dos Aliados, the next site, is just a short few steps away.
Stop 2 – Avenida dos Aliados
Head towards the magnificent avenue that dominates the city centre, Avenida dos Aliados. The tree-lined street boasts some of the finest examples of Portuguese architecture that may oddly remind you of other great cities such as Madrid, and there are many shopping boutiques and eclectic eateries that line the avenue.
Top Tip: As you walk from Aliados Avenue towards your next stop, the Porto Cathedral, make sure to stop by the beautiful Porto São Bento train station. This transport hub connecting many nearby cities is a worthy attraction in its own right.
Thousands of visitors pass by here to view the gorgeous blue and white tiled interiors of the station lobby. Definitely worth a visit!
Stop 3 – The Porto Cathedral – (Sé do Porto)
Porto Cathedral is the main religious building of the city, dating back to the 12th-century. However, you'll find many other incredible churches in Porto, often adorned with traditional blue and white Portuguese tiles.
The cathedral looks more like a fortress because of its towers, and typical of Romanesque architecture. The entrance will cost around €3.
Next, you can head for Palácio da Bolsa, which is only a short 7 minutes walk away.
Stop 4 – Palácio da Bolsa
The grand 19th-century edifice of Palácio da Bolsa one of the most impressive historical buildings of the city.
Admire the richly decorated halls of this impressive building that once used to house the stock exchange (hence its name as the Stock Exchange Palace). At the end of your guided tour, you'll be shown the most elaborate and stunning room of all, the Arabian room, the palace's star attraction.
The entrance will cost you €10 per adult and visits are only possible by guided tour which last for 30 minutes. These are scheduled ahead of time according to language, so try to book your ticket slot in advance to visit this must-see site in Porto.
Head for the Church of Sao Francisco, located only 2 minutes down from the palace.
Stop 5 – Church of Sao Francisco
What makes the Church of Sao Francisco unique is the blend of different architectural styles with elements of Baroque. The foremost Gothic monument of Porto boasts of special religious artefacts and ornaments and is worth stopping by at. The entrance will cost you €7.50.
Now that you have spent the first half of the day exploring the historical buildings of the city, it is time for lunch.
Lunchtime
After a morning of sightseeing, you no doubt would have worked up quite the appetite. Now is the perfect time to try out Porto's emblematic dish for lunchtime, the indulgent yet delicious Francesinha.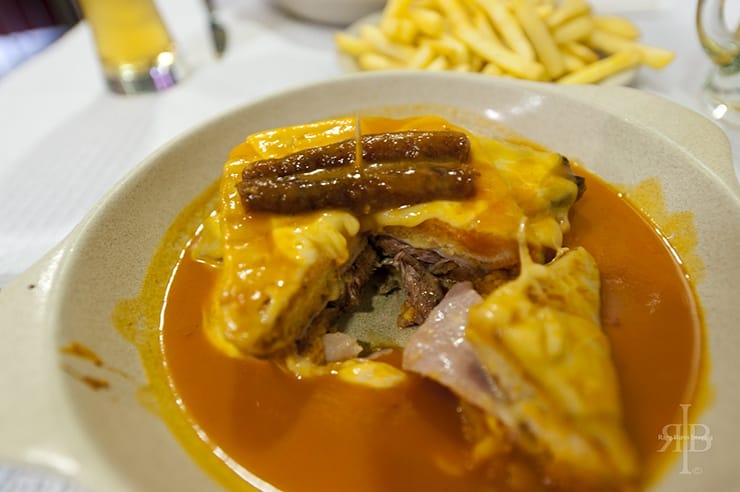 This sandwich is prepared with Portuguese pork sausage, and meats including, ham, and steak topped off with a fried egg and smothered with cheese. A beer and tomato sauce, as well as a side of friends, round out this carb-loaded delicacy. Wash it down with a beer or any other traditional Portuguese drinks for that matter.
To savour the Francesinha, head to restaurants such as Café Restaurante O Afonso, Bufete Fase, or Café Santiago, who are all known to make the best Francesinhas in all of Porto.
Porto in One Day – After Lunch
Stop 6 – Explore Ribeira
After a hearty lunch, make your way to the most vivid and touristy locale in the city, the Ribeira. If you're walking along from downtown Baixa, you'll be headed down the steep zigzagging streets and alleyways eventually leading into the Ribeira waterfront promenade that's set on the banks of the Douro river.
The area is abuzz with restaurants, bars, colourful buildings, and gorgeous views out over to the Gaia riverfront across the river.
Tip: The Ribeira area is especially magical at night when the lights across the river reflect off the Douro and the area comes alive with entertainment and nightlife!
Stop 7 – Dom Luís I Bridge
From the Ribeira waterfront, you cannot miss the iconic Dom Luís I Bridge, which is a popular tourist destination in and by itself. You can either cross the bridge from the lower or upper section of the Bridge, both ways offering incredible views of the city.
The Bridge separates Vila Nova de Gaia from the Ribeira district and dates back to the 19th century. Cross the bridge on the lower deck and walk along the Ribeira waterfront where you'll get to enjoy panoramic views out over Porto.
This area is also renowned for the number of Port Houses located here. Why not consider booking a Port wine tasting tour and houses such as Ferreira, Grahams, Porto Cruz, or Caves Cálem.
A bottle of Port Wine is also the perfect souvenir from Portugal. Buy a bottle or two, or three, to take back home to remember your time in Portugal.
Stop 8 – Morro Garden
Depending on the time of year and how long you've spent sightseeing, don't miss the sunset from the Morro Garden. From the end of the Ribeira waterfront, catch the cable car ride up toward the top of the Dom Luis I Bridge, where you will find the Morro Garden.
The Morro Garden is located very close to the upper section of the Dom Luís I Bridge and is especially popular due to the uninterrupted views it offers back out over Porto. It is a great spot to enjoy a glorious sunset over the city.
Take a bottle of wine and make the most of this romantic setting as you end off your day in stunning Porto!
Dinner and Drinks in Porto
Once your day of sightseeing is done, it doesn't imply that you're done exploring Porto. You'll no doubt have worked up quite the appetite. So, what better way to round out your day in Porto than to enjoy a meal or drinks in the city.
For dinner, why not try out some tasty Portuguese tapas called 'Petiscos' in Portugal at Tapas Na Boca which is the funky Rua de Candido Reis. Do make sure to book in advance as this restaurant is very popular and often fully booked. This particular street is also lined with a number of great bars if you're in the mood for a drink or two ahead of dinner.
If you want to really splurge out and treat yourself to a true Portuguese fine dining experience then head across the river to the swanky Yeatman hotel and dine in style at the hotel's restaurant which has earned itself 2 Michelin stars under the helm of Portuguese chef, Ricardo Costa.
Of course, last but not least, the Ribeira waterfront is also abuzz at night with vibrant restaurants and bars and offering spectacular views out over the river. Try out the top-rated Restaurante Terra Nova for some delicious Portuguese fare whilst admiring the gorgeous views!