Planning to visit Italy this summer and wondering what month is best? Here we'll tell you everything you need to know about Italy in June – weather info, where to go, and festivals not to miss!
Italy is made for summer. Dreams of sun-soaked long lunches, lazy naps on the beach, sunset walks to discover the landmarks in Rome or Venice followed by an aperitivo – all this is so much better in summer compared to all other seasons, right?
June in Italy is prime-time holiday season, the time when locals start descending en masse on the country's beaches and holiday resorts. Schools close by the first week of June, and from that time onwards, all tourist destinations start filling up with holidaymakers from Italy and abroad.
So, if you are visiting Italy in June or any other summer month, expect it to be busy. On the other hand, you'll be rewarded with great weather (most of the times), plenty of sunlight, and a wonderful atmosphere as the summer season kicks off.
This sounds like a great bargain, right? If you want to know the whole truth, Italy in June is not always busy – you just need to know where to go!
Here are 7 wonderful places to visit in Italy in June, plus weather info to make the most of your time in the country!
Weather in June in Italy
June and July are the warmest months in Italy pretty much anywhere, from north to south. Average daytime temperatures hover between 25 and 30°C, but it is not uncommon to have heatwaves pushing the mercury beyond 35 or even 40°C.
Generally speaking, the heat is more bearable on the coast compared to the interior, and gets worse in large cities – places like Milan, Rome and Florence are really hot and humid, and sightseeing starts becoming difficult.
Expect milder temperatures on the coast, especially during the night time – make sure you pack a sweater, as temperatures sometimes dip around 15°C at night.
June is a great month for Italian beach holidays – even though early in the month it may still be a bit chilly to swim, but definitely warm enough to sit and enjoy the beach.
In the latter part of the month, the summer season in the mountains also kicks off. If you are planning to go hiking and stay overnight at mountain huts, don't forget that most open for the season on June 20th – not before.
June and July are also the months with the most sunlight. Around summer solstice (June 21st) the sun doesn't set until 9 pm, making for long, wonderful days on the beach, hiking or sightseeing. It's a great time to visit!
Where to Go in June in Italy
1) Valle d'Aosta
Let's start with Italy's smallest region, an Alpine paradise packed to the brim during skiing season and in summer – but still blissfully quiet in the first half of June.
Many people from Milan and Turin own holiday homes in Valle d'Aosta, and move to the region after the school year is over (normally around June 10th). Tourist numbers rise considerably in July and August, before decreasing again in September.
Valle d'Aosta is a great place to visit for anything mountain-related, from hiking to rock-climbing and mountaineering. Gressoney is a wonderful place to choose as a base, a stunning mountain village surrounded by lakes and valleys.
Other great places to visit are Valtournenche, Valsavarenche and Val d'Ayas, all offering hiking opportunities.
Valle d'Aosta is also home to Monte Bianco, Italy's half of Mont Blanc, the highest peak in the Alps. Summer climbing season starts on June 20th, when mountain huts and cable cars open. But be warned, the ascent from the Italian side is much harder compared to France!
Book your Valle d'Aosta tours here!
2) Lake Como
Welcome to the best known of Italy's great lakes! Lake Como is super easy to get to, just an hour by train from Milan – making it a popular weekend destination.
The larger towns like Como and Lecco are packed on Saturdays and Sundays in June, but guess what – there's a lot more to discover around the lake. Everybody knows Bellagio, which is indeed very pretty, but villages like Varenna, Abbadia Lariana and Menaggio hardly ever get busy.
To really get away from the crowds and enjoy the lake at its best, head to the northern tip of the lake – few tourists make it to places like Dervio, Gravedona and Sorico.
Also, don't forget there are wonderful bike rides and hikes surrounding the lake. A great place to look for trailheads is Brunate, a village just above Como, easy to access by funicular railway.
Book your Lake Como tours here!
3) Verona
The birthplace of Romeo and Juliet is one of Italy's most popular tourist destinations, as it also happens to be a really beautiful city!
Spring is the perfect time to visit, so why am I recommending you to head to Verona in June? Because it's also the opening time for the summer opera season. Performances are held in the Arena, a Roman-built theatre in the heart of the city, and one of the most stunning venues in the whole country.
However, Verona is also worth a visit in June if you are not into opera. The city is pleasant to visit, with a compact historic centre bisected by the river Adige. Verona is also within day-trip distance from Lake Garda and Mantua, both featured in our Italy in May article – which are also great to visit in June!
Book your Verona tours here!
4) Orvieto
Orvieto is one of Italy's best kept secrets, a scenic hilltop town in the Umbria region, perfect to visit in June before the tourist season is in really full swing.
There are many reasons to visit Orvieto – the spectacular Duomo with its painted façade and creepy chapel with frescoes of monsters and demons, the wonderful 'Orvieto Underground' tour taking you through caves under the city, and the perfectly cylindrical (and mega creepy) Pozzo di San Patrizio, making you feel as if you were descending to the netherworld.
The countryside surrounding Orvieto is also beautiful, with rolling hills, vineyards and oak forests. It's a great place to stay in an agriturismo, like Locanda dell'Olmo, run by the family of my friend Anna Laura. Sunday is pizza night – make sure you don't miss it!
Book your Orvieto tours here!
5) Castelluccio di Norcia
I've already told you about Umbria, but this month I'd like to recommend Castelluccio di Norcia, a remote village in the Sibillini Mountains.
In June, the fields surrounding the village bloom in a kaleidoscope of colours, with bright red poppies, white and pink lentil flowers, dandelions and many more. It's hard to pinpoint the exact time when flowers are at their best, since conditions change yearly depending on the climate.
The Festival della Fioritura (Flower Festival) falls on the third Sunday in June, but Castelluccio is really, really packed. We recommend visiting midweek if possible – and if you can, also plan to do some hiking in the Sibillini!
6) Florence
Florence is indeed busy in June – and all throughout this series, I'm trying to recommend places to visit when they're not at their busiest.
So, why Florence in June? It's the best time to see games of Calcio Fiorentino, a game popular in Renaissance times, believed to be the forefather of modern football and rugby.
Calcio Fiorentino is played on a sand-covered field, normally set up opposite Santa Croce church. The aim is to get the ball into the opposite team's net – however, there are not 11 but a whopping 27 players per side! It's a fun game to watch, making for wonderful photo opportunities, and finals and semifinals time are a really festive time to be in the city.
If you do decide to visit Florence in June, make sure you also book your Duomo and Uffizi tickets in advance to skip the lines!
Book amazing Tuscany day trips from Florence here!
7) Calabria
June also kicks off beach season in Italy, and from the middle of June onwards, most beaches in Northern and Central Italy are packed with holidaying Italians.
In Southern Italy, it's easier to find secluded (yet stunning) beaches. The region of Calabria has plenty to choose from – Grotticelle, Caminia and Riaci are just three examples. Better still, you'll find very few international tourists, offering you a great immersion into Italian culture.
Do you prefer mountains? The interior of Calabria houses the Aspromonte and Sila massifs, with hiking opportunities rivalling the Alps – with barely a soul to be seen.
June Events and Festivals in Italy
Republic Day
June 2nd is Republic Day, the most recent public holiday in Italy, commemorating the 1946 referendum when Italy became a Republic.
On this day, a military parade takes place in Rome, attracting visitors and authorities. Most Italians also take the opportunity to leave for a long weekend, so expect beaches and other holiday destinations to be extra crowded – and plan accordingly.
Festival dei Due Mondi
Are you an opera lover? We've already mentioned that June marks the start of the lyrical season at the Arena in Verona, but tickets are likely to be expensive.
Another option is visiting the Festival dei Due Mondi (Festival of the Two Worlds) in the Umbrian town of Spoleto, taking place every year between the end of June and the beginning of July.
Besides opera, you can also enjoy music concerts, plus theatre, dance, and other kinds of performances. Spoleto is a really lovely place to visit, and come festival time it becomes vibrant with visitors from all over the world. It's also the ideal base to discover more of Umbria!
Infiorata del Corpus Domini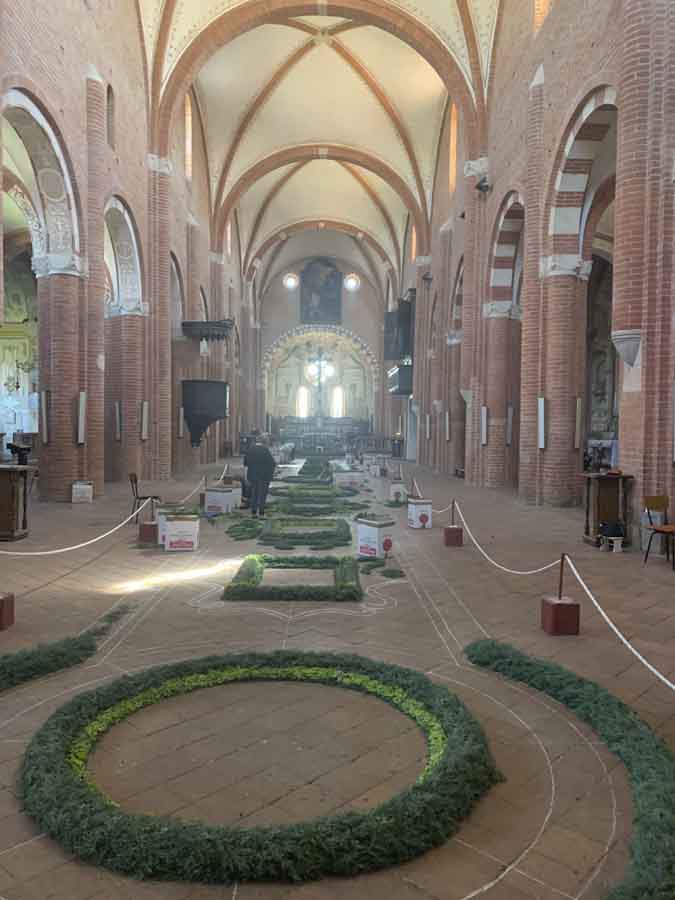 Corpus Domini is a religious solemnity, taking place two Sundays after Easter – which means that it normally falls in June.
Various towns in Italy celebrate Corpus Domini with infiorate, laying out flowers in intricate patterns on staircases, city squares, cathedral naves or other similar places.
It really does make for cool sights – some of the best places for infiorate are Diano Marina (Liguria), Spello (Umbria), Chiaravalle della Colomba (Emilia-Romagna), and Genzano di Roma (close to the capital).
San Giovanni
Every Italian city has a local festival on the day of their patron saint, featuring religious parades and other traditions.
San Giovanni (Saint John) is the patron saint of several Italian cities, including Florence, Genova, Turin, Modena and more, and his festival falling on June 24th is also a public holiday in all these cities.
Celebrations vary depending on where you are – for instance, in Turin it's customary to light fires, and in Emilia-Romagna to eat ravioli filled with herbs. There's also generally a religious parade, market stalls, and sometimes fireworks.
Looking for more month-by-month Italy guides? There you are!