Who else misses road tripping? We certainly do! For all those lucky people in the US right now, here is a selection of the best 3-days road trips from Los Angeles!
One of the best things about Los Angeles is that it is so easy to take road trips from the city. So, you could spend as little as two days exploring the city, then hit the road for the adventure of a lifetime!
California is packed with National Parks, beaches, deserts, cities, and quaint towns all within a few hours drive.
You could soak up the California sun at the beach, sip wine in a vineyard, get your adrenaline going on a mountain adventure, or escape to a little town for some peace. The options are endless!
While there are many ways to road trip around California, a really cool option is to rent an RV or campervan in Los Angeles. There are plenty of campgrounds throughout California to park an RV at or car camp.
If camping isn't your thing, enjoy a stay at a luxury resort or charming hotel. With so many options, the next question is, where should you visit first?
1) Joshua Tree National Park
Drive about 2.5 hours east of Los Angeles and you will arrive in the unique desert landscape of Joshua Tree, where the Mojave and Colorado deserts meet. Famous for Joshua trees, giant boulders, rugged mountains, and numerous species of cacti, this road trip is a great long weekend getaway.
There are plenty of hikes in Joshua Tree for any skill level. For an incredible vantage point of the area, make your way up the switchbacks to Ryan Mountain. Visit Skull Rocks or Baker Dam for a more moderate stroll. To sightsee by car, drive up to Keys View for an impressive overlook of the desert landscape.
End your day setting up camp next to the famous Joshua Tree giant boulders and enjoy the views of the Milky Way throughout the night.
Reserve a campground or arrive early for a walk-up campsite. Plan your visit in the spring or fall for the most comfortable temperatures and if you love wildflowers, definitely visit Joshua Tree in the springtime!
2) Death Valley National Park
Death Valley is one of the best road trip destinations from Los Angeles. Given that it's the hottest and driest place in the country, the summer heat is brutal meaning winter is the best time to visit.
Death Valley is the perfect spot for everyone, with the option to hike, off-road, or take a scenic drive. Adventure through canyons, giant sand dunes, badlands, and mountains. Stay on the lookout for wildlife including bighorn sheep, coyotes, jackrabbits, and desert tortoises.
Death Valley is a large park but there are some not-to-be-missed places. Don't miss Badwater Basin, the lowest point in North America, 282 feet below sea level. Make your way up to Dante's View to overlook sweeping views of the valley below. Trek through the Golden Canyon for a close-up experience with the unique sand and rock. End a day at Zabriskie Point for sunset.
The area is very remote so stock up on food and water before you arrive. Check for current information about weather especially if you are considering any off-road travel.
3) Yosemite National Park
Majestic waterfalls, massive grain cliffs, and abundant wildlife are just a few reasons to take a weekend road trip to Yosemite. The glacier-formed area features impressive geological features including high mountain peaks, rounded domes, a deep U-shaped valley, alpine lakes, and more!
Yosemite is worth visiting year-round but is most crowded during summer and reservations are currently required to visit then. To avoid the crowds check out Yosemite in the fall for gorgeous foliage, in the winter for the peaceful sites of a snow-covered valley, or in the spring to see the roaring waterfalls and rivers.
While visiting, don't miss the most iconic viewpoint, Tunnel View, to see Half Dome, El Capitan, and Bridalveil Falls all at once!
Or wind your way up to Glacier Point which sits over 3,000 feet above the valley floor where you can see about one-third of Yosemite. Bring your binoculars to El Cap meadow to look for climbers on the giant granite monolith.
Also, explore less-visited parts of Yosemite. Drive up to the high country along Tioga Pass. This is the least visited part of Yosemite, but the dramatic features should not be missed. However, don't forget Tioga Pass is inaccessible in winter, and only opens in lake May/June.
4) Sequoia National Park
Head to the Land of the Giants to walk amongst the largest trees in the world. Sequoia National Park is most famously known for its massive groves of old-growth Sequoias, but it's also home to a diverse varying environment – including deep canyons, rolling foothills, marble caves, and majestic mountains.
One of them is the 14,500 foot Mount Whitney – the highest point in the Lower 48 states.
Sequoia is enjoyable year-round with the option to hike, drive, climb, horseback ride, snowshoe, or ski, there are activities for every type of adventurer. Make sure you visit General Sherman, the largest Sequoia in the world, and hike out to Moro Rock for spectacular views of the granite landscape. If you want to drive more, there are plenty of viewpoints to enjoy from your car.
Any season you visit is a magical experience but Sequoia is most crowded during the summer. Fall and Spring bring more moderate temperatures. While winter snows close some roads, the tranquil landscape is still worth the visit.
5) Santa Barbara
Santa Barbara is home to picturesque beaches with dramatic mountains in the distance. It's only a two-hour drive north of Los Angeles and is well known for its wine, street fairs, golf courses, upscale restaurants and boutiques, and historical Spanish Mission churches.
Make a day trip to the Santa Ynez Valley wineries and tasting rooms for some of the best wines in the region.
Then stop by the nearby town Solvang to visit the Hans Christian Andersen Museum, author of many famous children's books including The Ugly Duckling, The Little Mermaid, and The Emperor's New Clothes.
If you enjoy the outdoors, rent kayaks to explore the coastal waters or rent bicycles and pedal along the ocean. The city offers plenty of options whatever your interests may be.
6) Palm Springs
This California city in the Sonoran Desert is well known for its luxury hotels, spas, golf courses, public art, and hot springs. Palm Springs is also a popular food and shopping destination filled with fine restaurants and vintage boutiques. You'll find a way to stay entertained in Palm Springs as it is one of the best close weekend escapes from LA.
There are some quirky ways your can spend your time around Palm Springs. Stop by the International Banana Museum which holds the Guinness World Record as the largest collection of banana memorabilia. Head to one of the nearby ghost towns to fall back in time and learn about the California Gold Rush. For outdoor lovers, make your way to nearby Joshua Tree National Park.
Or relax under the sun at one of the many pools or golf courses. With the close distance from LA, and as a city with plenty to do, Palm Springs is an easy choice for one of the best three-day road trips from Los Angeles.
7) Big Bear Lake
A drive to Big Bear Lake is another one of the best road trips in California. It's located in the San Bernardino Mountains, about 2.5 hours from Los Angeles.
With over 100 miles of trails and 22 miles of shoreline, summer is a great time to visit. Go hiking, kayaking, mountain biking, or swimming. Make a trip in the winter to ski and snowboard over 1000 acres at Bear Mountain or Big Bear Mountain Resort. There are plenty of gear shops to rent equipment for all seasonal activities.
Big Bear Lake is probably the closest pine forest to Los Angeles and is a place you should definitely check out!
8) Orange County Beaches
While it's possible to make a day trip from Los Angeles to one of the nearby sand beaches, avoid LA traffic, and stay for a weekend!
Huntington Beach is the perfect beach for families with kids. The beach is about 2 miles long and great for surfing, swimming, fishing, long walks, and volleyball. Don't miss the Huntington Beach Pier, fire-rings for bonfires, and baseball courts located near the beach.
Laguna Beach is well known for its art galleries, beaches, and coves. It's also known for its extensive trail system along the water with hiking, running, and biking opportunities.
Visit Heisler Park for tidepools and sculptures or check out Victoria Beach for white sand and the Pirate Tower. Laguna Beach also has surfing, summer art festivals, and a great overall atmosphere.
These California Beaches are cleaner and safer than LA's nearby Long Beach, making them an easy choice for weekend road trips!
9) Pacific Coast Highway
The drive along the famous Highway 1 is one of the best road trips from Los Angeles. Stop in at one of the many beach towns along the coast or enjoy the views from some of the gorgeous overlooks.
If you drive far enough north stop at Carmel-by-the-Sea, a cute town for shopping and dining along the coast. The town of Carmel-by-the-Sea is known for its historic buildings of the Carmel Missions and its fairytale-like cottages and galleries.
As you pass through Santa Barbara stop at one of the many golf courses. Continuing North, bring your camera to snap some shots of the Bixby Bridge and McWay Falls in Big Sur. Head to a nature preserve for a chance to see marine wildlife.
It is easy to turn this road trip into a camping trip because of the numerous campgrounds along Highway 1.
10) San Francisco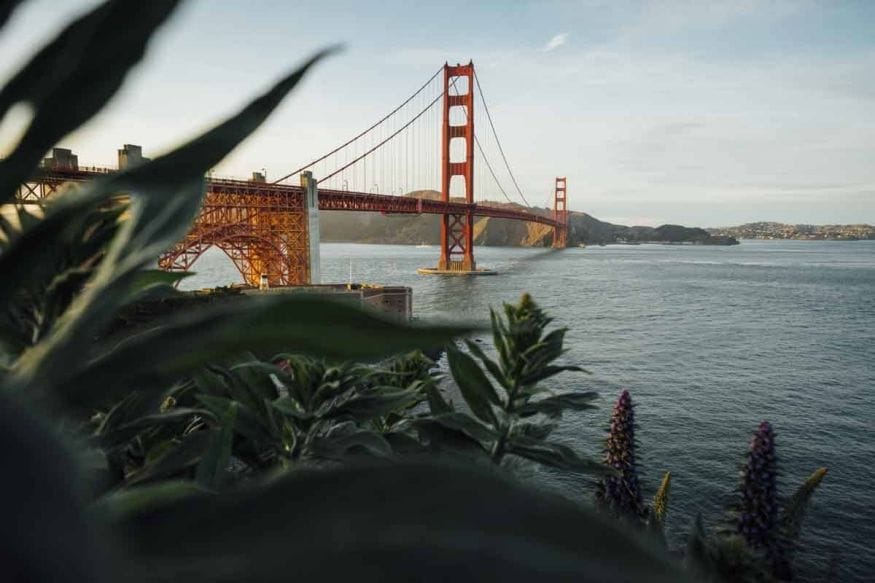 Continue your trip up the Pacific Coast Highway all the way to San Francisco. As the fourth largest city in California, San Francisco offers many things to do for any type of traveller.
Head to Fisherman's Wharf to shop, dine, and see the famous sea lions at Pier 39. Stop by Boudin bakery for a taste of San Francisco's renowned sourdough bread. Take the ferry to Alcatraz to see the historic federal prison. Spend a day at Golden Gate Park to visit museums, look for bison, or enjoy the botanical gardens. End your day at Ocean Beach on the west end of the park.
Drive across the famous Golden Gate Bridge to explore the Marin Headlands where you'll get some of the best views of the bay. While in the North Bay, reserve a parking spot at Muir Woods National Monument to see the giant Redwood trees.
There are more than enough ways to stay occupied in this California city but be sure to pack a jacket and layers because temperatures are much cooler up here compared to LA!
11) San Diego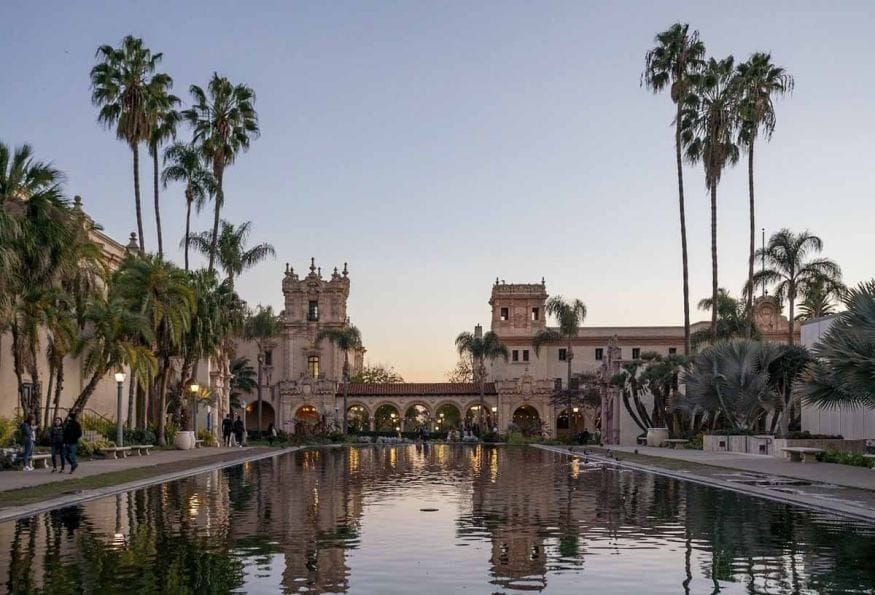 70 miles of coastal beaches, stunning parks, and a warm, Mediterranean climate year-round all contribute to the charming city that is San Diego. Only about two hours south of Los Angeles this city is perfect for many types of weekend getaways.
Enjoy the Pacific Ocean views at Torrey Pines State National Reserve. Look for marine wildlife at the La Jolla Cove tidepools. Head to Pacific Beach for cool vibes.
Explore the city's downtown and grab a coffee at a local cafe or stop by Balboa Park. Pop in at some of over 150 breweries in San Diego for some tasty craft beer. Take the kids to the historic beachfront amusement park, Belmont Park. There are so many ways to enjoy your time in San Diego!
Also, nearby to San Diego is Anza Borrego State Park, part of the Sonoran Desert, which has unique land formations, amazing stargazing, hiking, washes, and more. It's a great stop to add to your San Diego road trip if you enjoy the desert.
12) Catalina Island
Take a ferry over to Catalina Island for one of the more unique road trips from Los Angeles. Catalina Island is one of the Channel Islands and is only 22 miles long by 8 miles across, but it home to stunning beaches, land and sea activities, and fine hotels and dining.
While most of the island is undeveloped, there are two 'cities', where day trip adventures are operated from – the evocatively-named Two Harbors and Avalon.
Spend your day hiking the Trans Catalina Trail, ziplining over the forest, or join a fishing or kayaking tour. End your day at one of many restaurants in town. The natural beauty of the island with modern comforts makes it perfect for a weekend, and a fantastic destination for a road trip from Los Angeles!