After our guide to Milan public transport, the #MondaysinMilan series on sustainable ways to get around Milan continues. Today we'll talk about bike sharing in Milan – a fun and eco-friendly way to travel around the city!
**Edited Dec 9th, 2017**
After moving back to Milan in 2010, we decided to ditch having a car once and for all. There is absolutely no need to own a car in Milan; between public transport, bike sharing and car sharing, there are plenty of ways to get around the city.
Bike sharing is a relatively new initiative, having been around only about six years. I've been riding bikes around town since I was a child, so as soon as I heard of BikeMI, I was super-keen to try it.
Why is Milan perfect for bike sharing
I know many will disagree with me, quoting traffic and pollution as reasons, but I've always believed that Milan is the perfect city to ride a bike.
Why? First of all, Milan is totally flat. In the whole city, save for the parks, there are no hills whatsoever. I personally love cycling when it's flat, but uphill… not so much.
Then, in Milan the weather is rarely extreme. Except for some stormy days in summer and autumn, Milan rarely sees heavy rain, strong winds and freezing cold.
Bike sharing is perfect for tourists and locals alike – because it's a fun and convenient way to travel around town, and because like many other cities, Milan has a problem with bicycle thieves. If you don't have a garage or internal courtyard to leave your bicycle at night, it's likely to be stolen.
I have only ever left my bike out one night, because I was too tired to carry it up the stairs to our courtyard. Sure enough, the following morning it was gone. The bike I had owned since I was nine years old.
BikeMI – what it is, and how to sign up
BikeMI is Milan's bike sharing service, launched in 2008. There are over 200 stations around town – here's the station map.
BikeMI bicycles are cool yellow-orange city bikes, and come with lights, a lock, a basket, three gears and adjustable seat. They are comfortable, and always perfectly maintained, but kind of heavy – at least, in my opinion.
So, what do you do if you want to use the service? First of all, you need to subscribe. You can do so via the BikeMI site, at ATM Points (at Duomo, Cadorna, Loreto, Romolo, Centrale FS, Garibaldi FS metro stations), or calling the ATM Infoline number 02 48 607 607.
Choose between three subscriptions: daily €2.50, weekly €6 and yearly €36. You'll need a credit card (Visa or Mastercard, non rechargeable) to pay.
If you choose daily or weekly, you'll receive an access code and password that are active immediately – so head over to the nearest BikeMI stand and start cycling away!
If you've opted for a yearly subscription, you'll receive your card within 15 days, but you'll need to activate it on the BikeMI site or at an ATM Point before you start using it.
How it works
It's as easy as ABC. Head over to a BikeMI station.
If you have a yearly subscription, simply wave your card over the reader – the display will show the slot number to pick up your bike.
If you have a daily or weekly pass, you'll need to enter your access code and password with the keypad, and then the slot number will appear on the display screen above.
Then go to your bike, lift the handlebars and start pedalling!
If there are no available bikes at that station, the display will tell you where the nearest station with available bikes is.
The first 30 minutes are free, then you'll be charged €0.50 for every subsequent 30 minutes, up to a maximum of 2 hours. You cannot use the bike for more than 2 hours, or else you'll be charged a penalty fare of €2 per hour, and you'll have your account suspended if you go over the 2 hour limit for 3 times.
You can, of course, deliver a bike and then pick up another one as not to pay the penalty fare, but you'll have to wait 10 minutes between the first and second use.
To deliver your bike, head to a BikeMI station and find a free slot, indicated by a green light. Insert the knobs under the basket into the holes until they lock.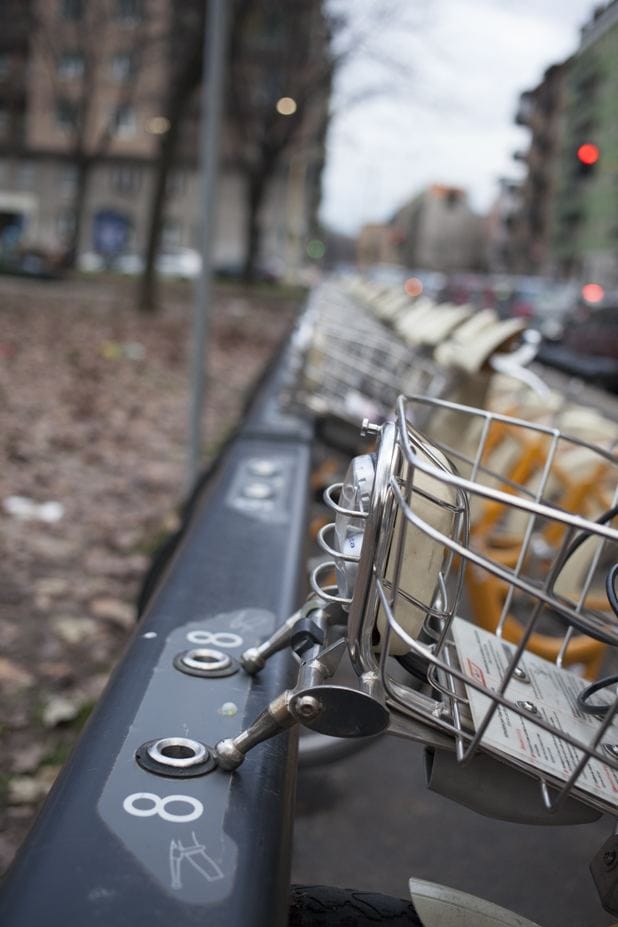 If there are no available slots at that station, you'll be given an extra 15 mins for free and directed to the nearest available station – simply enter your access code or swipe your card and the display will give you the info.
Our review: advantages and disadvantages of bike sharing
I've been using it BikeMI a lot lately, and I love the service. It's perfect for short jaunts across town, to get from A to B, especially if you are familiar with the city and know where to go.
For tourists, it's a great way to move around the centre, as there are plenty of BikeMI stations there, but not so many when you get a bit further out.
The service is super cheap and easy to use, and of course it removes a lot of the headache of owning your own bike – finding a good, safe place to park, where to leave your bike overnight, carrying chains and so on.
However, there are some disadvantages. First of all, there is no official BikeMI app. There is one called BikeMilano (for sale at €0.89) and another one called Bikesharing (free for the basic version) – but there's no indication of any app on the BikeMI site. You are given a paper map when you receive your card (if you opt for the yearly subscription) and there's an interactive map on the BikeMI site, but no app! Not really 21st century, is it? Good folks at BikeMI, please take note. I do believe it will make your service much better!
Update – There's now an official BikeMI app, allowing you to sign up online and giving info on where you can deliver bikes and where you can find the nearest bike available. There is also an option to see how many km you're cycling, how many calories you're burning and CO2 you're saving. However, ratings on the Apple Store are not the greatest.
Also, payment is allowed only by non-rechargeable credit card. It would be nice to extend the service to also those who don't have a credit card – perhaps allowing payment by debit card or cash, leaving a deposit. I know it's hard to fathom, but I know several people that don't have a credit card.
BikeMI is great for short trips. but because of the 2 hour limit, longer trips are out of the question. So, what to do if you want to spend the whole day cycling around Milan and its surroundings, without keeping an eye on the watch? Head over to Rossignoli in Corso Garibaldi, which offers day rates and allows cash deposits.
Besides this, I do believe BikeMI is an excellent way to get round the city. It's fun, eco-friendly and a great way to keep fit. Watch out for the traffic, and off you go!
Update – Two New Bike Sharing Services in Milan from Autumn 2017
Around September 2017, two new bike sharing systems started appearing around the streets of Milan – Mobike and Ofo. The two main advantages with BikeMI is that both services are 'free floating', meaning that did away with bike docking stations, allowing bicycles to be picked up and dropped off anywhere in the city.
On top of that, everything is run through apps, doing away with the card system of BikeMI. Let's look at the two services in detail!
1) Mobike
Mobike is a Chinese-owned bike sharing system – you may have seen their silver and orange bicycles elsewhere around the world.
Using Mobike is super easy – you download the app and create an account which allows you to locate the nearest bicycle. You can then reserve it and it will be kept for you for 15 minutes, allowing you to get to it. Then, you unlock the bike scanning your phone on the QR code you find on the bike, go wherever you need to go, and once you get to destination you can lock the bike and leave it in any public space – there are also some places called 'Mobike Preferred Location' on the app, where you're advised to leave your bike if possible.
If you use Mobike well, doing things like constantly leaving your bike in 'Mobike Preferred Locations', and reporting on broken or malfunctioning bikes, you'll get 'credits' – conversely, if you don't adhere to Mobike procedure, your credits will be deducted and your account eventually blocked.
The service works on a pay as you go basis – you pay a €1 deposit, then bike sharing is charged at 50 cent per half hour. You can also get Mobike passes at €10 for a month or €100 for 360 days – however these are promotional prices and they're likely to increase.
So, what's our opinion on Mobike? It's certainly convenient to run everything through the app and not have to park your bike at docking stations, but the main issue I have with Mobike is that their bicycles are extremely uncomfortable.
2) Ofo
Ofo bicycles are painted bright yellow and they have a stamp of Comune di Milano on them. They way Ofo works is essentially the same as Mobike – everything works through the app. You reserve your chosen bicycle, unlock it using your phone on the QR code, ride, then lock it again.
When they were first introduced, Ofo bikes could be used for free for a couple of months, then prices were introduced from November 1st – they currently cost 20 cent for the first half hour of use, then 30 cent for the second half hour, then 1 euro, for a maximum cost of €5 for a day.
Our opinion of Ofo is the same as Mobike – the service is well organized and easy to access for a tourist, but the bikes are heavy. However, having said that, Ofo bikes are better than Mobikes, they have better gears and a rack where you can put your bag or shopping. If we just consider the quality of bicycles, we recommend Ofo over Mobike.