Have you ever heard of Uzupis, a tiny self-proclaimed republic in the heart of Vilnius? Discover this bohemian hangout and stay in Uzupis at Downtown Forest Hostel and Camping!
As lovers of quirky things and places, our recent trip to Vilnius was like walking into a treasure-trove of oddities. We spent three days touring Vilnius's alternative sights, and one day dog sledding in the countryside. But the oddest place of all had to be Uzupis, an 'independent republic' on the other side of the river Vilnelé, in the centre of town.
The name Uzupis actually means 'on the other side of the river' – at first glance, it looks a village within a city, a corner of quietude and individualism in a city where the tragic events of the Twentieth century did not breed hopelessness and despair, but vitality and creativity.
The origins of Uzupis
For centuries, Uzupis was just another Vilnius district, home to Jewish and Russian immigrants. Separated from the town by the river Vilnelé, the name of the district itself means 'on the other side of the river'. Until the two bridges over the river were built in the 16th century, the district was always cut off from the rest of the city.
Uzupis declared independence from Lithuania on April 1st, 1997; part tongue-in-cheek, part as an expression of individualism after years of Soviet occupation.
The seeds for Uzupis's independence were actually sown two years earlier, during the aftermath of Lithuania's independence from the Soviet Union. After the statues of Lenin and Marx were torn down, Vilnius was left with many empty platforms and plinths. A resident of Uzupis – that at the time was just a neglected neighbourhood – and lifelong Frank Zappa fan (whose music was banned by the Soviet regime) thought of commissioning a Frank Zappa statue to be placed on an empty plinth in the town centre.
Frank Zappa became the symbol of the end of communism. The authorities initially criticised the choice of Zappa for the statue, due to his left-wing beliefs. The story goes that somebody managed to convince them that Zappa was actually Jewish, and given the importance of Jewish culture and history for the city of Vilnius, stuffy politicians and bureaucrats fell for it, and the statue was unveiled in 1995.
At the time, Uzupis was home to artists, students, creatives and  – of course – the Frank Zappa fan club. After having succeeded in placing their idol's statue where a Communist icon previously stood, Uzupis residents decided to go a step further, and declare independence from the central government. One of their reasons was to protect Uzupis from neglect and disrepair, and to regain their sense of individuality that was crushed under the soviet yoke for over 50 years.
Uzupis nowadays
These days, Uzupis is Vilnius's bohemian heart, home of quirky cafés and sculptures like the Angel of Vilnius, of amazing street art and the city's artistic community. Its days as a self-styled republic continue in full swing; Uzupis has its own flags (one for each season), a national independence day, on April 1st, its own currency, bishop and an army, with a grand total of 11 men!
It also has a constitution, posted on the wall in Paupio street, in thirty-odd languages including Hebrew and Tibetan. The 41 articles are quirky, inspiring and unique – just like Uzupis itself. Here are our favourites:
'Everyone has the right to live by the River Vilnelė, while the River Vilnelė has the right to flow by everyone',
'A dog has the right to be a dog'
'Everyone has the right to love and take care of a cat'
'A cat is not obliged to love its master, but it must help him in difficult times.'  
More than 1000 of Uzupis's 7000 residents are artists. The neighbourhood-republic today is a maze of art galleries and street art pieces, microbreweries and pubs of yesteryear like Snekutis, offering cheap Lithianian dishes and homemade beer. The artistic vibe is palpable, but in a more friendly, less daunting way than the uber-cool hipster hangouts of London and Berlin.
It feels like walking in a country village full of artists – albeit in the heart of a city.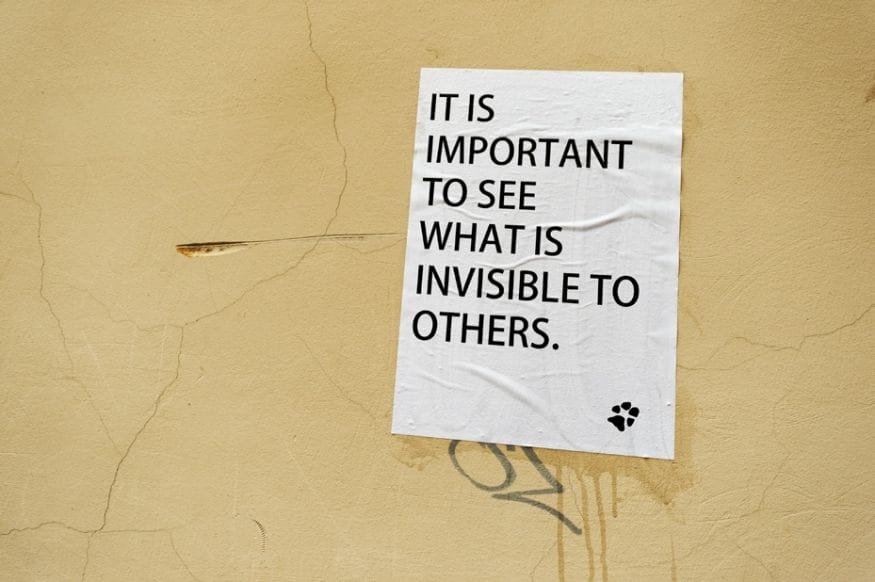 Stay in Uzupis – Downtown Forest Hostel and Camping
We both loved the sound of Uzupis and decided that an afternoon walk around the area wasn't going to be enough for us. We wanted to stay in the heart of things, to live an experience life as 'Uzupians' for a few days.
First, we looked for apartments, but didn't find anything we liked. Then, completely by chance, we stumbled across the website of Downtown Forest, a hostel and campsite in Uzupis. What a curious name, we thought. how can a forest be downtown? So, either it's going to be in the middle of nowhere, or the forest will be four scraggly trees. How wrong were we!
Downtown Forest is in the heart of Uzupis – meaning right in the middle of Vilnius. Everything is a walk or quick bus ride away. The hotel looks like a grand country house, in the middle of a park. It was freezing cold outside, gusts of wind blew from the river. The snow spotted the grassy expanse and the trees were barren.
I closed my eyes, tried to forget about the cold, and imagined the place in summer. Colorful tents on the meadow, hammocks swaying lazily from the trees, travellers swapping tales under the shade of trees, playing guitars under the starry sky, all through the long summer night.
Escaping from the gale force wind, we entered. The reception was warm and welcoming, with wood-panelled decor and a fireplace, plus a giant blackboard-style wall covered in writings and drawings. A young receptionist greeted us and offered us a hot cup of coffee and early check-in. Perhaps he spied our leaky noses and ruby red cheeks? Who knows. If this isn't great service…
Our room was the cutest we had stayed at for a while. All cream and biscuit-beige coloured, with comfy beds and fluffy duvets, we very nearly gave up on our idea of touring Uzupis and Vilnius and retreated to bed, with a film and hot chocolate.
We loved every minute of our stay at Downtown Forest. It's a quirky, individual hostel, much like Uzupis itself. The decor is inspired by nature, with details such as pinecones in jars on our bedside tables, painted rocks and coat hangers made from tree-trunks. The place manages to be cool without being daunting, welcoming without being twee or pretentious – a feat, especially for a hostel.
We loved relaxing in our room and spending time in the reception area, chatting with staff or other travellers and enjoying a local brew from the self-service 'honesty' fridge. We adored breakfast – forget the sad buffets with limp cheeses and watery coffee usually found at hostels. Downtown Forest offers locally-roasted coffee and fresh croissants, made by an Uzupian French guy. Close your eyes, bite through the buttery goodness… and you may well be in Paris.
Most of all, we loved how Downtown Forest reflected the spirit of Uzupis. It feels like being in a village, yet a village that is full of art and creative energy. A place with people that won't look down to you, as it often happens in may 'bohemian' neighbouhoods, now home to creative gentry.
The hostel has unique decor and friendly staff, and lovely rooms where you can retreat to listen to the wind howl, if you've grown weary of talking to othe' travellers. Now we just need to go back in summer. I want to sit on the meadow, lay on the hammock and listen to the river flow, under the starry sky, all through a long summer night.
Our trip to Vilnius was in partnership with Downtown Forest Hostel & Camping and Vilnius Tourism. As always, all opinions are our own. Thanks for the wonderful stay!
Welcome to the new Weekend Travel Inspiration Linkup!
Ready, set, link! 
1. Link one of your inspirational travel photos or stories to this post by adding your info.
2. Copy and paste our badge and a link to this page.
3.  Visit some of the other wonderful travel bloggers, read their posts, and leave a comment.  It would be great if you could comment on 2-3 posts.
4.  Tweet it and include this hashtag. #wkendtravelinspiration .
5. Follow all the hosts of Weekend Travel Inspiration who are working hard to spread the word on what wonderful work travel bloggers are doing.
What inspires you to travel?
Link up your travel inspiration using the blue button below. Remember to link back to the collection on your blog.
[inlinkz_linkup id=484740 mode=1]