Welcome to our new #MondaysInMilan series! If you didn't know, Milan will be the host city for the 2015 EXPO and as Milan locals, we would like to welcome you to our hometown. So, we have decided to start a series of posts dedicated to the city, starting with a guide to Milan public transport. 
***Updated Dec 9th 2017***
Milan Public Transport: Tickets
First things first: Milan public transport is cheap and efficient, and it's the most environmentally-friendly way to travel around town.
Single tickets are €1.50 and are valid for 90 minutes. Within the 90 mins, you can do one journey on the underground and unlimited trips on buses and trams.
Buy your tickets from automatic machines, tobacconists and newsagents around town, NOT FROM THE DRIVER! Then validate them at the entrance of metro stations (keep the ticket as you might need it to open the gates on the way out) or as soon as you get onto a bus/tram from the validating machines.
Or you can get a 'carnet' (the equivalent of 10 single tickets) for €13.80 but beware, it can only be used by one person. You can also get a card called RicaricaMI that you can top-up (kind of like the Oyster card in London) but it doesn't really offer significant savings compared to regular paper tickets.
Here is a video showing you how to buy tickets from machines.
You can also get 24-hours (€4.50) and 48-hours tickets (€8.25). If you're staying in town for a few months, you may want to get a monthly ticket – head to ATM Point in Duomo, Loreto, Centrale or Garibaldi for info.
If you need to travel on suburban bus lines or to metro stations beyond the city limits (check the map below for the red dotted lines marked as 'urban fare limit') you need to get an 'interurbano' ticket.
Even I can't get my head around the complicated suburban fare system – luckily, for Rho Fiera (the Expo venue) there are special tickets for €2.50 each way, €5 return.
Milan Public Transport: Metro, Buses and Trams
There are 4 underground lines, called metropolitana (shortened to metro). They run from 6 to 12.30 a.m.,  about every 2 mins or so in peak hour, less frequently (every 5-7 mins) during the rest of the day and at weekends.
The metro is an excellent way to travel around the centre and to Rho Fiera, the Expo venue. Depending on where you are staying, you may need to take buses, too. Let's have a look at each metro line individually.

M1 (Red line)
Runs from Sesto FS (north of Milan) to Rho Fiera (where the Expo was held) and Bisceglie (western end of town). M1 is the oldest metro line, running through the centre.
Useful stops on the M1 are Loreto (Corso Buenos Aires, one of the main shopping street, and interchange with M2), Duomo (for Duomo Square and interchange with M3), Cadorna (trains to Malpensa Airport and another interchange with M2), Lotto (interchange with M5), Lampugnano (intercity bus station).
M2 (Green line)
Runs from Gessate and Cologno, taking in a fair bit of suburbia east of town, to Abbiategrasso and Assago in the southern part of Milan. For some reason, most train stations (Lambrate, Centrale, Garibaldi and Cadorna) are on the M2.
Useful stops on the M2 are Lambrate FS (local train station and buses to Linate Airport), Loreto (Corso Buenos Aires, one of the main shopping street, and interchange with M2), Centrale FS (main train station, buses to all airports and interchange with M3), Garibaldi FS (second-largest train station and exchange with M5) and Cadorna (trains to Malpensa Airport and another interchange with M2).
M3 (Yellow line)
Worth a visit for the amazing 80's decor (I am a big fan), M3 runs from north (Comasina) to south (suburb of San Donato) through the centre of town.
Useful stops are Zara (interchange with M5), Centrale FS (main train station, buses to all airports and interchange with M3) and Duomo (for Duomo Square and interchange with M3).
M5 (Lilac line)
This is the newest line, opened a couple of years ago and still being extended. At present (Dec 2017) it runs from Bignami (north of town) to San Siro Stadium, via Zara (M3 interchange), Garibaldi FS (where it intersects with M2), and Lotto (Change for M1). It's automatic, like the DLR in London and line 14 in Paris, so it's kind of fun to take a ride, especially with children.
And where is the M4? Doesn't exist yet. Yes, this is Italy, after all – the M4 is due to open in 2022 and will link Linate airport to Lorenteggio in the far west of the city.
On top of Metro lines, there is a suburban train system (called 'passante') running underground and intersecting with some Metro lines. Some of these train travel to Rho Fiera (EXPO venue).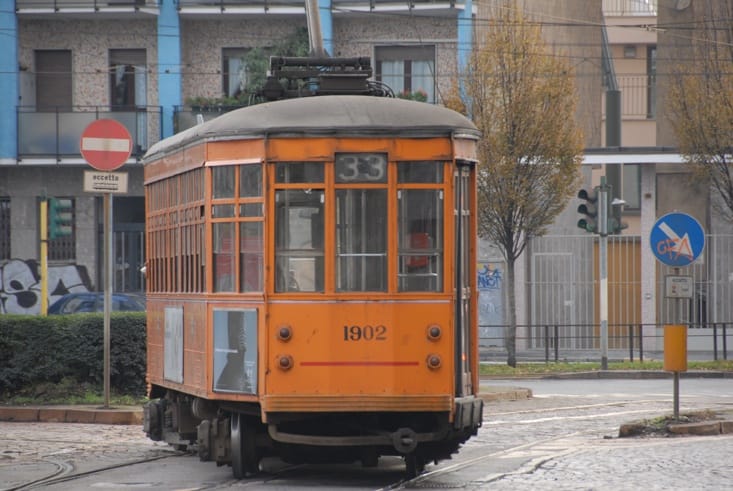 Buses/Trolleybuses
Wherever the Metro doesn't go, at least one bus will. There are over 100 bus lines connecting the city and the suburbs, so listing them all would be a HUGE task.
MuoviMI is a really good app, listing all metro, buses, trams and suburban lines, with stops, maps and waiting times. Available for iPhone and Android.
There's also an official ATM MI app with useful info on bus lines and times.
Buses run from 5 to 1 a.m, but some may finish ealier or start later, especially at weekends.
Here are some useful bus lines:
73 – Linate Airport to San Babila station (M1)
94 – the inner circular line
90/91 – outer circular line and the only bus running 24 hours, 7 days a week
Just remember – you can't buy tickets on board.
Night Buses
At weekends, there are 15 buses running all night. Here they are!
Trams
Milan also has several trams criss-crossing town. Some still use the old 'Carrelli' streetcars, built in the 1920s, making them the longest continuously-running public transport vehicles in use.
A trip on a Carrelli tram is a cool and affordable sightseeing experience. Lines 1, 5, 19 and 33 always use vintage streetcars.
Same as buses, you can't buy tickets from the driver. Trams usually run longer than buses, from 5 to 1.30-2 a.m.
Milan Public Transport: Extra info
As listing all info regarding Milan public transport on a single post is a formidable task, I am sure I have forgotten something. For more info and updates, head over to the ATM site or download the MuoviMI app. or the official ATM app.
The info is updated to December 2017. I will periodically return and update the post. If I have forgotten anything, or you have any feedback on the post, please get in touch! Email is margherita [at] thecrowdedplanet [dot] com.