Welcome to yet another #MondaysinMilan! Today, our dear friend and fellow blogger Alessandra Granata from I Viaggi dei Rospi is bringing us a top post for all those visiting Milan with children (but not only): a sightseeing tour following the red Metro line!
If I had a magic lamp and the genie asked me to make three wishes, the first one would be living close to nature. We used to live in the countryside, until a few years ago. We all miss the trees and the fields, the peace and quietude. But I must admit, we don't mind the city. We try to live sustainably and – paradoxically – our rhythm of life is slower. Everything is available, just around the corner – there's no need to drive for miles to get to the shops or drive my son to school. I'd be lying if I said I don't like it.
I often take my son for walks around the city. Have you ever tried to explore a city from a child's perspective? A city seen from the eyes of a child is an adventure, a source of endless discovery. What's in that huge building? What are those people in the square doing? Sounds, noises, smells that we take for granted, are wonders to a child.
Try walking around the city with children, and paying attention to what they do. They gaze around with curious eyes, and even something as mundane as a trip on the underground can make them skip with joy. So, to celebrate the 50th anniversary of Milan's 'Red Line' – the M1, first line of the Metropolitana Milanese, which opened in May 1964, I decided to follow its rails with my son, to find out what the city has to offer to children.
We started our trip in Porta Venezia, at the end of Corso Buenos Aires, Milan's very own high street. If you're after a spot of shopping but don't want to break the bank, here's where you should be headed – and then you can always head to the Fashion District later, to dream about that Gucci bag!
The M1 Porta Venezia station is just around the corner from the Giardini Pubblici, dedicated to the famous Italian journalist Indro Montanelli. Here you'll find a beautiful park, wonderful in all seasons – plum and magnolia blooms in spring, a thick green canopy in summer (perfect for picnics!), carpets of yellow gingko leaves in autumn and frost-covered meadows in winter. In the Giardini children will love the Planetario and the Museo di Storia Naturale (Natural History Museum).
Children will be spoilt for choice – you can let them play, offer a ride on a merry-go-round, have a picnic on the grass or let them enjoy the activities offered by the two museums. Did I mention there are reproductions of dinosaur skeletons in the Natural History Museum?
Head back to the metro, and in just two stops you'll get to Piazza San Babila, where you can have a quick Lombardy geography lesson at the fountain in the centre of the square. The black pyramid in the centre, built with granite from the Lombardy mountains, symbolizes the Prealps. From the top, rivulets of water flow down the 'mountainsides', collecting in the pool below – these are Lombardy's great lakes, created by glaciers and filled by mountain rivers.
You can then walk down pedestrian Corso Vittorio Emanuele – children will love the street artists, from break dancers to clowns making shapes with balloons and the mysterious human statues, looking as if they were flying (we won't tell them the trick, right?).
Or you can take the M1 again for just one stop, and get off in Duomo. If you've never been to Milan, I can guarantee that walking up the metro steps until you get to the top, is a really amazing experience. Try to imagine how it would be if you were a child, looking at the majesty of the Duomo dominating the square. I still haven't got used to those wonderful white marble spires, peeking from the top of the M1 stairs. Even though I walk past them every morning.
And don't forget to climb all the way to the top of the Duomo, have your child spy below through the slender spires, and them meet her, the Madonnina, watching over the city since 1774.
Leaving the Duomo behind, I would ask the genie to grant me a second wish. I would ask to travel back in time, to the end of the 19th century, and walk around Galleria Vittorio Emanuele with gentlemen tipping their top-hats and elegant ladies with wide skirts and fancy hats. Here, in the 'salotto di Milano' (Milan's drawing room) I would wine and dine with the nobility of centuries past, between lace, velvet and taffetà, and discuss the last opera at La Scala, just around the corner at the end of the Galleria.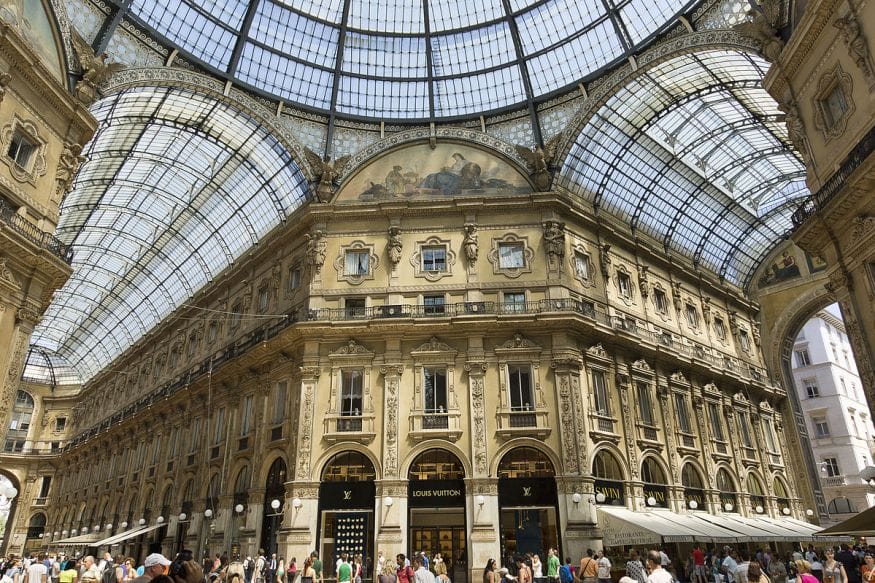 I follow my little boy as he cranes his neck to look at the huge dome, frescoes and mosaic floors – follow him all the way as he gets to the crowd surrounding the famous mosaic bull. People spin with their heel on the bull's balls, worn out so much there's actually a hole where the balls used to be. No one really knows how this tradition began – but we decide to wait our turn for a spin or two, it's good luck after all.
Our walk is not over yet. We walk right to the end of the Galleria to find the statue of a good friend of Milan – that from his arrival in 1482 transformed the city in so many ways that we can still appreciate them over 500 years later.
I am talking about him, the great genius, Leonardo da Vinci. Leonardo and Milan, an association that brought to us some of the wonders of Leonardo's great mind. If you want to introduce your children to Leonardo's genius, take them to the Leonardo in 3D exhibition. I'm sure it will be amazing for grown ups as well. There are models of Leonardo's machines and simulators. You'll be able to build machines with your children, just like Leonardo did with his apprentices. So much fun you'll want to spend the rest of the day there.
All children love fairytales, and every fairytale has a castle. So we head over to the last stop, two stops on the red metro to Cairoli, where Castello Sforzesco in all its majesty watches over the square.
The castle entrance is out of this world; towers, battlements, a hanging bridge and a real moat – no water or crocodiles though, unfortunately! Inside you'll sometimes find some bright coloured animals. These are installations of the 'cracking art' collective, animals made with recycled plastic that children are allowed to play with. Imagine your child trying to climb over a giant pink snail, or slide down the wings of a blue swallow… yes, you got it, it's great fun!
There are plenty of things to do in Parco Sempione, just behind the castle. Run around, roll over, play in the bushes, chase pigeons, fly a kite… You name it! But if your child is  the imaginative rather than active sort, I've got just the thing for you. Head over to the Castle, visit the grand rooms inside and check out activities offered by Sforzinda, from shows to tales and guided tours of the castle (€1, for children from 4 to 12 years old).
Our tour ends here – my son is playing hide and seek behind a tree, and I think we've done enough for one day. I've still got a wish though. We're celebrating the birthday of the metropolitana (underground) after all. Genie, can you make it a bit easier to navigate for mums with prams?
Follow Alessandra on her blog, I Viaggi dei Rospi, and on Instagram!
Read here for more info on Milan's public transport, on how to travel around the town by bike or vegetarian restaurants in Milan!