After visiting Finland in summer, Nick went back to explore this beautiful country in winter! Here's his first post from the trip, about things to do in Mikkeli in winter. 8 fun activities on a frozen lake!
Finland is actually two countries in one. It changes so much between summer and winter, that your travel experience will be completely different. In summer, Finland is green and lush, berries grow from brambles in the forests and the days never end. In winter, the country is possibly even more magical. Covered in snow, with a few precious hours of sunlight a day, and brief blue twilights, before long nights under a star-studded sky. Yes, it is cold – but it's a small price to pay for such a wonderful atmosphere.
Why visit Mikkeli in winter
The area around the town of Mikkeli and Lake Saimaa is one of the most popular tourist destinations in Finland. In summer, Finnish families flock to the area for their July holidays, to enjoy the lakes and outdoor life. Finland has over 188,000 lakes – the Mikkeli region is called 'The World of a Thousand Lakes' and if you look at a map of the area, it looks like there is more water than land.
The countryside around the town of Mikkeli is full of summer cabins, and with tons of nature activities, from sailing to hiking and spotting the rare ringed Saimaa seal, it's easy to see why Finns love this area so much.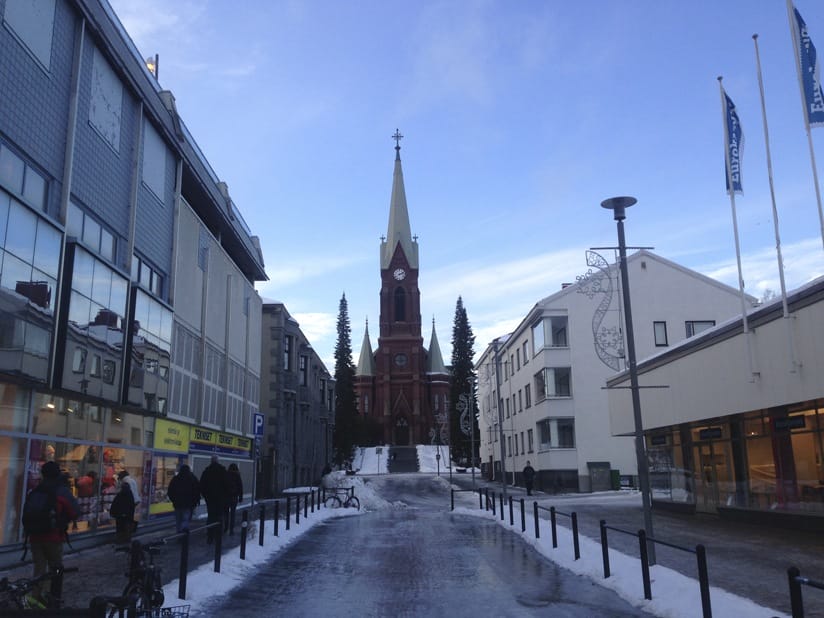 Come winter, and it all changes. The tourists are few and far between – meaning everything is more affordable. The countryside is covered in ice, and the thousand lakes freeze over. If you love nature and silence, this is the time to visit. Outside of the city, you'll only meet a handful of locals out for a stroll.
If you've come to Finland in winter to enjoy the magical frozen scenery, Mikkeli is the perfect choice. It's easily accessible from Helsinki (only 2.5 hours on a train) and has much warmer temperatures than Lapland – a balmy -15° as opposed to -35° or colder. If you're lucky, you can even see the Northern Lights in Mikkeli, even though sightings are much rarer compared to Northern Finland.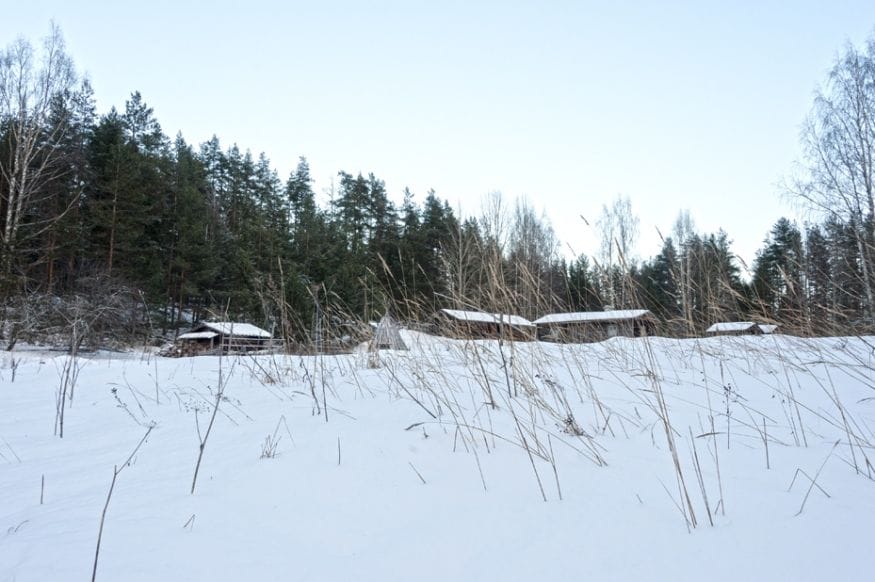 The main advantage of visiting Mikkeli in winter is enjoying the beautiful countryside, the peaceful atmosphere and the frozen lakes. How many activities can you do on a frozen lake? We thought two or three at the most, but we've actually come up with 8. Here they are!
ps. If you're looking for another winter destination in Finland, you can head to North Karelia, visit Kemi for the famous Snow Castle or explore Salla in Lapland!
8 things to do on a frozen lake
1) Snowshoeing
Have you ever tried snowshoeing? If you haven't you should, it's awesome fun. In the Mikkeli area, part of the snow on the frozen lakes is cleared over to make 'roads' for people and sleds (and even cars, when the ice is thick enough). The rest remains covered with a fluffy, snowy blanket. As snow can get thick indeed, snowshoes is the way to go if you don't want.
We took a snowshoe walk around Niinivesi, a small island in lake Saimaa. The terrain is mostly flat, making it ideal for novices – snowshoes are hard work if you're not used to them! After a short hike we entered the forest, where we all separated and without cameras or mobile phones we spent some time in solitude, listening to birdsong and the sounds of the forest.
2) Ice Skating
We didn't actually go ice-skating, but you can do it. As a child, growing up in Australia, I was convinced that European children lived in quaint, snow-blanketed villages and went to school skating on frozen rivers. Imagine my disappointment. Well, near Mikkeli you can ice-skate on the frozen lakes, but whether children actually ice-skate to school, I have no idea.
3) Horse Sled
Frozen fans and sweethearts, this one is for you! Gliding across the crystal expanse of a frozen lake must be everyone's romantic dream. Snow and ice all around you, no sound except for the skates and horses' hooves crunching the ice, huddled with your sweetheart under a thick blanket… head over to Mikkeli, and that's what's in for you. Add the post-sunset blue twilight and a warm sauna waiting back at your lodge – what else can you ask for?
4) Kick Sled
If you're up for something more active, you can opt for a kick-sled. Just hold onto the back, stand on the skates and kick as if you were on a skateboard… and try not to fall over. Actually, it's not as hard as it sounds. Kick sleds are quite stable – perfect for an uncoordinated person like me.
We used our kick-sleds to travel a short distance across the ice in Niinvesi island, from a restaurant to a blacksmith's house where we made our own key rings (mine was awful). The terrain was very smooth and flat, and perhaps this helped manoeuvring the sleds – I can't vouch for how it would be up or downhill, but I can imagine spectacular crashes happening.
5) Ice Fishing
This is quite a complicated endeavour. It involves drilling holes into the ice, inserting a net under the iced surface by way of a rope attached to a sort of pulley, and leaving the net in place until a fish is caught. Another method involves using big traps, similar to lobster pots in how they work – this method is used to catch burbot, an eel-like long, skinny fish.
We spent one morning drilling holes and laying the nets with local fishermen, and the following day we returned to collect the catch. Then, we brought our catch to the restaurant, and had some lovely fish soup for lunch!
6) Ice swimming after a sauna
If you know Finland, you'll be familiar with the Finns' love affair with saunas. Sweating away with your mates is the national hobby, best followed by a dip in cold waters. In summer, you just jump in the closest lake. In winter you do too. Where there is no lake, the sea will do.
I love the cold and compared to Margherita and my friends, I always feel warm. When everyone around me is freezing and putting on one layer after another, I'm fine in my t-shirt. So, I expected the icy dip to be a walk in the park. But boy, was it cold! I felt like I was being stabbed all over. Needless to say, I jumped out super quick and went back to the sauna.
7) Watching the sky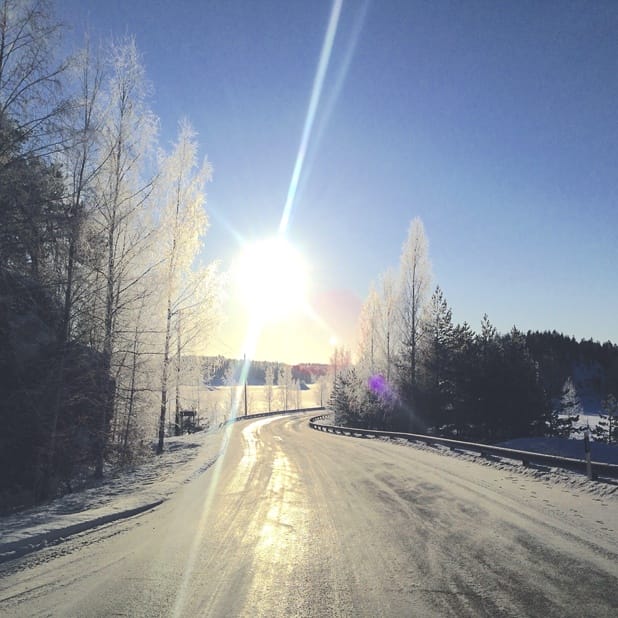 Day or night, the sky over Mikkeli is a wonder. Deep blue during the day, multicoloured at sunset, streaked by a thousand stars at night, green and purple when the Northern Lights dance all around.
If it's clear, that is.
We were unlucky with the weather during our stay near lake Saimaa, and it was cloudy most days. Then, on our last evening, the sky cleared and we saw the most amazing sunset over a rare unfrozen section of the lake (if you're asking yourself why, it was because of currents and a ferry running 24-7).
And then, at night, this happened.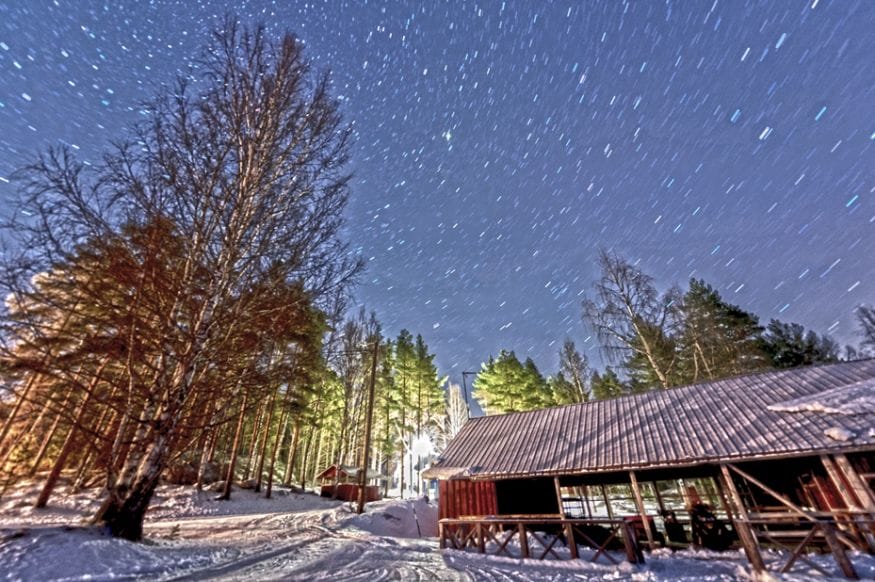 8) Walking and enjoying the silence
This may not be much in terms of activity, but it's perhaps the best thing to do on a frozen lake. On lake Saimaa, everything was silent. The green, berry-rich forests of summer were all around the lake, dusted with snow and sparkling with ice. Everything was still. Occasionally, I spied a bird flying across the sky. I heard nothing, except my footsteps, muted by the snow.
The sun shone on the snow-covered lake, and lit the black-blue expanse where the snow had been brushed off – it was beautiful and scary at times, only a thin layer separating me from treacherous, freezing waters. I could hear the crunch of my footsteps, every now and then, and see the difference in colour where the lake had melted and then frozen over, with bubbles trapper underwater and the abyss, beyond.
An amazing place to stay
Located about 7 km from Puumala, on the shores of lake Saimaa, Sahanlahti Resort is a wonderful place to base yourself during your visit. The resort is wonderfully quiet and surrounded by forest, and offers individual cabins as well as rooms in the main building, the latter available year-round. Phone ahead though, as it only opens on request in winter. Owner Jaana is friendly and helpful, and will be happy to arrange any of the experiences listed above for you.
I was a guest of Visit Mikkeli as part of a post-NBE Finland blog trip. As always, all opinions are my own. But I did indeed love the place, and I have no doubts I will return soon! 
Welcome to the new Weekend Travel Inspiration Linkup!
Ready, set, link! 
1. Link one of your inspirational travel photos or stories to this post by adding your info.
2. Copy and paste our badge and a link to this page.
3.  Visit some of the other wonderful travel bloggers, read their posts, and leave a comment.  It would be great if you could comment on 2-3 posts.
4.  Tweet it and include this hashtag. #wkendtravelinspiration .
5. Follow all the hosts of Weekend Travel Inspiration who are working hard to spread the word on what wonderful work travel bloggers are doing.
What inspires you to travel?
Link up your travel inspiration using the blue button below. Remember to link back to the collection on your blog.
[inlinkz_linkup id=484741 mode=1]